Is Jameis Winston Ready For a Breakout Under Bruce Arians?
Credit:
Credit: Kevin Jairaj-USA TODAY Sports. Pictured: Jameis Winston
Jameis Winston has quietly improved in every season as a starter, but is he poised to be an upper-tier fantasy football quarterback in 2019?
Ian Hartitz analyzes what you can expect from the Buccaneers QB with Bruce Arians taking over in Tampa Bay.
Our experts are constantly refining their rankings and projections in the run-up to the 2019 season. Build custom cheat sheets featuring their latest updates with our Draft Kit.
---
The fraternity of No. 1 overall draft picks understandably get a longer leash to find their footing in the NFL before being discarded by their respective franchises. This has been particularly true of Jameis Winston, who has flashed tantalizing upside and arm talent throughout his career … but also ranks behind only Blake Bortles in combined interceptions and fumbles since entering the league in 2015.
Talent has never been a question for the former five-star prospect, as Winston has largely looked the part of a franchise quarterback since Florida State. The problem is he's just 21-33-0 after 54 starts with the Buccaneers.
Luckily for Winston-truthers everywhere (including myself), the artist formerly known as Famous Jameis has received one helluva last chance thanks to the team's decision to hire former Cardinals head coach Bruce Arians.
Let's breakdown what we should expect from the Winston-Arians' partnership and determine what it means for Winston's fantasy football value.
Jameis Winston and Bruce Arians Are a Match Made in Gunslinger Heaven
Arians has a simple yet effective motto for play-calling: No risk-it, no biscuit.
Nearly every play he calls is designed to ideally go for a touchdown, which is something that Winston has also largely believed throughout his short NFL career.
Jameis Winston average target depth by season and rank among all QBs (PFF):
2015: 10.3 yards (5th)
2016: 10.8 (3rd)
2017: 11.1 (T2nd)
2018: 11.3 (2nd)

Bruce Arians' QB1 with the Cardinals:
2013: 9.8 (T5th)
2014: 11.7 (T1st)
2015: 11.3 (1st)
2016: 10 (6th)
2017: 9.8 (T7th)

— Ian Hartitz (@Ihartitz) May 18, 2019
The renowned quarterback whisperer is apparently working with one he loves, as Arians was quick to gush over Winston shortly after accepting the job back in January:
"I feel like I've got a great feel for him, his excitement for the game. His willingness to work is unbelievable. He's in the office at 5 o'clock in the morning. … The whole thing is going to be built around him. I think he can win it all. I mean, he has the intelligence, the toughness, and obviously the arm, ability to lead a team."
One of the last things Arians included was, "obviously the arm."
While Winston needs to do a much better job taking care of the ball, he's also demonstrated the ability to improvise and make impossible throws look routine.
Jameis Winston weekly fantasy finishes in nine starts last season:

Week 6: QB1
Week 7: QB10
Week 8: QB26 (didn't finish game)
<benched>
Week 12: QB8
Week 13: QB6
Week 14: QB11
Week 15: QB32
Week 16: QB18
Week 17: QB3

Overall: 19.9 fantasy points per start (QB9) pic.twitter.com/0l77nzmFX0

— Ian Hartitz (@Ihartitz) May 21, 2019
Winston offers more pure athleticism than either Ben Roethlisberger and Carson Palmer — the two-most notable Arians' protégés — and has already shown the ability to improve from one season to the next.
Jameis Winston Has Gotten Better Every Season
There are a variety of statistics designed to measure performance at quarterback.
We'll look at Winston's progression through the following metrics:
Completion rate: Passes completed per pass attempt
Yards per attempt: Yards gained per pass attempt
FP per start: Fantasy points per start
While Winston's 2018 numbers still weren't quite what one would call elite, most of his efficiency metrics are still pointing in the right direction.
The Bucs are expected to once again field a fairly atrocious defense, even though they signed Ndamukong Suh to replace long-time stud defensive tackle Gerald McCoy.
Additionally, Winston shouldn't face as much pressure from backup quarterback Blaine Gabbert as he did from a historically-elite version of Ryan Fitzpatrick in 2018. Yes, Gabbert and Arians had a history together in Arizona, but it'd behoove the entire Tampa Bay organization to give Winston every last opportunity this season to find out once and for all if he's deserving of a long-term commitment.
Helping Winston's chances at finally taking his game to the next level is the fact that the Buccaneers boast a fairly loaded group of wide receivers and tight ends.
The Buccaneers Have a Lot of Weapons for a 'Bad' Team
There are expected to be more than a few capable receivers on the field for a given snap in Tampa Bay.
Mike Evans joins A.J. Green and Randy Moss as the only players in NFL history to start their career with five consecutive seasons with at least 1,000 receiving yards. Kings stay kings.
Chris Godwin has posted receiving lines of 3 receptions-98 yards-0 TDs, 7-111-1, 5-101-1, 1-13-0, 0-0-0 and 6-114-2 in six career games without DeSean Jackson, and Godwin is expected to see plenty of time in the slot now that Adam Humphries is in Tennessee. Godwin offers enhanced separation and contested-catch ability that should allow him to flourish with a career-high workload in 2019.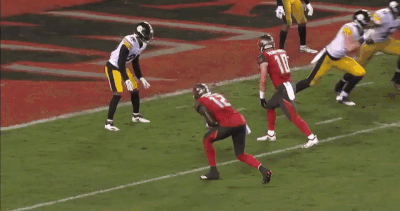 Breshad Perriman's average of 13.6 yards per target in 2018 trailed only Tyler Lockett (13.8) among players with at least 25 targets. It's easy to see why Arians is infatuated with a receiver who stands 6-foot-2, weighs 212 pounds and ran a 4.3-second 40-yard dash, but there's plenty of potential for disappointment considering Perriman's long history of doing essentially nothing.
Scott Miller has already earned John Brown comparisons from Arians. The Buccaneers' 5-foot-9, 174-pounds sixth-round pick played his collegiate career against weak competition at Bowling Green, but does possess "legitimate sprinter's speed" and notably balled out as a senior against Oregon (13-166-2) and Georgia Tech (10-117-0).
O.J. Howard is a 6-foot-6, 251-pound tight end who would later go on to dominate the combine, running the 40-yard dash in 4.51 seconds and grading out with a SPARQ-x score in the 88th-percentile of all tight ends. The only tight ends who averaged more yards per route run than Howard (1.85) in 2017 were Zach Ertz (2.0), Travis Kelce (2.03), Hunter Henry (2.05), Rob Gronkowski (2.43) and Ricky Seals-Jones (2.96). That list shrunk to only Kelce (2.34) and George Kittle (2.83) in 2018.
Cameron Brate has played 39 games with Winston over the past three seasons and managed to score 19 touchdowns. Brate should play fewer snaps than usual in 2019 as long as Howard stays healthy, but his chemistry with Winston still makes him a red-zone threat defenses must account for.
Only five players converted at least 35% of their red zone targets into TDs over the past three seasons (among 57 players with 30+ red zone targets):

1. Cam Brate (45% red zone TD rate)
2. Jordy Nelson (37%)
3. Davante Adams (36%)
4. Eric Ebron (36%)
5. Alshon Jeffery (35%)

— Ian Hartitz (@Ihartitz) April 6, 2019
Godwin and Howard boast great chances at joining Evans as key fantasy football assets in 2019.
Winston probably won't ever be known as a model of consistency. Still, he's already demonstrated the ability to work as on of the game's better players for (very) brief stints of time throughout his career, and he'll now have a long leash to potentially evolve into what could be the most talented and scheme-friendly offense of his career.
We saw Winston work as the league's QB9 last season in fantasy points per start despite constantly having to look over his shoulder to deal with both a flaming-hot backup and coaching staff that was actively attempting to keep their jobs.
A better culture and overall offense in 2019 could enable Winston to smash his current average draft position as the QB13.
How would you rate this article?