Can James Conner Repeat His Fantasy Football Greatness?
Credit:
Credit: Philip G. Pavely-USA TODAY Sports. Pictured: James Conner
James Conner burst onto the scene in Le'Veon Bell's place last season and is locked in as the Steelers' starting running back.
Does he have another positive fantasy football outlook in 2019? Ian Hartitz analyzes Conner's situation.
Our experts are constantly refining their rankings and projections in the run-up to the 2019 season. Build custom cheat sheets featuring their latest updates with our Draft Kit.
---
The Pittsburgh Steelers missed the playoffs for the first time in five years last season. Their 9-6-1 campaign did extend their streak of seasons without a losing record to 15, but consistent drama around Le'Veon Bell and Antonio Brown largely defined the disappointing season.
The good news for Steelers faithful is that their future still appears to be fairly bright — particularly on offense. Budding third-year superstars JuJu Smith-Schuster and James Conner should help continue to extend Ben Roethlisberger's career thanks to their immense talent, while the team is expected to return all five starters from a top-10 overall offensive line in 2019.
Conner is again positioned to thrive thanks to his large workload and status as one of the NFL's best young backs. Let's take a look at his fantasy football outlook below.
James Conner Was One of the NFL's Best RBs in 2018
It's tough to properly gauge the value of the running back position considering how dependent they are on their quarterback and offensive line for success.
With that said, Conner separated himself from his peers last season by demonstrating some elite tackle-breaking ability.
James Conner played in every game from Weeks 1-13 last year before suffering an ankle injury.

Most broken tackles among all RBs during that span (PFF):
Conner (57) 👀
Saquon Barkley (57)
Kareem Hunt (53) pic.twitter.com/1ViRh92p8Z

— Ian Hartitz (@Ihartitz) May 10, 2019
The only running backs who joined Conner in the 50 broken tackles club during Weeks 1-13 were Saquon Barkley and Kareem Hunt, who just so happened to lead the NFL in broken tackles during the 2018 and 2017 seasons, respectively.
Conner should also be lauded for having a complete enough skill set to stay on the field and handle 20-plus touches per game. He joined Ezekiel Elliott, Barkley, David Johnson, Todd Gurley, Christian McCaffrey and Joe Mixon as the only running backs with at least 200 carries and 50 targets in 2018. Conner was also one of just nine backs who played at least 60% of their offense's snaps during the regular season.
It's rare to find 6-foot-1, 230-pound running backs who are able to move in space like Conner can.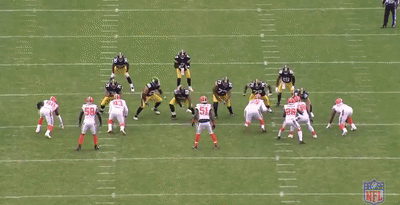 One year sample size be damned: Conner's average of 4.5 yards per carry and 9.0 yards per reception in 2018 topped Bell's career-average marks of 4.3 yards per rush and 8.5 yards per catch.
And there's reason to believe that Conner will continue to get plenty of chances to flash his talents in 2019.
The Steelers Always Find a Way to Feed Their Lead Back
Death, taxes and the Steelers' starting running back getting fed the football.
All five running backs to lead Pittsburgh's backfield over the past five seasons have averaged at least 17 touches per start:
Le'Veon Bell: 25.6
DeAngelo Williams: 22.8
James Conner: 20.8
Jaylen Samuels: 18
Stevan Ridley: 17
Only Elliott (25.4 touches per game), Gurley (22.5) and Barkley (22) received the ball on a more consistent basis than Conner did last season. The lowest mark from the above group (Ridley's 17) still would have ranked as the 15th-best mark among all running backs in 2018.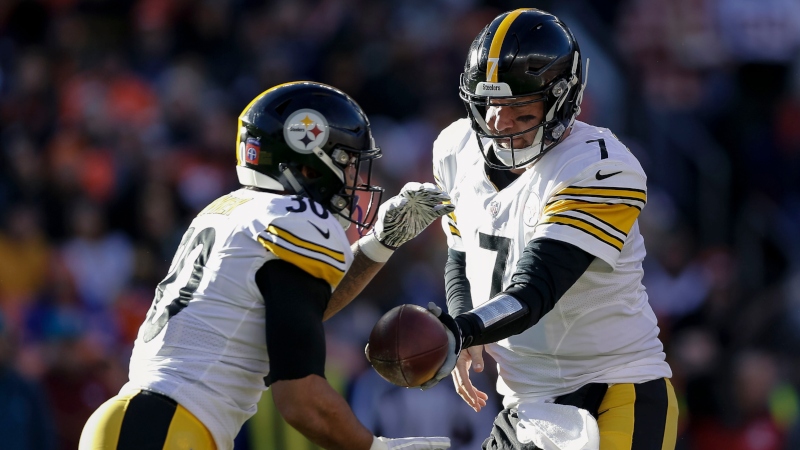 The Steelers held no qualms with leaving Conner on the field for as long as possible throughout the 2018 season prior to his aforementioned ankle injury.
Conner's Snap Rate by Game:
Week 1: 92%
Week 2: 88%
Week 3: 85%
Week 4: 79%
Week 5: 74%
Week 6: 90%
Week 8: 79%
Week 9: 84%
Week 10: 40%*
Week 11: 89%
Week 12: 86%
Week 13: 72%
*Note: Week 10 was a 31-point blowout win.
The Steelers did play Conner (32 snaps) and Jaylen Samuels (31) equally during their must-win Week 17 game, but that could have been more due to the former back attempting to play injured than a changing of the guard.
Conner out-carried Samuels 14-to-2 in Week 17 … but Samuels won the target battle 8-to-3. There's a chance that Samuels' ability to thrive in the passing game could result in the Steelers employing more of a committee backfield than they usually do, but it'd be a surprise if Conner doesn't see between 15 and 20 touches per game as long as he's healthy to suit up.
It also isn't guaranteed that Samuels works as the primary backup to Conner, as the Steelers drafted Benny Snell Jr. in the fourth-round. Late-round running backs don't typically produce much as rookies, but there's a chance Pittsburgh prefers Snell as an early-down talent compared to Samuels.
Conner Is One of the Safest Picks in Fantasy Football
Last season's RB7 in PPR per game does face some uncertainty entering next season in an offense that's losing one of the game's better talents at wide receiver, but it's been awhile since we've seen the Steelers offense operate as anything other than elite.
Steelers Points Per Game by Season:
2014: 27.3 (No. 7)
2015: 26.4 (No. 4)
2016: 24.9 (No. 10)
2017: 25.4 (No. 8)
2018: 26.8 (No. 6)
This has been particularly true from inside the friendly confines of Heinz Field, as Roethlisberger and Co. have regularly performed exponentially better at home over the past half decade.
Only five teams have averaged more than 4.5 additional points per game at home vs. on the road over the past five years:

1. Steelers (+7.4 PPG at home)
…
2. Raiders (+5.8)
3. Patriots (+4.8)
4. Saints (+4.6)
5. Jets (+4.5)

— Ian Hartitz (@Ihartitz) May 10, 2019
There are only eight running backs being selected ahead of Conner in PPR drafts as of writing. His status as a three-down workhorse with top-10 fantasy football upside hasn't gone anywhere despite the mini ascension of Samuels.
Conner should be fired up in fantasy drafts of all types with confidence as a RB1 with the ability to finish inside the position's top-five performers if things break his way.
How would you rate this article?