Which Patriots' Running Backs Offer Fantasy Football Value in 2019?
Credit:
David Butler II-USA TODAY Sports. Pictured: Sony Michel, James White
Ian Hartitz analyzes the New England Patriots' backfield to see which running back offers the most fantasy football value.
We're in the thick of the NFL offseason and it's officially time to start fantasy football prep. I'll be answering the biggest questions heading into the 2019 season; this is part of that series.
---
Figuring out the Patriots' game plan has never been an easy task. This is true on both offense and defense, but particularly in their backfield.
Most of the NFL has started to come around to the idea of featuring multiple running backs in their scheme; the Patriots have been doing this for the past two decades. This year's edition of their running back committee could feature four running backs and a full back.
What follows is a breakdown of how much fantasy football value the New England backfield has historically provided as well as who to target in 2019.
Patriots Regularly Utilizes Multiple Running Backs
Death, taxes and the Patriots having a multi-back committee.
The Patriots haven't consistently produced all-time talents at running back, but at least one of their featured backs have managed to serve as an above-average fantasy asset over the better part of the past 10 years in PPR points per game.
2009: RB37, RB48
2010: RB23, RB47
2011: RB37, RB66
2012: RB20, RB32
2013: RB8, RB41
2014: RB31, RB36
2015: RB5, RB39
2016: RB15, RB37
2017: RB18, RB19
2018: RB10, RB36
The Patriots' Nos. 1 and 2 running backs have on average finished as the league's RB20 and RB40, respectively, in PPR points per game since 2009.
The only problem with the New England backfield has been attempting to figure out who will wind up getting the most touches.
The 2019 Patriots Once Again Have a Crowded Backfield
The New England running backs room is similar to Ricky Bobby's (revised) stance on life: It's not always a first or last situation. Patriots backs can be second, third, fourth, hell they can even be fifth in the pecking order and still ultimately wind up with double-digit touches on any given Sunday.
This year's edition of the committee could feature up to four involved running backs in any given week. Note that this doesn't include full back/occasional vulture James Develin as well as old-friend/special teams ace Brandon Bolden.
James White led the Patriots with 123 targets and 87 receptions last season while also chipping in 94 carries on the ground. We could perhaps see his role as a slot receiver expand with Rob Gronkowski and Chris Hogan out of the picture, as the 27-year-old ran 22% of his routes from the slot or out wide in 2018. White was out-targeted by Julian Edelman 93-to-108 once Brady's long-time No. 1 receiver returned to action in Week 5, but the sixth-year back should again see plenty of targets thanks to both continued chemistry with Brady and the reality that most linebackers can't hang with him in space.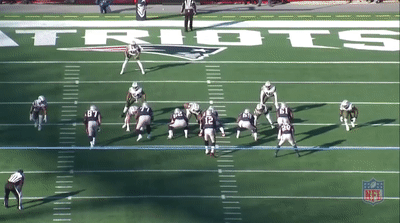 Sony Michel was the Patriots' 2018 first-round pick and accordingly led the team with 209 rush attempts in just 13 games. His limited usage as a receiver (11 targets all season) isn't ideal, but his average of 115 yards and two touchdowns per game in the playoffs proved that Patriots backs can still be fantasy-friendly assets without a major receiving role. Michel was one of just eight running backs with at least 100 rush attempts while working as the league's PPR RB24 after the Patriots' bye in Weeks 12 to 17 last season. He's the favorite to again lead the backfield in carries assuming his history of knee problems doesn't present additional issues (big assumption).
Damien Harris is the biggest reason to be concerned about Michel's stranglehold on early-down and goal-line duties. The Patriots drafted the Alabama running back in the third-round of the 2019 draft. Michel and Harris are reportedly participating in a position battle for potential lead back duties, and we shouldn't underestimate the latter back's potential to work as the No. 1 back sooner rather than later this season.
Darrell Henderson is the PPR RB33 in ADP after being picked in the third round amidst concerns about Todd Gurley's knee.

Damien Harris is the PPR RB61 in ADP after being picked in the third round amidst concerns about Sony Michel's knee. pic.twitter.com/MDQhWj5jzF

— Ian Hartitz (@Ihartitz) June 5, 2019
Rex Burkhead might offer the most complete skill set of any running back on the roster. This helped lead to some splash performances (most notably in the AFC Championship Game), but the usage was inconsistent and Burkhead ultimately had double-digit touches in just three of his 11 games last season (including playoffs). The Patriots would have to eat $2 million in dead cap if they cut Burkhead, so his snap counts will be particularly important to watch early in the season.
TL;DR: White is the favorite for snaps and targets, Michel is the favorite for carries and touches but offers heightened injury risk, Harris is the undervalued new guy who could contribute sooner rather than later, and Burkhead is the wildcard who could feasibly go from inactive to decently involved over any given stretch.
The good news for everyone involved is…
The Patriots Always Put up Points
Bill Belichick's evil empire has fielded a top-10 scoring offense in each of the past 15 years, with Tom Brady and Co. sneaking inside the league's top-five units in nine consecutive seasons.
The Patriots have fielded a top-10 scoring offense in 15 consecutive seasons:

2004: 4th
2005: 10th
2006: 7th
2007: 1st
2008: 8th
2009: 6th
2010: 1st
2011: 3rd
2012: 1st
2013: 3rd
2014: 4th
2015: 3rd
2016: 3rd
2017: 2nd
2018: 4th

— Ian Hartitz (@Ihartitz) June 5, 2019
This obviously led to historic careers for GOATs like Brady and Gronkowski, while wide receivers Randy Moss, Wes Welker and Edelman also have an above-average chance of hearing their names call in Canton one day.
It's tough to say at this point if we'll remember any of New England's current running backs as fondly as the aforementioned all-time greats, but they could be relied on more than ever in 2019 due to the absence of Gronk, Hogan and Josh Gordon.
It wouldn't be shocking if the Patriots running backs manage to increase their league-high volume in the pass game in 2019.
Teams that targeted their running backs at least 130 times in 2018:

Patriots (152)
Giants (152)
Lions (144)
Saints (144)
Chargers (141)
Jaguars (135)
Panthers (134)
Raiders (132)
Bears (130)

— Ian Hartitz (@Ihartitz) June 4, 2019
The Patriots are one of eight offenses that boast a starting running back, three wide receivers and a tight end who each ran a 40-yard dash in fewer than 4.6 seconds entering the NFL. This year's first-round pick N'Keal Harry figures to be plenty involved, but the most proven options in the offense still rest in the slot and backfield.
Drafting Patriots running backs is usually seen as  a scary process due to their tendency to work as boom-or-bust options, but we have ample evidence over the past decade that the group's No. 1 and sometimes No. 2 options ultimately work as top-20 fantasy assets.
Fantasy football investors should strongly consider targeting the group at will in best ball formats that won't make identifying the lead back on a week-to-week basis as important. Riding the value in Harris and potentially White is probably the best route to go in season-long and dynasty formats.
How would you rate this article?