How Does Jared Goff Rank Among Quarterbacks Tom Brady Has Faced in the Super Bowl?
Credit:
Robert Hanashiro-USA TODAY Sports. Pictured: Jared Goff
Tom Brady and the New England Patriots will face off against Jared Goff and the Los Angeles Rams in the ninth Super Bowl of the Brady-Bill Belichick era.
So how does Goff stack up against past quarterbacks to duel with Brady on the NFL's biggest stage? Ian Hartitz digs into the data to rank all nine -- including both versions of Eli Manning.
There have been two constants throughout the New England Patriots' dynasty: Tom Brady and Bill Belichick. And Brady has been as prolific as ever in recent playoff history.
Tom Brady in his last 10 playoff games

348 yards-1 TD-2 INT (37 points)
343-1-0 (41)
505-3-0 (33)
290-2-0 (24)
337-3-0 (35)
466-2-1 (34)
384-3-0 (36)
287-2-2 (34)
310-1-2 (18)
302-2-0 (27)

— Ian Hartitz (@Ihartitz) January 21, 2019
It would be shocking if Brady doesn't find a way to manufacture points come Feb. 3 — the over/under opened as the highest Super Bowl total of all time.
But the even more interesting question is how third-year quarterback Jared Goff will perform in the biggest game of his career.
It's worth noting that Goff has had some fairly brutal splits with Cooper Kupp vs. without the wide receiver…
Goff with Kupp (8 games): 69.6% completion rate, 9.66 Y/A, 17 TDs, 6 INTs
Without Kupp (10 games): 60.1% completion rate, 7.12 Y/A, 16 TDs, 7 INTs
… and also has a history of not playing well on the road since Sean McVay took over in 2017 (per our NFL Trends tool).
Still, Goff has arguably the league's best offensive line and a more-than-competent group of pass-game weapons.
He also played his best late-season football during the Rams' NFC Championship victory over the Saints as he repeatedly shredded New Orleans' underrated secondary down the field.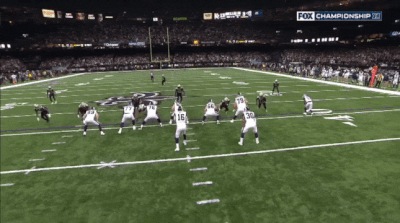 Goff deserves plenty of credit for steady play throughout the season that has led the Rams within one win from immortality.
So how does he stack up against every other quarterback the Patriots have faced in the Super Bowl?
Let's dig in.
Quarterbacks Tom Brady Has Faced in the Super Bowl
The list is both strange and impressive. It's a steady mix of future Hall of Famers and signal callers who relied a bit more on their teammates for success.
2001-02: Kurt Warner, Rams
2003-04: Jake Delhomme, Panthers
2004-05: Donovan McNabb, Eagles
2007-08: Eli Manning, Giants
2011-12: Eli Manning, Giants
2014-15: Russell Wilson, Seahawks
2016-17: Matt Ryan, Falcons
2017-18: Nick Foles, Eagles
2018-19: Jared Goff, Rams
All of the above quarterbacks (with the potential exception of Wilson) has had a period of their career when their on-field play didn't come close to matching the high-level performance they exhibited during their respective playoff runs. So we're only focusing on each of their stats for the regular season in which they made the Super Bowl rather than their career rates.
2016-17 Matt Ryan Was A Helluva Drug
We'll use completion rate and adjusted yards per attempt to measure each quarterback's efficiency. Adjusted yards per attempt differs from yards per attempt with extra weight given to touchdowns and interceptions.
Note that league-wide completion rates have generally been on the rise during the Brady era.
Goff ranks third in completion rate and adjusted yards per attempt. Ryan's ridiculous 2016 MVP campaign is the easy leader in both categories, but Warner, McNabb and Goff have arguments as the next most efficient quarterbacks to face the Patriots.
The 2011-12 version of Manning also deserves credit for putting together the most efficient season of his career.
And then we have Delhomme, Wilson, Foles and 2007-08 Manning who performed below their career averages during their respective playoff runs. Delhomme is the only one who didn't necessarily play at an elite level for an extended part of his career, but he did at least save his most efficient game of the season in average yards per attempt for the Panthers' Super Bowl loss.
2004-05 Donovan McNabb & Terrell Owens Balled Out
The following figures indicate how many touchdowns and interceptions each quarterback threw per pass attempt.
Goff is a clear No. 4 in touchdown rate behind Warner, McNabb and Ryan. The good news is that Goff has done a better job at avoiding interceptions compared to Warner, but there's still a fairly significant drop off in touchdown rate after the top three signal callers.
Foles and 2011-12 Manning also posted respectable rates while Wilson, Delhomme and 2007-08 Manning had the most trouble consistently finding the end zone.
Wilson in particular appeared to be in a rough patch during their ill-fated Super Bowl run — he's posted a touchdown rate of at least 6% in five of his seven seasons.
2014-15 Russell Wilson Was Also A RB
Each quarterback's respective rushing yards per game and sacks taken per dropback rate is listed below.
Wilson and McNabb are the only dual-threat quarterbacks to face off against Brady in the Super Bowl. This rushing ability did come with a price, as they also boasted bottom four sack rates among the group.
Goff isn't quite a statue on the level of Delhomme or Manning, but he's struggled at times to create once the play breaks down. The good news for the Rams is their quarterback is at least capable of stretching the pocket with his feet, which ultimately helped earn them their Divisional Round victory over the Cowboys.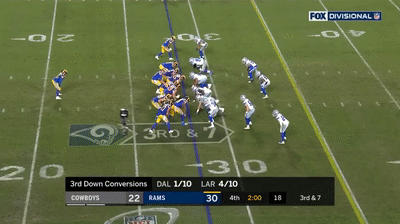 The Greatest Show On Turf Was Pretty Great
The following table indicates each quarterback's total pass completions of 20-plus yards as well as their rate of 20-plus yard completions per pass attempt.
Warner and the 2001-02 Rams didn't join their 1999-2000 predecessors as Super Bowl champions, but their pass offense was still one of the more explosive units the league has ever seen.
Goff and this season's Rams aren't far behind. They stack up favorably to the Falcons' electric 2016-17 offense while the rest of the Patriots' past Super Bowl opponents weren't that explosive in the passing game (with the exception of 2011-12 Manning).
Delhomme, McNabb and Foles rebounded from their respective sub-par regular-season explosive pass play rates by throwing for three touchdowns against the Patriots. Go figure.
The 2007-08 version of Manning managed to get the job done thanks to witchcraft … or something. I mean, how in the actual hell did he pull this off?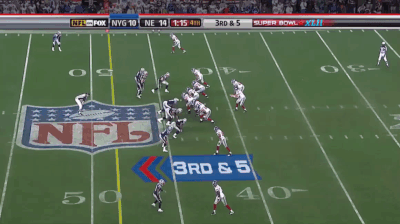 So Where Does Jared Goff Rank?
I asked my wonderful Twitter followers for their take on this matter this past Sunday night shortly after the Super Bowl 53 matchup was decided.
Where would you rank Jared Goff among QBs that have faced Tom Brady and the Patriots in the Super Bowl?

The list …
Kurt Warner
Jake Delhomme
Donovan McNabb
Eli Manning (x2)
Russell Wilson
Matt Ryan
Nick Foles

— Ian Hartitz (@Ihartitz) January 21, 2019
My rankings below are a bit subjective, but mostly influenced by the data we ran through above:
2016-17 Matt Ryan
2001-02 Kurt Warner
2004-05 Donovan McNabb
2014-15 Russell Wilson
2018-19 Jared Goff
2011-12 Eli Manning
2017-18 Nick Foles
2007-08 Eli Manning
2003-04 Jake Delhomme
Brady's record against my No. 1-4 quarterbacks is a perfect 4-0 compared to a 1-3 record against my No. 6-9.
This is the GOAT we're talking about here.
Football is and will always be a team sport — and I expect Goff and the Rams to provide the Patriots with another worthy opponent for another potentially epic Super Bowl.