Javonte Williams Dynasty Fantasy Outlook & NFL Draft Props To Bet
Credit:
Getty Images. Pictured: Javonte Williams
"Javonte Williams will have NFL success ... but he has a downside that many don't seem to appreciate."
Fantasy football analyst Matthew Freedman explains how dynasty players should treat Javonte Williams.
Find Freedman's profile of Williams below, complete with relevant props he's betting for the 2021 NFL Draft.
Javonte Williams Draft Profile
| | |
| --- | --- |
| Position | RB |
| School | UNC |
| Height | 5'10" |
| Weight | 212 |
| 40-Yard Dash | 4.55 |
| 2021 Age | 21 |
| Class | JR |
| Recruit. Stars | 3 |
| Projected Round | 2-3 |
---
Javonte Williams Draft Props
As of writing, Williams has no draft position over/unders in the market, so only a couple props pertain to him — and even those have almost nothing to do with him.
In not one of my mock drafts …
… have I come remotely close to thinking about putting Williams in Round 1 — and that doesn't mean I think he's bad, it just means that I don't think the NFL will put two running backs in Round 1. And even if it does, I don't think the NFL will have Williams ahead of Najee Harris or Travis Etienne.
I can't deny that Williams has seen his draft stock steadily rise over the past year, especially since evaluation season kicked off (per Grinding the Mocks).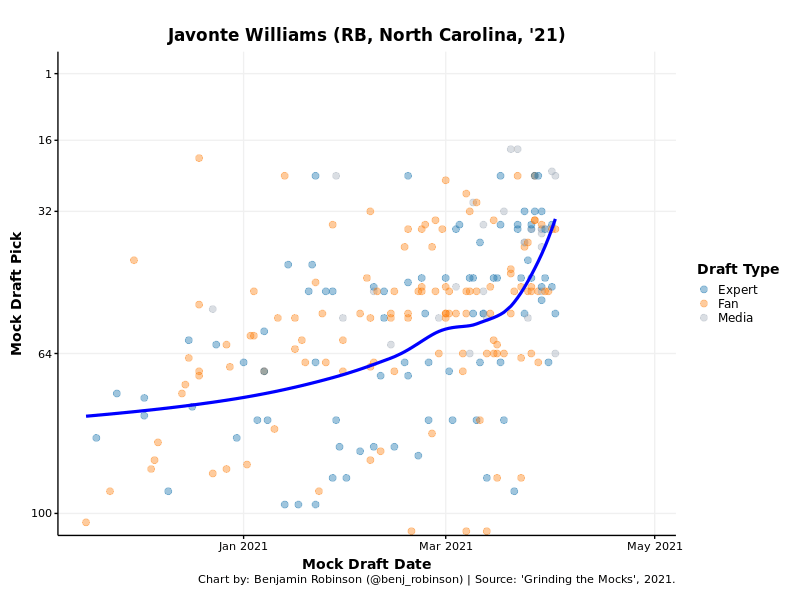 His strong pro day performance has likely contributed to his recent ascent up the board. But I am still highly skeptical that Williams will find his way into Round 1.
While I rely on my own research, I also take a "wisdom of the crowds" approach by surveying an index of mock drafts. I find that these drafts — created by experts with established records of success — collectively give me a good sense of the realistic range of outcomes for what we might see with any given player or pick.
In these mocks we see the following distributions for running backs drafted in Round 1.
Zero Running Backs: 20%
One Running Back: 75%
Two Running Backs: 5%
At DraftKings, the over/under for Round 1 running backs is 1.5 with -200 for the under, and that's a great number: It implies that the under has a 66.7% chance of hitting, but the true odds are almost certainly much higher.
As noted in my Travis Etienne prospect profile, I have bet two units on the under.
Note: There's an arbitrage opportunity available at Fox Bet, where you can bet over 1.5 running backs in Round 1 at +310, but I see so much value on the under that I'm simply going to let it ride and forgo the arbitrage.
In 95% of indexed mocks, we see no more than one running back in Round 1. And if Williams is clearly behind Harris and Etienne, then that's not good news for him: In not one of the surveyed drafts is Williams present.
The odds for Williams to go off the board as the top back range from +380 at FanDuel to +600 at Bet365, and I don't see any value in those numbers. Even at the most generous odds of +600, Williams has an implied probability of 14.3% to be the No. 1 back, and that is egregiously high.
Translation: If you bet on Williams to be the first back selected, you have declared yourself to be someone who hates money.
---
Dynasty Fantasy Analysis
I have conflicting thoughts on Williams — he'll be just 21 years old as a rookie and is highly likely to go in Round 2, and those two facts alone put him in a historical cohort with some very strong NFL players.
21yo RBs in Round 2 since 2000:

– D'Andre Swift
– Jonathan Taylor
– Cam Akers
– Ronald Jones II
– Kerryon Johnson
– Derrius Guice (inj.)
– Joe Mixon
– Le'Veon Bell
– Ryan Williams (inj.)
– LeSean McCoy
– Ray Rice
– Maurice Jones-Drew
– Clinton Portis

This is a Javonte tweet.

— Matthew Freedman (@MattFtheOracle) April 6, 2021
Aside from Ryan Williams and Guice — both of whom missed their rookie seasons and had their careers derailed by knee injuries — the only backs on that list not to have multiple seasons of 1,000-plus scrimmage yards are Johnson (who missed 14 games over his first two seasons) and last year's trio of rookies: Swift, Taylor and Akers.
If a young back is invested with Round 2 draft capital and escapes injury early in his career, he will likely produce in the NFL.
Given that the 2021 class is incredibly thin at running back and rather deep at wide receiver, I can easily see how Williams could go as high as No. 3 in some rookie dynasty drafts. I don't think that would be wise, but if a dynasty drafter absolutely needs a running back and Harris and Etienne are already off the board, it will be hard to pass on Williams regardless of who else is available at other positions.
Framed differently: Why take wide receiver Ja'Marr Chase in Round 1 and then an irrelevant running back in Round 2 when you can take Williams right away and then follow up with another receiver you actually like?
But using a pick on Williams instead of a wide receiver or tight end selected on Day 1 just feels so wrong to me from a value-seeking perspective.
This is where I am conflicted.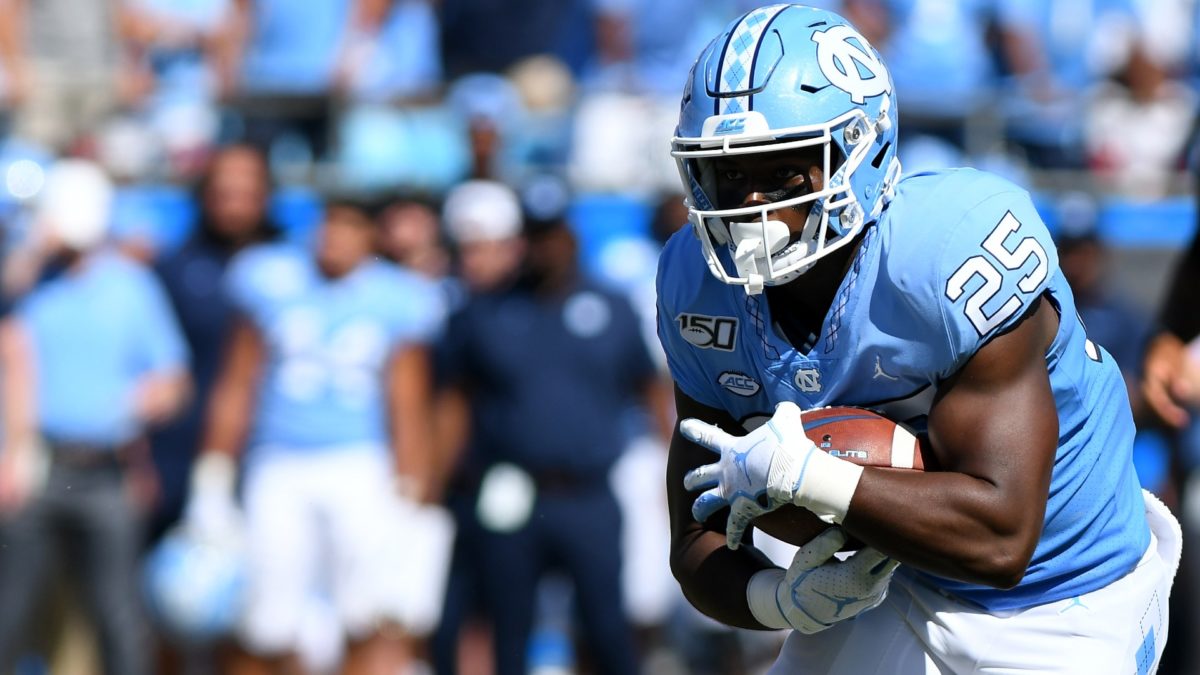 In a vacuum, I like Williams — he's a tier beneath Harris and Etienne, but I can see how Williams might manage to outperform one or both of them in the NFL, and he's a couple of tiers ahead of the rest of the backs in the class. He's a good player who certainly should go in Round 1 of rookie drafts.
I expect him to have multiple years of fantasy utility, especially since he's so young.
It's hard to find backs capable of handling a full three-down workload in the NFL, and Williams might be one of those guys. But I'm a long-term investor, and running backs tend not to last as long as wide receivers. And this is a strong receiver class, which means we are likely to see several of them — at least three, but maybe as many as seven — go ahead of Williams in the NFL draft.
If the NFL itself values the wide receivers — as well as tight end Kyle Pitts — ahead of Williams, and if wide receivers maintain their value and utility longer than running backs, and if receivers are roughly as impactful as backs in fantasy … then why would I take Williams ahead of any of these receivers or Pitts?
Positional scarcity. That's the reason. The only reason. And I'm not sure if it's enough of a reason.
For backfield-deficient dynasty teams, that reason might be sufficient. For balanced teams, it probably isn't.
Regardless, I was too low on Williams in my way-too-early rookie dynasty rankings, where I had him at No. 13. Haha, ouch.
In my defense, at the time I thought of him as more of a Day 2 guy (Rounds 2-3) than a locked-in top-half-of-Round 2 prospect. But now with his expected draft position, he should definitely go in the top 12 of rookie drafts. The only question is how high.
I tend to think that athleticism at running back is overrated: We have seen some sluggish backs have success over the past 20 years. So Williams' pro day doesn't matter much to me. Even so, the Williams stans will be happy to know that he was sufficiently athletic at his pro day.
There's nothing exceptional about a 4.55-second pro-day 40 time at 212 pounds, but it's by no means egregious, and Williams displayed above-average size-adjusted explosiveness and quickness with his jumps and agility drills.
Williams isn't an elite athlete, but he has the requisite physical ability to be a productive NFL back — especially given what he accomplished in college.
As a freshman, Williams didn't do much as a bench back with 43-224-5 rushing and 8-58-0 receiving, but in his second season, he broke out as the big-bodied punisher in a two-man partnership with Michael Carter.
Although Carter outproduced Williams in 2019 …
Williams (13 games): 166-933-5 rushing | 17-176-1 receiving
Carter (13 games): 177-1,003-3 rushing | 21-154-2 receiving
… Williams was the one who entered 2020 with the elevated draft stock, and he didn't do anything to diminish the hype.
In his final college season, Williams once again split the backfield work with Carter in 2020 …
Williams (11 games): 157-1,140-19 rushing | 25-305-3 receiving
Carter (11 games): 156-1,245-9 rushing | 25-267-2 receiving
… but on a per-game and per-touch basis, Williams still enjoyed significant year-over-year improvement, thereby cementing his place at the top of the non-Harris/Etienne cohort.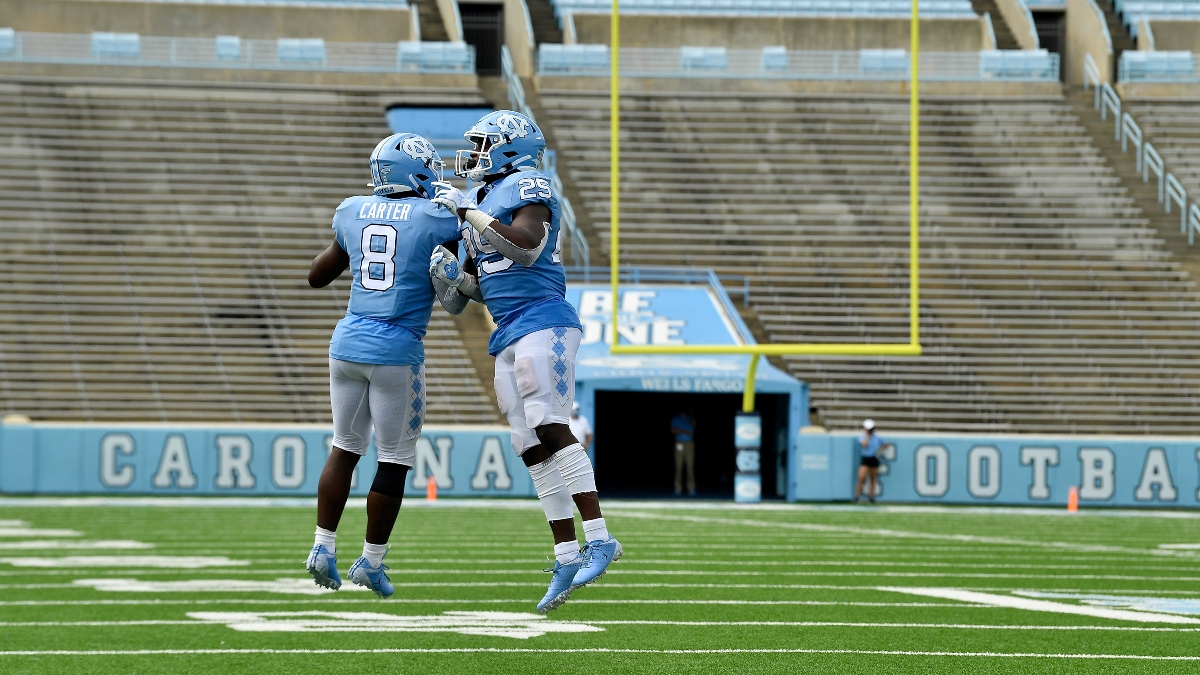 In the 2021 Sports Info Solutions Football Rookie Handbook (SIS), Williams rightfully stands out in a few of the running back leaderboards. He's the only back in the class with a 99 Total Points Rating based on his 2020 production, and he's the top Power Five back with 5.3 expected points added per game and 4.6 yards after contact per attempt.
His ability to play through contact is especially notable:
Per Pro Football Focus: "After putting on 15 pounds in two years, Williams added an explosive element to his game we hadn't seen in the past. He broke the PFF record for broken tackles per attempt (0.48), and his 75 broken tackles led the country."
Thanks in large part to his tackle-breaking strength, Williams finished 2020 with a 95.9 PFF rushing grade — the highest such grade ever assigned by the company.
That PFF is so on Williams is illustrative: He is the type of player people enjoy watching. He runs with power and balance. He has good vision and is quick to find the hole and explode through it. He can make defenders miss with his agility, but he also never shies away from contact. When he hits defenders, he does so with excellent pad level and force. And at the end of runs, he almost always falls forward.
He runs with intelligence but also violence.
He is a coach's dream. He is very much a professional ball carrier.
It's not a surprise that he is compared to Nick Chubb, one of the NFL's purest runners.
If Mina Kimes is saying that Williams is the No. 3 back in the class at worst, that's a pretty strong indication of the zeitgeist.
And it's not as if Kimes is wrong: Williams is a strong runner. Compared to the other backs of recent draft classes, he more than holds his own.
My model for the last 3 classes:
1. Jonathan Taylor (96th percentile)
2. Travis Etienne
3. Clyde Edwards-Helaire
4. Javonte Williams
5. J.K. Dobbins
6. Najee Harris
7. Antonio Gibson
8. Josh Jacobs
9. D'Andre Swift
10. Cam Akers (80th percentile)

— Hayden Winks (@HaydenWinks) April 3, 2021
NBC Sports' Thor Nystrom has Williams as the No. 1 back in the class. I can't go that far — especially since draft capital is so important to a projection of any running back's NFL future — but I can see how Nystrom got there, and he tends to be sharp.
All of this is to say is that more than a few smart people view Williams as not the third-wheel to the two-man Harris-Etienne party, but rather a coequal-at-worst member of a top-tier triumvirate.
And Williams has more going for him than just his rushing ability: He's also an above-average receiver. He's not the kind of pass catcher a team will motion out of the backfield and line up in the slot or out wide. He's not a route-running savant with option-route usage. But he's solid.
He gets the job done with flares and screens and is No. 3 on the SIS leaderboard with 1.1 yards per route, trailing only Etienne (1.6) and Carter (1.2). And maybe most importantly — at least as far as NFL coaches might be concerned — Williams is a stonewall pass protector, which means that as a rookie he has a chance to see three-down usage.
As a prospect, Williams looks like the complete package.
There's just one problem: He was never a true lead back in college. As a sophomore, he averaged 12.8 carries per game. As a junior, 14.3 carries.
With his size and skill set, Williams probably has the ability to handle 15-plus carries and three-plus targets per game — but from a modeling and predictive standpoint, it's a red flag that Williams never dominated his backfield at North Carolina.
On the one hand, he can't help it that he had another NFL-caliber back in Carter as his teammate.
On the other hand, if Williams were a better player — if he were a lead back — then maybe Carter never would have gotten the opportunity to show his true ability.
For the most part, the workload concerns are minimal: Williams looks like a lead back, and if goes in Round 2, he will likely be treated like a lead back. But the concerns can't be dismissed entirely.
On the basis of his expected draft capital as well as his college production and athletic measurables, the two backs to whom he's most comparable in the RotoViz Prospect Box Score Scout — with similarity scores of 100! — are Shane Vereen and the aforementioned Johnson, who could never escape committee roles.
What if Williams is just another Kerryon?
Williams will have NFL success, and ultimately I imagine he will be a top-six rookie in my dynasty rankings. But he has a downside that many market participants right now don't seem to appreciate.
NFL Prospect Comp: Marshawn Lynch with less draft capital, production and athleticism
---
Matthew Freedman is 1,018-828-37 (55.1%) overall betting on the NFL. You can follow him in our free app.
How would you rate this article?