Jaylen Waddle NFL Draft Profile, Dynasty Fantasy Outlook & Props
Credit:
UA Athletics/Collegiate Images/Getty Images. Pictured: Jaylen Waddle.
Jaylen Waddle Draft Profile
| | |
| --- | --- |
| Position | WR |
| School | Alabama |
| Height | 5'10" |
| Weight | 182 |
| 40-Yard Dash | N/A |
| 2021 Age | 23 |
| Class | JR |
| Recruit. Stars | 4 |
| Projected Round | 1 |
---
Jaylen Waddle Draft Props
As noted in my DeVonta Smith prospect profile, I am betting under 5.5 wide receivers in Round 1 (-162 at Fox Bet).
In my post-free agency mock draft, I have only four wide receivers going in Round 1, but one of them is Waddle, who is a lock to go on Day 1.
While I rely on my own research, I also take a "wisdom of the crowds" approach by surveying an index of mock drafts. I find that these drafts — created by experts with established records of success — collectively give me a good sense of the realistic range of outcomes for what we might see with any given player or pick.
And in not one of the indexed mocks does Waddle fall out of the first half of Round 1. In how Waddle is discussed and projected, he's right there with Ja'Marr Chase and Smith among the receivers in this class.
And you can see that in his draft stock. Although Smith entered evaluation season well ahead of his Alabama teammate, Waddle has overtaken Smith in mocks over the past month. Right now, Waddle looks like the No. 2 wide receiver in the class (per Grinding the Mocks).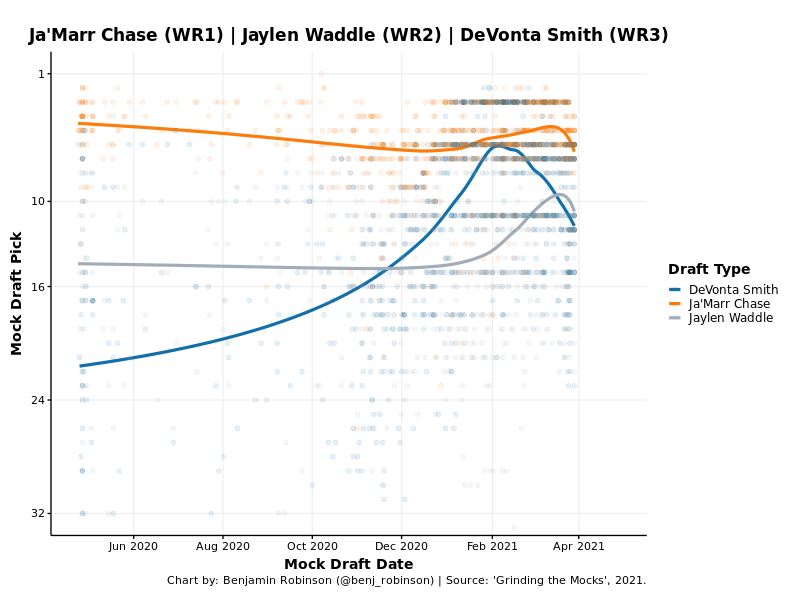 But even with Waddle's recent move up the board, I doubt he has the juice to overtake Chase to be the No. 1 receiver drafted.
The odds for Waddle to go off the board as the top wideout range from +500 at DraftKings and PointsBet to +850 at FanDuel, and I don't see any value in those numbers, as Waddle is the No. 1 receiver drafted in just 5% of the indexed mocks.
He is, however, in play to go to the Dolphins at No. 6, the Giants at No. 11 and the Eagles at No. 12, which is where I have him going. And honestly, I think that's near his floor.
In fact, in 75% of indexed mocks, Waddle goes before pick No. 13 — that's why I'm betting the under 12.5 on his draft position heavily.
The rest of the market for Waddle right now is a bit empty, but whenever the books post head-to-head matchups for receivers — especially for Smith vs. Waddle — I'll look at those with strong intent.
Based on how the books have Smith and Waddle priced in the No. 1 receiver market, I tentatively expect them to have Smith favored over Waddle, which will offer sharp investors an opportunity.
Pick: Under 12.5 (bet to -200); 2.0 units
Bet Now:FanDuel
Dynasty Fantasy Analysis
Waddle fascinates me. He might be the best all-around receiver in the class. In the 2021 Sports Info Solutions Football Rookie Handbook (SIS), he's graded as the No. 1 receiver, ahead of Chase and Smith.
Jaylen Waddle: 7.1
Ja'Marr Chase: 7.0
DeVonta Smith: 6.9
He is not without his issues. Like Smith, Waddle is 23 years old, which makes him a rather aged prospect.
But unlike Smith, Waddle is entering the NFL as an early declarant after just three years in college, and that makes a massive difference to his NFL projection.
Age and college experience are clearly correlated, and years ago when numbers-based evaluators started looking at prospects through a more analytical lens, they did so with an eye on age.
That makes sense: Age is often relatively easy to find, whereas you have to dig more if you want to know whether a guy took a redshirt season — and the possibility of a redshirt can cause extra considerations that might mess up the analysis. Put simply, age is a less bothersome starting point.
The early age-focused work on prospects, especially wide receivers, was revolutionary. Example: Jon Moore's Phenom Index.
But even in those early days I suggested that experience is just as important as (and maybe more important than) age in evaluating prospects. And in the time since then, evidence has come along to indicate that experience indeed is the more important factor.
In particular, Anthony Amico has done great work in analyzing the experience vs. age dichotomy.
Quick look at why looking at WR experience > WR age for prospects

When modeling on hits (and max PPR within 3 seasons) experience trumps age in every test pic.twitter.com/Fb2B5Em8iN

— Anthony Amico (@amicsta) January 16, 2021
And what this means for Waddle is that, even though he is as old as Smith — and even though Waddle was old as a true junior in 2020 — he has a massive edge over Smith as a prospect, at least in the age/experience category.
If we continue to evaluate Waddle next to Smith, it's tempting to dismiss the former because of the latter's unbelievable production, especially in their two final years at Alabama.
Smith (2019-20, 26 games): 185-3,112-37 receiving
Waddle (2019-20, 19 games): 61-1,151-10 receiving
But these numbers perhaps mislead.
Smith easily outproduced Waddle in 2019, when he was the No. 4 receiver in the Alabama offense behind Smith, Jerry Jeudy and Henry Ruggs III, but Waddle in 2020 actually outproduced Smith before a fractured ankle sidelined him for the rest of the regular season.
Waddle (Weeks 1-4): 25-557-4 receiving | 3-12-0 rushing
Smith (Weeks 1-4): 38-483-4 receiving | 2-2-1 rushing
And in 2018, as a true freshman, Waddle markedly outproduced Smith.
Waddle (20-year-old freshman): 45-848-7 receiving
Smith (20-year-old sophomore): 42-693-6 receiving
So Waddle outproduced Smith in their first season together, and when healthy, Waddle outplayed Smith in their final year.
On top of that, Waddle has the career special teams production that distinguishes him as a true get-the-ball-in-his-hands-however-we-can playmaker.
Punt Returns: 38-733-2 | 19.3 yards per return
Kick Returns: 9-214-1 | 23.8 yards per return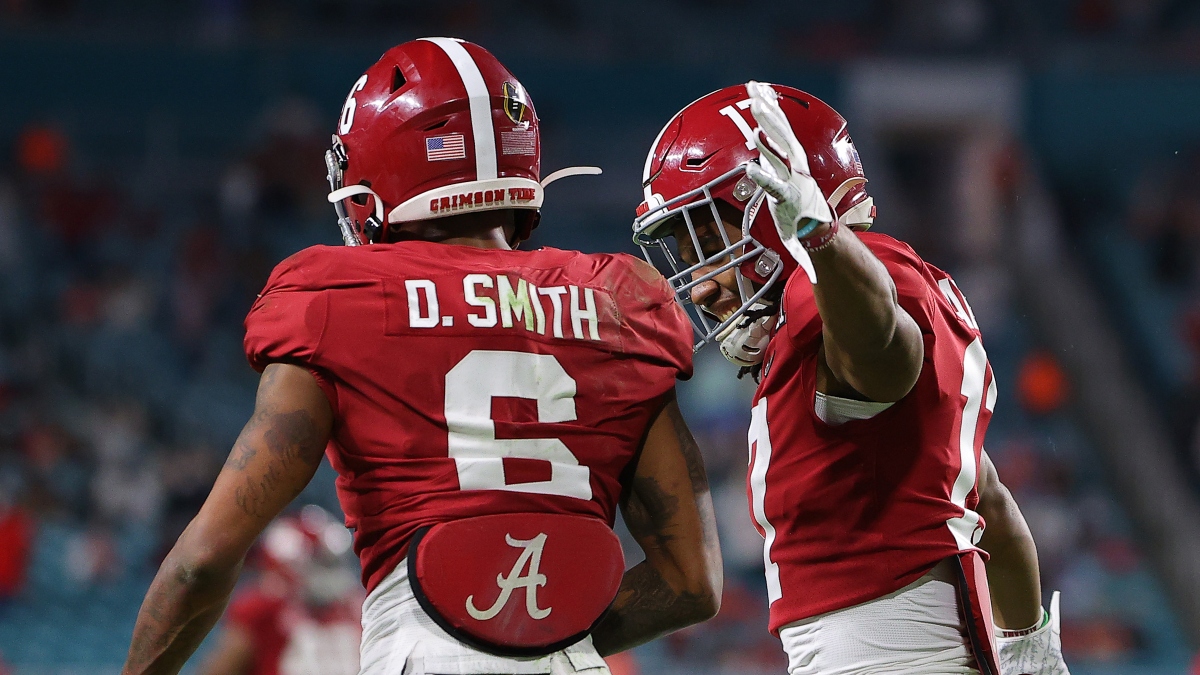 Waddle never had a true breakout season …
2018 (15 games): 45-848-7 receiving
2019 (13 games): 33-560-6 receiving | 1-5-0 rushing
2020 (6 games): 28-591-4 receiving | 3-12-0 rushing
… but when placed in context, his production isn't a massive red flag.
When we dive more into the SIS data to compare Waddle to Smith and even Chase, at no point does Waddle seem insufficient.
Granted, he had nowhere near their career target share.
Waddle: 11%
Smith: 20%
Chase: 18%
But over the past three years, Waddle has led the trio in yards per route run.
Waddle: 3.3
Smith: 2.8
Chase: 3.0
And for their entire college careers, Waddle was the leader in yards per target (YPT), yards after catch per reception (YAC), expected points added per target (EPA) and positive play rate vs. both man and zone coverage.
Waddle: 15.2 YPT | 9.9 YAC | 0.96 EPA | 70% Man | 79% Zone
Smith: 12.8 YPT | 7.1 YAC | 0.58 EPA | 58% Man | 65% Zone
Chase: 12.6 YPT | 9.0 YAC | 0.75 EPA | 59% Man | 73% Zone
One potential flaw in Waddle's game is that he has been a slot-reliant receiver for most of his career, especially relative to Smith and Chase (since 2018).
Waddle: 68% slot rate
Smith: 30% slot rate
Chase: 30% slot rate
It feels potentially problematic that such a high percentage of his 2020 receiving yards were produced out of the slot.
% of receiving yards from the slot for notable WR prospects

Amari Rodgers – 89.9%
Rondale Moore – 85.2%
Jaylen Waddle – 83.8%
Kadarius Toney – 79.7%
Elijah Moore – 74.4%
Terrace Marshall – 67.2%
Rashod Bateman – 55.7%
Devonta Smith – 46.5%
Amon Ra St Brown – 33.7%

— Matt Gajewski (@Matt_Gajewski) April 4, 2021
But concerns about where Waddle lines up might be overblown. In his final season, he lined up on the outside more than the slot.
2018: 72% slot rate
2019: 80% slot rate
2020: 48% slot rate
And in today's NFL, plenty of slot receivers have success.
As a receiver, Waddle is definitely on the smaller end of the spectrum. He didn't weigh in at either of the Alabama pro days, but his listed size of 5-foot-10 and 182 pounds is generally thought to be accurate. And with those numbers, he seems unlikely ever to be a true No. 1 receiver, although we have seen small playmakers emerge (Tyreek Hill, Antonio Brown and T.Y. Hilton, for example).
I, for one, am not worried about his size — especially because of his athleticism. Usually I never assume that a player is athletic if we don't have any pre-draft testing numbers, and Waddle is yet to work out at a pro day because of the ankle injury he suffered in October.
But in Waddle's case, it's fair to make an exception.
When Ruggs was still at Alabama, he and Waddle once raced each other. Ruggs won, but just barely.
And then Ruggs ran a 4.27-second 40-yard dash at the combine. Any guy who can challenge Ruggs in a race has legitimate speed.
And if you watch him play, his ability to pull away from defenders once he has the ball is undeniable.
And Waddle is not just a speedster. He's an above-average route runner with a developed route tree, and he has the body control and aggressiveness to make contested catches downfield.
You know what? I realize that I could've just posted this video from Danny Kelly at the top of the article and then said, "I agree with everything Danny said."
Based on the limited sample we have of Waddle, he looks like a well-rounded player. He can win in the screen game because he has the return man-like ability to let blocks set up in front of him. He can win in the intermediate part of the field with his route running and after-the-catch acceleration. And he can win deep with his speed and willingness to fight for the ball.
To former NFL receiver and current NFL Network analyst James Jones, Waddle is the top wide receiver in the draft.
Like Smith, Waddle feels like a divisive prospect. Waddle is older and was never the real No. 1 receiver on his team. But he is also an athletic former four-star recruit who was on his way to a highly productive season before entering the NFL early as a first-round pick.
It's not hard to see how he could turn into a bust or a superstar. I lean toward something more in the middle. He's not someone I'm chasing and also not someone I'm fading.
NFL Prospect Comp: Henry Ruggs with more route-running skills and per-game final-season production but also less speed
---
Matthew Freedman is 1,018-828-37 (55.1%) overall betting on the NFL. You can follow him in our free app.
How would you rate this article?
This site contains commercial content. We may be compensated for the links provided on this page. The content on this page is for informational purposes only. Action Network makes no representation or warranty as to the accuracy of the information given or the outcome of any game or event.