Can Jimmy Garoppolo Still Reach Fantasy Football Greatness?
Credit:
Sergio Estrada-USA TODAY Sports. Pictured: Jimmy Garoppolo
There was a lot of hype around Jimmy Garoppolo heading into 2018 before his season was lost to injury.
Ian Hartitz analyzes what to expect from the San Francisco 49ers quarterback in 2019 and how he ranks among fantasy football QBs.
We're in the thick of the NFL offseason and it's officially time to start fantasy football prep. I'll be answering the biggest questions heading into the 2019 season; this is part of that series.
---
The San Francisco 49ers were riding a wave of momentum following their five-game win streak to end 2017 — a stretch that coincided with Jimmy Garoppolo's first starts for the franchise.
Unfortunately, Jimmy G suffered a season-ending torn ACL in Week 3 of 2018, and the 49ers limped to a 4-12 finish.
The good news for Garoppolo truthers is that 49ers head coach and noted quarterback whisperer Kyle Shanahan still seems confident that San Francisco's search for a long-term signal caller is over.
"He's got a lot of ability. He's played very well when he has played," he told the NFL Network in March. "I know there will be some bumps in the road for him as we go through this year like there are for all quarterbacks, but we're very excited to go through those with him."
Let's run through Garoppolo's career to this point then assess how he ranks among fantasy football quarterbacks.
Jimmy Garoppolo Has Flashed as a Starting Quarterback
Garoppolo has helped his offense average an impressive 27.1 points per game over his 10 starts and cracked the 30-point barrier on four separate occasions.
Jimmy G has put up the stats of a pretty great quarterback in this minuscule sample size:
Completion rate: 65.5% (13th among 48 quarterbacks with 10-plus starts since 2016)
Touchdown rate: 4.8% (14th)
QB rating: 97.8 (eighth)
Yards per attempt: 8.42 (second)
Adjusted yards per attempt: 8.3 (sixth)
His adjusted yards per attempt is incredibly impressive. The stat differs from yards per attempt by accounting for touchdowns and interceptions. Only the league's best signal callers have managed to break this eight-yard threshold over the past three seasons.
Six quarterbacks have averaged at least eight adjusted yards per attempt over the past three seasons (among 48 QBs with 10-plus starts):

Patrick Mahomes (9.4)
Matt Ryan (8.8)
Deshaun Watson (8.5)
Tom Brady (8.4)
Drew Brees (8.3)
Jimmy Garoppolo (8.3)

— Ian Hartitz (@Ihartitz) June 18, 2019
Garoppolo has been aided by fantastic play-calling from offensive wizards Josh McDaniels in New England and Shanahan in San Francisco. Still, the 27-year-old is hardly a one-trick pony and has flashed the ability to make plays when things are forced off script.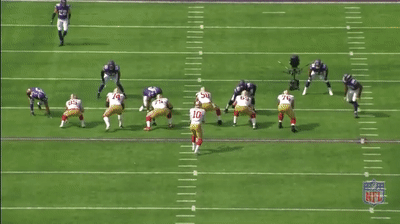 Garoppolo shouldn't have to worry much about making things happen outside of the play's design in 2019, as the 49ers' improved weaponry could go a long way toward elevating the play of the entire offense.
---
This Is the Best Version of the 49ers in the Kyle Shanahan Era
The top-three most targeted players on the 2017 version of the 49ers were Olympic-caliber speedster Marquise Goodwin (105 targets), noted stone-handed running back Carlos Hyde (88) and old-man Pierre Garcon (67).
The 2018 version placed a much higher emphasis on feeding All-World tight end George Kittle (136), as Kendrick Bourne (66) was the only other player to finish with more than 50 targets.
Reasons to be optimistic about this 2019 squad come down to the fact that the 49ers have multiple new weapons to better complement Kittle and Goodwin thanks to some savvy draft picks and offseason signings.
Tevin Coleman is positioned to work as the lead back in a committee that figures to include fellow explosive athletes Jerick McKinnon and Matt Breida. Coleman is the X-factor of the group thanks to some truly special receiving ability that wasn't utilized nearly often enough with the Falcons.
Dante Pettis worked as the PPR WR20, WR3, WR24 and WR22 between Weeks 12 and 15, respectively. He's the group's best candidate to finish behind Kittle for the team lead in targets and earned positive reviews from Shanahan and Co. after OTAs. Pettis is one of only 15 rookie wide receivers to average at least 10 yards per targets over the past 25 years (minimum 40 targets).
Deebo Samuel is a candidate to earn a spot in 3-WR sets after being selected with the 36th overall pick of the 2019 draft. He earned a solid review from FantasyLabs' editor-in-chief Matthew Freedman in his dynasty rankings:
"Samuel is a legitimate all-around weapon … His landing spot is intriguing. With his size and athleticism, Deebo is similar to Garcon, a longtime favorite of Shanahan, and it's probable that Deebo will receive a significant portion of the targets vacated by Garcon, whom the team parted ways with this offseason."
Jalen Hurd is a 6-foot-5, 228-pound "wide receiver." He's expected to play a multitude of positions for the 49ers, as the former five-star running back recruit totaled more rushing yards (2,844) than receiving yards (1,438) during his time at Tennessee and Baylor. It's unclear how many touches this type of dual-threat role will yield in 2019, but Shanahan has dubbed Hurd as one of the most-versatile players he's ever seen and figures to at least involve him in some creative sets.
Jordan Matthews proved to still have some gas left in the tank by averaging a career-high 15 yards per reception with the Eagles in 2018. He's a big (6-foot-3 and 212 pounds) and fast (4.46-second 40-yard dash) receiver with a proven track record; something the 49ers couldn't attest to having last season.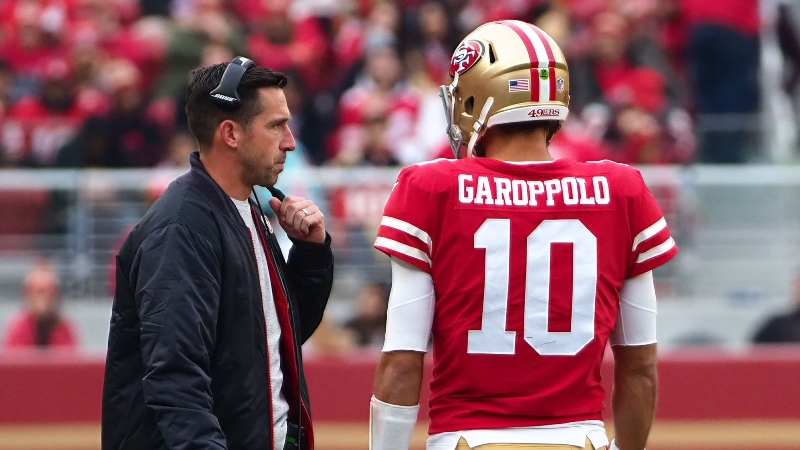 Shanahan has always gotten the most out of his quarterbacks:
Jimmy Garoppolo: 8.5 yards per attempt with Shanahan vs. 7.3 without
Matt Ryan: 8.3 vs. 7.4
Brian Hoyer: 7.1 vs. 6.9
Robert Griffin III: 7.5 vs. 7.2
Rex Grossman: 6.8 vs. 6.4
Donovan McNabb: 7.2 vs. 6.9
Matt Schaub: 8.1 vs. 7.4
Now the talent surrounding Jimmy G gives this 49ers team a chance to finish alongside the 2016 Falcons, 2009 Texans and 2012 Redskins as Shanahan's most productive offenses.
---
Garoppolo Is One of Many Capable Late-Round Quarterbacks
Garoppolo was the QB10 in average draft position last season, but has settled in as the QB17 as of writing. He's only surpassed Kirk Cousins among quarterbacks who were being drafted ahead of him this time last season.
I agree with this chance in ADP. The following quarterbacks have jumped him:
Patrick Mahomes: Duh.
Baker Mayfield: Of course.
Matt Ryan: Yes, the Falcons get to play roughly 12,000 games indoors this season.
Kyler Murray: Haven't you heard dual-threat quarterbacks are a fantasy football cheat code?
Jared Goff: Meh. Yeah, probably. Goff was fantasy football's QB12 and QB7 in 2017 and 2018, respectively.
Jameis Winston: Ever heard of Bruce Arians? No risk it, no biscuit, baby.
Ben Roethlisberger: The Steelers seem to have the opposite approach of the Saints and Chargers, as Big Ben threw a career-high 675 pass attempts last season. His ability to dominate at home gives him the nod over Jimmy G.
Philip Rivers: This is where I'm out. Give me Jimmy G. I love "visor Phil" as much as the next person, but the Chargers ranked 24th in pass attempts last season. They appear to (smartly) be embracing the Saints' game plan for prolonging their aging franchise quarterback's career by leaning on their improved running game and defense. This makes sense in real life, but I'll take the quarterback with more volume on a team with a worse defense in fantasy football.
It makes sense that Aaron Rodgers, Deshaun Watson, Russell Wilson, Brees, Cam Newton, Carson Wentz, Tom Brady and Andrew Luck are still being drafted in front of Garoppolo.
Jimmy G isn't a bad fantasy football investment, but I'd rather wait even longer for a late-round quarterbacks with some dual-threat upside, such as:
If anything, Garoppolo is a prime example of just how deep the quarterback position is in today's NFL. It's not out of the question that Shanahan's offense could help lift a fully-healthy Garoppolo to great heights over the course of a 16-game season. Still, I wouldn't go out of my way to draft Jimmy G — but you can certainly do worse. Long live late-round quarterbacks.
How would you rate this article?