Fantasy Football Expectations for New Bills WRs John Brown and Cole Beasley
Credit:
USA Today Sports. Pictured: John Brown, Cole Beasley
Ian Hartitz breaks down what the Buffalo Bills' John Brown and Cole Beasley signings mean for both wide receivers' fantasy football outlooks in 2019.
He also looks at the impact their moves will have on the Ravens and Cowboys, respectively.
Football never sleeps, even in the middle of March. Draft analysis will have to wait, because free agency is finally here!
We have you covered with fantasy analysis on all of the week's key signings here, but we'll dig deeper into the impact of bigger moves, including John Brown's AND Cole Beasley's decisions to reportedly sign with the Buffalo Bills.
What follows is a breakdown of the fantasy football impact of both Brown and Beasley in Buffalo, as well as how the Ravens and Cowboys will move forward without their former wide receivers.
What These Deals Mean for Buffalo
The Bills are doing their best to surround Josh Allen with a wide array of weapons at wide receiver. This is good, because they largely boasted the league's worst passing "attack" in 2018.
Allen's yards per attempt in 2018: 6.48 (28th among 29 quarterbacks with at least 10 starts)
QB rating: 67.9 (28th)
Touchdown rate: 3.1% (27th)
Interception rate: 3.75% (29th)
Completion rate: 52.8% (29th)
However, Allen did demonstrate a penchant for taking shots downfield, as he led all quarterbacks with a 19.7% deep-ball rate (per Pro Football Focus).
his bodes well for Brown's chances at thriving in Buffalo, who has worked as one of the league's premier deep threats for the better part of his career.
Smokey has missed time throughout his career with a sickle cell trait, but he's still played in 72-of-80 (90%) games since entering the league in 2014.
Also helping Brown's 2019 projection was his performance in Baltimore with Joe Flacco under center.
With Flacco (9 games): 7.4 targets, 3.8 receptions, 66.8 yards, 0.44 TDs
Without Flacco (8 games): 4.1 targets, 1.3 receptions, 16 yards, 0.13 TDs
Brown is one of just 11 wide receivers to average at least 15 yards per reception since 2015 (min. 100 catches).
Brown's reported $27 million contract indicates he'll secure a starting job across from Robert Foster or Zay Jones, but it remains to be seen whether anybody will see enough targets to be a consistent week-to-week fantasy option in the Bills' run-first offense.
Luckily for Brown's fantasy stock, he's one of the best equipped receivers in the league at turning a low target share into elite fantasy production.
And then there's Beasley, who's locked in as the Bills' starting slot receiver after reportedly securing a four-year deal worth $29 million. The former Cowboys slot receiver has worked as one of the league's shiftiest route runners since entering the league in 2012.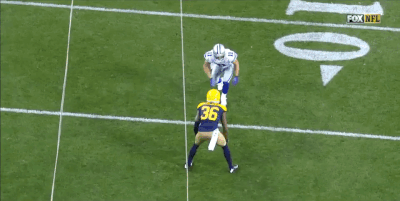 Beasley has caught 319-of-450 career targets — good for a 71% catch rate. He joins Michael Thomas (77%), Adam Humphries (70.4%), Tyler Lockett (70.3%) and Adam Thielen (70.1%) as the only wide receivers to catch at least 70% of their targets since 2012 (min. 100 targets).
Despite standing at just 5-foot-8 and weighing 177 pounds, Beasley has missed just one game over the past five seasons. He's one of the league's most reliable receivers, although it remains to be seen how he'll respond to catching passes from Allen vs. Tony Romo and Dak Prescott.
Beasley provides the Bills with a consistent underneath option that their offense was lacking. Still, Allen's deep-ball nature doesn't bode well for his new slot receivers' target volume.
We also don't have a huge history of Beasley working as an elite fantasy option. Here are his finished over the past seven seasons.
2012: PPR WR123
2013: WR82
2014: WR76
2015: WR52
2016: WR33
2017: WR71
2018: WR42
Perhaps Buffalo will be more willing to utilize Beasley downfield than Dallas was, but his historical usage isn't that of a high-ceiling fantasy option.
What Brown's Deal Means for Baltimore
Lamar Jackson didn't demonstrate any sort of ability to enable a fantasy-relevant wide receiver during his eight starts last season (including playoffs). The issues range from Jackson's personal struggles with accuracy, the Ravens' run-first offense as well as a multitude of capable tight ends who were also involved in the passing game.
Each of the Ravens' starting receivers took a step back in Weeks 11-17 after Jackson took over for Flacco.
Hayden Hurst and Mark Andrews could see enhanced target volume during their second season with the team.
There's little rhyme or reason to the Baltimore wide receiver room at this point, and the situation is expected to carry a low floor for everyone involved as long as Jackson is under center.
What Beasley's Deal Means for Dallas
The Cowboys will miss Beasley's consistency and chemistry with Prescott, but he probably wasn't the guy they should break the bank for.
Amari Cooper and Michael Gallup are locked in as the Cowboys' respective No. 1 and No. 2 receivers. It would also be surprising to see Ezekiel Elliott and Jason Witten end the season with fewer than 50 targets.
Dallas still has the rest of free agency and the draft to find a new slot receiver, but there's a chance that guy is already on their roster.
Hurns likely wouldn't get enough volume to work as a consistent fantasy threat even if he ends up working as the team's starting slot receiver, but this was largely the case with Beasley as well.
Fantasy exposure is best limited to Cooper and Gallup in the Cowboys' run-first attack.
How would you rate this article?