Josh Jacobs Fantasy Football Analysis with Raiders
Credit:
Credit: Mark J. Rebilas-USA TODAY Sports. Pictured: Josh Jacobs
See Matthew Freedman's fantasy football analysis for running back Josh Jacobs, who was drafted No. 24 overall by the Oakland Raiders.
Josh Jacobs Fantasy Football Analysis
Height: 5'10" | Weight: 220 pounds
40-yard dash: 4.60 seconds
School: Alabama | Class: Junior
2019 age: 21 | Draft position: No. 24 overall
What Kenyon Drake was to Alabama for 2012-15, Jacobs was for 2016-18: An explosive runner and competent receiver with game-breaking ability as a return man (30.6 yards per kick return, one return touchdown).
Jacobs has never been a collegiate lead back — last year he had just 887 scrimmage yards on 140 touches — but in a weak running back class, he has emerged as the clear-cut No. 1 prospect at the position.
And I guess it's not all that hard to see why: Of all the backs likely to be drafted, Jacobs is first with a 59.2% positive play rate and second with 38 broken tackles per 100 touches, 2.4 yards per route and 41.9 expected points added. But he has below-average athleticism and not one 1,000-yard season to his name.
This is a poor class for running backs, but in a normal year, Jacobs would have probably been talked about as a likely third-rounder with upside.
But Jacobs has three — maybe four — significant factors in his favor. Because he saw just limited action at Alabama as a committee back, he should enter the NFL relatively fresh.
And he's young. The backs who play as 21-year-old rookies have historically been significantly more impressive than backs who enter the league at an older age.
And, of course, there's Jacobs' draft position. As a first-rounder, he's likely to see a significant workload because so much was invested into him: In a self-fulfilling mechanism, the Raiders will give him every opportunity to prove himself so that they might be proven correct in drafting him with a premium pick.
And there's his size. At 220 pounds, Jacobs is built like a lead back. He should be able to withstand the grind of getting 20 touches every week.
Over the past two decades, 11 guys have entered the league as big-bodied first-round 21-year-old backs:
Saquon Barkley
Ezekiel Elliott
Todd Gurley
Beanie Wells
Jonathan Stewart
Marshawn Lynch
Laurence Maroney
Steven Jackson
T.J. Duckett
Jamal Lewis
Edgerrin James
Literally every guy in this cohort has had multiple seasons of fantasy utility.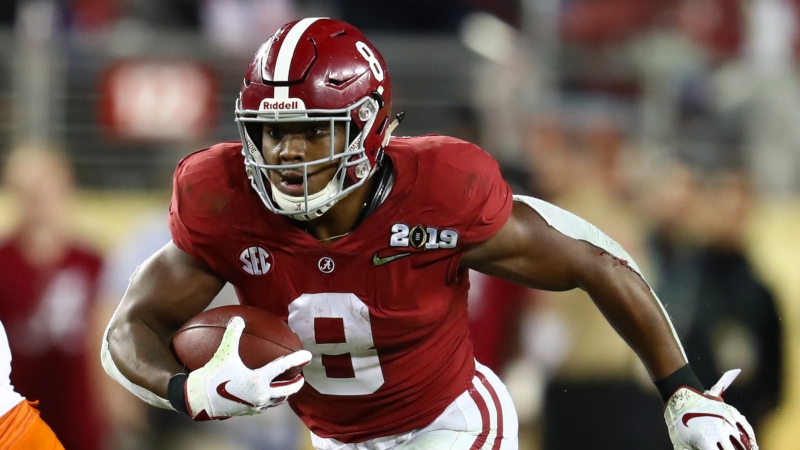 Given how important age, draft position and size are to the running back position, it's not unreasonable for fantasy players to expect a lot out of Jacobs as early as this year.
Could Jacobs finish his rookie season as a top-10 back? I honestly don't see why he couldn't.
Is Jacobs the 1.01 in 2019 dynasty rookie drafts? You bet he is.
NFL Comp: Kareem Hunt with less production but more youth
Matthew Freedman is the Editor-in-Chief of FantasyLabs. He has a dog and sometimes a British accent. In Cedar Rapids, Iowa, he's known only as The Labyrinthian.
How would you rate this article?