Will Josh Jacobs Be the Next First-Round RB to Ball Out as a Rookie?
Credit:
Kirby Lee-USA TODAY Sports. Pictured: Josh Jacobs
Ian Hartitz analyzes what to expect from Oakland Raiders rookie running back Josh Jacobs and where he should be going in 2019 fantasy football drafts.
We're in the thick of the NFL offseason and it's officially time to start fantasy football prep. I'll be answering the biggest questions heading into the 2019 season; this is part of that series.
---
The Raiders shockingly traded star pass rusher Khalil Mack to the Bears just before Week 1 of the 2018 season. So far only one additional piece of the trade has revealed itself after the 2019 draft:
Raiders got: Alabama RB Josh Jacobs, 2020 first-round pick, 2020 third-round pick, 2020 sixth-round pick
Bears got: Mack, 2020 second-round pick, 2020 conditional fifth-round pick
Expectations are high for Jacobs entering the season, as running backs aren't typically selected in the first round unless their team plans to feed them the ball.
What follows is a breakdown of what to expect from Jacobs as a rookie as well as where he should be going in fantasy football drafts.
Josh Jacobs Has a Three-Down Skill-Set
The Alabama Crimson Tide have rolled out a (mostly) impressive crop of running backs over the past decade: Derrick Henry, Kenyan Drake, T.J. Yeldon, Eddie Lacy, Trent Richardson, Mark Ingram and Glen Coffee were all drafted within the first three rounds over the past 10 years.
Jacobs' Alabama career doesn't match-up with pretty much any of his predecessors at first glance. He converted 251 carries into 1,491 yards (5.9 yards per carry) and 16 touchdowns on the ground to go with 48 receptions for 571 yards and five scores as a receiver. The former three-star running back battled ankle and hamstring injuries in 2017 that limited him to just 60 touches on the season.
The reason for optimism comes down to the fact that he does everything well while possessing the type of size (5-foot-10 and 220 pounds) and speed (4.6-second 40-yard dash) of a featured back.
NFL.com's Graham Barfield graded Jacobs as his No. 1 back in this class in yards created. This was consistent with Pro Football Focus' take on Jacobs' elusiveness, as he averaged a robust 4.07 yards after contact per rush and converted a nation-high 41% of his rushes into either a first down or a touchdown in 2018 (minimum 100 rushes).
Jacobs' ability to thrive as a receiver is particularly noteworthy for an offense that fed 81 targets to former undrafted free-agent Jalen Richard last season.
Jacobs is capable of working out of the backfield as well as lining up in the slot or out wide as a true receiver.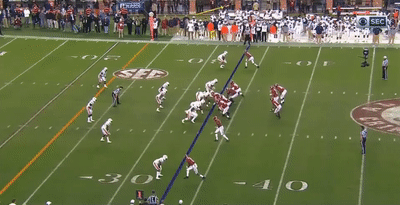 Blocking has never been a question.
The Athletic's Dane Brugler noted in his pre-draft guide that Jacobs bullied defenders as Alabama's lead blocker in 2018. Jacobs certainly doesn't appear to be a player who will have their effort questioned very often.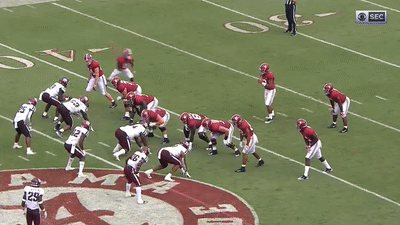 Of course, a three-down skill-set is useless for fantasy football purposes unless it results in a corresponding workhorse role. It certainly seems like the Raiders are trending toward making that a reality sooner than later.
---
There's Plenty of Opportunity For Touches in Oakland
There's little competition for touches in the Raiders backfield.
Marshawn Lynch is seemingly retired.
Free-agent addition Isaiah Crowell suffered at torn Achilles and is out for the season.
Doug Martin remains Doug Martin.
Jalen Richard is fine, but doesn't have the size at 5-foot-8 and 207 pounds of a back who should be heavily featured.
Both Martin and Richard will likely maintain some level of involvement in the offense, but neither seems to have the same level of support from the coaching staff and front office alike.
Raiders GM Mike Mayock on RB Josh Jacobs: "This is a three-down back. He's explosive. He's tough. We've watched him pass protect."

— Michael Gehlken (@GehlkenNFL) April 26, 2019
Jon Gruden certainly seems on board with the selection, encouraging Jacobs to "get some rest … we're gonna run you a lot." The Raiders' head ball coach has produced a top-20 fantasy football running back in five of his 12 seasons calling plays over the years.
Jon Gruden top RB and PPR finish as HC

1998 Kaufman RB26
1999 Wheatley RB15
2000 Wheatley RB23
2001 Garner RB11
2002 Pittman RB25
2003 Pittman RB17
2004 Pittman RB13
2005 Cadillac RB22
2006 Cadillac RB36
2007 Graham RB10
2008 Dunn RB28
2018 Richard RB29
…
2019 Josh Jacobs RB?

— Ian Hartitz (@Ihartitz) April 27, 2019
Jacobs appears to have the talent and depth chart to thrive with a three-down role. History also suggests this should be the case based on his draft capital.
---
RBs Aren't Drafted in the First Round to Sit on the Bench
The running back position has had the most fantasy impact as rookies.
First-round rookie backs in particular have been fed relatively monstrous workloads in recent history:
Rookie touches among first round RBs since 2014:

Saquon Barkley 352 (2nd among RBs)
Sony Michel 216 (17th)
Rashaad Penny 94 (57th)
…
Leonard Fournette 304 (6th)
Christian McCaffrey 197 (28th)
…
Ezekiel Elliott 354 (2nd)
…
Todd Gurley 250 (10th)
Melvin Gordon (217 (19th)

— Ian Hartitz (@Ihartitz) April 22, 2019
Unsurprisingly, these enhanced workloads have produced more than a few viable fantasy performers at the position. Only 2012 Alfred Morris, 2016 Jordan Howard, 2013 Zac Stacy and 2018 Philip Lindsay (only undrafted) finished their rookie season as a top-20 fantasy back after not being drafted in the draft's first three rounds.
Draft round has been correlated with immediate fantasy football production at running back more than any other position.
Jacobs has an average draft position of RB17 in PPR formats as of writing. Recent history tells us that he has a better chance at reaching that type of production than any other rookie back this season, and Jacobs appears to have all the skills in place to take advantage of a potentially loft workload.
I wouldn't go as far as to predict a Saquon Barkley or Ezekiel Elliott-esque rookie season from Jacobs, but his status as the lead back with plenty of receiving ability on what figures to be an improved offense makes him more than worthy of a third- or fourth-round investment in fantasy football drafts of all shapes and sizes.
How would you rate this article?