Why JuJu Smith-Schuster Is the No. 1 WR in Fantasy Football
Credit:
Jeffrey Becker-USA TODAY Sports. Pictured: Pittsburgh Steelers wide receiver JuJu Smith-Schuster (19)
Matthew Freedman makes his case for JuJu Smith-Schuster as the No. 1 wide receiver in fantasy football this season.
JuJu Smith-Schuster will end the 2019 NFL season as the No. 1 wide receiver in fantasy football. At least that's what I think right now.
I've been vocal in this opinion. When we broke down the top-12 fantasy wide receivers with Matt Harmon on The Action Network Podcast, I noted that JuJu is my top player at the position.
In our roundtable on who should be the top fantasy wide receiver drafted, I threw JuJu's hat into the ring.
On recent episodes of the RotoViz Radio and RotoExperts podcasts, I have continued to argue for JuJu.
I'm not arguing in bad faith.
In our Fantasy Football Draft Kit, I actually have him ranked him as the top receiver on the board. And I have fully invested in the overs for most of his season-long props.
And I'm putting my projections and money where my mouth is.
In this piece, I discuss how I think you should approach JuJu in your season-long drafts and what factors are driving his high projection.
How to Approach JuJu Smith-Schuster in Fantasy Football Drafts
To be clear: Just because I have JuJu ranked No. 1 at the position does not mean I think you should actually draft him as the first wide receiver.
JuJu is always available in drafts after DeAndre Hopkins and Davante Adams and usually after Julio Jones, Michael Thomas, Odell Beckham Jr. and even Tyreek Hill.
If you take JuJu as the first wide receiver, you will miss out on the arbitrage opportunity to get No. 1 type of production from the No. 7 wide receiver selected. You can't ignore the market if you want to beat the market.
If you're worried that you'll miss out on him later, it's fine to take him as early as the No. 3 player at the position. But if you take him before Hopkins and Adams, you're selling short the value he generally offers.
JuJu Smith Schuster Is the No. 1 Wide Receiver
Without getting into the details of the projections, I think the case for JuJu is pretty simple: He's No. 1 in NFL history with 122 receptions and 1,783 yards before his 22nd birthday, and Antonio Brown is no longer on the Steelers.
JuJu has been an extremely precocious player, he's entering just his third season, so there's still theoretical room for improvement and he's now the clear No. 1 pass-catching option on his team.
What's not to like?
And when you dive into the numbers that power the projections, the case for JuJu gets stronger.
The Steelers Run Lots of Offensive Plays
In each of the past two years, the Steelers have been top-10 in offensive plays.
2018: 1,058 (fifth)
2017: 1,051 (ninth)
I expect the Steelers to regress somewhat toward the mean this season with 1,045.8 plays, but with second-year offensive coordinator Randy Fichtner, they should continue to play at an above-average pace.
The Steelers Are a Pass-Heavy Team
Last season, the Steelers were first in the league with 689 pass attempts and second with a 67.4% pass rate.
Ben Roethlisberger likes to throw the ball. Additionally, Fichtner was Big Ben's longtime quarterbacks coach before his promotion to coordinator. The man he replaced — Todd Haley — was fired for essentially not letting Roethlisberger throw as much as he wanted.
As a result, Fichtner is motivated and probably inclined to let Roethlisberger throw as much as he wants to.
I have the Steelers projected for 644.0 pass attempts and a 63.9% pass rate, so I'm anticipating some regression. Nevertheless, the Steelers should continue to pass heavily.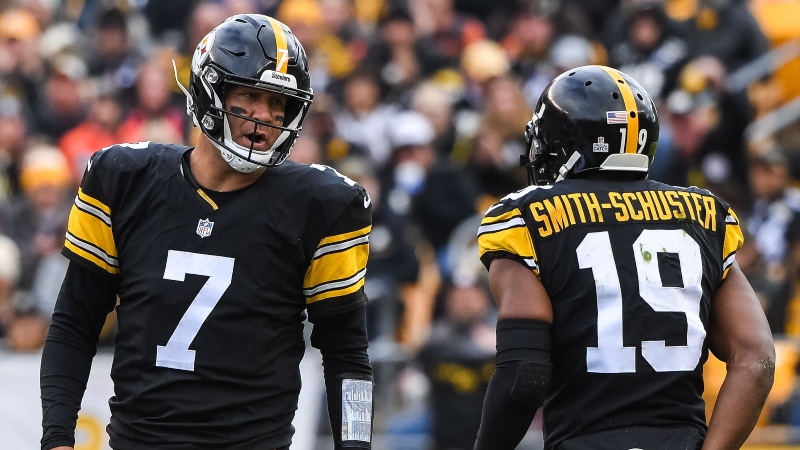 JuJu Smith-Schuster Will Be Heavily Targeted
The departed Brown was a target magnet. On a per-game basis, he was one of the league leaders in market share of targets since his transcendent breakout season of 2013.
2018: 0.27
2017: 0.32
2016: 0.28
2015: 0.33
2014: 0.30
2013: 0.29
That's a lot of targets. And throughout the years, Antonio has had to compete for targets with JuJu, fellow wide receivers Emmanuel Sanders and Martavis Bryant and even running back Le'Veon Bell.
But who does JuJu have to compete against for targets this year?
WR Donte Moncrief: Career underachiever entering his sixth season.
WR James Washington: Chunky speedster coming off a disappointing rookie year with a 42.1% catch rate.
WR Diontae Johnson:  Undersized speed-deficient small-school rookie.
WR Ryan Switzer: Third-year return man masquerading as Cole Beasley.
WR Eli Rogers: Undrafted fourth-year veteran who peaked as a rookie.
TE Vance McDonald: Oft-injured project still seeking a true breakout campaign in his seventh season.
Have I cast these players in the worst light possible?
Sure.
But that doesn't mean I'm wrong. As a group, they pose a remarkably tame threat to JuJu's projected volume.
Last year, JuJu was 18th in the NFL with a 0.25 target share — and that was with Antonio.
How high could that number go without Antonio?
In his six final seasons with the Steelers, Brown averaged a 0.30 target share.
In 2018, Hopkins was first in the NFL with a 0.33 share, followed by Adams, Keenan Allen, Thomas and OBJ, who all had 0.29. Julio was sixth with a 0.28 mark.
With diminished competition, JuJu could reasonably have a 0.30 target share on a per-game basis. If he plays in 15 games, that will give him just more than 181 targets.
That's a lot of targets. That's more than the league-leading marks of Julio last year (170), Hopkins in 2017 (174) and Mike Evans in 2016 (173).
But in 2015, Julio had 203 targets, Brown had 193 and Hopkins had 192. In 2014, Demaryius Thomas had 184 targets and Brown had 181. In 2013, Pierre Garcon and Andre Johnson both had 181. In 2012, Calvin Johnson had 204, Reggie Wayne had 195 and Brandon Marshall had 192.
In the past seven years, there have been 10 instances of a wide receiver getting at least 181 targets.
So is it really all that aggressive for me to project one wide receiver with 181 targets? Not really. Someone will probably hit that threshold this year.
I'm expecting that person to be JuJu.
JuJu Smith-Schuster Is Efficient With His Targets
Through two NFL seasons, JuJu has been efficient with his targets as evidenced by his 13.9 yards per reception and a nice 69.0% catch rate.
For 2019, even if you regress his career averages to his 2018 marks of 12.8 yards per reception and a 66.9% catch rate, JuJu would still have more than 120 receptions and 1,500 yards.
And I see limited reasons for why he should be less efficient than he was last year at turning targets into receptions and receptions into yards.
Even without Antonio occupying defensive attention, JuJu should still be able to exploit soft matchups in the slot, where he lined up on 564 of his 962 snaps last year.
And even if he lines up more on the outside this year, we shouldn't automatically assume that a player of JuJu's caliber can't beat one-on-one matchups with perimeter corners.
Physically, JuJu is highly comparable to Adams.
JuJu: 6-foot-1, 215 pounds, 4.54-second 40-yard dash
Adams: 6-foot-1, 215 pounds, 4.56-second 40-yard dash
People aren't acting as if Adams can't play out wide. And JuJu is significantly better heading into his third season than Adams was.
Wherever he lines up on the field, I expect JuJu to remain efficient with his targets.
JuJu Smith-Schuster Will Be Targeted in the End Zone
Even though the Steelers have had big-bodied backs capable of putting the ball in the end zone over the past half decade in Bell and James Conner, Roethlisberger has consistently distributed high-value end-zone targets to his receivers.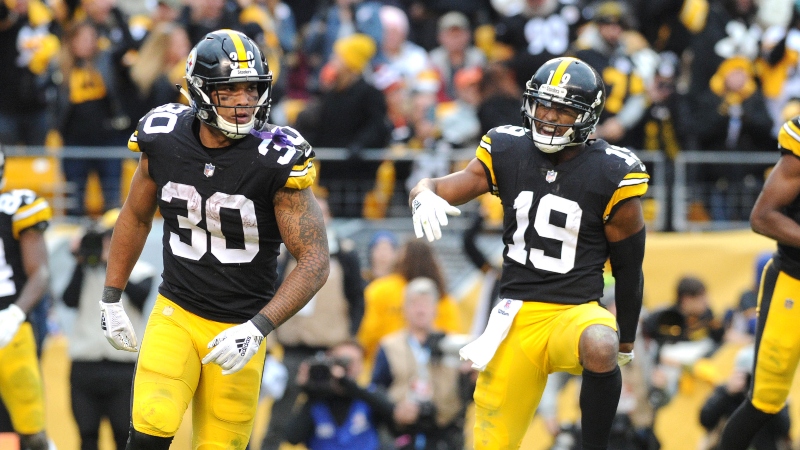 Here's Roethlisberger's end-zone target data for the past five years (per Pro Football Focus):
2018 (16 games): 50 (first)
2017 (15 games): 52 (first)
2016 (14 games): 49 (third)
2015 (12 games): 37 (10th)
2014 (16 games): 54 (second)
Of course, given that the Steelers since 2014 are first in the league with 3,077 pass attempts and fourth with 156 receiving touchdowns, it probably shouldn't be a surprise that they've regularly been near the top of the NFL in end-zone targets.
And a lot of those have historically gone to Antonio.
2018 (15 games): 21 (first)
2017 (14 games): 16 (ninth)
2016 (15 games): 19 (tied third)
2015 (16 games): 15 (tied ninth)
2014 (16 games): 22 (third)
It's unlikely that Roethlisberger will be significantly less inclined to throw to the end zone this year, but with Antonio gone, he'll need to find a new No. 1 option.
The clear candidate for these valuable targets is JuJu, who last year was respectively 11th and tied for seventh with 34 red-zone and 14 end-zone targets.
If JuJu sees the average of 1.2 end-zone targets per game that Brown has gotten over the past five years, he'll likely have double-digit touchdowns.
And with a little luck, he could lead the league in receiving scores.
JuJu Smith-Schuster: A Riddle?
What do you call a precociously productive big-bodied third-year receiver who is 1) the top pass-catching option in a high-volume pass-heavy offense quarterbacked by a future Hall-of-Famer and 2) projected for at least 120 receptions, 1,500 yards and 10 touchdowns?
The No. 1 wide receiver in fantasy football.
How to Bet on JuJu Smith-Schuster
If you're looking to invest in JuJu outside of fantasy football, you can do so through his season-long props.
Here are the best lines I've found for the New Jersey Sportsbooks (as of August 23).
Lead the league in receiving yards (FanDuel): +1200 (tied fourth)
Lead the league in receiving touchdowns (DraftKings): +1500 (fourth)
Lead the league in receptions (DraftKings): +1200 (tied fourth)
Over 1,350.5 yards receiving (DraftKings & PointsBet): -110
Over 9.0 receiving touchdowns (FanDuel): -122
Most receiving yards (DraftKings): JuJu (-121) over Tyreek (+100)
Be sure to shop around for the best lines.
How would you rate this article?