Will Julio Jones Be the No. 1 Fantasy Football Wide Receiver in 2019?
Credit:
Kim Klement-USA TODAY Sports. Pictured: Julio Jones
Julio Jones has been one of the NFL's best wide receivers for the better part of the past decade, but can he emerge as fantasy football's best in 2019?
Ian Hartitz analyzes Jones' past touchdown woes and assesses whether he should be the No. 1 WR in season-long drafts.
We're in the thick of the NFL offseason and it's officially time to start fantasy football prep. I'll be answering the biggest questions heading into the 2019 season; this is part of that series.
---
There are very few wide receivers in today's NFL who truly deserve to be discussed as the best at their position.
Julio Jones, Antonio Brown, Odell Beckham Jr. and DeAndre Hopkins have been the league's Mount Rushmore of wide receivers over the past half decade, but Davante Adams, Michael Thomas and Mike Evans (among others) have played well enough in recent years to warrant consideration.
We're here to talk about Jones, who has emerged as one of the more polarizing receivers in the fantasy community due to his prolonged stretches of scoreless play. Still, we have ample evidence that suggests the only way to stop Jones is for his offensive coordinator to decide against throwing him the ball.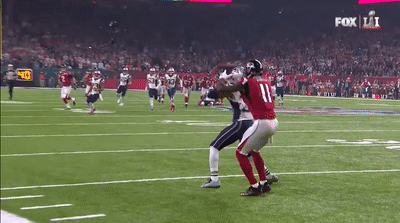 Let's break down Jones' 2019 outlook and his case as the overall fantasy No. 1 receiver in season-long drafts.
Julio Jones Is the NFL's Most Efficient Receiver
Say what you will about Jones' occasional inability to find the end zone — no wide receiver has been better than him at gaining yardage on a per-down basis over the past four seasons.
Yards per route run leaders by year (PFF, min 50 targets):

2018: Julio Jones (2.93)
2017: Julio Jones (3.08)
2016: Julio Jones (3.12)
2015: Julio Jones (3.04) pic.twitter.com/WhlpC8nu4R

— Ian Hartitz (@Ihartitz) February 11, 2019
There have only been four instances of a wide receiver averaging at least 3.0 yards per route run over the past five seasons (per Pro Football Focus, minimum 25 targets). Jones is responsible for three of them.
Jones' career average of 96.7 receiving yards per game is the highest mark in NFL history. Nobody has more games with 100-plus receiving yards than Jones (21) over the past three seasons.
This consistent ability to pick up yards has unsurprisingly made Jones a daily fantasy darling despite typically high price tags. Per our FantasyLabs Trends Tool, Jones joins AB and OBJ as the only wide receivers averaging at least 20 DraftKings points per game since 2014.
The only problem is that…
Julio Has Been Allergic to Touchdowns
Seventy six players had at least 30 targets inside the 10-yard line between 2010 and 2018. And only four of the six converted fewer than 25% of those targets into touchdowns:
Jared Cook (24%)
Danny Woodhead (24%)
Julio Jones (24%)
Steve Smith (18%)
There's nothing wrong with the athletic journeyman tight end, gritty running back and undersized future Hall of Fame receiver being on that list. Still, Jones' consistent inability to convert targets close to the goal line into touchdowns remains one of the more perplexing mysteries in the NFL.
It's not like Jones is incapable of making contested catches in the end zone.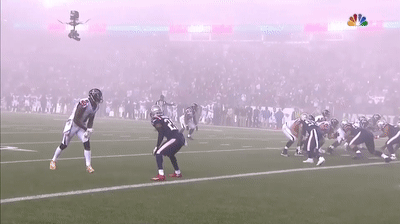 But he's scored only six or fewer touchdowns in four of his past six seasons.
The hope for Jones to experience positive regression in the touchdown department comes down to Atlanta's latest change at offensive coordinator. Former Buccaneers head coach Dirk Koetter will take his old job back, which he manned from 2012 to 2014.
Koetter has helped Jones find the end zone more times than any other human in the history of mankind.
Julio Jones career TDs by offensive coordinator:

Mike Mularkey (14 games): 8
Dirk Koetter (38 games): 20 👀
Kyle Shanahan (33 games): 17
Steve Sarkisian (34 games): 12

— Ian Hartitz (@Ihartitz) May 2, 2019
Jones might not ever be the league's premier touchdown scorer, but it's not unreasonable to think he'll have more opportunities to celebrate now that Steve Sarkisian is out of the picture.
It's Never Wise to Bet Against Jones as an Elite Fantasy WR
There simply isn't a history of Jones walking onto an NFL field and failing to dominate whoever lines up across from him.
He's been a top 10 wide receiver in PPR per game for the better part of the past decade:
2011: WR13
2012: WR12
2013: WR2
2014: WR5
2015: WR2
2016: WR5
2017: WR9
2018: WR5
Jones' current streak of five consecutive seasons with at least 1,400 yards is unmatched in the history of the NFL. His average draft position as of writing pits him as the overall WR3 behind only DeAndre Hopkins and Davante Adams, but Jones' status as the yearly favorite to lead the league in receiving yards gives him arguably fantasy football's highest floor at wide receiver.
The Falcons managed to feed Jones eight touchdowns after his streak of seven scoreless games to start 2018. Carrying that hot streak into 2019 could help produce yet another top-five fantasy finish for one of the best receivers to ever play the position.
How would you rate this article?