Kalen Ballage Fantasy Football Rankings, 2019 Projections, Analysis, More
Credit:
Credit: Steve Mitchell-USA TODAY Sports. Pictured: Miami Dolphins running back Kalen Ballage (27).
See our experts' fantasy football rankings, 2019 projections, analysis and more for Miami Dolphins running back Kalen Ballage.
I'm not the biggest Kalen Ballage truther, but he does offer some fantasy appeal.
He has the size (6-foot-2 and 228 pounds) of a three-down back and enough speed (4.46-second 40-yard dash) to run away from most defenders.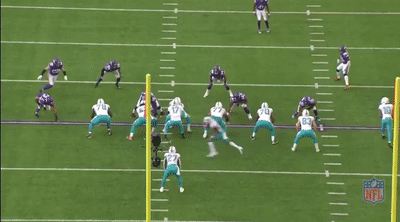 The most important thing is that he has theoretical three-down ability; he caught 82 passes during his career at Arizona State and 9-of-11 targets as a rookie. There's certainly a scenario in which he winds up working as the Dolphins' lead early-down and goal-line back in 2019. — Ian Hartitz
Note: Rankings and projections are as of July 1. For our experts' most recent updates, check out our fantasy football tools.
2019 Kalen Ballage's Fantasy Football Rankings
Here are Sean Koerner's, Chris Raybon's and Matthew Freedman's consensus rankings by scoring format.
PPR: No. 119 overall | No. 44 RB
Half-Point PPR: No. 111 overall | No. 42 RB
Standard: No. 109 overall | No. 43 RB
2019 Projections
Here are our experts' aggregate projections for top-level stats.
Rushing: 118 carries | 515 yards | 3.2 touchdowns
Receiving: 26 receptions | 190 yards | 0.8 touchdowns
2018 Stats
Rushing: 36 car | 191 yds | 15.9 yds/g | 1 TDs
Receiving: 9 rec | 56 yds | 4.7 yds/g | 0 TDs
Fantasy ranks: RB86 PPR | RB86 0.5 PPR | RB87 std
Note: Ballage played only 12 regular-season games.
More Coverage
How would you rate this article?