What Does Kareem Hunt Mean for the Browns Offense?
Credit:
Mark J. Rebilas-USA TODAY Sports. Pictured: Cleveland Browns running back Kareem Hunt
The Cleveland Browns have signed free agent running back Kareem Hunt.
Ian Hartitz analyzes how Hunt fits into the Browns' offense, as well as his fantasy football outlook for 2019.
The NFL offseason has started with a bang, as the Browns announced Monday that they've signed free agent running back Kareem Hunt. Ian Rapoport has reported that the contract is a one-year deal that could be worth more than $1 million not factoring in the suspension. Hunt will be a restricted free agent after the season.
General manager John Dorsey explained the controversial signing in a statement that highlighted his previous relationship with Hunt while both were a part of the Chiefs as a major factor in making the decision.
Dorsey also indicated that the Browns did "extensive due diligence with many individuals, including clinical professionals, to have a better understanding of the person he is today and whether it was prudent to sign him."
Regardless of your feelings on Hunt as a person, it's tough to deny that he's among the league's most dynamic running backs. This was on full display during the Chiefs' Week 9 victory over the Browns last season, when Hunt converted 18 touches into 141 total yards and three touchdowns.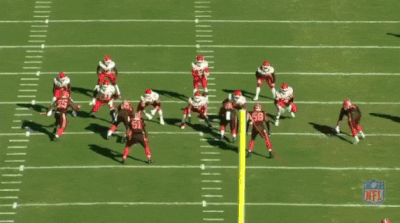 Hunt led the league in rushing as a rookie with 1,327 yards, and he scored 14 touchdowns in just 11 games in 2018 prior to his release. "Running backs don't matter" critics might dismiss this success as a byproduct of the Chiefs' ever-explosive offense, but it's tough to find a hole in Hunt's on-field game based on his 28 career games.
This signing presents several key on-field questions for the 2019 Browns.
What does the Browns backfield look like now?
Head coach Freddie Kitchens utilized both Nick Chubb and Duke Johnson during his eight games as the offense's play-caller last season. Both backs saw plenty of snaps, but Chubb clearly worked as the team's No. 1 runner.
Nick Chubb: 17.5 rushes per game, 2.9 targets, 35.8 snaps
Duke Johnson: 2.3 rushes, 4.1 targets, 26.1 snaps
Both backs were remarkably efficient on the ground, as Chubb (5.19 YPC) and Johnson (5.03) ranked 10th and 13th, respectively, in yards per rush among 80 running backs with at least 40 carries last season. Chubb finished as the league's PPR RB6 in Weeks 9-17 with Kitchens calling the shots.
Meanwhile, Hunt averaged 16.5 rushes and 3.2 targets with the Chiefs as the offense's undisputed lead back. Only Todd Gurley, Alvin Kamara, Saquon Barkley, James Conner and Melvin Gordon had more PPR than Hunt in Weeks 1-11.
Chubb and Johnson are undoubtedly talented, but it wouldn't make much sense for the Browns to take this type of risk and not plan on utilizing Hunt as the featured back. It remains to be seen where Hunt's average draft position will be for season-long fantasy, although he offers immense upside as a potential mid-round pick with the potential to unleash his electric three-down ability as the Browns' workhorse back.
Of course, another question lingers before we can anoint Hunt back to fantasy RB1 status.
What will Kareem Hunt's suspension look like?
The NFL is still in the midst of investigating Hunt's misconduct. Commissioner Roger Goodell reportedly said it would be concluded "soon," but Hunt will seemingly be placed on the exempt list to start the offseason.
ESPN's Dan Graziano believes the multiple factors involved in the investigation could ultimately lead to an extended absence for Hunt:
"Taken together, the multiple incidents are likely to constitute the types of aggravating factors that can lead the league to impose a suspension longer than the six-game baseline specified in the personal conduct policy for incidents involving violent behavior."
It's certainly not impossible to overcome the absence of a team's starting running back — the Chiefs, Patriots, Rams and Saints had to deal without one of their top backs for an extended stretch in 2018.
The 2019 Browns seem poised to be without Hunt for at least a month or two, but they might just have the league's best "backup" running backs, and their offense could be incredibly explosive once the gang is fully back together.
Should he be credited with time served from this season, Hunt might only miss one game assuming a potential six-game suspension, which makes him even more enticing for both the Browns and season-long fantasy players.
How much higher is the ceiling of the Browns offense?
Running back wasn't a top need for the Browns entering the offseason. Still, Hunt is the type of talent that can add dimensions to already-stellar schemes.
His ability to make plays down the field as a receiver has been particularly impressive during his short career.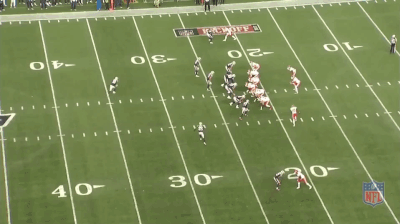 The Browns boasted the league's 12th-best scoring offense with Kitchens running the show last season and have one of the league's brightest young stars under center in Baker Mayfield. The combination of Chubb and Johnson was plenty effective during last season's stretch run, but neither back possesses the same level of three-down ability as Hunt.
It's unlikely 8-10 games of Hunt will swing Browns futures. Still, he's a low-cost back who offers proven game-breaking ability in an offense that hasn't been accustomed to having much elite talent in recent years.
How would you rate this article?