Barkley: The Hidden Reason I'm Fading The Broncos on Thursday Night
Credit:
Isaiah J. Downing-USA TODAY Sports. Pictured: Denver Broncos linebacker Von Miller (58).
Despite having to play four games in 18 days, the visiting Denver Broncos are one-point favorite over the host Arizona Cardinals.
Home teams cover about 54% of the time since Thursday Night Football started in 2006, according to Bet Labs.
Note: This story was published on July 15, 2018, but has been updated for Thursday's matchup. You can find updated odds for this matchup here.
As a nation of sports fans, we love watching the NFL. And one of the things we love most about it is the parity — it seems like any year, anything is possible. Any team can win.
Yes, we love our football. but we are absolutely awful about picking who is going to be good. And that applies to the preseason NFL markets at sportsbooks everywhere.
Last year the Eagles got very little credit before the season. Same with the Rams, who were monster underdogs to win their division. The Vikings and the Jaguars fell into that category, as well. The Bills made the playoffs, for God's sake.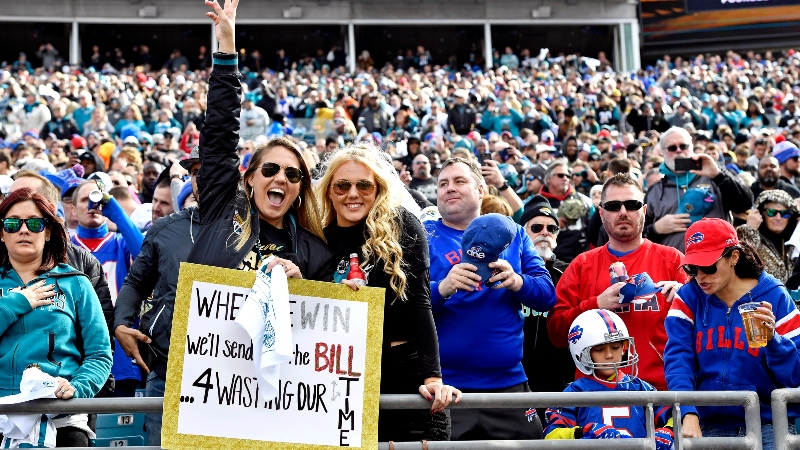 We need to do a better job admitting to ourselves that it's really tough to figure out who is going to be successful year in and year out (except maybe the Patriots, and they're usually minus-a-million to do anything).
Take a look at NFL win totals. Last year, 14 of the 32 teams finished at least three games off from their win-total prediction (either better or worse). These are not tight numbers. The Rams' projected win total last year was 5.5. Jacksonville's was six.
We don't know anything.
These very imperfect win total predictions and ratings are what drive all of the look-ahead/futures markets for the NFL. There are spreads set for games in the future based on numbers we basically know aren't going to be right, or even close, really.
So when I tell you I like an NFL game, and not just any game, but a game more than three months from now, you will probably think I'm crazy or just full of it. But hear me out.
I like the Cardinals in a Thursday night game on Oct. 18. They are hosting Denver. Arizona is currently a one-point home underdog. It's a game that couldn't stand out less in terms of its appeal or star power.
We won't really know how good those teams are by then. We may not know who each team's quarterback is by then either. Will Sam Bradford or Josh Rosen be starting for Arizona? Will Case Keenum be starting for Denver, or will he have reverted to old Case Keenum, and they're giving Paxton Lynch another go instead? We don't know much. So how can I make this bet?
I'm basically assuming nothing, which means I'm assuming these are two average teams. Because, again, we know nothing.
Now, here are some things I do know.
I know that home teams cover just over 54% of the time since Thursday Night Football started in 2006, according to Bet Labs. Small advantage Cardinals.
I know that when the spread is within a field goal (three points each way), the home team's cover percentage goes to 59% (12.2% ROI) on Thursdays.
This spread may not close in that range, but I think it's more likely to move toward the home team than away from it, so either it qualifies for this trend or I get a lot of closing line value.
The Broncos don't have their bye until Week 10 this year. Starting in Week 4, they play on a Monday night against the Chiefs, then travel on a short week to the Jets, then back to Denver to play the Rams, before flying on a short week to … oh look, Arizona.
We already know NFL players hate playing on short weeks; they complain about it constantly. Well, playing on a short week is a one-off, essentially, something that doesn't repeat within a season for most teams. How about playing on short weeks for a month with constant travel?
I'll do the math for you: A professional football team is being asked to play four games in 18 days. The Broncos play Arizona in the fourth game, and they are currently favored in that game (updated odds here). That just seems wrong.
So again, we might be way off on Denver, or Arizona, or any NFL team for that matter. We don't know a lot.
But I do know when any team has that type of schedule, and it's playing a team that does not, and then I GET a point, I'm taking it.