Do Kenyan Drake and Kalen Ballage Offer Fantasy Football Value in 2019?
Credit:
Noah K. Murray-USA TODAY Sports. Pictured: Kenyan Drake
The Miami Dolphins aren't expected to be very good, but could Kenyan Drake and Kalen Ballage still provide fantasy football value?
Ian Hartitz analyzes whether one (or both) running backs could be worth drafting.
We're in the thick of the NFL offseason and it's officially time to start fantasy football prep. I'll be answering the biggest questions heading into the 2019 season; this is part of that series.
---
The 2019 Miami Dolphins aren't expected to be very good. Their new coaching staff is largely made up of former Patriots assistants who are equipped with a roster that hasn't had a long-term view in mind for awhile.
Betting odds for post-draft win totals appropriately gave the Dolphins a league-low over/under of just five wins (along with the Cardinals).
There are plenty of questions under center regarding the effectiveness and long-term viability of Ryan Fitzpatrick and Josh Rosen. Still, each quarterback has plenty of speed at every skill position, and the offense could benefit from a heightened pace of play. The Dolphins ranked 31st, 29th and 31st in situation neutral pace over the past three seasons while the Patriots ranked first, second and sixth.
Miami's wide receiver depth chart is a bit too jumbled for my liking. However, the same can't be said for the running back room.
Below we'll analyze Kenyan Drake's and Kalen Ballage's outlooks in an effort to determine their 2019 fantasy football value.
Expect Dolphins to Utilize a Running Back Committee
New Dolphins offensive coordinator Chad O'Shea served as the Patriots wide receiver coach from 2009 to 2018. We accordingly don't have any history of O'Shea calling plays himself, but it would make sense if his offense winds up resembling what he's seen everyday at practice for the past decade.
The defining characteristic of Patriots offenses over the years has been Bill Belichick and Co.'s maddening insistence on regularly utilizing a multi-back committee backfield. That's caused occasional headaches for fantasy owners, but the idea that you shouldn't target New England running backs in fantasy football simply hasn't been true.
Patriots RBs PPR Points Per Game
2009:  PPR RB37, RB48
2010: RB23, RB47
2011: RB37, RB66
2012: RB20, RB32
2013: RB8, RB41
2014: RB31, RB36
2015: RB5, RB39
2016: RB15, RB37
2017: RB18, RB19
2018: RB10, RB36
Enhanced goal-line opportunity in one of the league's perennial highest-scoring offenses partially explains the general success of Patriots running backs. The other part of the explanation is New England's tendency to heavily involve running backs in the passing game.
Teams that targeted their running backs at least 130 times in 2018:

Patriots (152)
Giants (152)
Lions (144)
Saints (144)
Chargers (141)
Jaguars (135)
Panthers (134)
Raiders (132)
Bears (130)

— Ian Hartitz (@Ihartitz) June 4, 2019
The Dolphins' 2019 ceiling is likely as an underrated and fun offense that participates in a few high-scoring shootouts thanks to its potentially dreadful defense. This reality could help elevate Drake's fantasy football value considering his ability to dice up defenses as a rusher and receiver.
---
Drake Is One of the NFL's Most Efficient Running Backs
There's little doubt that Drake is one of the NFL's best running backs on a per-touch basis
The numbers reflect that…
Drake's 4.29 yards after contact per touch in 2017 is the second-highest single-season mark among all running backs since 2010 (minimum 100 carries), according to Pro Football Focus.
Drake is one of only 13 running backs to average at least 5.5 yards per touch among 55 backs with at least 300 carries over the past three seasons.
Drake's average of 4.75 yards per rush since 2016 trails only Mark Ingram (4.91), Matt Breida (4.96), Saquon Barkley (5.01) and Alvin Kamara (5.13) among 49 backs with at least 250 carries.
…and so does the film.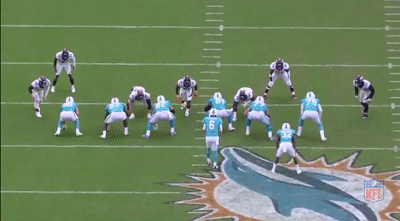 O'Shea could look to increase Drake's usage as a pure wide receiver whenever a defense is brave enough to attempt to guard him one-on-one with pretty much any linebacker in the league.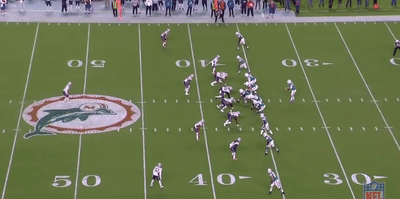 Drake combines sudden shiftiness with enough straight line speed (4.45-second 40-yard dash) to give any defensive coordinator headaches. He's still only 25, and has enough size (6-foot-1 and 210-pounds) and receiving ability to handle a featured workload.
The only thing that's held Drake back from reaching true fantasy football greatness has been the Dolphins' reluctance to hand him a consistent three-down role.
2016: 12% snaps, 42 touches (82nd most among all RBs)
2017: 46% snaps, 165 touches (37th)
2018: 59% snaps, 173 touches (tied for 28th)
One can dream about Drake getting 250-plus touches in a season, but it probably won't happen in 2019.
Ballage is plenty competent to warrant a committee approach, and there's a (small) possibility that seventh-round picks Chandler Cox or Myles Gaskin could compete for touches at some point.
Still, Drake finished 2018 as the PPR RB14 despite his limited role. He's plenty capable of smashing his current average draft position as the RB26 even with a moderate usage increase, as the upside is a potential role that could resemble what James White had in New England — only with more rush attempts.
The likelihood of the Dolphins utilizing multiple running backs also means that Ballage offers some fantasy football appeal.
---
The Ballage Mahal Is Open for Business (Sorry)
I'm not the biggest Ballage truther, but there's certainly a scenario in which he winds up working as the Dolphins' lead early-down and goal-line back in 2019.
The former fourth-round pick in the 2018 draft has seemingly impressed new Dolphins head coach Brian Flores:
"I've been very impressed with him (Ballage) … He's smart, he's talented; but he has a humility and a work ethic that I really like."
Ballage has the size (6-foot-2 and 228 pounds) of a three-down back and enough speed (4.46-second 40-yard dash) to run away from most defenders.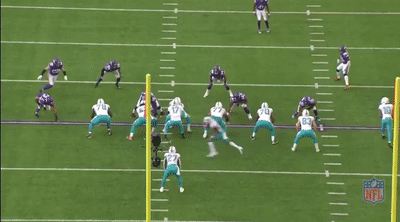 He finished 2018 with an impressive 5.3 yards per rush on 36 carries, although this falls to just 3.3 yards per carry if you remove the 75-yard touchdown highlighted above. Stripping away breakaway runs is unfair — Ballage deserves credit for ripping off that great play — but the point is that we're working with a fairly limited sample size of success.
The important thing for Ballage is that he has theoretical three-down ability; he caught 82 passes over his career at Arizona State and nine-of-11 targets as a rookie.
His current average draft position as the PPR RB57 pits him behind Matt Breida, Chris Thompson and Nyheim Hines, among others, all of whom don't really have a featured workload in their potential range of outcomes in 2019, even if a few injuries occur on their respective depth charts.
How would you rate this article?