Can Kirk Cousins Re-Emerge as a Valuable Fantasy Football QB?
Credit:
Brace Hemmelgarn-USA TODAY Sports. Pictured: Minnesota Vikings quarterback Kirk Cousins
Kirk Cousins wasn't the upper-tier fantasy quarterback in Minnesota that he'd been in past seasons.
Is a resurgence in store for 2019? Ian Hartitz analyzes Cousins' outlook.
Our experts are constantly refining their rankings and projections in the run-up to the 2019 season. Build custom cheat sheets featuring their latest updates with our Draft Kit.
---
The Vikings featured one of the NFL's most complete rosters en route to the 2017 NFC Championship Game. Then they made what was widely viewed as an upgrade at quarterback in 2018 by switching from Case Keenum to Kirk Cousins before disaster struck in the form of a playoff-less 8-7-1 campaign.
Failure to score more than 24 points in five of their final seven games last season highlighted Minnesota's inability to consistently create explosive plays in the passing game.
That shouldn't have been an issue in an offense that featured Stefon Diggs, Adam Thielen, Dalvin Cook and Kyle Rudolph — among others — so much of the blame was placed on the team's new $84 million quarterback.
Let's breakdown whether Cousins deserves all the blame for the Vikings' troubles in 2018 and if he can resume his status as an upper-tier fantasy football option in 2019.
Kirk Cousins Didn't Quite Earn His Pay in 2018
Cousins joined Drew Brees as the only quarterbacks to complete at least 70% of their passes in 2018. He also managed to post top-10 marks in some marquee statistics, including passing touchdowns (30) and yards (4,298).
Still, Cousins' efficiency wasn't at the level fans and fantasy owners have come to expect over the years.
Pass yards per game: 269 (No. 14 among 32 quarterbacks that started at least eight games in 2018)
TD rate: 5% (tied for No. 16)
QB rating: 99.7 (No. 9)
Yards per attempt: 7.1 (No. 23)
Adjusted yards per attempt: 7.3 (No. 16)
Fantasy points: 282 (No. 13)
Fantasy points per game: 17.6 (No. 16)
Cousins was, by most accounts, an average to above-average quarterback for the majority of last season. Some of his drop-off in fantasy production was due to him scoring just one rushing touchdown after having at least four scores on the ground from 2015 to 2017.
Regardless, this level of play is unacceptable for a player who reset the quarterback market in free agency.
There's a case to be made that some of Cousins' early-career success was due to old pal Sean McVay.
Kirk Cousins with Sean McVay calling plays (2014-2016)
Yards per attempt: 7.98 Y/A (5th among 36 QBs with 16+ starts)
QB rating: 97.3 (9th)

Without (2017-2018)
Yards per attempt: 7.32 Y/A (16th among 28 QBs with 16+ starts)
QB rating: 96.9 (13th)

— Ian Hartitz (@Ihartitz) April 3, 2019
Cousins is also one of many quarterbacks to benefit from the DeSean Jackson effect. Overall, Cousins has averaged 8.42 yards per pass attempt in his career with D-Jax on the field compared to 7.53 without.
Still, there's the possibility that Cousins and the Vikings struggled to reach their offensive potential because of the offensive line.
Minnesota's Offensive Line Was a Mess in 2018
The Vikings don't inherently have a terrible offensive line, but they were forced to dig deep last season after a plethora of preseason injuries wrecked their overall depth.
There were four key differences in the Vikings offensive line from 2017 to 2018:
Starting right guard Joe Berger retired.
Left guard Nick Easton was lost for the season due to a neck injury suffered in August.
Center Pat Elflein missed the first two games of the season due to an ankle injury.
Left tackle Riley Reiff missed three games in the middle of the season with a foot injury.
Minnesota ultimately finished the season ranked No. 23 in adjusted line yards per rush and No. 9 in adjusted sack rate (via Football Outsiders). These figures aren't far removed from their respective finishes of No. 19 and No. 6 in 2017, though a closer look at Cousins' passing statistics shows that he was under pressure more than ever before.
Percentage of Cousins' dropbacks under pressure:
2018: 38.9%
2017: 36.6%
2016: 32%
2015: 35.9%
Things reached a breaking point after the Vikings scored a combined 17 points in back-to-back losses to the Patriots and Seahawks. Offensive coordinator John DeFilippo was fired in favor of quarterbacks coach Kevin Stefanski, who helped produce point totals of 41, 27 and 10 over the Vikings' final three games.
It's easy to fall in love with Cousins' ability to drop dimes deep down the field…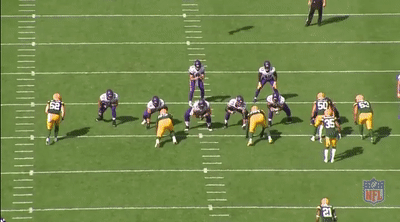 …but the Vikings' inability to consistently keep their franchise quarterback upright ultimately meant these bursts of explosive offense were far and few between: Cousins' 10.6% deep-ball rate was just the 25th-highest mark in the league, and easily below his previous career-low of 12.2% set in 2017.
The good news for Cousins and the Vikings is that there's still plenty of talent across the roster, but it remains to be seen if their passing game will be fully enhanced in 2019.
Vikings Could Be a Run-Heavy Offense in 2019
Minnesota has finished with double-digit wins in two of head coach Mike Zimmer's five seasons with the team. His offenses have flip-flopped wildly between preferring the pass or run, but the more run-heavy teams have been more successful:
2014: 7-9 | No. 18 in total rush attempts
2015: 11-5 | No. 4 in total rush attempts
2016: 8-8 | No. 25 in total rush attempts
2017: 13-3 | No. 2 in total rush attempts
2018: 8-7-1 | No. 27 in total rush attempts
Correlation doesn't imply causation: Running the football tends to be a result of winning, not the other way around.
Still, the team's decision to hire Stefanski as their new offensive coordinator is more evidence that the offense could get back to running the football in 2019. Cousins posted three of his five lowest-volume games of the season with Stefanski calling plays between Weeks 14-16.
It's not unreasonable to think Stefanski could continue to bring out a more efficient version of Cousins in 2019:
Cousins in Weeks 1-14: 71% completion rate | 7.06 yards per attempt | 4.6% touchdown rate
Cousins in Weeks 15-17: 67% completion rate | 7.3 yards per attempt | 7.3% touchdown rate
But a middling increase in efficiency won't help Cousins regain top-tier fantasy value if he's reduced to a game-managing quarterback.
There probably isn't a better pair of wide receivers in the league than Thielen and Diggs, but this was also true last season. Banking on a resurgence from Cousins boils down to the belief that he'll ball out with an improved offensive line and new play-caller.
Unfortunately, there's quite a bit of evidence indicating the Vikings could ask Cousins to take on more of a game-manager role, and lean on Dalvin Cook and the run game.
Cousins is currently being drafted ahead of Dak Prescott, Lamar Jackson and Mitch Trubisky in season-long fantasy drafts. I would personally rather have any of those superior dual-threat talents in any fantasy format, as the Vikings' potential to employ a run-heavy offense gives Cousins a lower floor and ceiling than we've seen in past years.
How would you rate this article?