Kyler Murray Prop Bets for 2019 NFL Draft, Future in MLB, More
Credit:
Ben Queen-USA TODAY Sports. Pictured: Kyler Murray
Kyler Murray is reportedly expected to enter the 2019 NFL Draft, bringing his future in pro sports into question.
Will the Heisman Trophy winner and A's prospect try to play both football and baseball? Which will he pursue if forced to pick one?
Matthew Freedman breaks down his picks for six prop bets related to the Oklahoma quarterback's future.
The San Francisco Chronicle's Susan Slusser reported on Wednesday that the Oakland Athletics expect Kyler Murray to enter the 2019 NFL Draft.
The A's selected Murray with the No. 9 overall pick in last summer's MLB amateur draft, after which he and agent Scott Boras insisted that 2018 would be the Oklahoma quarterback's last season to play football. In his $4.6 million contract, the outfielder was allowed to play football for the Sooners in 2018, but he was expected to give up the sport after that to focus fully on baseball and report to spring training for 2019.
But since Murray signed with the A's, there has been plenty of smoke surrounding his professional future. In August, Sooners head coach Lincoln Riley even suggested that Murray's status with the A's wasn't as settled as it seemed.
Murray's play on the field only added fuel to that fire. The Heisman Trophy winner was unquestionably the best college quarterback this past season, passing for 4,361 yards and 42 touchdowns and rushing for another 1,001 yards and 12 touchdowns. Even with his size at 5-foot-10 and 195 pounds, Murray looked like a future NFL star.
Murray flat out stated in December that he'd like to play both football and baseball if possible, even though his contract with the A's stipulates that he would have to give up a "large portion" of his signing bonus if he played in the NFL (per Jon Morosi of MLB Network).
But even with the potential loss of that money, Murray has seemed serious over the past month about the possibility of playing in the NFL.
On behalf of Murray, the Sooners requested that the NFL Draft Advisory Board supply him with a draft grade. The committee's assessment of Murray has not been made public, but multiple NFL scouts believe that he will be a first-round pick if he declares (per Bucky Brooks of NFL Media), especially with Oregon quarterback Justin Herbert returning to school for his senior season.
And now the A's are expecting Murray to enter the NFL draft.
So what does that mean for his future? The next four months will tell the story.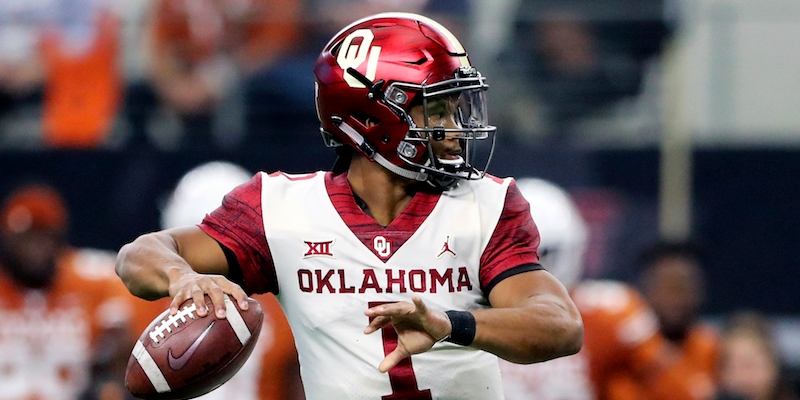 Murray is a redshirt junior, and the deadline for underclassmen to declare for the NFL draft is Jan. 14. On Feb. 15, position players report to A's training camp. The NFL combine begins on Feb. 26, with quarterbacks scheduled to work out on March 2. And the NFL draft kicks off on April 27. Within a month of the draft, all NFL teams will hold their rookie minicamps.
If Murray is serious about the NFL, he will skip A's spring training in order to prepare for his pre-draft workouts. If that happens, he will almost certainly attend the combine, and NFL teams will consider him to be an all-in prospect. As such, he will likely be a first-round pick and participate his NFL team's offseason program.
If, however, Murray plans to use football as a fallback option in case his baseball career doesn't work out, he'll show up to spring training just as he and his agent have always said that he would. He probably wouldn't attend the combine. He'll be treated by the NFL as a speculative and contingent pick, almost certainly falling outside of the top 100. And he won't participate in any offseason football activities.
By mid-February, and probably earlier, we should have a strong sense as to whether Murray actually plans to play football or baseball next year.
Some sportsbooks have released a few prop bets related to Murray's future. Below are my picks for six.
Kyler Murray: 2019 NFL Draft Position
Round 1: -150 (Bet $105 to win $100)
Round 2: +210 (Bet $100 to win $200)
Round 3 or later: +250
The recent first-round selections of an undersized Oklahoma quarterback in Baker Mayfield and dual-threat quarterbacks in Deshaun Watson, Patrick Mahomes and Lamar Jackson suggest that Murray could easily be selected on Day 1.
PICK: Round 1 -150
Disclosure: I bet this at -105, but I'd bet it to -175.
Kyler Murray: 2019 NFL Draft Position
Under 28.5: -145
Over 28.5: +115
The 2019 class is rather lacking at quarterback, and there are more than a few teams picking in the top half of the draft who need one.
If he's fully committed to football, he's likely to go before pick 29.
PICK: Under 28.5 -145
Disclosure: I bet this at +100, but I'd bet it to -165.
How Many Quarterbacks Will Be Selected Before Kyler Murray in the 2019 NFL Draft?
Over 2.5: +105
Under 2.5: -135
Only Ohio State quarterback Dwayne Haskins and Missouri quarterback Drew Lock are in the running to be selected ahead of Murray.
Both have their issues. Quarterbacks to play under OSU head coach Urban Meyer haven't had a great record of NFL success, and Lock often displayed inconsistent accuracy and decision-making at Mizzou.
Murray has a real shot to be the first quarterback taken in the draft.
PICK: Under 2.5 -135
Disclosure: I bet this at -105, but I'd bet it to -200.
Will Kyler Murray Play Professional Baseball & Football in 2019?
The terms of Murray's contract and the intricacies of the quarterback position make it almost impossible that Murray will play both baseball and football this year.
PICK: No -650
Disclosure: I bet this at -650. I'd bet it to -1000.
Will Kyler Murray Report to A's Spring Training Camp in 2019?
Murray and his agent have insisted for months that he would report to the A's spring training camp, but if Murray is serious about preparing for his pre-draft workout and playing in the NFL, he will almost certainly not attend any A's activities.
PICK: No +100
Disclosure: I bet this at +130, but I'd bet it to -200.
What Happens First for Kyler Murray?
Throws a touchdowns pass in NFL: -200
Hits a home run in MLB: +150
If Murray chooses football, we has a real chance to play in the NFL right away, and he could throw a touchdown as early as Week 1 of the 2019 season.
If Murray chooses baseball, he could toil for years in the minor leagues, and once he's made it the majors, he could go many at-bats before finally hitting a homer.
Pick: Touchdown pass -200
Disclosure: I haven't bet this yet, but I would bet it all the way to -500.
How would you rate this article?