Kyler Murray Prop Bets: Will He Be the No. 1 Pick in the 2019 NFL Draft?
Credit:
Jasen Vinlove-USA TODAY Sports. Pictured: Kyler Murray
Matthew Freedman makes his pick recommendations on four Kyler Murray prop bets for the 2019 NFL Draft.
Sportsbooks released several props related to Kyler Murray's NFL and MLB future in mid-January, when it was possible to bet on whether Murray will record an MLB hit or NFL pass first.
But with Murray's official decision of football over baseball, sportsbooks have released a new wave of Murray props focused on the 2019 NFL Draft.
Below are four of the prop bets, their odds and the way I'm leaning on each.
Note: These are not my official picks. These are just the way I would bet if I were entering the draft market right now.
Kyler Murray: 2019 NFL Draft Position
Over 9.5: +150
Under 9.5: -200
I have the Murray going to the New York Giants at No. 6 in my mock draft, but their scouting standards will reportedly remove him from their big board because of his size at 5-foot-10 and 195 pounds.
Even so, I project Murray to be selected near the top of the draft. I might even move Murray higher than No. 6 when I update my mock.
The 2019 class is lacking at quarterback, and there are more than a few teams picking in the top nine that need one. Plus, a team could always trade above the Broncos at No. 10 to grab a quarterback.
PICK: Under 9.5 -200
---
>> Sign up for The Action Network's daily newsletter to get the smartest NFL conversation delivered into your inbox each morning.
---
2019 NFL Draft Position: No. 1 Overall Pick
Nick Bosa: -200
Quinnen Williams: +300
Kyler Murray: +500
Dwayne Haskins: +1200
Josh Allen: +1400
Ed Oliver: +1400
Bosa is the presumptive No. 1 pick and has been for months. He should be an immediate impact player as an edge rusher.
Williams was one of the most dominant players in college football last season, but as a defensive tackle he might be hard for a team to select at the top of the board.
Murray is a legit option at No. 1 overall.
The Cardinals own the pick, and they just drafted quarterback Josh Rosen at No. 10 last year. But new head coach Kliff Kingsbury comes from the college ranks and runs a system in which Murray could flourish.
In evaluating Murray, the unconventional Kingsbury (himself a former college quarterback) seems unlikely to view the player's size as a disqualifying factor.
Murray is also highly mobile, rushing for 1,001 yards and 12 touchdowns last season, and Kingsbury has had his most success as a coach and as a play caller with a mobile quarterback to run his offense. And for all his virtues, Rosen is a concrete-laden pocket passer: He averaged -1.4 yards per rush (including sacks) in college, and he took 44 sacks in 13 starts last season.
Even though the Cardinals already have a quarterback, it's possible that Kingsbury will prefer Murray to Rosen. In fact, I'd say it's probable. And if that's the case, it might be hard for the Cardinals not to upgrade at quarterback given how important the position is in the NFL.
Haskins, Allen and Oliver are the respective lesser versions of Murray, Bosa and Williams. I don't see any of them being drafted first overall.
At +500 odds, Murray has a 16.7% implied probability of being the No. 1 pick. In reality, I think his odds are closer to 20%. Maybe even 25%. Of course, that doesn't also mean that another prospect doesn't also offer value.
PICK: Murray +500
Will Nick Bosa Be the No. 1 Pick in the 2019 NFL Draft?
At -200 odds, Bosa has a 66.7% implied probability of being drafted first overall. I think that number is about right, but maybe a little low. Around 70% might be more accurate.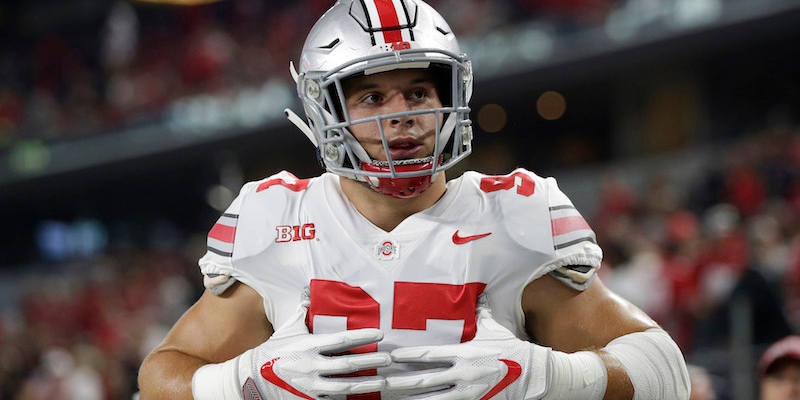 In the end, I think the No. 1 pick will come down to Bosa and Murray, with Williams also receiving some consideration given his ability as both a pass rusher and run defender.
But the only prospects who offer prop value at the moment are Murray and Bosa.
PICK: Bosa -200
Which Team Will Draft Kyler Murray in the 2019 NFL Draft?
Miami Dolphins: +150
Arizona Cardinals: +500
Jacksonville Jaguars: +500
New York Giants: +500
Oakland Raiders: +600
Tampa Bay Buccaneers: +1200
Washington Redskins: +1200
Cincinnati Bengals: +1400
Denver Broncos: +1400
Pittsburgh Steelers: +1400
I have no idea which team will draft Murray. I'm a sports analyst, not an oracle.
But I'd rule out the Dolphins, Redskins, Bengals and Steelers — I don't see Murray making it outside of the top 10.
I'd also rule out the Broncos. I doubt that Murray makes it to No. 10, and I also doubt that Murray will be the type of quarterback desired by general manager John Elway.
I'd rule out the Buccaneers. New head coach Bruce Arians has been complimentary to quarterback Jameis Winston, who has the arm strength Arians likes for his downfield Air Coryell offensive scheme.
I'd rule out the Giants. As noted earlier, Murray's size will reportedly eliminate him from their draft board because of their scouting standards.
So that leaves the Cardinals, Jaguars and Raiders.
Although Raiders head coach Jon Gruden is thought of as a quarterback guru, not once in his 12-year tenure as a head coach has he drafted a passer in the first round — even though he's often had a need at the position. Gruden is a bit of a wildcard, but the Raiders are so weak all over the roster that it's easy to envision them bypassing Murray to address other positions, especially with quarterback Derek Carr. So I'd rule out the Raiders.
That leaves the Cardinals and Jags.
I already discussed Murray and the Cardinals above. As for the Jags, their need at the position is evident: Blake Bortles has been their starter for the better part of the past half decade. It's beyond time for an upgrade.
If I had to bet on this prop, the Cardinals and Jags would be the two teams I'd back.
PICK: Cardinals +500, Jaguars +500
---
Matthew Freedman is the Editor-in-Chief of FantasyLabs. He has a dog and sometimes a British accent. In Cedar Rapids, Iowa, he's known only as The Labyrinthian.
How would you rate this article?