Kylin Hill Dynasty Fantasy Outlook, NFL Draft Profile & Prop Bets
Credit:
Michael Chang/Getty Images. Pictured: Running back Kylin Hill #8 of the Mississippi State Bulldogs.
"I don't care what kind of runner Kylin Hill is ... What I care about is Hill's receiving potential."
NFL draft and fantasy football analyst Matthew Freedman on the Mississippi State RB's potential.
Find Freedman's full profile on Hill below, complete with dynasty fantasy analysis and draft props.
Kylin Hill Draft Profile
| | |
| --- | --- |
| Position | RB |
| School | Mississippi State |
| Height | 5'11" |
| Weight | 214 |
| 40-Yard Dash | 4.51 |
| 2021 Age | 23 |
| Class | Senior |
| Recruit. Stars | 4 |
| Projected Round | 4-5 |
Kylin Hill Draft Props
Let's take a look at the prop market …
… haha, OK. I've seen enough. Hill is +15000 at FOX Bet to be the No. 1 back drafted, but there's a zero percent chance I will be betting on him.
While I rely on my own research, I also take a "wisdom of the crowds" approach by surveying an index of mock drafts. I find that these drafts — created by experts with established records of success — collectively give me a good sense of the realistic range of outcomes for what we might see with any given player or pick.
None of the surveyed mocks has Hill gone in Round 1. Right now, his draft stock is on the borderline of Rounds 3-4 (per Grinding the Mocks).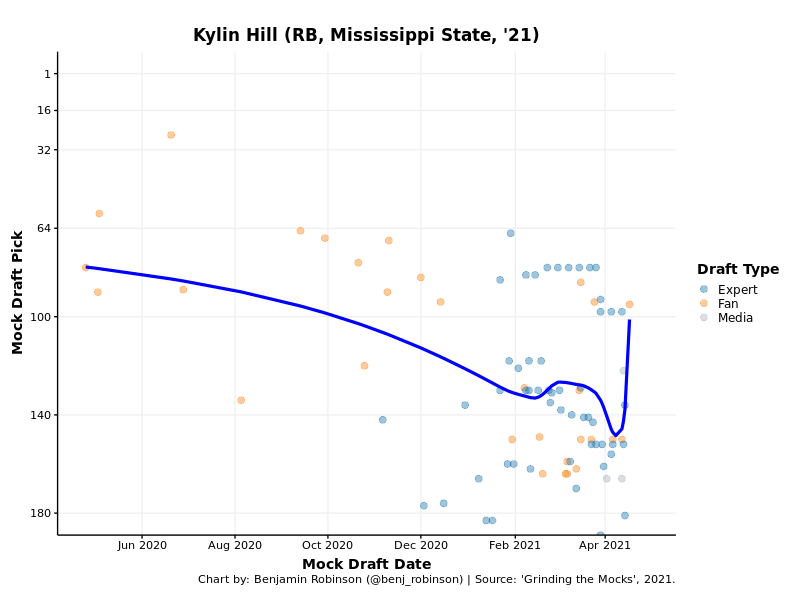 I like Hill — but to me he feels like a Day 3 back.
His over/under of 145.5 at Circa is moderately tempting if I look at his current Grinding the Mocks draft stock, but I haven't bet it yet because I think Hill has a wide range of draft outcomes, and while his draft stock points to the over I believe his range skews to the under.
Dynasty Fantasy Analysis
I'm going to be honest: I know almost nothing about football, especially when it comes to breaking down runners. I can give my opinion, but it's a relatively uninformed one — and it's just an opinion.
What's more, I'm not sure the ability to break down runners on film even matters. I'm skeptical about how predictive it actually is. Yes, that's a rather self-serving position for me to have, since I can't do the task I'm suggesting is useless — but, still, I strongly suspect that watching a college running back's tape won't provide all that big of an edge when it comes to predicting how he will do as a runner in the NFL.
Is this guy a tough runner? A finesse runner? A gap runner? A zone runner?
I'm sure the answers to these questions matter — but I've found very few people who can answer those questions consistently … and even then it seems that often the answers they come up with don't matter.
With running backs, what matters is whether a guy gets carries. That's pretty much it. And it's hard to predict whether a guy will earn rushing attempts in the NFL just by putting on his college tape and breaking down the type of runner he is and the scheme in which you think he's likely to succeed.
And college rushing production isn't all that predictive either, if I'm being fully honest. It's marginally correlated with draft position, which in turn is predictive of early-career opportunities — but lots of college rushers ball out as undergraduates and then do nothing as professionals.
But here is something that's rather predictive of NFL success for running backs: Receiving ability.
If a back can catch the ball, that gives him a shot at a three-down role. If he is frequently targeted in college, that probably speaks to a larger skill set he has and the extent to which his manifest talent spurs the play caller to involve him in the offense in any way possible.
And college receiving correlates more with NFL receiving than college rushing correlates with NFL rushing, so it's easier to use receiving production as a predictive indicator of future NFL success.
Here's why I bring all of this up: I don't care what kind of runner Hill is. At his size and with the rushing production he had at Mississippi State early in his career, I imagine he's a sufficient runner.
When I pretend to watch his film, he looks good.
He runs with strength. In his 453 college carries, Hill amassed 116 broken tackles (per Pro Football Focus).
Whatever. It doesn't matter.
What I care about is Hill's receiving potential. That's what matters.
Nothing else matters.
Also, apparently Miley Cyrus is planning on doing a cover of "Nothing Else Matters" with Elton John on piano and maybe Chad Smith from Red Hot Chili Peppers on drums and Yo-Yo Ma on cello, and I'm dead.
A four-star recruit, Hill immediately contributed as a true freshman in 2017 as the No. 2 back behind starter Aeris Williams with 78-393-2 rushing and 4-38-0 receiving in 13 games. As a sophomore he overtook Williams to become the No. 1 back in a committee with 117-734-4 rushing and 22-176-4 receiving in 11 games despite dealing with a hamstring injury throughout the season (he missed two games with the injury).
In 2019, Hill had his breakout season with 242-1,350-10 rushing and 18-180-1 receiving, and I had him slated in Round 2 of my way-too early dynasty rookie rankings before he announced he would return to college for his final season, which could have gone better.
In the offseason, during the 2020 summer of widespread social unrest, Hill stated his intention to leave Mississippi State if the Confederate battle flag cross was not removed from the state flag.
Hill's position proved successful, as the state flag was officially retired on June 30, but he and his family drew heavy backlash from many Mississippians for his stance.
During the season he played just three games in new head coach Mike Leach's offense before opting out — and in those games he produced maybe the weirdest game-by-game stat lines I've ever seen from a lead back.
Game 1 (LSU): 7-34-0 rushing | 8-158-1 receiving
Game 2 (Arkansas): 1-7-0 rushing | 0-0-0 receiving
Game 3 (Kentucky): 7-17-0 rushing | 15-79-0 receiving
Against LSU, it's not as if the Bulldogs were down the entire game and had to abandon the run: That's just what happens in Leach's offense. Hill still led the team with seven carries while backup Jo'quavious Marks had three, and he also led the offense with eight receptions.
Against Arkansas, Hill was knocked out of the game early with a head injury, but he returned the next week against Kentucky and easily led the team with seven attempts and 15 receptions. FIFTEEN!
Even with his aerial onslaught, Hill was displeased with his highly unorthodox usage, and he made his feelings known to the coaching staff … and then he was suspended for the team's next game against Texas A&M.
Not surprisingly, he refused to play against Alabama the week after his suspension.
And then the following week he opted out of the rest of the season.
In his three games with Leach, Hill was a bizarre 15-58-0 rushing and 23-237-1 receiving.
While it might be easy to look at his senior-year rushing production and raise your eyebrows, it's worth remembering that rushing production doesn't matter — and Hill did more than enough as a pre-Leach runner to prove himself.
But that receiving production is something to consider. In just a little over two games, Hill set career-high marks with his 23 receptions and 237 yards. He wasn't bad as a receiver in 2017-19, but as a senior he showed that he can be a true asset in the receiving game.
And I don't think this is just a one-year thing with Hill. His receiving production since 2018 stacks up remarkably well against that of the top backs in the class on a per-route basis (per SIS, 2021 Sports Info Solutions Football Rookie Handbook).
Yards per Route
Kylin Hill (2018-20): 2.0
Travis Etienne (2018-20): 1.8
Javonte Williams (2018-20): 1.5
Michael Carter (2018-20): 1.4
Najee Harris (2018-20): 1.1
In reality, Hill is almost certainly not as good as Etienne, Williams, Carter and Harris at receiving — but he was good enough in college to do what he was asked to do at a high level.
At the Mississippi State pro day, Hill didn't exhibit electric athleticism, but he measured in true to his listed size, he ran a very respectable 40-yard dash for his height and weight, he showed strength on the bench press and he jumped very well in the vertical and broad.
Again, I don't know how Hill will fare as a runner in the NFL: The word on him is that he's too much of an improviser. Maybe.
But what's known is that he has the size and the receiving production to be a lead back at best and committee back at worst … assuming he actually gets playing time. And that's not guaranteed.
NFL Prospect Comp: Ke'Shawn Vaughn with less draft capital but more peak production
---
Matthew Freedman is 1,018-828-37 (55.1%) overall betting on the NFL. You can follow him in our free app.
How would you rate this article?
This site contains commercial content. We may be compensated for the links provided on this page. The content on this page is for informational purposes only. Action Network makes no representation or warranty as to the accuracy of the information given or the outcome of any game or event.