Raybon: Why Late-Round QB Strategy Works, Who to Target in 2019
Credit:
Mark J. Rebilas-USA TODAY Sports. Pictured: Dak Prescott
Chris Raybon makes the case for employing the late-round QB strategy in your fantasy football drafts and identifies the top targets for 2019.
Ask me for one fantasy football tip, and I might say, "Why not ask for two? Live a little." But my one tip would be: Wait on a quarterback.
The Late-Round Quarterback strategy, popularized by JJ Zachariason, is not just a QB strategy — it's the predominant fantasy football strategy.
In normal fantasy leagues that require one starting QB, you can maximize your draft by waiting until the final few rounds to draft a QB. At its most basic level, the value in this strategy is due to the excess supply of viable fantasy options at QB each week compared to every other position. Even if you whiff on your drafted QB, there can be anywhere from a half-dozen to a dozen options on the waiver wire that you can stream throughout the season, a method that oftentimes can outscore most individual QBs if done well.
Zachariason has written in depth about the Late-Round QB strategy in an article titled: "Why You Should Draft your Quarterback Late. Every Single Year." It not only gives him the title belt for the predominant fantasy strategy article, but also the predominant fantasy article with two periods in the headline. I encourage you to check that out, as well as the rest of his work.
Now let's dig into my take on the strategy and how to put it into action in 2019.
---
More Strategy Pieces: Zero RB | Auction | Best Ball
---
Clearing the Mental Hurdles of Late-Round QB
Executing the strategy is easy enough: Be the last team in your league to draft a QB.
If no one has drafted a QB by the time you're up in the last rounds before you have to draft a kicker and defense, congrats, you just got the overall QB1 — but you're going to need him, because man is your league sharp.
Sometimes you don't necessarily need to be the last, especially if you see value where you can snag a QB before a tier drop-off. But value dictates that you want to at least have drafted a few extra bench players at RB and WR before you jump into the QB mix.
I'll get into how to choose individual QBs below, but first I want to tackle what I think are the biggest roadblocks to implementing this strategy, which are all mental.
'I've Already Filled My Starting Lineup'
You never have your starting lineup when you think you do.
According to a study from ProFootballLogic.com, running backs miss 16.9% of their games on average, wide receivers miss 12.5%, tight ends miss 11.3% and quarterbacks miss 6.9%.
That means that once bye weeks are accounted for, the average number of unavailable weeks is 3.54 for RBs, 2.88 for WRs, 2.69 for TEs, and 2.0 for QBs.
In other words, you'll need somewhere in the neighborhood of a half-season's worth of games from your "bench" at RB and WR. And remember, this is before accounting for weeks when you simply need to bench players for performance reasons.
Let's assume you'll abide by a strict start-your-studs mentality and never bench players selected in Rounds 1-3, you will probably still want to bench RB2/3s, WR2/3s and non-stud TEs against top-five defenses. The odds of a player facing a top-five defense are 15.6%, or 2.3 games over a 15-game season. That means you'll need to account for anywhere from an additional four to five games in smaller starting lineups to nine to 10 in larger starting lineups.
Positionally, you're going to need upwards of a full season's worth of extra games from RBs and WRs not considered part of your starting lineup, and start-able weeks from those positions are a lot more difficult to find than at QB.
Save for an outlier hit rate from Round 11 RBs, you are more likely to find a top-12 QB than a top-36 option at RB or WR anytime before Round 13.
The sweet spot for QBs has been Rounds 9-10, which would be after you've taken four to five bench players in leagues with smaller starting lineups and at least one to two bench players in leagues with larger starting lineup requirements.
'But Rankings/VBD Say I Should Take a QB Here'
Sometimes I think that FLEX rankings should be the default fantasy football rankings rather than those with QBs included. Novice drafters often see a QB is the best player available and pull the trigger without properly accounting for the supply vs. demand element.
For example, just because we have Deshaun Watson ranked 55th overall in our expert consensus fantasy football rankings doesn't mean you should pull the trigger if he's sitting there when you're picking at 67th.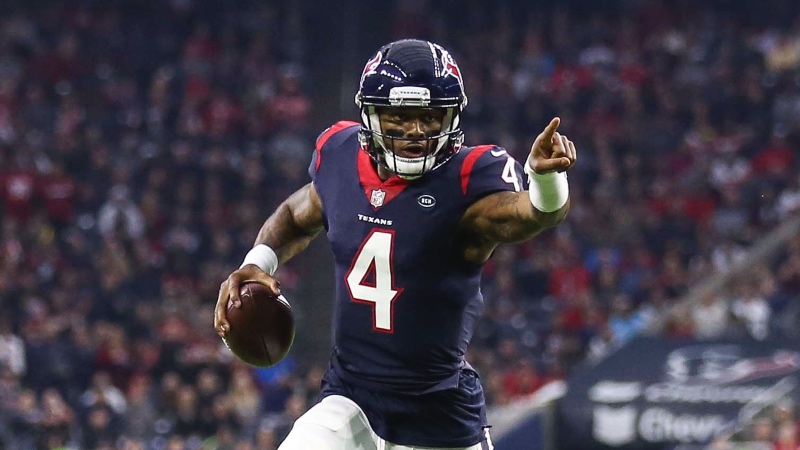 While Watson might be giving you a +12 in overall value, that doesn't mean much when you consider that four QBs we have ranked in the 90-105 range — Josh Allen, Cam Newton, Dak Prescott, and Jared Goff — all go an average of at least 20 picks later than we have them ranked.
You also have to account for the fallibility of projections. In a 12-team league with half-PPR scoring, the difference between QB1 and QB12 has been 83 spots overall, or 6.9 per QB. The difference between RB1 and RB36 has been 3.3 spots, between WR1 and WR36 has been 2.2, and between TE1 and TE12 has been 7.5.
You have a lot more to lose if a QB finishes a few spots off his ranking than if the same thing happens at RB or WR.
The bottom line is that the QB3 and QB20 finished within four points per game of each other last season, which is generally the norm, more or less. You just want to make sure to grab your QB before the tier of potential QB1s ends.
---
How to Choose a Late-Round QB
Option 1: Swing for an Every-Week QB1
In theory, the one advantage of selecting a QB early is that you could play him every week — he's matchup-proof. But things never really shake out like that.
The top matchup-proof QBs of the past few years — Patrick Mahomes in 2018, Deshaun Watson in 2017 and Matt Ryan in 2016 — weren't drafted as such. Priority No. 1 when drafting a late-round QB is finding a player you could start week in and week out.
As NFL teams continue to get more efficient passing the ball, the lines between the the top QBs are blurred, but the top candidates generally have rushing upside.
---
Option 2: Plan Around Early-Season Schedule
Most QBs are matchup-dependent. They thrive in situations when they're at home, facing a weak defense and/or their own defense is facing a strong offense, but they're liable to go full Blake Bortles under less favorable circumstances.
In 2018, only six QBs posted at least eight games of 20-plus fantasy points. Only two did so in 2017, and four in 2016. But an average of 15.0 per season have produced four to seven games of 20-plus fantasy points over that span.
So if you've waited on QB and the options left on the board all have similar ceilings, just plan on streaming the position. Your first priority should be Week 1 matchup, but the ideal QB in this scenario would have good matchups in two to three games to start the season.
I generally don't recommend using multiple roster spots on QBs in leagues that start only one — backup RBs who are an injury away from a big workload are a lot more valuable — but if using two spots could net you a handful of good streaming matchups to start the season, you could do worse than draft two QBs.
After all, waiting on QB allows you to maximize your RB and WR with higher-floor players.
Late Round QB Targets in 2019
Potential Every Week QB1s
Kyler Murray, Cardinals
I made the case for Murray as one of my best ball targets:
Taking a shot on a potential difference-maker like Murray after more than a half-dozen passers and 100 players are off the board could end up being a league-winning move.

Murray rushed for 1,001 yards and 12 touchdowns last season at Oklahoma, and the likes of Deshaun Watson, Russell Wilson, Cam Newton, Robert Griffin III, Lamar Jackson and even Josh Allen, among others, have shown us that rookie quarterbacks with mobility can be fantasy difference-makers in Year 1.

There's a chance Murray is special and an outside shot that he puts up top-three numbers in Year 1. And despite the surplus at the position, Murray's ADP is still low enough that he's one of the best floor/ceiling picks on the board.
Even if you're treating Murray as a streamer, he opens the first seven weeks of the season with what should be six favorable matchups: vs. Lions in Week 1, vs. Panthers in Week 2, vs. Seahawks in Week 4, at Bengals in Week 5, vs. Falcons in Week 6 and at Giants in Week 7. The lone exception is a road tilt with Baltimore in Week 2.
---
QBs with Good Early-Season Matchups
Lamar Jackson, Baltimore Ravens (at Dolphins, vs. Cardinals, at Chiefs): Jackson gets a matchup with a Patrick Peterson-less Cardinals squad bookended by two matchups against defenses that finished bottom-25 in Football Outsiders' DVOA last season.
Kirk Cousins, Minnesota Vikings (vs. Falcons, at Packers, vs. Raiders): Mike Zimmer wants to run the ball more, so naturally, the Vikings start the season with three defenses that ranked bottom-five in pass defense DVOA. Still, I'd bet on efficiency winning out over volume.
Dak Prescott, Dallas Cowboys (vs. Giants, at Redskins, vs. Dolphins): Two matchups against teams that finished bottom-10 in pass defensive DVOA bookend a matchup against a Washington defense that Prescott averaged 306.5 total yards and 2.5 touchdowns against last season.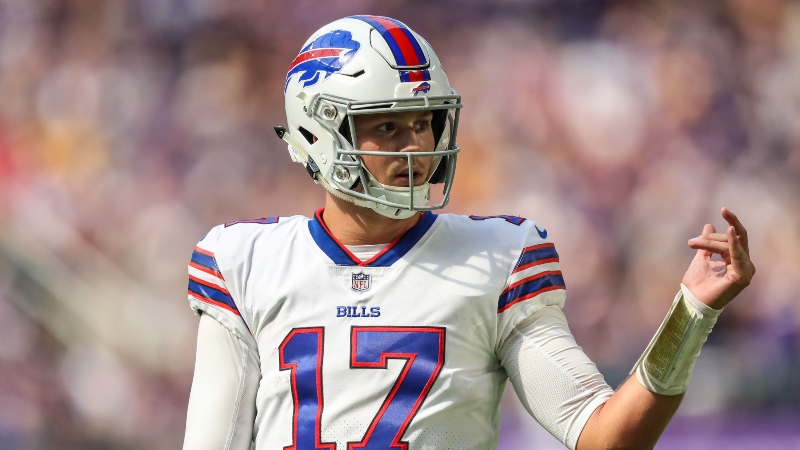 Josh Allen, Buffalo Bills (at Jets, at Giants): The Jets and Giants share stadiums, and if they also shared rosters, then maybe they could combine to field one league-average defense. Maybe. But probably not.
Jimmy Garoppolo, San Francisco 49ers (at Bucs, at Bengals): San Francisco's plethora of running backs almost makes you forget that Jimmy G is averaging 8.1 yards per attempt over nine career starts with the 49ers. He starts his comeback campaign with consecutive matchups against defenses that finished bottom-six in that metric last season.
Andy Dalton, Cincinnati Bengals (at Seahawks, vs. 49ers): Seattle's best defense is its run game, and San Francisco allowed a 35-to-2 touchdown-to-interception ratio last season. But most importantly, you get to buy high on the red rifle for Tyler Eifert's annual two healthy games per season.
---
Week 1 Only QBs
Mitchell Trubisky, Chicago Bears (vs. Packers): Only two QBs had more 30-point fantasy games than Trubisky in 2018, and he faces a Packers defense that finished bottom-five in passing DVOA.
Joe Flacco, Denver Broncos (at Raiders): Its only downhill from here.
---
Chris Raybon is a Senior Editor at the Action Network and a co-host of Sirius XM Fantasy Radio at 9-11 a.m. ET on Wednesday-Friday. He has watched every snap of every NFL game since 2010 — even the kneel downs. Follow him on Twitter @ChrisRaybon and read about how he quit his accounting job and got paid to watch sports.
How would you rate this article?