Our Experts' Favorite Late-Round QB Targets in Fantasy Football
Credit:
Brace Hemmelgarn-USA TODAY Sports. Pictured: Josh Allen
Who are the best late-round QB options? Our fantasy football experts on which signal-callers to target late in your drafts.
The quarterback position is the deepest we've seen in fantasy football. And that depth makes the late-round QB strategy even more viable. So which signal-callers should be on your radar heading into drafts?
Our panel of seven experts highlight the late-round QB targets they like the most in 2019. Be sure to also check out our experts' latest rankings in our Draft Kit.
I don't think this needs much explanation.
After returning from injury in Week 12, Allen led all quarterbacks in fantasy scoring with 145.3 points over the final six weeks of the season.
He's not an accurate passer — he had a 54.2% completion rate in college and 52.8% in 2018 — but he should be better in his second year, and the Bills have improved his pass-catching options with the addition of wide receivers John Brown and Cole Beasley, tight ends Tyler Kroft and Dawson Knox and even running backs Frank Gore and T.J. Yeldon.
Most importantly, Allen is a running quarterback. In his 11 starts last season, he averaged 7.7 rush attempts per game with an outstanding 7.1 yards per carry and eight rushing touchdowns in total. Even if he is less efficient as a runner this season, he still offers outstanding value as a quarterback drafted outside of the top 12.
Jonathan Bales: Mitch Trubisky, Chicago Bears
Late-round quarterbacks might not offer the same week-to-week upside as the top-10 players selected at the position, but it's still important to prioritize upside when drafting a signal-caller in the later rounds. This is why I'm all over Trubisky, who worked as the overall QB7 and posted four weeks as a top-five signal caller from Weeks 1-11 last season before suffering a shoulder injury.
Helping matters for future fantasy owners is the fact that Trubisky also boasts a solid rushing floor, as only Allen (52 rushing yards per game), Lamar Jackson (43), Cam Newton (35), and Deshaun Watson (34) averaged more rushing yards per game than Trubisky (30) did last season among projected 2019 starting quarterbacks.
Trubisky benefited immensely in Year 2 from head coach Matt Nagy's Andy Reid-inspired offensive scheme, and the Bears once again have more than enough talent at running back, receiver and tight end to elevate their young quarterback.
Sean Koerner: Lamar Jackson, Baltimore Ravens
The QB position is incredibly deep this season, which makes it a preferred strategy of mine to wait and draft a QB who falls to the later rounds.
Jackson is currently the QB18 in average draft positions and makes for the perfect late-round target. In his seven starts last year he failed to finish in the top five or outside of the top 20, he was the ultimate low ceiling/high floor QB. His rushing ability supplies the high floor, but if he improves in the passing game at all this season it could potentially make him a high floor and high ceiling QB.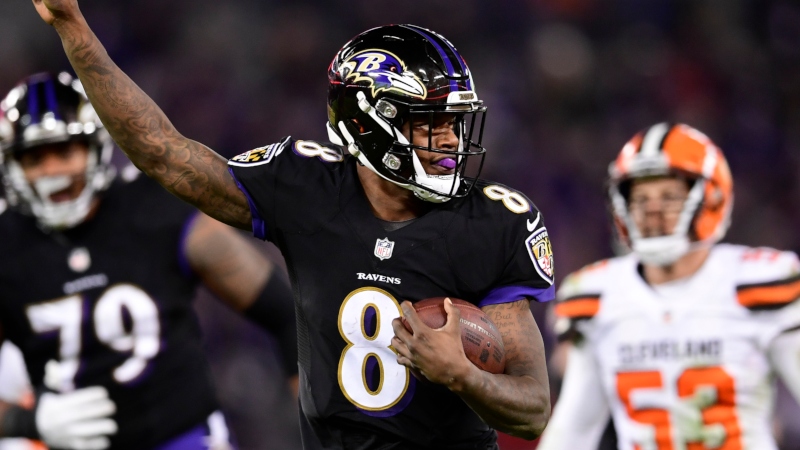 Justin Bailey: Lamar Jackson, Baltimore Ravens
Jackson is among the most intriguing late-round targets for me this year, and it all comes down to his rushing ability. Once he took over the Ravens in Week 11, his 119 rushing attempts led all quarterbacks by a substantial amount from Weeks 11-17. For comparison, Allen was second with 54 attempts.
Not only that, but Jackson's 119 attempts and 556 rushing yards over that span ranked sixth and seventh among both quarterbacks and running backs.
Peter Jennings: Dak Prescott, Dallas Cowboys
Last year after the Amari Cooper acquisition, Prescott was a completely different player. With an added year of chemistry, I'm confident that this combination will be able to build upon their strong 2018 together.
Amari isn't the only supporting piece who gives me confidence in Dak; the Cowboys' offense will also receive a huge boost from the return of Travis Frederick as well as promising change of pace in rookie receiving back Tony Pollard. Frederick should be able to bring back the stability up front that Dak sorely missed last season while Pollard's presence and ability should give the passing game a boost.
Dak also has a bit of added upside due to his rushing capabilities. Cooper's scoring distributions, which could be argued as one of the best at the receiver position, will have a correlation with Dak's. This correlation and rushing upside should lead to Prescott having great best ball distributions.
Ian Hartitz: Dak Prescott, Dallas Cowboys
Prescott is (once again) fantasy football's best late-round quarterback option.
He joins Russell Wilson and Drew Brees as the only top-10 fantasy quarterbacks in each of the past three seasons, and there's reason to believe that the 2019 edition of the Cowboys offense could be their most-lethal unit in years:
Prescott's numbers with Cooper (70.1% completion rate and 7.69 yards per attempt) were his best since posting a 67.4% completion rate with 7.99 yards per attempt during his top-tier rookie season.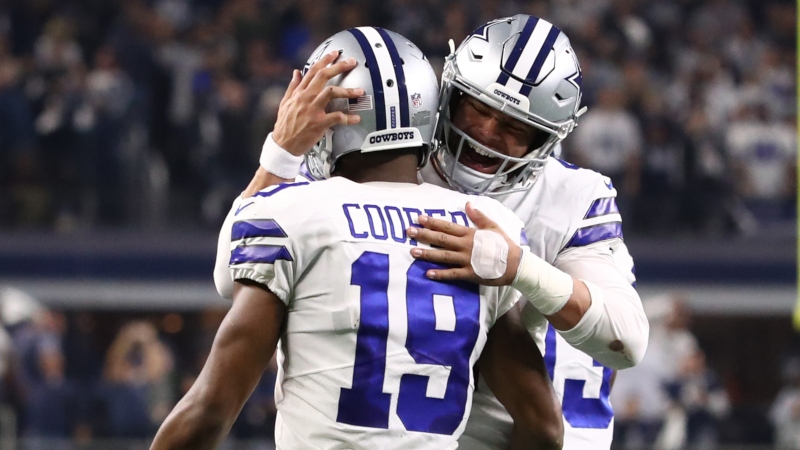 Prescott (30 rushes inside the 10-yard line since 2016) narrowly trails Cam Newton (33) for their position-high mark. No other starting quarterback has even 20 such rush attempts over this span.
The Cowboys are welcoming back Frederick and appear to (finally) be trending toward a more creative scheme under new offensive coordinator Kellen Moore.
There are quarterbacks who look better than Prescott when throwing from a clean pocket, but few have consistently managed to post his elite fantasy production over the past three seasons.
Chris Raybon: (Almost) Any QB Outside the Top 10-12
To single out just one would be doing a disservice to the surplus of value at the position.
The guys already hit on all the main candidates — Jackson, Allen, Prescott, Trubisky — but the correct answer is "anyone who falls outside of the top 10-12." Sometimes it will be the aforementioned guys, other times it might be Jameis Winston, Jared Goff or Cam Newton. Save for Goff, the general theme is rushing upside.
I think a more important point to make is that some household names don't make for quite as appealing targets:
Tom Brady: He was the QB15 in fantasy points per game last season, and has averaged just 6.89 yards per attempt without Rob Gronkowski compared to 8.01 with the tight end since 2010.
Drew Brees: Threw a 14-year low 489 pass attempts last season and looked his age with 6.7 YPA and six interceptions over seven games.
Matthew Stafford: Finished as the QB20 last season, and now gets run-heavy Darrell Bevell as offensive coordinator.
That said, there are still plenty of statues with upside like Ben Roethlisberger (Antonio Brown gone but JuJu Smith-Schuster good), Philip Rivers (QB4-14 every year since 2013  and Jimmy Garoppolo (upgraded pass catcher corps and quietly still sporting 8.1 career YPA as a Niner).
How would you rate this article?