Is Le'Veon Bell Still Capable of Fantasy Football Dominance with the Jets?
Credit:
Credit: NY Jets Twitter. Pictured: NY Jets running back Le'Veon Bell (26).
Le'Veon Bell will make his long-awaited return as the New York Jets' top running back.
Ian Hartitz sets fantasy football expectations for one of the NFL's most talented dual-threat backs.
We're in the thick of the NFL offseason and it's officially time to start fantasy football prep. I'll be answering the biggest questions heading into the 2019 season; this is part of that series.
---
The Le'Veon Bell saga ended with the stud running back receiving a four-year contract worth up to $52.5 million with the New York Jets, who were widely considered to be the only team truly bidding for Bell. Their prize is one of the league's most complete running backs — as long as Bell decides to show up and play football again in 2019.
What follows is a breakdown on what makes Bell such a special running back as well as what to make of his fantasy football value entering 2019.
Le'Veon Bell Is Difficult to Tackle
The Jets now have one of the best running backs in the league.
Bell possesses a dizzying array of jukes, spins and stiff arms that have made him one of toughest players to tackle for the better part of the past half decade. He joins Marshawn Lynch, DeMarco Murray and Adrian Peterson as the only backs with three seasons with 50-plus broken tackles as both a rusher and receiver since he entered the league in 2013.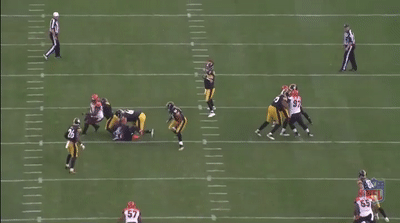 It's tough to watch a game in which the announcers don't point out Bell's patient running style, and it's undoubtedly been effective. His average of 4.34 yards per carry is the 19th-highest mark among 72 running backs with at least 300 carries since 2013.
The good thing about Bell's rushing style is that he's managed to consistently pick up positive yardage despite a tendency to stop his feet in the backfield.
2017: No. 11-ranked running back in success rate
2016: No. 3
2015: No. 10
2014: No. 9
2013: No. 23
Only Ezekiel Elliott (48%) and Saquon Barkley (44%) have a higher percentage of games with 100-plus rushing yards than Bell (37%) since 2016.
Of course, many have been quick to point out that Bell's career average of 4.3 yards per rush might not be worth such a large contract considering the likes of James Conner (4.5) and DeAngelo Williams (4.2) were just as efficient on the ground during their respective careers with the Steelers.
I won't disagree with the idea that there are other running backs capable of replicating Bell's impact as a rusher, but that shrinks to about two or three total backs when we consider what he's capable of achieving as a pure receiver.
Bell Might Be the NFL's Best Receiving Back
Few running backs look as comfortable as Bell when lined up on the outside or in the slot as a true wide receiver. Bell joins Larry Centers, Marshall Faulk and Roger Craig as the only running backs with at least three seasons with 75-plus receptions in NFL history.
Bell's original contract dispute largely came down to his desire to be paid as both a starting running back and No. 2 receiver. There's certainly plenty of evidence to back up this claim.
Le'Veon Bell doesn't have the most ridiculous rushing stats — but always thought he separated himself from other RBs with his ability to dominate as a true wide receiver pic.twitter.com/rjvjBadzWe

— Ian Hartitz (@Ihartitz) March 13, 2019
Bell has never spent an egregious amount of time away from the backfield; he lined up in the slot or out wide on 10%, 14% and 13% of his snaps from 2015 to 2017, respectively.
Even this relatively tame allotment of snaps as a pure receiver is rare for a true workhorse running back.
Starting RBs that spent at least 10% of their snaps in the slot or out wide last season (PFF)

Tarik Cohen (34%)
Kamara (26%)
…
Kenyan Drake (15%)
Le'Veon Bell (13% in 2017)
Lamar Miller (12%)
Gurley (12%)
Damien Williams (12%)
CMC (11%)
Phillip Lindsay (11%)
James Conner (11%)

— Ian Hartitz (@Ihartitz) June 30, 2019
Bell has racked up a ridiculous 36 games with at least five receptions since entering the league in 2013. No other running back has even reached 30-such games.
Talent and ability has never been a question for Bell. However, he's never had to deal with life as new head coach Adam Gase's featured running back.
Bell Is a Volatile Fantasy Football Option in 2019
Bell's dual-threat skill set has been extraordinarily useful for fantasy owners over the years (except 2018, lol). Bell played at least 12 games in four of his previous five seasons, finishing as the PPR RB14 (2013), RB1 (2014), RB3 (2016) and RB2 (2017).
Gase helped the likes of Kenyan Drake and Jay Ajayi rack up plenty of fantasy points for stretches of the past few seasons, but he's never quite committed to a single back the way the Steelers routinely featured Bell.
Sam Darnold should be an upgrade over Ryan Tannehill and a washed-up version of Smokin' Jay Cutler. Still, we haven't seen much evidence to this point of Gase enabling a fantasy-friendly offense.
Adam Gase with Peyton Manning at QB (36 games):
27 wins
32.2 PPG
423 yards per game
21 games with 30+ points

Without (65 games):
29 wins
20.2 PPG
319 yards per game
12 games with 30+ points

— Ian Hartitz (@Ihartitz) May 15, 2019
Rumors have circulated that Gase "absolutely did not want to sign Bell" due to his desire to not spend big money on any running back. This is a fair point, but it would be a bit embarrassing for Gase if he can't figure out a way to utilize Bell's unique skill set regardless of how he feels about the playmaker's salary.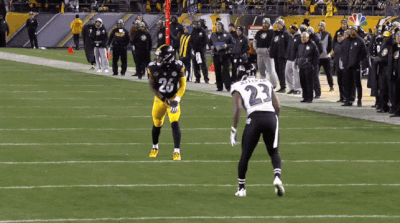 The size of Bell's pass-game role is in question as Robby Anderson, Jamison Crowder and even tight Chris Herndon each have a case as the receiver most worthy of working as Darnold's No. 1 target.
Regardless, the biggest obstacle the offense will have to face under their new jurisdiction is the painfully slow pace that Gase and Co. have played at since parting ways with Peyton Manning and the Broncos:
Situation Neutral Pace Ranks (per Football Outsiders):
2015 (Bears): 27th
2016 (Dolphins): 31st
2017 (Dolphins): 29th
2018 (Dolphins): 31st
Bell is currently the PPR RB7 in average draft position. He deserves to be the first player drafted outside of the Big 5 backs from a talent standpoint, as Melvin Gordon's desire to hold out of training camp for a new contract is eerily similar to what Bell went through in 2018.
Bell has demonstrated an overall RB1 ceiling and has one of the most complete skill sets in the entire league regardless of position. Still, Bell's history of off-field issues, combined with Gase's own history of benching or even trading talented headcases, makes the stud running back a better option at the end of the first round instead of in the middle or early parts.
How would you rate this article?