Freedman: Le'Veon Bell Props, Picks and Projections for 2019
Credit:
Credit: Geoff Burke-USA TODAY Sports. Pictured: Pittsburgh Steelers running back Le'Veon Bell (26).
After sitting out a full season, Le'Veon Bell will play the 2019 season for the New York Jets.
Matthew Freedman makes his picks for Bell's 2019 props, complete with his own projections for the Jets running back.
Former Pittsburgh Steelers running back Le'Veon Bell is no longer unemployed. He has reportedly signed a four-year, $52.5 million deal with the New York Jets.
It's easy to question the wisdom of Bell's 2018 holdout.
Two ways to look at Bell's holdout:

1. If he wanted to maximize career earnings, his holdout was -EV.

2. If he wanted to limit risk while seeking more than the $33M guaranteed the Steelers offered, he did it.

But he likely cost himself more than $10M in career earnings.

— Matthew Freedman (@MattFtheOracle) March 13, 2019
But that's the past. For 2019, Bell is poised to be a fantasy football star.
The only question is how much of a star he'll be. Here's my analysis of Bell's 2019 player props.
For daily performance-based player props, follow me in The Action Network app.
Le'Veon Bell's Rushing Yards: Over/Under 1200.5
Over 1,200.5: -115
Under 1,200.5: -115
Over the past half decade, Bell has hit the over in every season in which he has played at least 12 games.
2014 (16 games): 1,361 yards
2016 (12 games): 1,268 yards
2017 (15 games): 1,291 yards
And in his injury-shortened 2015 campaign, he still averaged a strong 92.7 rushing yards per game.
He's a great runner.
But he has missed five games in his career to suspension. And he missed 10 games in 2015 to injury. And he also sat out the entire 2018 season seemingly in part because he just felt like it.
Given his past and the position he plays, there's a real chance Bell could miss multiple games this year.
With the Steelers, Bell was a clear lead back. In 2016, he had 21.8 carries per game; in 2017, 21.4. But Jets head coach Adam Gase has rarely relied on just one back throughout his career as a play caller. Instead, he tends to split the work in his backfields.
But for a period of 20 games (including playoffs), Jay Ajayi was the starter for Gase's 2016-17 Dolphins, and over that stretch Ajayi averaged 19.8 carries per game.
So let's assume that Bell gets 20 carries per game.
As Gase's starter, Ajayi averaged 4.3 yards per carry. For his career, Bell has an identical 4.3 yards per carry.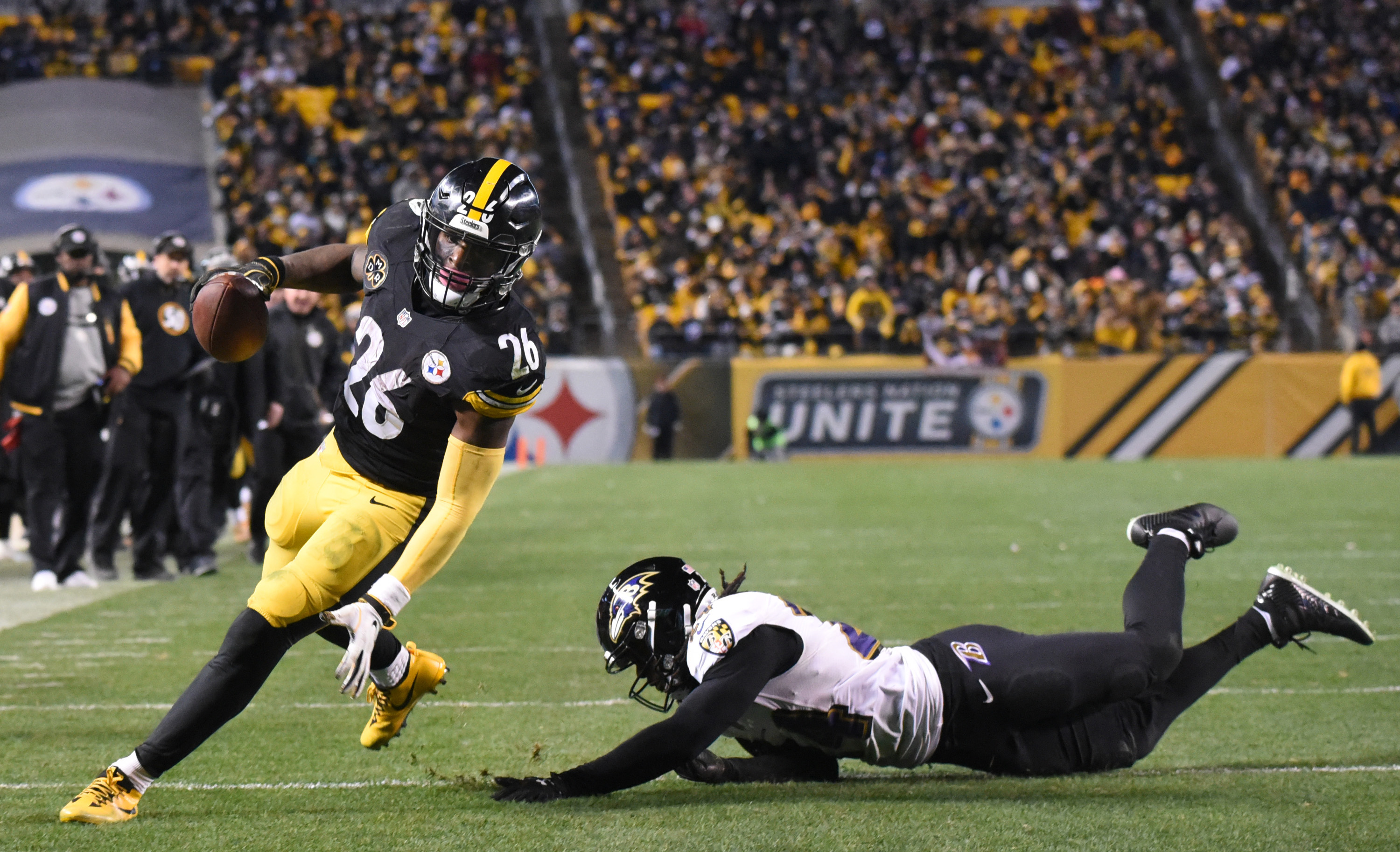 I'm not very impressed with the Jets' offensive line, which had a league-worst 3.59 adjusted line yards per carry last season (per Football Outsiders), but the line should be improved via the addition of left guard Kelechi Osemele.
If Bell plays 16 games with his career average 4.3 yards per carry, our projections give him 1,376 yards rushing.
But I'm viewing that projection as something of a best-case scenario. What happens if Bell misses a couple of games to injury or is hampered by an underwhelming system led by second-year quarterback Sam Darnold and overseen by a guy whose offense ranked 31st in yardage in 2018?
If Bell plays 14 games and averages 19 carries per game with the 4.0 yards he averaged in 2017, that would give him 1,090.6 yards.
I don't really want to bet against a player of Bell's talent, but I also can see how he'd fall short of the mark.
The Pick: Pass
Le'Veon Bell's Receiving Yards: Over/Under 600.5
Over 600.5: -115
Under 600.5: -115
Bell is one of the best pass-catching backs in the league, and over the past half decade he's averaged 6.8 targets and 46.1 yards receiving per game.
As long as he doesn't see a significant drop in target volume, catch rate and yards per reception, he should hit the over as one of the top receivers on the team.
That said, I also wouldn't bet this any lower than -115. And if you are expecting Bell to miss games or be generally ineffective, you could look to bet under 650 at -120 (an alternative line in the market).
The Pick: Over 600.5 (-115)
Le'Veon Bell's Total Touchdowns: Over/Under 10.5
Over 10.5: -115
Under 10.5: -115
I really like the under. Despite his size (6-foot-1, 225 pounds), Bell has never been much of a goal-line back. He's twice hit the over with 11 touchdowns, but the 2019 Jets will not be anywhere near as offensively proficient as the 2014 and 2017 Steelers.
Look at this way: 2014 and 2017 were Bell's two All-Pro campaigns, and he still barely cleared the over. What are the odds that Bell will be an All-Pro back this year, given that his offense and run blockers are likely to be significantly worse and he reportedly gained weight last year?
In the wake of free agency, the Jets are just +6000 to win the Super Bowl, and over the past two years Gase's teams have been 27th and 29th in scoring: There might not be a lot of touchdowns to go around for the Jets.
Finally, if the Jets keep Isaiah Crowell, it's possible that they could use him as a short-yardage back because of his size (5-foot-11, 225 pounds). And even if Crow is cut, the Jets could opt to give another back a significant portion of goal-line carries in order to keep Bell as fresh as possible.
Ever since leaving the Broncos after the 2014 season, Gase's offense has put up 34 touchdowns per year. Last year, the league average was 40.2.
I'd bet under 10.5 touchdowns all the way down to -150.
The Pick: Under 10.5 (-115)
Will Le'Veon Bell Lead the League in Rushing Yards?
Over the past five years, the NFL rushing leaders have combined to average 99 yards over 15.6 games at the age of 24.4 in their league-best campaigns.
While Bell did average an impressive 105.7 yards per game at the age of 24 in his truncated 12-game 2016 season, over the past half decade he has a mark of 91.3.
In order for Bell to have a real shot of leading the league, he'll need to play as well as he's ever played — on the worst team of his career and coming off a one-year layoff — while missing no more than one game at the age of 27.
I don't see it happening.
Only one player over the past decade has led the league in rushing at 27 or older: Adrian Peterson.
I like Bell, but he's not the science- and age-defying athlete Peterson is.
I'd bet "No" to -1200.
The Pick: No (-900)
Freedman's Le'Veon Bell Projections
Here are my projections for Bell with the Jets this season.
Rushing yards: 1,150-1,250
Receptions: 75-85
Receiving yards: 600-650
Total touchdowns: 9-10
With these numbers, Bell should once again be a first-round fantasy pick. As always, the question with him is pretty straightforward: How many games will he play?
Matthew Freedman is the Editor-in-Chief of FantasyLabs. He has a dog and sometimes a British accent. In Cedar Rapids, Iowa, he's known only as The Labyrinthian.
How would you rate this article?