Le'Veon Bell Poised to Be Fantasy Football Superstar (Again) with the Jets
Credit:
Troy Taormina-USA TODAY Sports. Pictured: Le'Veon Bell
Ian Hartitz analyzes what the Le'Veon Bell signing means for the New York Jets, the running back's fantasy football ceiling and more.
The wait is over: Le'Veon Bell has reportedly agreed to sign with the New York Jets. According to ESPN's Adam Schefter, the contract is for four years and $52.5 million.
The Jets were widely considered to be the only team truly bidding for Bell. Their prize is one of the league's most complete running backs — as long as he decides to show up and play football again in 2019.
Let's break down the on-field and fantasy football impacts of this blockbuster deal for both teams.
What This Signing Means for the Jets
The Jets now have one of the best running backs in the league.
Bell possesses a dizzying array of jukes, spins and stiff arms that have made him one of toughest players to tackle for the better part of the past half decade.
Bell joins Marshawn Lynch, DeMarco Murray and Adrian Peterson as the only backs with three seasons with 50-plus broken tackles as both a rusher and receiver since he entered the league in 2013.
It's tough to watch a game in which the announcers don't point out Bell's patient running style, and it's undoubtedly been effective. Bell's average of 4.34 yards per carry is the 19th-highest mark among 72 running backs with at least 300 carries since 2013.
(Fun fact: AAF "superstar" Trent Richardson ranks dead last over that span with 3.12 yards per rush.)
The good thing about Bell's rushing style is that he's managed to consistently pick up positive yardage despite his tendency to stop his feet in the backfield.
2017: No. 11-ranked running back in success rate
2016: No. 3
2015: No. 10
2014: No. 9
2013: No. 23
Perhaps even more impressive than Bell's ability as a rusher is his similarly-strong skills as a receiver: Few running backs look as comfortable as Bell when lined up on the outside or in the slot as a true wide receiver.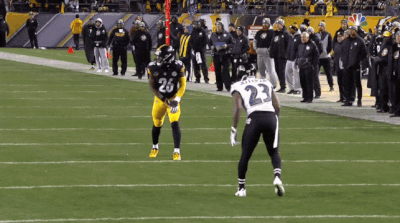 Bell joins Larry Centers, Marshall Faulk and Roger Craig as the only running backs with at least three seasons with 75-plus receptions in NFL history.
Of course, this dual-threat skill set has been extraordinarily useful for fantasy owners over the years (except for 2018). Bell has played at least 12 games in four of his five seasons, finishing as the PPR RB14 (2013), RB1 (2014), RB3 (2016) and RB2 (2017).
Bell's contract reportedly includes $35 million guaranteed and has a max value of $61 million. He'll be fed as many touches as humanly possible in a Jets offense that's in dire need of playmakers.
The only fantasy running backs I would pick over Bell in season-long fantasy drafts at the moment are Ezekiel Elliott, Saquon Barkley and Todd Gurley.
What This Singing Means for the Steelers
Not much!
We already have a full season of evidence that James Conner is #good. Backup Jaylen Samuels also proved to be more than capable of carrying the load during last season's stretch run.
Conner's 2018 season stacks up favorably with what Bell was able to accomplish during his last season in Pittsburgh:
Conner in 2018 (13 games): 215 rushes, 973 rush yards, 4.5 yards per carry, 71 targets, 55 receptions, 497 receiving yards, 13 total touchdowns
Bell in 2017 (15 games): 321 rushes, 1,291 yards, 4.0 YPC, 106 targets, 85 receptions, 655 receiving yards, 11 total touchdowns
The Steelers have consistently given their featured back a three-down workload over the past five seasons. And Conner has already proven to be more than capable of operating as a high-end fantasy RB1 in Pittsburgh.
How would you rate this article?