Chargers-Ravens Betting Preview: Will L.A. Be Better Prepared in The Rematch?
Credit:
USA TODAY Sports. Pictured: Philip Rivers (17), Lamar Jackson (8).
NFL Playoffs Betting Odds: Los Angeles Chargers at Baltimore Ravens
Spread: Ravens -3
Over/Under: 41.5
Time: Sunday, 1:05 p.m. ET
TV channel: CBS
---
>> All odds as of Friday afternoon. Download The Action Network App to get real-time NFL odds and track your bets
---
Betting Market
With more than 70% of spread bets, the Chargers are the most popular team of the weekend. It appears to be mostly public bets, though, as the line hasn't moved nearly as much as it has for the other trendy dogs.
They remain at the opener of +3 at some books or at a heavily juiced +2.5 at others (you can find the updated odds here). — Mark Gallant
Weather Report
Wind could potentially be a factor in this game. The forecast is currently calling for 14 mph winds blowing across the field, but temperature and precipitation should not impact anything.
The Ravens are pretty well set up for windy games, as Lamar Jackson doesn't air out passes too often, while Justin Tucker is perhaps the best kicker in the league. — Gallant
Trends to Know
The Chargers will play their seventh playoff game as a franchise in an early time slot (1:30 p.m. ET or earlier), with the six previous games coming on the road obviously due to the time difference.
The Chargers are 4-2 straight up in this spot. Philip Rivers started two of those games for the Chargers and is 2-0 SU and against the spread, covering the spread by 19 points per game, per our Bet Labs data.
Since 1990, any team based outside the Eastern time zone is 6-18 (25%) straight up and 11-12-1 ATS when playing at 1:30 p.m. ET or earlier in the playoffs.
Pacific time zone teams are 4-6 straight up in this spot, going 3-3 SU and 5-1 ATS over the last decade. — Evan Abrams
The Chargers are the most popular underdog bet of wild-card weekend. Since 2003, popular dogs in the playoffs, teams receiving at least 55% of bets, have gone 27-17-1 ATS. — John Ewing
The Ravens are 7-1 in the wild-card round all-time. Their one loss came at home against the Titans in a quarterback matchup of Steve McNair vs. Anthony Wright.
Only three of those eight wild card games came at home. The Ravens' two previous Super Bowl championships came during years in which it played in the wild-card round.
Chargers quarterback Philip Rivers is 3-0 in his career in wild-card games — the latest coming in the Chargers most recent playoff win: at Cincinnati in 2013. — Stuckey
Did you know? The Ravens only beat one playoff team this season: the Chargers — Stuckey
Biggest Mismatch
When Ravens have the ball: Ravens rushing attack vs. Chargers linebackers
Everyone knows by now how the Ravens offense did a 180 after Joe Flacco went down with an injury. Since Jackson took over, Baltimore has transformed from one of the NFL's worst rushing offenses to one of the most prolific ground games we have ever seen:
vs. Bengals: Jackson 26 rushes for 119 (Team 53 for 267) | 19 pass attempts
vs. Raiders: 11 for 71 (43 for 242) | 25 attempts
vs. Falcons: 17 for 75 (49 for 207) | 26 attempts
vs. Chiefs: 13 for 71 (39 for 198) | 26 attempts
vs. Buccaneers: 18 for 95 (49 for 242) | 23 attempts
vs. Chargers: 13 for 39 (35 for 159) | 22 attempts
vs. Browns: 20 for 90 (47 for 296) | 24  attempts
In the seven starts since Jackson has taken over (6-1 record), the Ravens have run the ball 315 times for 1,611 yards; that's an average of 5.1 yards per carry, which would've led the league for the full season.
They are running it exactly 45 times per game — or a single season pace of 720, which would break the 1977 Raiders' single season record of 681 carries.
It's also a pace of 3,682 yards, which would shatter the 1978 Patriots' single-season record of 3,165 yards.
And it all starts with Jackson, who has rushed the ball 118 times for 560 yards (4.7 average). That's a full season pace of 1,280 yards. Michael Vick holds the single-season quarterback rushing record with 1,039 yards (2006).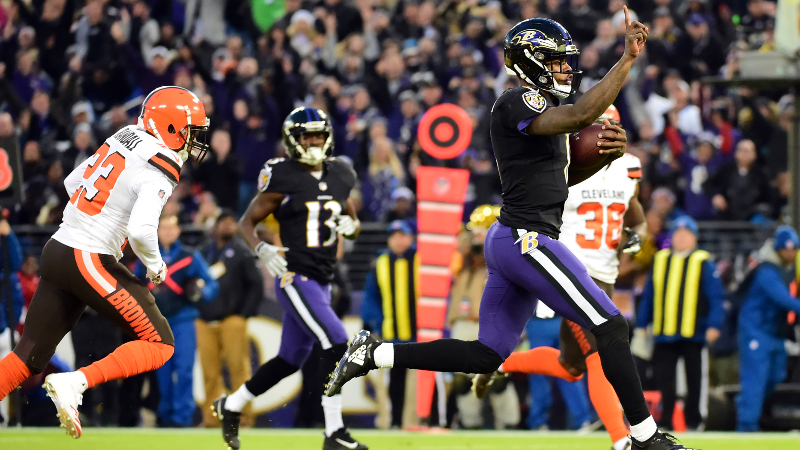 The Ravens have had a stunning total play advantage over their opponents during that stretch:
Bengals: 75-54
Raiders: 69-56
Falcons: 77-45
Chiefs: 68-83
Buccaneers: 74-47
Chargers: 60-57
Browns: 73-56
Baltimore has averaged 14 more plays per game than its opponents. The Ravens are going to run the ball 45 times and throw it half as much.
With that said, the Ravens have faced an extremely friendly schedule of rush defenses during this stretch.
Six of their seven opponents allow 4.7 yards per rush or worse, which puts them all in the bottom third of the NFL. The one opponent that didn't? The Chargers, who both the Ravens and Jackson had their lowest rushing output against.
The Ravens should keep up the rushing volume (which will help the under) and the Chargers are above average against the run (10th per DVOA and 12th in rush yards per attempt) — although PFF ranks them the fifth-worst.
Their starting linebackers for this weekend will be Hayes Pullard, Kyle Emanuel and Uchena Nwossu, none of whom have played more than 250 snaps.
It's tough to replace the losses of three starting linebackers (Denzel Perryman, and now Jatavis Brown) — especially against this offense. I'm sure you'll see Pro-Bowl special-teamer Adrian Phillips play linebacker, as well, but that's a tough ask against Baltimore's power runners.
The Ravens' offensive line ranks No. 1 in Power Success Rate and No. 3 in Stuff Rate. The Chargers' defensive front ranks 23rd and 18th, respectively.
Bottom line: Baltimore will run it 40-plus times, which will completely neutralize the entire strength of the Chargers defense.
When the Ravens do need to pass, they will benefit from left tackle Ronnie Stanley (third highest tackle pass-blocking grade in the NFL, per PFF) being able to take on Melvin Ingram 1-on-1. — Stuckey
When Chargers have the ball: Ravens defensive line vs. Chargers offensive line
In the first matchup, the Ravens won with their defensive front, which had Rivers under pressure from the first play of the game.
Baltimore blitzed at the third-highest rate in the NFL during the season and there's no reason to think they'll they won't dial up the pressure even more in front of a raucous home crowd.
Of the 64 offensive tackles who played at least 500 offensive snaps this season, Sam Tevi ranks dead last in pass blocking with a 39.4 grade, per PFF.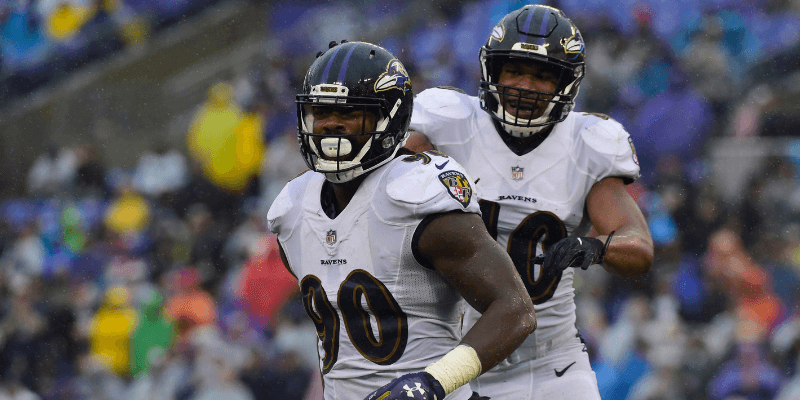 And the picture doesn't get much better inside. Guard Dan Feeney has a 38.7 pass blocking grade — second-worst among 63 guards (min. 500 snaps). Michael Schofield has been better at 69.7, but still not top 30. And Mike Pouncey ranks 24th among centers (500 snaps).
The Ravens pressure scheme (No. 6 in Adjusted Sack Rate) should once again give Rivers fits and wreak havoc in the backfield.
I'm not sure how much the Chargers can do — even if this is the second time they've seen this scheme — especially since the Ravens have the secondary talent to press on the outside.
Also — and this is important — Rivers snapping the ball as the game clock is about to expire on every play doesn't help his offensive line stop a Ravens pass rush that can get a good jump as a result — Stuckey
Who Has the Advantage in Key Areas?
Quarterback: Ravens
This choice may seem counterintuitive given that Rivers is a 15-year vet who has made more career playoff starts (9) than Jackson has made in the regular season, but this is a brutal spot for Rivers.
He had his worst performance of the season (23-of-37, 181 yards, 0 TD, 2 INT, 4 sacks) against the Ravens two weeks ago.
After posting 9.1 yards per attempt, 2.2 touchdowns, and 0.5 interceptions per game while getting sacked 1.9 times per game over his first 13 games, Rivers has averaged just 6.8 yards per attempt, 1.0 touchdowns, 2.0 interceptions, and 3.0 sacks over his past three games, with multiple interceptions in each game.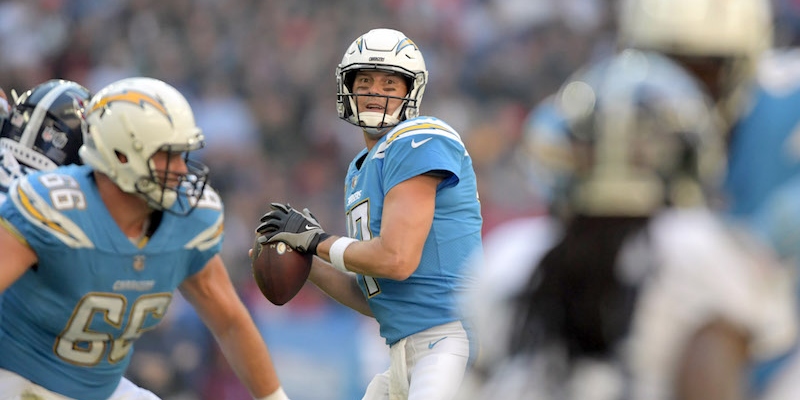 This downturn coincided with a drop-off in rushing efficiency from 122.1 yards per game and 4.8 yards per carry over the first 13 games to 95.3 and 4.1 respectively over the past three.
With a banged-up Melvin Gordon (ankle) and Austin Ekeler (groin) facing a defense that ranked sixth in rushing DVOA, running the ball could again be an issue.
Jackson's ability to be a one-man rushing attack is the equalizer against a defense missing it's top-graded interior run defender by Pro Football Focus, Cory Luiget, as well as the two linebackers who have played the most snaps in run defense for them this season in Brown and Perryman.
Jackson had more rushing yards after two career carries (7) than Rivers has in 32 starts over the past two seasons (5).
And though the primary knock on Jackson's trustworthiness is that we simply haven't seen him attempt many passes or execute a high-volume passing attack, suggesting he'd be in trouble late in games if his team fell behind, Jackson has been far better as a passer when trailing (118.7 passer rating) than leading (56.7), and in the second half (104.9) compared to the first half (72.4), particularly excelling in the fourth quarter (120.4).
Rivers, meanwhile, has posted his worst passer rating in the fourth quarter (97.1, down from 105.5 overall), particularly struggling when trailing with less than four minutes or two minutes remaining (77.7, 52.1). — Chris Raybon
Coaching: Ravens
Though Anthony Lynn has gone 21-11 in his first two seasons as a head coach of the Chargers, his resume is still no match for John Harbaugh, who boasts a 104-72 regular-season record, 10-5 playoff record, and a Super Bowl title in 2012, with only one losing season in 11 years as head coach of the Ravens.
Lynn is hesitant when it comes to challenges, which could be the difference in what's expected to be a close game, as he's challenged just five times over the past two seasons, winning two, while Harbaugh has gone 8-of-13 over that span. — Raybon
Special Teams: Ravens
The Chargers have improved on special teams as the year has progressed, primarily after signing kicker Mike Badgley, who is 15-of-16 on field goal attempts and 27-of-28 on extra points.
However, that is not a huge sample size and we are talking about a rookie kicker who went 3-of-8 from 40-plus yards while at the University of Miami last season. How much do you trust him on the road in the cold, pressure-packed environment?
Plus, you know, the Ravens have Justin Tucker — the most accurate kicker in NFL history.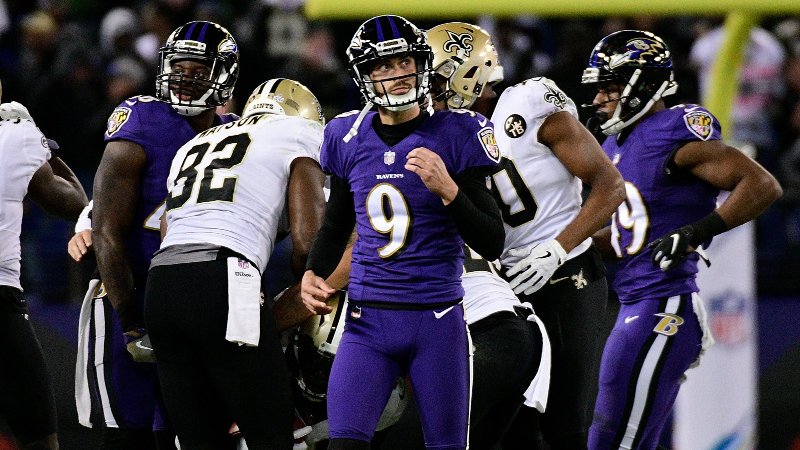 When it comes to punting, the Ravens have the advantage again. Baltimore will send out the wily vet Sam Koch, while the Chargers punting has been atrocious all season. LA ranks last in net punting at an average of 38.5 yards.
Both teams have solid return games. Desmond King is a dynamic returner for the Chargers, while the Ravens field the electric combo of Chris Moore (kick return) Cyrus Jones (punt return).
Not only do the Ravens rank in the top five in punt return average, but Jones' 14.4 average would actually lead the NFL if he qualified.
Each team has similar coverage units, although the Chargers have performed a little better on kick coverage — thanks in large part to Adrian Phillips, who made the Pro Bowl as a special-teamer.
However, even here, the Ravens have a touchback percentage of more than 63%, while the Chargers rank dead last at 30.68%.
Badgley struggles to get the ball to the end zone, so Moore should have plenty of opportunities to break a big one in a game where field position could mean everything. — Stuckey
Injury Report
Both teams are astoundingly healthy after 17 weeks of action. Only left guard Alex Lewis (shoulder) and slot corner Tavon Young (groin) were listed on the Ravens' early-week injury report. Both players are tentatively expected to suit up Sunday.
Meanwhile, the Chargers are expected to have running backs Melvin Gordon (ankle) and Austin Ekeler (groin), and reportedly even tight end Hunter Henry (knee).
Still, head coach Anthony Lynn clarified that Henry would be on a "pitch count" if active this week.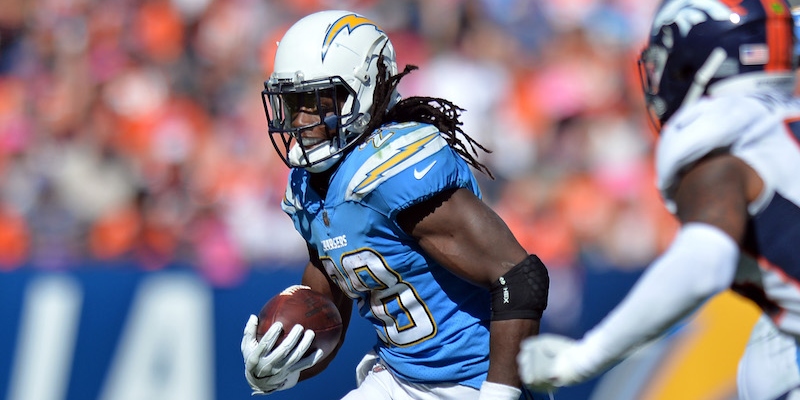 The largest issue for the Chargers is the continued absences of front-seven stalwarts Corey Liuget (quad, IR) and Denzel Perryman (knee) against the Ravens' run-heavy offense.
Note: Info as of 6 p.m. ET Thursday. See our Injury Report for daily practice participation and game statuses up until kickoff. — Ian Hartitz
DFS Edge
For the Ravens: Jackson
The most impressive aspect of Jackson's game has been his consistency has a rusher, as his five games with at least 70 rushing yards has only been bested by Russell Wilson (six such games in 2014) and Robert Griffin (six such games in 2012).
The Ravens' rookie quarterback finished the season with 695 rushing yards, third-most by any rookie quarterback in league history.
Jackson obviously needs to continue to grow as a passer, but his numbers surprisingly aren't far off from what we saw from Flacco in his rookie season.
Jackson in 2018: 58.2% cmp | 3.5% TD rate | 7.1 Y/A | 84.5 QB Rating
Flacco in 2008: 60% cmp | 3.3% TD rate | 6.9 Y/A | 80.3 QB Rating
There's plenty of value behind Jackson at $5,800 on DraftKings, as his +3.04 Projected Plus/Minus is easily the highest mark among all quarterbacks this weekend in our FantasyLabs Models. — Hartitz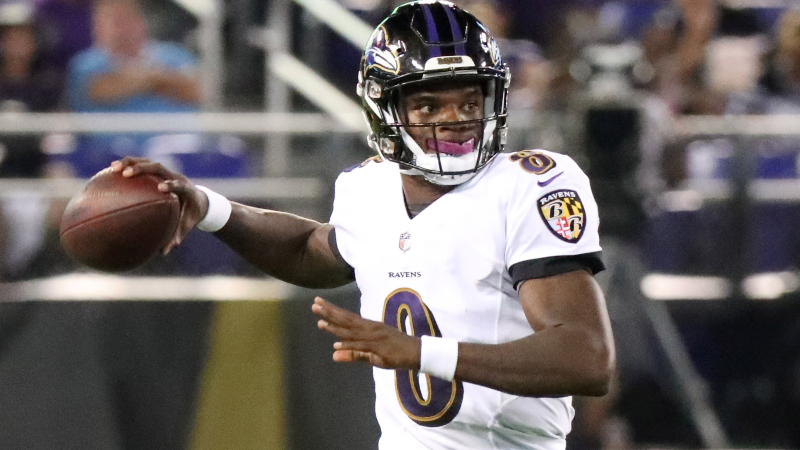 For the Chargers: Allen
Keenan Allen's annual second-half breakout featured at least 100 yards and/or a touchdown from Weeks 9-14, but he has battled a hip injury and posted pedestrian 0-0-0, 5-58-0 and 4-64-0 lines over the Chargers' past three games against the Chiefs, Ravens and Broncos, respectively.
Meanwhile, both Mike Williams (1-7-0) and Tyrell Williams (1-12-0) were shut down in the Chargers' first matchup against Ravens. It's not surprising that the Ravens ranked as a top three defense in DraftKings points per game, Plus/Minus and Consistency Rating allowed to wide receivers this season (per our NFL Trends tool).
Still, Allen represents the Chargers' best chance at cracking the Ravens' cheat-code of a secondary considering his status as Rivers' No. 1 receiver and the fact that Ravens slot corner Tavon Young (groin) is banged up.
Allen costs $6,900 on DraftKings and has a solid 24.3-point projected ceiling in our FantasyLabs Models. — Hartitz
Bets to Watch 
Ravens -3 | Under 41.5
I already mentioned how dominant the Ravens' pass rush was and should be again vs. the Chargers offensive line. It also helps to have a suffocating secondary that can play press coverage on the outside, which makes that pressure even more effective.
Rivers and the Chargers' second overall pass offense DVOA should struggle once again against Baltimore's third overall pass defense DVOA.
Gordon getting banged up late in Week 17 could have been huge news and still may be — although it seems as if he avoided a high ankle sprain. Gordon had a stretch of five consecutive games with at least 120 yards from scrimmage and a touchdown earlier this season — something that hasn't been done since 2007 (Jamaal Charles).
However, Austin Ekeler actually averaged more yards per carry this season (5.2 vs. Gordon's 5.1) — both of which ranked in the top eight. But Ekeler is also dealing with an injury.
This is a Ravens team that only allowed 3.7 yards per attempt, thanks in large part to their play up the middle at linebacker (C.J. Mosley ranks top-15 in run defense) and safety (Eric Weddle ranks top-10 among safeties), in addition to two extremely solid run-stoppers on the interior in Brent Urban and Brandon Williams (both top-20 in run defense among interior defenders, per PFF).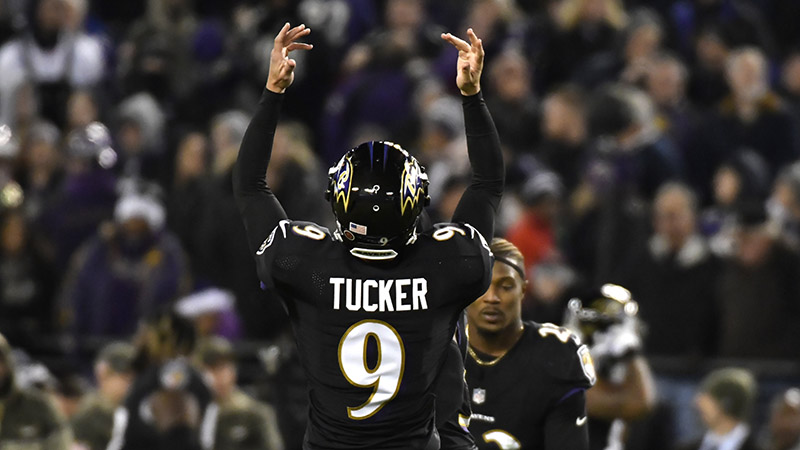 The Chargers ran the ball 16 times for 51 yards in the first matchup. I do expect them to run the ball a lot more to neutralize the pass rush (which will help the under even more) — but I don't expect them to have a ton of success.
I expect the Chargers to use their backs more in the passing game than they did in the first meeting to try and neutralize the pass rush and provide check downs for when Rivers is under attack.
The one problem? The Ravens' pass defense ranks No. 1 in the NFL against opposing running backs, per Football Outsiders.
The one area Baltimore has struggled to defend at times is opposing tight ends (22nd per Football Outsiders). Over their past 14 games, the Ravens defense has allowed only 16 passing touchdowns (while gobbling up nine interceptions).
Of those 16, six came against opposing tight ends (Ben Watson, Greg Olsen, Matt Lengel, Jared Cook, Austin Hooper, Travis Kelce). But Chargers haven't utilized their tight ends a ton this year — and I don't expect many snaps or an explosion in production from  Henry in his first game back from injury.
While the Chargers won't be phased by playing in a hostile environment, I think the Ravens can feed off of one of the best home-field advantages in the NFL and carry a lead into the half.
I'm rolling with the Ravens and the under (split between full game and half). — Stuckey
---
Editor's note: The opinions on this game are from the individual writers and are based on their research, analysis and perspective. They are independent of, and may not always match with, the algorithm-driven Best Bets from Sports Insights.