Will Marlon Mack Finally Get a 3-Down Role in 2019?
Credit:
Thomas J. Russo-USA TODAY Sports. Pictured: Indianapolis Colts running back Marlon mack (25).
Marlon Mack emerged as the top running back in the Colts' offense last season.
What can we expect from Mack in the running game in 2019?
We're in the thick of the NFL offseason and it's officially time to start fantasy football prep. I'll be answering the biggest questions heading into the 2019 season; this is part of that series.
---
2018 went about as well as the Colts could've hoped.
Franchise quarterback Andrew Luck managed to regain his elite-level form after missing the entire 2017 season due to a torn shoulder labrum, helping new head coach Frank Reich pull off one of the most impressive offensive turnarounds in recent play-caller history.
One of the other revelations was the impact of 2017 fourth-round pick Marlon Mack, who thrived as the lead back behind the Colts' fourth-ranked offensive line in adjusted line yards per rush.
What follows is a breakdown of Mack's skill-set as well as an analysis on his fantasy football value entering the 2019 season.
Mack has the ability to play on all three downs
It's important in fantasy football to target running backs who have the size and ability to theoretically function as a rusher, receiver and blocker. Three-down workloads aren't afforded to many running backs in today's NFL, so obviously do-it-all backs should be valued higher than players without this innate ability.
Mack proved to be more than capable as an early-down workhorse in 2018, regularly slashing through defenses of all shapes and sizes as the Colts' lead back.
Six RBs averaged at least 75 rushing yards per game in 2018:

Ezekiel Elliott (95.6)
Todd Gurley (89.4)
Joe Mixon (83.4)
Chris Carson (82.2)
Saquon Barkley (81.7)
Marlon Mack (75.7) 👀 pic.twitter.com/qZPxLmu2qB

— Ian Hartitz (@Ihartitz) February 15, 2019
Mack has caught a respectable 38-of-59 targets over the past two seasons for 328 yards and a pair of scores. You won't see him impact games in the slot or as a true wide receiver all that often, but he's still proven to be a weapon on check-downs and screens.
Just getting the ball in Mack's hands has generally been good for the Colts offense.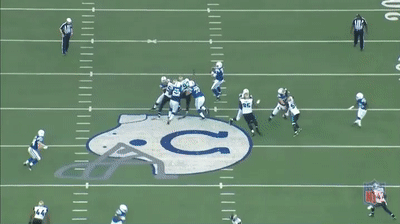 The Colts have also been fairly generous with utilizing Mack near the goal line, as his 12 rush attempts inside the five-yard line trailed only Chris Carson (13), Derrick Henry (13), Alvin Kamara (13), James Conner (15), Saquon Barkley (16) and Todd Gurley (18) last season.
Mack has the size (5-foot-11 and 213-pounds) to hold up over the course of a 16-game season, although he hasn't done so to this point. Overall, he's missed six games over the past two seasons due to a torn shoulder labrum, two strained hamstrings as well as a concussion.
It remains to be seen how the Colts will utilize their backfield in 2019, but history tells us that Mack won't be the only man involved on a week-to-week basis.
Reich has historically utilized a committee backfield
Coaching tendencies are just one piece of the ongoing puzzle known as fantasy football analysis. Just because a coach hasn't utilized a specific position in the past doesn't mean he won't in the future. You'd like to think most coaches would alter their scheme to best fit the talents of that season's roster.
With that said: Reich has never made a habit of feeding one particular back during his coaching career.
Frank Reich's leading RB in carries as an OC or HC:

2014: Branden Oliver (160 carries)
2015: Melvin Gordon (184)
2016: Ryan Mathews (155)
2017: LeGarrette Blount (173)
2018: Marlon Mack (195)

Injuries have been a factor, but don't see Mack pulling fully away from Hines/Wilkins

— Ian Hartitz (@Ihartitz) March 26, 2019
To be fair, Gordon was on pace for 210 carries in 2015 but missed two games, and Mack would've gone for 260 rush attempts last season with his per-game average of 16.25 carries extrapolated over 16 games.
Last season's usage does indicate that Reich is willing to feed a single back. This held particularly true when Mack wasn't directly coming off of an injury:
Marlon Mack 2018 snap rates:

Week 1: Out
Week 2: 30%
Weeks 3-5: Out
Week 6: 35%
Week 7: 56%
Week 8: 63%
Week 9: Bye
Week 10: 60%
Week 11: 61%
Week 12: 52% (suffered concussion)
Week 13: 38%
Week 14: 60%
Week 15: 61%
Week 16: 64%
Week 17: 67%
Wild Card: 81%
Divisional Round: 54%

— Ian Hartitz (@Ihartitz) June 21, 2019
Don't expect to see too many instances of Mack getting more than 60% of the backfield's snaps, but he's plenty capable of working as a high-end fantasy performer with this workload.
Mack's competition for touches comes down to:
Nyheim Hines, who caught 63-of-81 targets for 425 yards and a pair of touchdowns as the offense's lead pass-game back. Hines doesn't quite have the size (5-foot-8 and 198-pounds) to threaten Mack's early-down or goal-line workload, but he's a talented receiver who can carry some standalone value in games that might offer the Colts negative game script.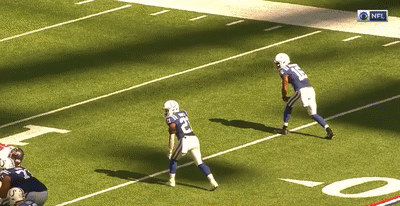 Jordan Wilkins, whose average of 5.6 yards per rush trailed only C.J. Anderson (6.01) among 71 running backs with at least 50 carries last season. Wilkins (6-foot-1 and 216-pounds) is a bigger threat to Mack's workload than Hines. Still, Hines' superior receiving workload makes him the preferable handcuff.
All three are solid talents in their own rights, but Mack clearly offers the most fantasy football value entering the 2019 season.
Lead backs on high-scoring offenses are good for business
The Colts' average of 27.1 points per game in 2018 was the fifth-highest mark in the league. There's reason to expect an even better performance next season thanks to a healthier offensive line, the return of Jack Doyle as well as the additions of Devin Funchess and Parris Campbell.
High-scoring fantasy football backs have historically been highly correlated with the league's most-productive offenses.
27-of-50 (54%) top-five PPR running backs have been in top-10 scoring offenses over the past 10 years.
49-of-100 (49%) top-10 PPR running backs have been in top-10 scoring offenses over the past 10 years.
77-of-200 (39%) top-20 PPR running backs have been in top-10 scoring offenses over the past 10 years.
Mack was the PPR RB9 from Weeks 7-17 last season when he played at least 50% of the offense's snaps in nine-of-10 games. A RB1 finish is firmly in Mack's range of possibilities inside of the Colts' fantasy-friendly offense.
Don't be afraid to invest in Mack at his current average draft position as the PPR RB16. In fact, crack open a beer and pat yourself on the back, because you just landed a lead back in one of the league's better offenses who has already demonstrated three-down ability to this point.
How would you rate this article?