Moore: What Betting Against My Favorite Team Taught Me in Vegas
Credit:
Denny Medley-USA TODAY Sports. Pictured: Chiefs fans and K.C. Wolf
Matt Moore, a lifelong Kansas City Chiefs fan, bet against his favorite team this past weekend -- and he'll be doing it again in the upcoming AFC Championship Game vs. the Patriots.
He explains the psychology behind his emotional hedge and why he isn't quite ready to wrap his mind around the Chiefs being a true contender.
LAS VEGAS — Woe to the favorites, and woe to the Chiefs. That was my thinking as I landed in Vegas and headed to my sportsbook of choice last Thursday.
My main thesis in heading to Vegas for the Divisional Round of the NFL playoffs was pretty simple: underdogs were killing it. Here's what I knew:
Underdogs in the NFL playoffs:

-14-1 ATS last 15 games since the start of last year.
-34-21-4 ATS last five years (62%) (38-21 SU)
-Dogs of 7 pts or more 16-8-2 ATS since 2006 in div round (67%)
-After a wild card upset, teams 9-38 SU, 18-29 ATS (38%) in div rd since 84

— Jon Campbell (@JonnyOddsShark) January 9, 2019
The other thing I knew? Kansas City was primed as the most obvious favorite to fade in history. After all:
I will admit now, in retrospect, to being blinded by experience.
I was sure the Chiefs were going to lose this game. I was as sure as old men are that the fish would bite today and as sure as old women are that old men are morons. I was as sure of the Colts on the +200 ML (still available at CG Tech this weekend) as I was of anything in the heavens or on Earth below.
You know why?
Because I've been a Chiefs fan for 30 Goddamn years. That's why.
I've seen this nightmare play out over and over again. 2004. 2007. 2014. The Colts, beating the Chiefs after such a promising year. The Colts, never punting against a defense that only has to stop them one time. It's always the Colts, and it's always the Chiefs.
One playoff win in almost a quarter-century. Andy Reid and his clock management. This defense, which started bad and got worse. This quarterback — that would be Lord and Savior Patrick Mahomes — who clearly should win but is facing an experience gap.
Too much history, too many warning signs. Sure, the public was on them, and you should often fade the public. But the sharps! The sharps were on that side, too!
Everyone was on the same side because it was too easy. So I locked in my bet for a sizable chunk of my meager bankroll on Friday and felt grand about my position.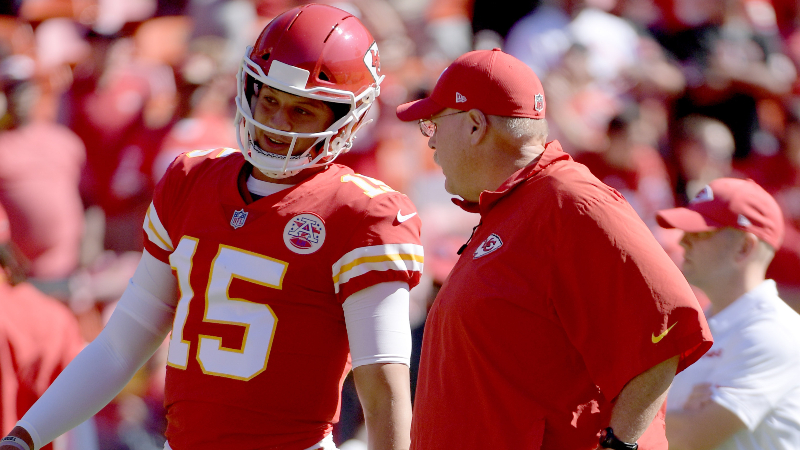 Sure, I flirted with some low-unit parlays and teasers that involved other things, but most things tied back to the Colts. I didn't sink everything in, dear reader, but enough for it to hurt.
You see, as I said, everyone was seemingly banking on an outright Colts upset.
Except…
Every. Single. One. Of the Action Network. Crew.
I read everything from Action last week to get ready for my journey to the desert. Andrew Luck vs. a rested team. The dome team concept. Why Mahomes' completions under was a good bet. And, late in the week, the weather impact.
The weather thing truly caught me off guard. The same storm system grazed my home in Colorado as I settled into the strip on Friday, and only produced murky, cold rain according to my expert sources at home (my wife).
But still, there were signs. I just wish I'd waited until I'd seen every single one of our guys pick the Chiefs to win.
Even then, I remained defiant. When KC jumped out to a big lead early, I grumbled "just wait." When the Colts blocked and recovered a pun for a touchdown, I clapped and said "see?" like I was Tom Hanks in "Castaway" making fire: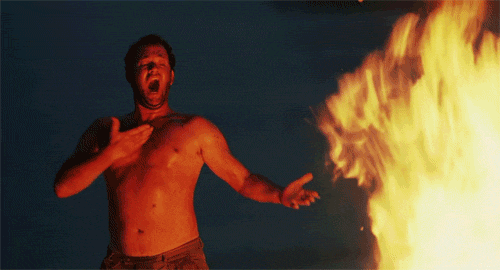 But then… the momentum still never really shifted. There was no momentum. There was just the Chiefs' death machine, slowly ratcheting away yards and minutes.
Not only was my moneyline bet having the life squeezed out of it in front of me, but I also had to watch my previous over bet (went heavy there, too, expecting at least one team to hit 40) die on the vine, as well.
I got a lot of questions going in from friends and colleagues about my feelings on betting against my favorite team. And I have to tell you: I did not regret this decision one bit.
If my sunken bankroll was the price I had to pay to no longer have a daunting and exhausting narrative about repetitive yet creative postseason failure define my favorite franchise, then sir, I will pay the tax man.
And honestly, selfish success aside, I don't regret the bets. The Chiefs' defense was that bad. The weather changed suddenly. And until Patrick Mahomes wins a Super Bowl for the Kansas City Chiefs, I will continue to hold onto my skepticism that any of this can be real, that he can actually be their franchise quarterback.
After all, if you had to bet on things working out for the Chiefs or… not, which would you?
I have, to be sure, followed this up by pounding the Patriots +3 in the AFC Championship Game even after departing from Nevada. Tom Brady, getting points? In this economy?
Here's the thing about reverse jinxes of this level: The lines blur between what you really think and what you're trying to guard against.
If the Colts had won, I'd be able to console the fact that the Chiefs had done it — AGAIN — with my earnings and the self-satisfaction of having parsed all the data and come to the right conclusion.
To me, the worst thing you can do is make decisions from a position of hope. Hope is a good thing — maybe the best of yada, yada, yada — but I've learned in life that it only furthers the pain of disappointment when your decision are backed by it.
Do I really think the Patriots, old and creaky, playing in near-sub-zero temperatures this weekend are going to win on the road in Arrowhead, which is hosting its first AFC championship game in franchise history?
Or am I merely guarding against my own hopes that this team — the one I rooted for with my father and grandfather, the one I have made time for at every stage of my life — could finally be going to the Super Bowl?
Is backing the Patriots the result of a cool and calculated determination that Sony Michel will tear up the Chiefs' horrid rushing defense in a way the Colts couldn't? Or that Brady's patience and willingness to simply wait out a porous secondary will eat up clock and keep Mahomes off the field?
Or am I merely trying to engender the favor of the gods by showing that I am not so confident, so brazen, so greedy as to ask for all of my hopes and dreams be rewarded with cold, hard cash as well?
In the end, I know that my "sacrificing for a Chiefs win" isn't how it works.
This past weekend, I could have backed the better team, at home, in the snow, vs. a dome team, and had a much better ROI.
However, I also learned something about narratives and how you can't carry those with you to the books. I'm not a great football bettor. But I think I'm a better one than the one I arrived as on Thursday.
… But I'm still on the Patriots.