When Should You Draft Melvin Gordon, Austin Ekeler, Justin Jackson? Our Fantasy Experts Debate
Credit:
USA Today Sports. Pictured: Austin Ekeler, Melvin Gordon, Justin Jackson
Our fantasy football experts debate when to draft Melvin Gordon, Austin Ekeler and Justin Jackson.
With Melvin Gordon's holdout reportedly expected to stretch into the season, our fantasy football analysts reassess the Los Angeles Chargers' situation at running back.
At what point in drafts does Gordon become worth the risk? When should you look to target Austin Ekeler and/or Justin Jackson? Sean Koerner, Chris Raybon and Matthew Freedman debate.
---
When Should You Draft Melvin Gordon, Austin Ekeler, or Justin Jackson?
I've been projecting MG3 would miss approximately six games for some time now, so the recent news hasn't changed my opinion much.
I was initially fading MG3 completely and targeting Ekeler and Jackson at their average draft positions (ADP), but now that the market has caught up, there's less value.
This is all about risk assessment: No one really knows how this will unfold. If MG3 were to return in Weeks 3 or 4, he would be an absolute steal. If he sits out the entire season (which I think is very unlikely), he'll burn you.
Here's when I would target all three backs: MG3 after RB23, Ekeler after RB25, and Jackson after RB50. If each are available after that many RBs are off the board, I'll consider taking them, assuming they fit my draft plan.
I'd consider targeting MG3 if you're an experienced fantasy player and are confident in your ability to navigate the first couple/few/several weeks without Gordon. The reward come playoff time would be a huge boost in your odds to win your league assuming Gordon is your third-best RB from the draft.
Less experienced players, meanwhile, can use the sugar rush production they'll get from Ekeler/Jackson early in the season to help make the playoffs. Their stocks could take a hit in-season, but they're going late enough to make the risk worth it. And they still have the upside of Gordon sitting out five or more games (or even the whole season, which again, I think is unlikely).
I'm fading MG3.
Running backs peak almost immediately, so even at 26 years old, he's likely already past his prime. He's missed multiple games in all but one season, and I've found RBs who miss camp due to holdouts have an increased injury risk by roughly 30%.
I know that many think they can get an edge from taking a chance on these types of players, but you get more of an edge by taking a player with comparable value who has the upside of playing in every game without the downside of playing in zero games — especially when, unlike Zeke in Dallas, Gordon's situation is more likely to be a committee regardless.
Let's say you take Gordon in Rounds 2-5. What's the upside you're gaining vs. an alternative if he's a first-round value? Maybe five to seven points per game, tops? Well, your downside is passing on a player expected to score in the double digits, and whose upside isn't that far off.
The downside risk is nearly double the upside risk for Gordon at this point.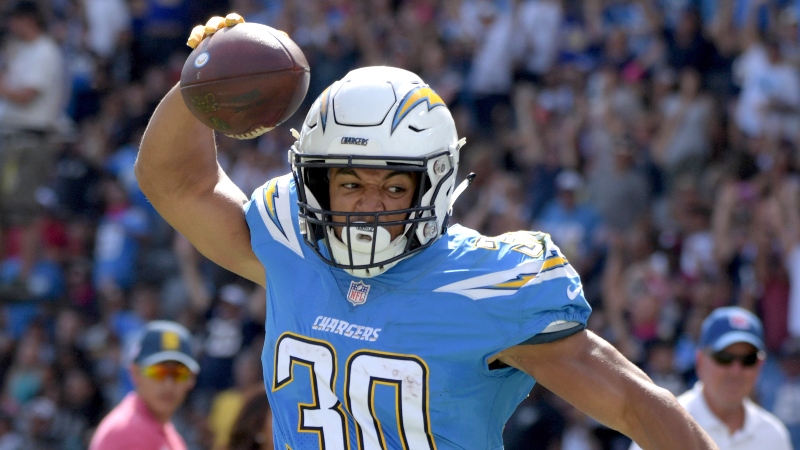 As for Ekeler, I'm targeting him as a fringe RB2/high-end RB3 once the RBs with cemented workloads are off the board. Chargers offensive coordinator Ken Whisenhunt used Danny Woodhead more than any of Woodhead's other OCs, so I don't doubt that Whisenhunt would be willing to give a substantial workload to Ekeler.
And I'm taking Jackson anywhere in the double-digit rounds, preferably as my RB4. With Ekeler's ADP increase, though, Jackson is, in my opinion, the best pure value in terms of potential ceiling versus ADP.
The Chargers have a quality defense and are one Keenan Allen injury away from becoming a team with an offense that completely revolves around RB.
I continue to move MG3's projection down and Ekeler's projection up.
Ekeler was a top-10 running back in Pro Football Focus' Elusive Rating (67.6), Breakaway Rate (41.3%) and Yards per Route Run (2.13) last season. He was fourth overall with 6.6 yards per touch (per PlayerProfiler). He's highly efficient, and even though he's small (5-foot-10 and 200 pounds), he's capable of handling a full load: He was the lead back for all four years at Western Colorado, putting up more than 1,000 yards rushing each season.
In the games MG3 misses, I expect Ekeler to be the No. 1 ball carrier. But Jackson might offer the most value, given his draft position.
Jackson is far easier to acquire than Ekeler, and he was also a full-fledged lead back in college, putting up 1000-plus yards rushing in each of his four seasons at Northwestern. Given how volatile backfield workloads can be in general and this situation is in particular, Jackson is probably the Chargers back to draft: There's a non-zero chance he ends up leading the team in carries, but he's readily available in drafts.
How would you rate this article?