How Ezekiel Elliott's Holdout, Melvin Gordon's Trade Request Impact Their Fantasy Football Projections
Credit:
Robert Hanashiro-USA TODAY Sports. Pictured: Dallas Cowboys running back Ezekiel Elliott
Melvin Gordon's agent requested a trade last week while Ezekiel Elliott and the Cowboys are reportedly still not close to a new contract agreement.
Chris Raybon and Sean Koerner analyze the fantasy impact of these training camp holdouts.
Editor's Note: Melvin Gordon's agent has requested a trade and ESPN's Josina Anderson has reported that Ezekiel Elliott won't play without a deal since this analysis was first published.
---
Chris Raybon 
While the public perception around Le'Veon Bell's 2018 holdout tends to be negative — James Conner turned in similar production in Bell's place, and Bell ended up "settling" for a four-year $52 million deal with the Jets after previously turning down a five-year, $70 million pact with the Steelers — the perception among Bell's peers was positive.
It's due in large part to the fact that Bell ended up getting $35 million in full guarantees from the Jets, which is 3.5 times the $10 million the Steelers were offering.
That outcome for Bell may cause holdouts for fellow starting running backs Melvin Gordon and Ezekiel Elliott to drag on longer than they otherwise would have, but the odds of them missing an entire season — or any games at all — is minimal because they aren't incentivized to do so in the same way Bell was.
Bell's refusal to sign the franchise tag meant he was technically not under contract and couldn't get fined. Gordon, on the other hand, simply doesn't want to play out the fifth year of his rookie deal for $5.6 million, but he would rack up nearly as much in $30,000-per-day fines if he sits the whole year (including a hefty $330,000 per preseason game missed).
He could then be franchise-tagged in 2020, which would net him somewhere in the range of a fully guaranteed $11.5 million — essentially netting out to another year at his current rate after accounting for fines incurred due to sitting out 2019. From that perspective, he's better off taking what he can get this year and taking his chances in unrestricted free agency.
Perhaps Gordon values taking a year off from his career mark of 19.6 touches per game more highly than playing on a below-market deal, but odds are his holdout is a power play to maximize his leverage to either get the Chargers to pay him the money he wants this season or trade to a team that will (NFL teams are wising up, but all it takes is one mesmerized GM or owner).
The latter possibility could result in Gordon ending up in a lesser offense than the one that afforded him the opportunity to visit the end zone 38 times in 41 games over the past three seasons, but the potential landing spots being floated (Tampa Bay, Houston) are on par with the Chargers.
The bottom line, though, is that the Chargers have more incentive not to pay Gordon — third-year back Austin Ekeler and second-year pro Justin Jackson are more than capable fill-ins — than Gordon does to keep not showing up.
Elliott, meanwhile, has two years and $12,952,137 remaining on his deal, and could incur fines up to $40,000 per day for holding out. But the Cowboys aren't exactly in a similar position to the Chargers when it comes to depth — casual fans may not even recognize any of the names behind Elliott on the depth chart (second-year vets Darius Jackson and Jordan Chunn, and rookies Tony Pollard and Mike Weber) — so Zeke's holdout is also likely to end before any regular-season games are missed.
How Potential Holdouts Impact Projections
There is a slight concern regarding in-season availability of Gordon and Elliott once they do report. I went back and looked at running back holdouts since the NFL switched to a 16-game season just over 40 years ago, and while roughly 20% skipped the entire season, another 60% missed no games at all, and the rest missed 2-5 games.
But those who did end up playing at some point averaged roughly 30% more missed games than an average running back would have otherwise been expected to miss (with the caveat that the sample is small, at under two dozen backs). This is a larger concern for Gordon, who missed four games last season and averages 2.25 missed games per season over his four-year career.
Ultimately, I'd set the over/under on missed games due to holdout for Elliott at 0.5 games, so it doesn't change his projection too much (I start with a baseline median of 1-1.5 missed games for running backs).
As we have no true indication of who exactly will backup Zeke, I wouldn't rush out to draft any of the aforementioned names. Pollard is most intriguing, as he was already expected by some to give Zeke a breather on some passing downs.
UPDATE (July 30): The signing of Alfred Morris gives Elliott a true handcuff.
Before the signing of Morris, the no-names in the Cowboys' backfield collectively handled 61 NFL carries, and 55 were from fullback Jamize Olawale! Morris, meanwhile, has more than 1,300 NFL carries to his name. More importantly, he toted the rock 16.5 times per game over the six-game stretch that Elliott missed in 2017. Overall, Morris averaged 17.5 touches for 76.7 yards and 0.17 TDs with Zeke out, giving him a FLEX floor and RB1 upside if he gets better touchdown luck.
Morris is a two-down back in the three-down league — he averaged only one reception along with those 16.5 carries — so I still expect Tony Pollard to handle most passing downs. Still, signing a veteran they feel comfortable giving heavy volume to signals the Cowboys aren't just going to give in to Zeke's contract demands, which reinforces the notion that missed games are a possibility.
This isn't news — I had already docked him one game in my projections, from 15 to 14 — but if it does indeed drag on into Week 1, Morris would get a Week 1 matchup as a home favorite against what's likely to be a porous Giants run defense, so this situation is definitely something to monitor. Morris could be a cheap Week 1 rental with upside for more; even if Zeke returns, you can do worse than using a roster spot on the handcuff of a top-five fantasy back.
This is one of these situations when Sean Koerner's Upside Ratings come in handy, because I have Morris rated as the RB83/87/89 since I'm still projecting Zeke to play 14 games, but that ranking doesn't do Morris' upside justice. (End of update.)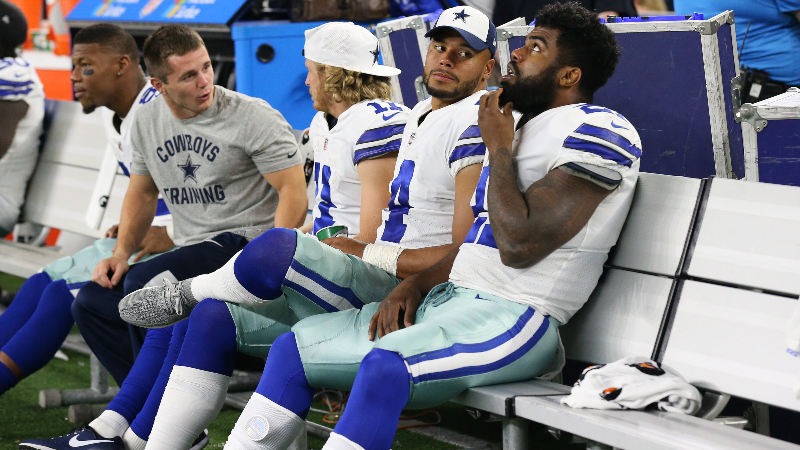 For Gordon, I was already projecting him to play fewer games than the average back due to his injury history, so I think a fair number is closer 12.5-13 — essentially his career median minus an additional 0.5-1 games.
Austin Ekeler is the big winner here. Danny Woodhead turned in a top-five season in 2015 even with Gordon racking up 184 carries, so Ekeler's ceiling if Gordon misses any time is higher than his middle-round (but rising) ADP may suggest.
Second-year man Justin Jackson is also in prime position to outplay his RB58 cost as well and is a high-upside bench stash with an outside shot at eventually something akin to Gordon's full workload should he miss an extended time or get moved.
Sean Koerner
I think Raybon is dead-on with how he is handling projected games lost. It's such a volatile situation that it's nearly impossible to predict.
There are two sides to a holdout situation:
How do you handle the player who is threatening to holdout?
In each case, you are dealing with a running back who will have Round 1 value if they eventually sign, and report before the season starts.
I happen to think Elliott is likely to end his holdout before Week 1 and (for now) willing to take him fourth overall. I may need to take a deep sigh after doing so, but I think it's still warranted. If anything, he may start to slip outside of the top four and you can get him later in Round 1.
Gordon is a bit of a different situation. I think he's more likely to extend his holdout into the season (would still put that at less than 50%), but he goes at a time in the draft I am loading up at WR with my draft plan anyway.
He's a hard pass for me right now if he's sitting there in Round 2.
Someone else typically reaches for him there, I let them take on the risk. I'm simply trying to avoid disaster scenarios in my first three picks and don't like taking too many chances.
How does this impact their backups?
I did an entire piece on how each backfield would shake out if/when the starting running were to ever miss time. Definitely check that out to prepare for which running backs you should target towards the end of your draft.
Since I'm expecting Elliott to end his holdout before the season starts and the backup situation is a bit too murky to know for sure who may have fantasy value in the event his holdout does extent into the season — I'm passing on the backups.
The Chargers backups, on the other hand, are worth targeting right now. Austin Ekeler has a RB3/Flex type role even when Melvin Gordon is healthy, but would be a high end RB2 if Gordon were to ever miss time.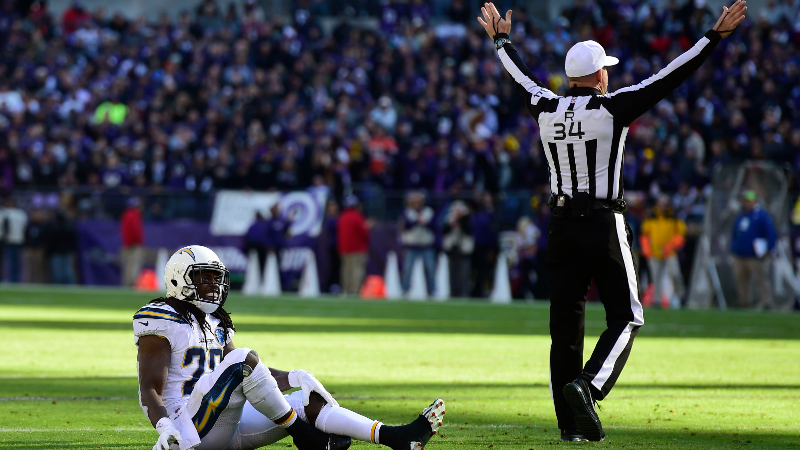 If he falls outside of the top 30 at running back I would say he's worth it. Jackson would likely not have any real fantasy value as long as Gordon/Ekeler are active.
If Gordon were to miss time, Jackson would shoot up to RB3/Flex range for me. A Gordon holdout would also create a scenario where if Ekeler were to miss any time, Jackson would become a RB2 even potential low-end RB1 upside.
You would have to imagine there is a chance in that scenario it increases the chances of the Chargers giving Gordon what he wants. My median projections for him do not do his "league winning" potential upside justice. Jackson is more than capable of handling a full workload in that event, so I think he's worth taking a flier on if he falls outside of the top 55 RBs.
How would you rate this article?