Who's the Top Fantasy Football Target in Dolphins' Sneaky-Fast Offense?
Credit:
Tommy Gilligan-USA TODAY Sports. Pictured: DeVante Parker, Kenny Stills
The Miami Dolphins aren't expected to win many games in 2019, but they boast plenty of speed all over the offense.
Which of their skill position players should we target in fantasy football?
Our experts are constantly refining their rankings and projections in the run-up to the 2019 season. Build custom cheat sheets featuring their latest updates with our Draft Kit.
---
The Dolphins are in a weird spot heading into the 2019 season. Their offseason decision-making has (finally) begun to favor the franchise's best long-term interests at the expense of their ability to compete right now.
The results accordingly aren't expected to be pretty in the immediate future. Ryan Fitzpatrick is the favorite to get the first crack at instilling some magic in the offense, but much maligned former Cardinals' first-round pick Josh Rosen also figures to get a chance to start.
Still, the Dolphins have the looks of a potentially intriguing fantasy football offense thanks to their plethora of athletically gifted skill position players. They could theoretically have plenty of opportunities to touch the ball if the defense winds up being as bad as it looks on paper.
Let's break down what — if any — fantasy value Dolphins wide receivers and tight ends could hold in 2019.
Dolphins Have One of the NFL's Fastest Offenses
Speed doesn't always equal success in the NFL, but analysts and scouts alike would probably agree that faster is always preferred, assuming everything else is equal.
I calculated the combined 40-yard dash times from all 32 NFL offenses with help from Pro Football Reference and Player Profiler in an effort to identify the league's fastest and slowest overall units.
The following table features the 40-yard dash time for each offense's projected starter at quarterback, running back, wide receiver and tight end. The "offense" column is the combined 40-yard rank from all of these players; "skill" leaves out quarterback.
The Dolphins are the league's fourth-fastest offense if we don't factor in Fitzpatrick, but only drop to sixth with the slow-footed quarterback in the picture.
Miami should be on any short list of top-five offenses in terms of pure speed considering its deep depth chart of similarly fast players. Jakeem Grant (4.34), Brice Butler (4.37) and Kalen Ballage (4.46) are capable of making big plays as well during their potentially limited snaps.
The Patriots, Saints, Titans, Panthers, Dolphins, Broncos, 49ers and Giants are the only offenses with a running back, tight end and three starting wide receivers who each ran a 40-yard dash in fewer than 4.6 seconds.
The Panthers are the league's fastest offense with and without Cam Newton factored into the equation. They're quietly loaded with speed at every position.
The Giants are surprisingly the only other team ranked inside the top-five of both the offense and skill groups. They're the only offense with sub-4.5 second players at each of their five starting skill positions. If only they didn't have such a severe Elisha Manning problem.
The Ravens, Titans and Seahawks are the only teams with negative double-digit ranking differences with and without their respective elusive starting quarterbacks.
The Jaguars, Buccaneers and Patriots are the only teams with positive double-digit ranking differences with and without their respective statue-esque quarterbacks.
Fitzpatrick might not experience as much of a drop-off in pure receiving talent on the Dolphins compared to what he had with the Buccaneers, but that doesn't mean we should expect much overall success in Miami.
Questions Persist at QB and the Line of Scrimmage
Fitzpatrick will turn 37 in November, but he's coming off his best season by a mile. I mean, saying Fitzmagic's 2018 season was a career year is an insult to the phrase "career year."
Ryan Fitzpatrick's 2018 Passing Stats vs. Previous Bests:
Completion rate: 66.7% vs. 63.1%
TD rate: 6.9% vs. 5.5%
Yards per attempt: 9.6 vs. 8
Adjusted yards per attempt: 8.8 vs. 7.9
Yards per game: 295.8 vs. 244.1
QBR: 64.4 vs. 63.5
Fitzpatrick is coming off one of the most efficient seasons the league has ever seen from a quarterback.
Still, this greatness produced a very mediocre 2-5 record as a starter and plenty of turnovers along the way. It's unlikely the Dolphins have the pieces in place to both reign in Fitzmagic's gunslinger mentality and fix what was far from the world's greatest offensive line in 2018:
Pro Football Focus' No. 28-ranked pass and run blocking unit
Football Outsiders' No. 14-ranked offensive line in adjusted line yards per rush
Football Outsiders' No. 31-ranked offensive line in adjusted sack rate
Only center Travis Swanson (No. 16) ranked among PFF's top-30 highest-graded players at their position across the offensive line.
I'm not ready to write off Rosen at this point, but last season certainly wasn't a good start.
The hope for Rosen taking a step forward in Year 2 could come down to whether the Dolphins' skill position players can find a way to ball out in spite of their adverse conditions.
There Are Plenty of Capable Mouths to Feed in Miami
There are theoretically as many as seven combined running backs, wide receivers and tight ends who warrant touches in the Dolphins' offense.
Albert Wilson averaged an absolutely bonkers 13.3 yards after the catch on 36 targets in 2018. It's the highest total in the history of the PFF database (minimum 30 targets). Wilson was unarguably one of the league's best wide receivers during his seven games.
Kenny Stills had the most targets (64), receptions (37), yards (553) and touchdowns (6) in 2018 among returning Dolphins wide receivers. His field-stretching ability probably means he'll find a fairly significant role in the offense, but whether his snaps will lead to a high target share remains to be seen.
DeVante Parker is a 6-foot-3, 209-pound beast with wheels who has shown the ability to play at a high level. Still, injuries and inconsistency has plagued his career. Parker has finished as the PPR WR77, WR50, WR50 and WR100 over his four seasons.
Jakeem Grant is a 5-foot-6, 165-pound ball of pure speed. He joined Saquon Barkley, Tyreek Hill, DeSean Jackson and Tyler Lockett as the only players in the league with at least three touchdowns of 50-plus yards in 2018.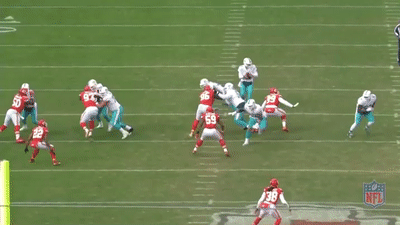 Mike Gesicki is what a group of scientists would come up with in a lab if they wanted to create a freakishly-athletic tight end. He posted 4.54-second 40-yard dash (10th among all tight ends over the past 10 years), 41.5-inch vertical (3rd), 10-foot-9 broad jump (sixth), 6.76-second 3-cone drill (third) and a 4.1-second 20-yard shuttle (third). Gesicki only played 37% of his snaps in the slot or out wide in 2018, so a more receiving-friendly role combined with an overall increase in snap share could lead to some boom-or-bust fantasy goodness in 2019.
Kenyan Drake managed to score nine touchdowns on just 173 touches last season, finishing as the overall PPR RB14 despite participating in roughly a 60/40 snap split with Frank Gore. Talent has never been a question for Drake, but it remains to be seen if a coaching staff will ever trust him with a three-down workload.
Kalen Ballage averaged a strong 5.3 yards per rush and pitched in a 9-56-0 receiving line on 11 targets in minimal work last season. The offseason rumor mill is pointing in the right direction for the Ballage Mahal (credit Matthew Berry), and receiving the first snap of the 2019 regular season at least appears to be in his range of potential outcomes.
The common theme with all of these talented players is that we really have no idea how their snap and touch shares will break out yet. That's usually the case anytime an offense is breaking in both a new quarterback and play-caller.
Still, the one player I'm most intrigued with is Gesicki. New offensive coordinator Chad O'Shea spent the last decade as the Patriots wide receiver coach, so he should be aware of how to maximize a tight end with Gesicki's natural receiving talents.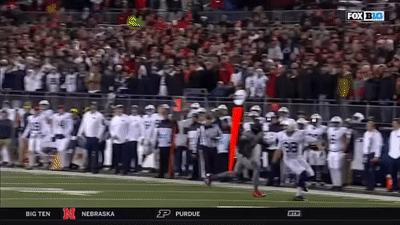 The Dolphins offense could find itself trailing often if the league's 25th-ranked defense in Football Outsiders' overall DVOA doesn't find a way to turn things around.
Miami's new gunslinger is capable of producing a few splash weeks with all the speed on the field, but the Dolphins offense is best approached with late-round dart throws in best ball drafts that make boom-or-bust options more appealing targets.
How would you rate this article?