Where Does Michael Thomas Rank among the Best Fantasy Football WRs?
Credit:
Chuck Cook-USA TODAY Sports. Pictured: Michael Thomas
How early should you consider drafting New Orleans Saints wide receiver Michael Thomas?
Ian Hartitz analyzes where Thomas ranks among fantasy football WRs for 2019.
We're in the thick of the NFL offseason and it's officially time to start fantasy football prep. I'll be answering the biggest questions heading into the 2019 season; this is part of that series.
---
The Saints have consistently deployed one of the league's best offenses behind all-time great quarterback Drew Brees and head coach Sean Payton for the better part of the past decade and a half.
Overall, they haven't ranked outside of the league's top-12 scoring offenses or top-eight units in terms of total yardage since Payton took the job prior to the 2006 season.
The two lynch pins in the current edition of the Saints' high-scoring offense are running back Alvin Kamara and wide receiver Michael Thomas. The following breakdown will focus on Thomas in an attempt to identify his status among the league's best pass catchers as well as his fantasy football value in 2019.
Michael Thomas Is the Most Talented WR Drew Brees Has Ever Had
One of the more amazing parts of the Brees-Payton partnership has been their ability to consistently turn no-name receivers like Marques Colston, Lance Moore and Willie Snead into consistently productive assets. This has allowed the Saints to avoid handing out huge contracts to the likes of Jimmy Graham and Brandin Cooks, instead getting by with respective doppelgängers Ben Watson and Ted Ginn.
It's unclear whether the Saints will be able to move on from Thomas in the same manner due to the fourth-year receiver's unparalleled chemistry with Brees.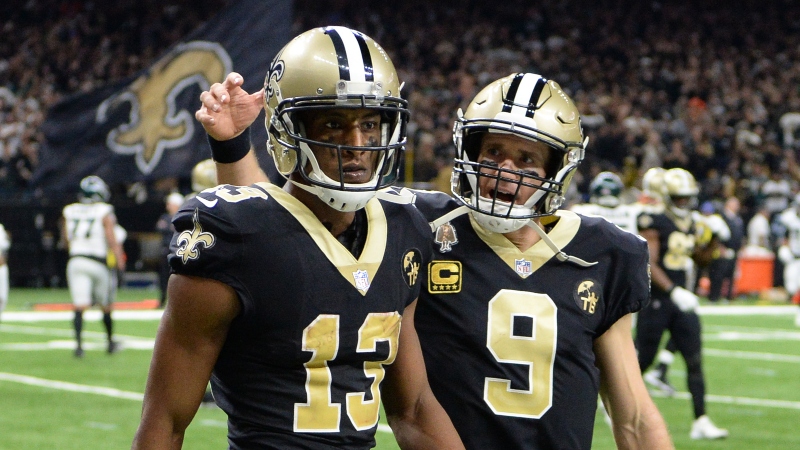 The two have already formed one of the league's most efficient combinations over their three seasons together.
Thomas has the most receptions (321) and fourth-most yards (3,787) through three seasons among any wide receiver in NFL history.
Thomas' 80.6 receiving yards per game are the fifth-most in NFL history.
Thomas' 77% catch rate is the highest since Pro Football Reference began tracking targets in 1992 (minimum 100 targets).
Thomas is 6-foot-3 and 212 pounds of muscle. The 78th-percentile SPARQ-x athlete also boasts enough speed (4.57-second 40-yard dash) to run past plenty of corners.
Athletes as big and strong as Thomas that double as a pristine route runners don't exactly fall off of trees. He remains an unsolved problem for defensive backs around the league.
Thomas' mediocre four receptions for 36 yards and zero touchdowns in the NFC Championship Game obviously weren't ideal, but we should remember he posted 9-131-0, 7-85-2 and 12-171-1 lines in his previous three postseason games.
Thomas' chances at putting up huge numbers again in 2019 are looking good considering he's once again primed to receive one of the league's largest workloads at wide receiver.
The Saints Aren't Overflowing with Proven Receivers
Thomas has proven to be plenty capable of thriving as a high-volume receiver in the Saints offense, particularly as an underneath threat from the inside. He ran 25% of his snaps from the slot last season and posted an average target depth of just 7.93 yards — the seventh-lowest mark in the league among 79 wide receivers with at least 50 targets.
Brees has helped Thomas rank as the WR7, WR6 and WR6 in PPR scoring since entering the league in 2016. Thomas joins Antonio Brown and Julio Jones as the only wide receivers to post top-10 fantasy production in each of the past three seasons.
Thomas already owns two of the three highest single-season target totals among all receivers in New Orleans since Brees arrived in 2006. Of course, Thomas needs to continue to see plenty of targets in order to maintain his fantasy production if the Saints are going to continue to mostly use him on more conservative routes.
This should continue to be the case in 2019, as his teammates are talented, but no one other than Alvin Kamara should demand that many targets on a week-to-week basis.
Alvin Kamara might be the league's best running back when it comes to pure receiving ability. Overall, he ranked first and fourth in yards per route run in 2017 and 2018, respectively, among backs with at least 20 targets.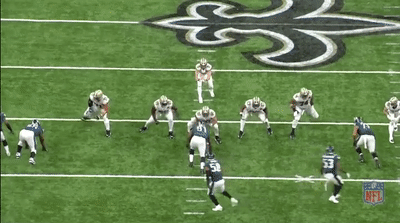 Ted Ginn Jr. continues to offer plenty of speed and field-stretching ability at 34 years old. His average of 14.23 yards per reception is the 22nd-highest mark among 74 wide receivers with at least 100 targets over the past two seasons.
Cam Meredith averaged 2.07 yards per route run during his last healthy season in 2016. This was tied for the 11th-highest mark among all wide receivers. Meredith has certainly flashed big-play ability in the past, but health continues to be a major concern.
Tre'Quan Smith scored five touchdowns on just 28 receptions during his up-and-down rookie campaign.
Fellow rookie Keith Kirkwood managed to find the end zone twice on his 13 receptions.
Jared Cook is the latest athletic tight end who will attempt to replicate Jimmy Graham's fantasy goodness in New Orleans. Hopefully Cook's time with Brees will go a bit better than Coby Fleener's tenure.
This group presents a nice package of weapons for Brees when we add them all up, but the Saints are quietly an injury to either Thomas or Kamara away from having some real issues as far as marquee playmakers are concerned.
How Thomas Ranks among Fantasy Football's Best WRs
Any fantasy team could do worse than a consistent alpha No. 1 wide receiver who has little competition for targets in one of the league's highest-scoring offenses.
Brees will be 41 by the time this season's NFC Championship comes around, but last season didn't present too much evidence that he was fading. He completed an NFL-record 74.4% of his passes while averaging a career-high 9.0 adjusted yards per attempt in 2018.
It was, by all accounts, the most efficient season of a career that has pushed the limits on what we considered to be possible for a quarterback.
Payton's play-calling, the friendly confines of the Superdome and the Saints' elite offensive line should help continue to prolong Brees' career as much as humanly possible.
With that said, the end has to come at some point, right?
Peyton Manning in 2014 (38)
Weeks 1-12 (11 games): 68% cmp, 8.1 Y/A, 34 TD-9 INT
Weeks 13-playoffs (6 games): 60% cmp, 6.9 Y/A, 6 TD-6 INT

Drew Brees in 2018 (39)
Weeks 1-12 (11 games): 76% cmp, 8.8 Y/A, 29 TD-2 INT
Weeks 13-playoffs (6 games): 69% cmp, 6.7 Y/A, 7 TD-5 INT

— Ian Hartitz (@Ihartitz) May 22, 2019
Thomas is the PPR WR3 in average draft position as of writing. I'm inclined to view him as the WR5 behind only DeAndre Hopkins, Davante Adams, Julio Jones and Odell Beckham Jr. Those four are extremely gifted, are primed for strong seasons and have demonstrated just a bit more upside than Thomas to this point.
Thomas probably has the highest floor of those five receivers thanks to his high-percentage alpha-role in the Saints' presumably high-scoring offense. Just keep in mind that each of Deshaun Watson, Aaron Rodgers, Matt Ryan and Baker Mayfield also play the quarterback position at an extremely high level, and their offenses are expected to be more pass-happy than New Orleans in 2019.
How would you rate this article?