Patriots-Chiefs Betting Preview: Trust Mahomes to Out-Duel Brady in AFC Championship?
Credit:
USA Today Sports. Pictured: Patrick Mahomes, Tom Brady
Betting odds: New England Patriots at Kansas City Chiefs
Spread: Chiefs -3 (-120)
Over/Under: 56
Time: Sunday, 6:40 p.m. ET
TV channel: CBS
---
>> All odds as of Sunday morning. Download The Action Network App to get real-time NFL odds and track your bets
---
Betting Market
Spread bets and dollars remain rather split for this game as the Chiefs are getting 57% of bets and 55% of the money at the time of writing (see live data here).
There's also been an absence of significant sharp action. The line hit 3.5 on Friday evening, but it only stay there for about 18 hours before bumping back down to a juiced-up -3.
The over/under movement has been much more interesting.
The under was getting about 35% of bets and dollars on Monday afternoon … then everyone caught wind of the forecast.
By Tuesday afternoon, the under was getting 55% of bets and two-thirds of the cash, which helped drop the total down to 54. The forecast hasn't looked as bad since then, and there's been buyback has come in on the over.
The under is down to 47% of bets and 53% of dollars, and the total is back up to 56. — Mark Gallant
Weather Report
Nothing to see here, move along.
Just kidding, folks.
The weather forecast has been the centerpiece of discussion this week, but the Arctic blast that was initially expected has shifted north. It'll still be cold at Arrowhead, but not much colder than it was in Foxborough last week.
Original projections called for temperatures anywhere from -10 to 10 degrees, but models now show it being 20 degrees or even higher.
As was the case the entire time, wind will not be a major factor, as 9 mph gusts are expected at kickoff. — Gallant
Trends to Know, Part 1
For cold weather games: Many casual bettors think frigid temperatures impact scoring and are thus more likely to bet the under when games are played in cold weather.
However, according to our Bet Labs data, the over is 114-80-2 (58.8%) in games played in temperatures colder than 30 degrees since 2003.
And when the temperature dips below 20 degrees in playoff games, the over has gone 14-5-1 (73.7%) since 1985. — John Ewing
For Tom Brady as an underdog: If the Patriots close as underdogs, it will be Brady's first start since Week 2 of the 2015 season as a pooch — a total of 67 starts ago. Since that matchup against Tyrod Taylor and the Bills (which he won), Brady is 43-23-2 against the spread as an underdog. — Evan Abrams
Brady is 3-3 straight-up and ATS as a playoff underdog. He's lost his past two games in this spot, both times to Peyton Manning.
Speaking of Peyton, Brady is 3-4 SU and ATS on the road in the playoffs, losing his past three starts SU and ATS … all to Manning. — Abrams
For the Patriots on the road: New England is 9-0 straight up (including playoffs) in Foxborough this season but 3-5 on the road. This is the first time since 2009 that the Patriots have had a losing record away from home. — Ewing
Brady has only three touchdowns and six interceptions in three career starts at Arrowhead Stadium.
He's played in 42 different NFL stadiums over his career, and Arrowhead is one of only two that he has a worse than a 1.0 touchdown-to-interception ratio at. — Abrams
Biggest Mismatches
When the Chiefs have the ball: Damien Williams vs. Patriots' road rush defense
We talk about how bad the Chiefs' run defense has been, and rightfully so. But the Pats' run defense has been nothing to write home about this season.
New England allowed 4.8 yards per carry (27th in the NFL), in large part due to a defensive line that ranks 26th in Football Outsiders' adjusted line yards.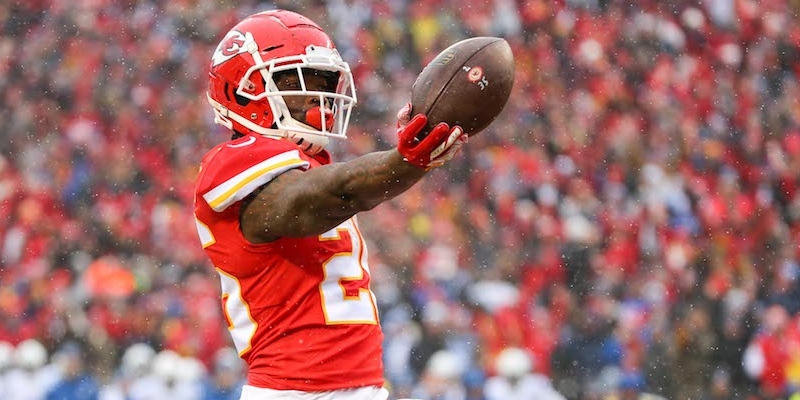 You might see a stat on the broadcast that New England allowed only 107.2 rushing yards per game this season, which is ninth-best in the NFL, but that's very misleading for a team that played from ahead for so much of the season against a cake schedule.
The Patriots' opponents only rushed the ball an average of 22.2 times per game, fourth-fewest in the NFL.
Last week was a perfect example. The Chargers were only able to rush the ball 10 total times after falling behind so big early. TEN TIMES ON THE ROAD IN THE PLAYOFFS!
Everyone has been talking about the Chiefs' home-road splits on defense — which have everything to do with their pass defense at home, as their run defense doesn't get any better — but what about the Pats' rush defense on the road?
Overall rush defense: 367 for 1,803 yards (4.9 average)
Home: 169 for 789 yards (4.67 average)
Away: 198 for 1,014 (5.1 average)
That's 126.8 rushing yards allowed per game on the road versus 98.6 at home.
And you can't blame it on the competition, either.
Yup, the Patriots only faced one playoff team on the road: The Bears, who finished the regular season 27th in yards per rush. In fact, six of the Pats' eight road opponents ranked 22nd or worse in rush yards per attempt and only one was in the top 13 — yet they still allowed 5.1 yards per rush, which would rank dead last in the NFL over the entire season.
Now they face a Chiefs' rushing offense that averaged 4.8 yards per carry (fifth in the league).
With the Patriots keying on Travis Kelce and Tyreek Hill, I expect a huge game from Williams — who averaged more than 5.0 yards per carry this season and, per Pro Football Focus, had the third-most 15-plus yard runs between Weeks 15-17 after taking over the starting role.
I'm betting two Williams props on Sunday: Over 64.5 rushing yards and Over 31.5 receiving yards. — Stuckey
When Patriots have the ball: James White vs. Chiefs linebackers
It's easy to say that this could be:
Brady vs. any secondary in the postseason, or
Specifically Julian Edelman in the slot (which we will get to later), or
Patriots running backs vs. a rush defense that finished the regular season last in Football Outsiders' rush DVOA
But I want to focus on White out of the backfield, which I think the Pats can and will utilize tirelessly.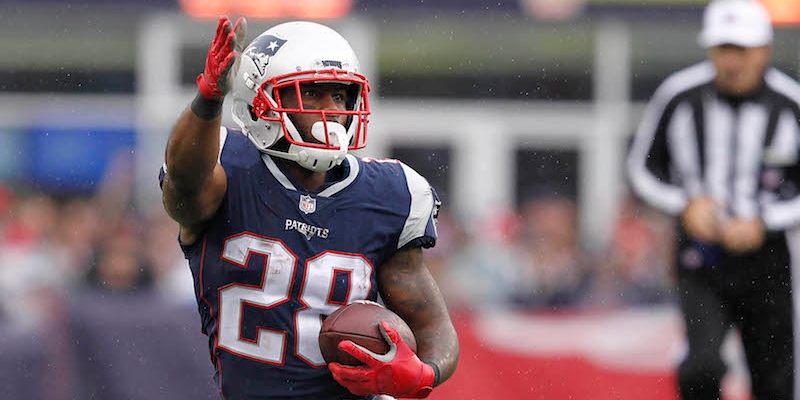 The Chiefs allowed the third-most receiving yards per game to opposing backs. You know which team was second-worst? The Chargers, who White caught 15 passes against last week.
Here's how prolific White's receiving numbers were this season:
123 targets (most among backs; three more than Christian McCaffrey)
751 yards (second to McCaffrey)
87 catches (third behind McCaffrey and Saquon Barkley)
7 touchdowns (first among backs)
35 receptions for first downs (first among backs)
8.2 average yards per reception (0.2 behind Alvin Kamara)
I think White has another big day out of the backfield in the passing game, exploiting the Chiefs' weakness at linebacker on critical third downs.
I like his +200 odds to score a touchdown. — Stuckey
Who Has the Advantage in Key Areas?
Quarterback: Even
From a defensive perspective, every Patrick Mahomes dropback must feel like a ticking time bomb you know is going to explode … you're just hoping it doesn't detonate in your end zone.
In his first full season as the starter, Mahomes threw 50 touchdowns — fitty of dem thangs! — while leading the league in adjusted net yards per attempt (9.6) and ESPN's Total QBR (82.0).
And yet it's a testament to Brady that he might still have the edge if not for his dubious postseason track record on the road.
After all, it was Brady who handed Mahomes his first loss of his record-setting 2018 campaign, completing a key 16-yard pass to James White and 39-yarder to Rob Gronkowski to set up the game-winning field goal as time expired in New England's 43-40 victory in Week 6.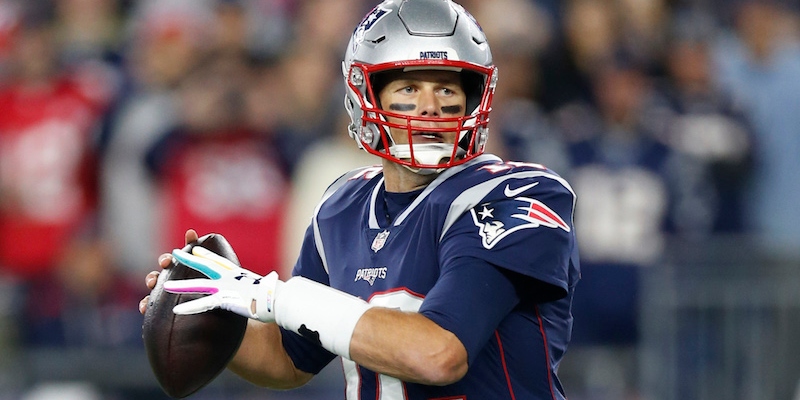 Of course, things were a bit different for Brady then.
Josh Gordon was Brady's most targeted receiver in that game and Gronk led the team with 97 receiving yards, not yet having traded in box-score appearances for ones on a milk carton.
Brady also hasn't been his usual self against pressure; after leading all quarterbacks with his 96.4 passer rating under pressure in 2017 by more than 12 points, Brady finds himself ranked just 21st with a 71.2 passer rating under pressure this season.
This could be an issue against a defense coordinated by Bob Sutton, whose unit's elevated success at home is well documented. Kansas City's 33 regular-season sacks at Arrowhead rank second in the league behind only Minnesota.
Still, we can nitpick Mahomes, too.
His 70.4 passer rating under pressure is one spot below Brady, and the cannon-armed second-year passer's eight interceptions under duress tied for the league lead in the regular season.
And after starting out with 8.0 or more yards per attempt in 10 of his first 11 games, he's been below that mark in five of his past six with two sub-7.0 performances, including last week's playoff debut.
It's quite possible that 2018 is the low point for the Chiefs defense, and with as good as it plays at home and as good as the offense will be for the foreseeable future, this could very well be the first of many AFC championships that runs through Arrowhead.
Given Brady's struggles on the road (relative to his normal GOAT-like home-self), Mahomes could be the one to effectively end the Patriots' dynasty if he can prove capable of out-dueling Brady … starting now. — Chris Raybon
Coaching: Patriots
Since taking over the Pats in 2000, Bill Belichick's teams have reached double-digit wins an unthinkable 17 times.
Reid isn't even far behind, with 13 seasons of 10-plus wins in Philly and KC over that span. And even though past clock management gaffes — and that damn played-out Punt-Pass-Kick highlight reel from his (giant) childhood — make Reid easy to clown, he's unquestionably one of the greatest coaches of this era.
But Reid is 2-6 overall against Belichick, including 0-2 in the postseason.
No one out-coaches Belichick, so Reid might have already made his best chess move against Belichick on April 27, 2017, when he decided to trade up to the No. 10 overall pick and draft Mahomes. (April 27 just so happens to also be my birthday, which may explain why I subconsciously felt compelled to go all-in on Mahomes before it was even cool.)
Reid has the superior team here, and though aggressiveness is always preferred to the alternative, he has to be careful to not let Belichick use his tendencies against him.
Like Belichick, Reid likes to have his team play fast, even with a lead: Kansas City ranked fifth in pace when playing with a lead of seven or more points during the regular season, but you don't want to prolong a playoff game against Brady — just ask the Falcons how that turned out.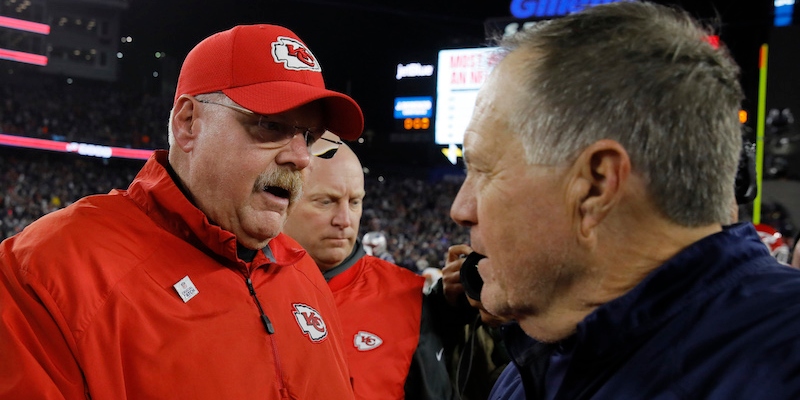 Especially on the road — where Sony Michel averages 40.6 fewer scrimmage yards per game, and with a pass offense that is somewhat lacking in big-play ability after losing Brandin Cooks before the season, followed by Gordon's departure and Gronk's decline — it isn't ideal for the Pats to be playing from behind.
During the end of the Chargers-Patriots telecast last week, Tony Romo wondered aloud whether Belichick's master plan against Mahomes could be to essentially instruct the Patriots' defense to forget about stopping the run.
In other words, Reid has to be sure his young quarterback is willing and prepared to take what the defense gives him for as long as it makes sense.
Then again, that's the beauty of having Mahomes: Reid could find a way to screw this up, and it still might not matter. — Raybon
Special teams: Chiefs
Chiefs kicker Harrison Butker has had a great season and was named a Pro Bowl alternate, but do you trust a guy who is only 1-of-2 on his postseason field goal attempts over Stephen Gostkowski, who is 36-of-40 in the playoffs and has kicked in countless big games? I think not.
Let's call it a wash in kicking.
Punting is where the Chiefs should have a huge edge — if we see punts.
The Chiefs are ninth in the league in net punting average (42.8 yards); the Pats are below average (41.1). And while both punters had the same number of punts inside the 20 and touchbacks, the Patriots punted 19 more times during the regular season.
The Chiefs' Dustin Colquitt is simply a better punter than Ryan Allen.
Kansas City's punt coverage has been superior, too, allowing only 5.7 yards per return (fourth in the league) to New England's 10.2 (26th). KC also ranks third in punt return yardage, averaging 11.9 yards compared to the Pats' 7.7 because, well, Hill is just much more explosive than Edelman.
And while we might not see a ton of punts, we will see plenty of kickoffs and two of the NFL's more explosive kick returners: Cordarrelle Patterson and Tremon Smith.
Patterson and Smith ranked third and fourth, respectively, among qualified returners during the regular season. Either can break one and flip the game, so the edge here goes to the team that can better contain the opposing returner: Kansas City.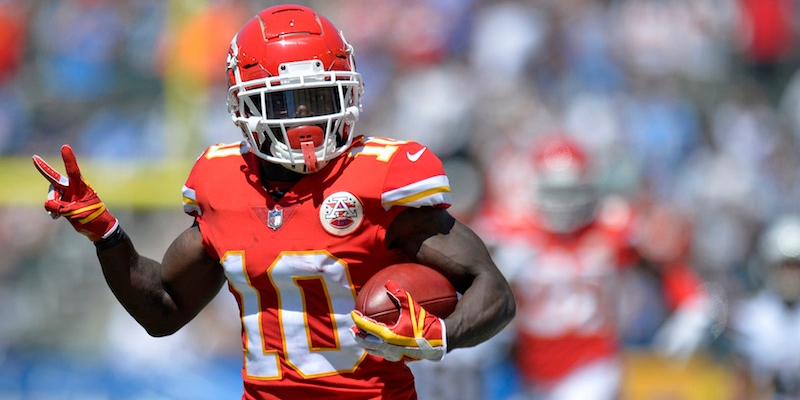 The Chiefs not only have a much higher touchback percentage, but their kick coverage has been superior, as well:
Touchback percentage: KC's 64.86% (11th) vs. NE's 53.76% (25th)
Yards allowed per return: KC's 22.5 (11th) vs. NE's 24.6 (26th).
The Chiefs have the second-best special teams unit per DVOA; the Pats rank 16th, which appropriately represents the differential.
New England isn't bad in this phase, but it's usually much more dominant. And while you have to trust Gostkowski's experience, the coverage units are a real concern against two of the most electrifying returners in the game.
Special teams could decide this game and the Chiefs are more likely to make that critical play. — Stuckey
Injury Report
Which team is healthier? Patriots
The only notable Patriots player who failed to suit up last week was defensive end Deatrich Wise Jr (ankle). He was able to practice in full on Wednesday and is tentatively expected to play this Sunday.
The Chiefs have a few more question marks to deal with, but they're pretty healthy at this point in the season.
All-world safety Eric Berry (calf) appears close to a return after starting the week with a full practice, although linebacker Dorian O'Daniel (calf, ankle) is shaping up as a game-time decision.
Meanwhile, Williams is expected to continue to work as the featured back, even if Spencer Ware (hamstring) suits up.
Note: Info as of 6 p.m. ET Thursday. See our Injury Report for daily practice participation and game statuses up until kickoff. — Ian Hartitz
Trends to Know, Part 2
For the Chiefs at home: The Chiefs have not left Kansas City since their Week 16 loss in Seattle.
The past eight teams to play at least three consecutive home games entering and including the conference championship have won the game straight up, going 6-2 against the spread dating back to the 2014 NFC Championship Game. — Abrams
For Brady vs. Andy Reid: Brady is 6-2 SU against Reid-coached teams, but only 3-5 ATS, failing to cover by an average of 4.7 points per game.
Brady is also just 1-3 ATS since Reid took over in Kansas City, failing to cover by 13.3 points per game. — Abrams
DFS Edge
For the Patriots: Sunday is a great day for Julian Edelman to continue being great.
The Patriots have featured Edelman as their no-doubt No. 1 option in the passing game since losing Gordon prior to Week 16.
Edelman: 29 targets in three games without Josh Gordon
White: 26
Chris Hogan: 16
Phillip Dorsett: 10
Rex Burkhead: 8
Gronkowski: 6
Edelman has been used more as a downfield receiver over this stretch, as he's posted an average target depth of 9.04 yards without Gordon this season, compared to 7.76 yards with the Patriots' former field-stretcher.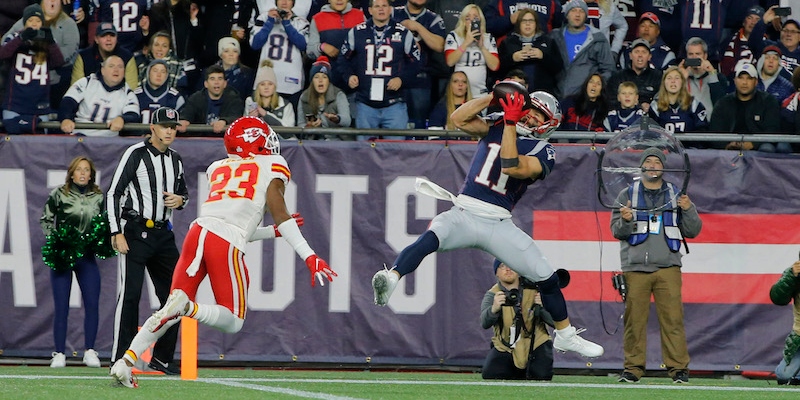 Brady has fed Edelman double-digit targets in each of his past 10 playoff games. The stud slot receiver should spend most of his time across from Kendall Fuller, who ranks outside the league's top-30 full-time slot corners in passer rating and yards allowed per cover snap.
Edelman is only $6,600 on DraftKings and boasts a top-three Projected Ceiling and Projected Plus/Minus in our FantasyLabs Models. — Hartitz
For the Chiefs: Kansas City has been the league's best team at exploiting New England's slow-moving linebackers over the past two seasons. Kareem Hunt caught 10-of-11 targets for 203 yards and three (!!!) receiving touchdowns in his two career games against the Patriots.
Williams isn't quite as dynamic of a receiving threat as Hunt, but that hasn't stopped Mahomes & Co. from featuring their newest featured back in the passing game. Williams has caught 23-of-24 targets for 160 yards and a pair of scores this season.
Williams was featured like never before in their Divisional Round win over the Colts. The fifth-year back posted 25-129-1 rushing and 5-25-0 receiving lines while making more than a few defenders look absolutely silly.
He has the best breakaway percentage (runs of 15 yards or more per PFF) among all backs in the playoffs.
The Chiefs' electric back has turned 7 of his 75 rushes (9.3%) into big runs.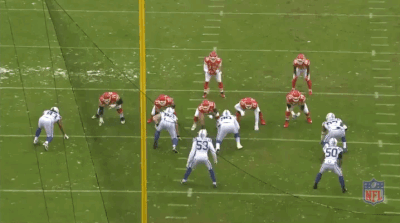 Williams is $6,400 on DraftKings and joins Alvin Kamara and Todd Gurley as the week's only backs with a projected ceiling of at least 30 DraftKings points. — Hartitz
Bets to Watch
Odds for these picks were as of Friday morning, when the article originally posted. They may have shifted a bit since.
Chiefs -3 +100: A caveat: You can't get this price anymore, but you can still get the Chiefs at -3.
I bet the game about an hour after the Patriots-Chargers game ended this past Sunday. After the Chiefs beat up the Colts on Saturday, they were listed as 4-point favorites over the Patriots in a lookahead line.
But when it was officially posted on Sunday after the Pats' dominant performance, it had dropped a full point.
That, my friends, is bookmakers guarding against public perception. And sure enough, bettors started hitting the Pats.
I'm going the other way.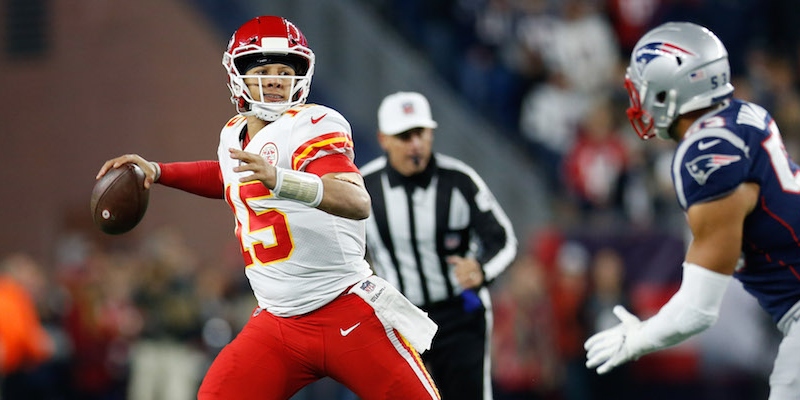 Our power ratings have the Chiefs closer to 4-point favs, and I agree. Their defense is too good at home and Mahomes is too elusive for the Pats' pass rush and too accurate for New England's defensive backs.
The value is on the Chiefs in this spot. — Chad Millman
Over 55.5: Our power ratings had this total at 57.5, which was pretty much in-line with the market at open. But with the potential inclement weather at Arrowhead, this total dropped to 55.5.
The "arctic blast" is no longer expected to hit, so I'm expecting this total to creep back up to 57 by kickoff. While the freezing temperatures are less than ideal, it shouldn't stop these two highly efficient offenses from putting up points.
One of the main goals of a sports bettor is to beat what the closing number will be, and that's what this play is meant to accomplish. — Sean Koerner
Under 55.5: I'll go against Sean here; it's almost automatic for me to bet the under at Arrowhead, especially with how high the totals have been lately.
With Reid, the Chiefs have been the league's most profitable team for under bettors at home: Since 2013 (including playoffs), games in Arrowhead have gone under at a 33-17-1 clip, good for an A-graded 28.6% return on investment (per Bet Labs).
The outdoor elements and raucous environment inside the stadium make it a hard place for visiting offenses to play, especially in cold weather.
And it's not only road teams that have played worse in Kansas City this season — the Chiefs have also been less dynamic at home.
At home (nine games): 49.7 points scored | Chiefs 32.2 | Opponents 17.4
On road (eight games): 72.9 points scored | Chiefs 38.3 | Opponents 34.6
Throughout the Reid era (including playoffs), the Chiefs have scored 3.0 fewer points at home while opponents have scored 6.3 fewer points in Kansas City. — Matthew Freedman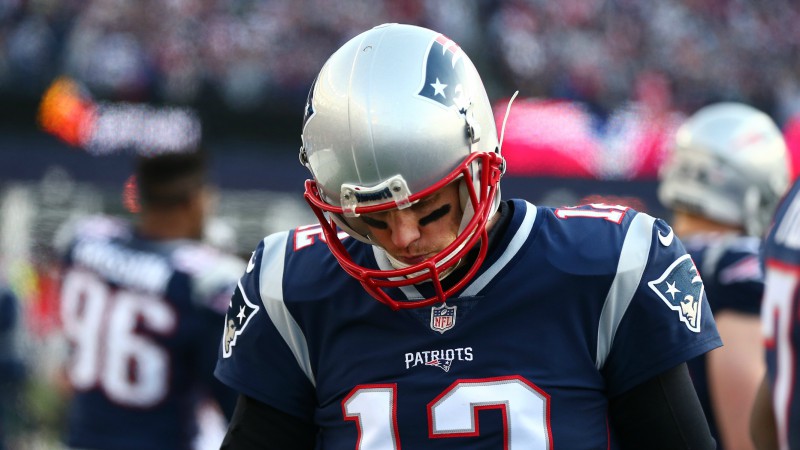 Chiefs 1H -2.5, Brady Throws INT Yes +110
Let's start with the first-half bet. Brady has only thrown one touchdown pass in the first half of his past five road playoff games.
And under Andy Reid, the Chiefs are 31-16-3 (66%) against the 1H spread at home, including covers in seven straight over teams with winning records.
Looking a little broader at Brady's seven career road playoff games: He has just eight touchdowns and eight interceptions — and all eight INTs came in his past five road playoff games.
I love getting the "Yes INT" prop at plus money, especially when you consider that opposing quarterbacks have thrown just 12 TDs and 12 INTs in nine games at Arrowhead this season, along with 11 fumbles and 34 sacks.
Translation: the Chiefs can force opposing QBs to struggle in their home stadium, even Brady.
In three career starts at Arrowhead, Brady has three touchdowns, six interceptions and six sacks, while completing under 60% of his passes. — Abrams
---
Editor's note: The opinions on this game are from the individual writers and are based on their research, analysis and perspective. They are independent of, and may not always match with, the algorithm-driven Best Bets from Sports Insights.
How would you rate this article?