Raybon: John Mara, Dave Gettleman and the Giants' True Culture Problem
Credit:
Danielle Parhizkaran-USA TODAY SPORTS. Pictured: New York Giants co-owner John Mara (left) and general manager Dave Gettleman
Odell Beckham was never the Giants' true problem, and the franchise's issues run deeper than Eli Manning and even David Gettleman.
Chris Raybon explains who is really at the heart of the Giants' downfall and why it may be best for fans and bettors alike to refrain from investing in the team until things are sorted out.
If you make it a habit of wagering on the NFL, you are probably aware that many of the most profitable opportunities arise in situations which the masses are down on a particular team (remember the Seahawks last season?). I thought as much about the Giants, both last year and earlier this year, and I wasn't alone.
After all, when the Giants selected quarterback Daniel Jones out of Duke with the sixth overall pick in the 2019 NFL Draft, the fanbase was mostly irate, and memes of general manager David Gettleman took over the internet. It got so bad that I kept waiting for an alert from ESPN's Bottomline that read:
David Gettleman officially steps down from role as Giants GM to become full-time punchline.
The models and premises that our forecasts are based on generally assume that franchises are making decisions in their own best interests, and I'm not so sure that's been the case for Big Blue.
If you had been bullish on this franchise at any point since it last won the Super Bowl in 2011, you would be lucky not to have gone bankrupt. The seven-year span that followed has yielded one playoff berth, zero division titles, and a 1-5-1 record toward the over on win totals.
Despite what the memes would have you believe, the primary reason that the Giants are an unsound investment — both emotionally for fans and financially for futures bettors — predates Gettleman.
Who's really in charge?
To be sure, I've poked fun at Gettleman myself, and what follows is in no way meant to absolve him for whatever role he has played in extending the franchise's recent struggles. I just wonder how much of this is truly Gettleman-as-GM versus how much of it is Gettleman-as-puppet of team president, CEO, and co-owner John Mara.
In a recent column for The Athletic, former NFL GM Michael Lombardi calls Gettleman's power into question:
Even though Dave Gettleman is the GM in title, John Mara's brother Chris is also involved in the personnel decisions. Chris … has paid his dues and worked hard to become a Vice President… Some might view the Giants as having three GMs: the Mara brothers and Gettleman. And when an NFL team has a committee running their future, they have zero chance to win.
Reading between the lines, Lombardi believes that Chris Mara is somewhat qualified to make decisions within the team's ill-suited power structure, but at no point does does Lombardi lend credence to John Mara's role. In fact, Lombardi spends the preceding paragraph scrutinizing Mara for everything from his word choice to Mara's understanding of how a quarterback impacts a franchise, concluding that Mara "is not sure of anything" and the Giants are "grasping at straws."
Perhaps there is more than what meets the eye in regards to Lombardi's negative stance, but — much like Odell Beckham in his criticism of Eli Manning — he ain't wrong.
John Mara is at the root of the Giants' QB problem
The "like father, like son" cliches must die hard, because John Mara once admitted that his father Wellington was "too loyal to people who had been with the organization and made great contributions."
These days, John Mara does not seem to realize that Eli Manning is the sunken place, and that he needs to get out before there's an unnecessary sequel.
It's no surprise that the franchise's downfall coincides with the deterioration of Manning as a passer, but it didn't always look like it would be this way. Even though Mara has spent the last two years pretending it never happened, it was he who initially decided it was time to bench Manning.
The story of Manning's benching reads more like a parody than an actual real thing that happened. Mara, seemingly terrified of asking Manning to break his streak of 210 consecutive starts, decided to have his two lamest ducks instead do the deed, instructing head coach Ben McAdoo — through GM Jerry Reese — to present Manning with a plan that would see him start and play until halftime, and if they were winning, "maybe he'd stay in there or something."
For reasons that are not entirely clear —  perhaps McAdoo realized how spineless Mara's initial plan was and took it upon himself to devise a more concrete version, or maybe Mara's initial plan got lost in translation because he only spoke to McAdoo through Reese — McAdoo presented the plan to Manning without the "maybe": Manning would play only the first half no matter what, as if it were the second preseason game.
It made sense to bench Manning, and it made sense for the head coach to do it. But it did not make sense to treat the franchise quarterback like a spot starter at the back end of a pitching rotation.
Nor did it make sense to merely relay this plan via a third party to the one in charge of executing without so much as a face-to-face meeting or even a phone call.
Nor did it make sense to proclaim it time to get a look at other quarterbacks, only to bench Manning for Geno Smith, a signal caller who, with all due respect, would not have even been on the Giants' roster if the very team they share their stadium with hadn't already seen enough.
Manning — after losing his mind, presumably — did what his bosses were too scared to do and benched himself. But in maybe the only passive-aggressive "f**k you" the normally milquetoast two-time champion has ever unleashed, he requested that the team release a statement of the benching.
What happened next made it clear that Mara's "leadership" would set the franchise back for years to come:
Despite ultimately achieving his desired outcome, Mara cannot resist playing up in public that Manning benched himself.
Blowback from the decision was harsh, and the decision looked even sillier after Smith fumbles twice in a loss to the Raiders. Much of the public blamed McAdoo and/or Reese, not Mara, despite it being widely assumed they would be gone after the season for reasons that had nothing to do with Manning, Mara fires both of them after the game.
Steve Spagnuolo is tabbed as the interim coach. In his first order of business, Spagnuolo (read: Mara) immediately reinserts Manning as the starting quarterback.
Mara embarks on what would be the first of many public relations crusades in the post-benching era that would become emblematic of the franchise's unpopular or head-scratching decisions to come. In one such instance, Mara is reportedly "unhappy" with the plan "hatched by Reese and McAdoo," and states that it will be "corrected." You can tell that the author, Ralph Vacchiano, makes his best attempt to present the facts without bias, contrasting claims that paint Mara in a positive light with Mara's questionable attempts at explaining away the situation: "[Mara] made it clear, though, his preference wasn't a set plan where Manning would be scheduled to come out at some point. What he wanted, he said, was for the Giants to look at Smith and Webb when a situation was presented."
There are a number of reasons why this doesn't check out:
The intention to bench a struggling starter requires a heads up, not an elaborate plan that ends up sounding so egregious that the starter benches himself.
If Mara truly felt McAdoo and Reese had fumbled the plan, he would have fired them either immediately, or after the initial blowback. Instead he waited until after the team lost, which just exposes Mara as a results-over-process type.
Manning has started every game since, taking all but five snaps.
This has to be the strangest about-face in the history of sports. Mara has never provided a clear explanation as to why he went from "get a look at these other quarterbacks" in November of 2017 to "it would be a great situation to have someone in place to sit behind Eli for some period of time" in March of 2019. (Don't even get me started on the fact that the "Kansas City model" doesn't work.)
Who's really causing the culture problem?
Given that we have a former NFL exec saying Mara is the GM as much as Gettleman, and that we know Mara's penchant for inexplicable 180s was a thing prior to Gettleman's hiring, why should we think anyone other than Mara is behind signing Beckham to a huge deal then shipping him off to Cleveland?
Especially when it was Mara who got into a war of words with Beckham over his criticisms of the quarterback Mara has been scared to bench through two separate front-office regimes; Mara who drew the ire of Beckham's father to the point that shots were fired on Instagram; and Mara who mysteriously and conveniently came off looking like the good guy after his franchise once again made an unpopular move with a fan favorite?
It seems unlikely that Gettleman is responsible for both ends of the Beckham debacle. What is more likely is that Gettleman never wanted to sign Beckham in the first place and was overridden by Mara, who was hesitant to make another unpopular decision in the wake of the Manning benching, but instead pulled one of his signature U-turns once his own relationship with the star receiver deteriorated.
It's hard not to be suspicious when Gettleman refused to commit to Manning as the starter in January, yet by March his message all of sudden becomes, "that Eli is overpaid and can't play is a crock," and when asked about his (Mara-like) change of heart regarding Manning's contract, Gettleman replied with a vague explanation lacking conviction before with a subtle statement that could be taken quite literally: "There really wasn't a decision to make." Well of course not … if the decision wasn't actually his to make.
Overpaid players in roles they don't deserve. Intolerance of criticism. Public spats. Mixed messages, inexplicable dissents, and hints of insubordination.
At best, John Mara oversees a culture problem. At worst, he is the culture problem.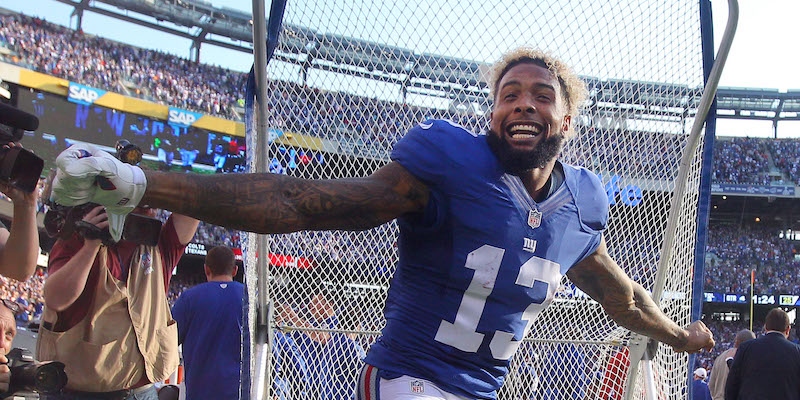 Re-signing Eli was not a very Gettleman thing to do
Gettleman established who he is as a GM during his stint in Carolina. His defining characteristics were placing too much emphasis on size over speed (Kelvin Benjamin in the first round! Devin Funchess in the second! The sloth from Zootopia as an undrafted free agent, probably) and refusing to give in to the contract demands of players that he felt were past their prime.
TE Greg Olsen: Gettleman had Olsen on a two-year, $11.4 million deal in 2015-16 and got a 173-2408-22 line in 35 games. Olsen wanted a long-term deal entering his age-32 season; Gettleman relented and was ultimately replaced by Marty Hurney because of it. Olsen received a new two-year deal worth $17 million went on to post just a quarter of the production (44-482-5 in 16 games) over those next two years than he had in the previous two.
LB Thomas Davis: After Davis racked up 211 tackles in 32 games from 2015 through 2016 while earning $7.5 million a year, Gettleman was nevertheless hesitant to re-up with Davis at age 34. Davis was eventually signed for a similar rate by Hurney but registered only 155 tackles over the next two seasons — a 27% decrease — before signing with the Chargers in 2019.
CB Josh Norman: Gettleman paid a 28-year-old Norman $1.59 million the year of Carolina's Super Bowl run in 2015. Norman's PFF grade that year was 85.7. Gettleman then rescinded Norman's $16 million franchise tag and watched the Redskins overpay for Norman as his production declined: $8 million in 2016 (71.7 PFF grade), $20 million in 2017 (72.2), $16.9 million in 2018 (69.8).
RB DeAngelo WIlliams: Hurney initially signed Williams to what proved to be a crippling five-year, $43 million pact in 2011, which Gettleman reworked to three years, $10 million in 2013 before cutting Williams ahead of the final year of the deal at age 31 in 2015. Williams got even less money from Pittsburgh (two years, $4 million), and though he was extremely productive as a fill-in for Le'Veon Bell that year, the Panthers didn't miss him, finishing second in rushing that year en route to a Super Bowl appearance. Williams was out of the league a year later.
WR Steve Smith: Gettleman had Smith on a two-year, $17 million contract that saw him produce 9.0 points of Approximate Value per season. Smith was shown the door ahead of his age-35 campaign and signed on for three years, $11.5 million in Baltimore. He was effective when healthy, but missed 11 games over his final two years there, finishing with a per-season mark of just 6.3 AV.
Again, none of this is being said with the intention of vindicating Gettleman; if he has chosen to remain in a role with less power than his title would otherwise suggest, he is nonetheless culpable.
This also isn't meant to exculpate Manning, who seems content with being viewed as a sympathetic figure to some, while he attempts, in vain, to prove naysayers wrong with an empty completion percentage fueled by listless checkdowns; nor VP Chris Mara, co-owner Steve Tisch, head coach Pat Shurmer, or anyone else deserving of blame for enabling the situation.
The omission of Beckham is intentional. If any of those aforementioned parties kept it as real internally as Beckham did publicly, it may have fostered the type of brutal honesty and accountability that this franchise still appears to sorely lack.
The point here is that many of the franchise's most controversial and head-scratching decisions go against what we had come to expect from Gettleman, but fall perfectly in line with what we have come to expect from Mara, who shouldn't be let off the hook or lauded in the event that he fires Gettleman.
The Daniel Jones pick has John Mara's fingerprints all over it, too
It's exceedingly difficult to get a level-headed take on Jones. Most of the negative ones cite his poor college numbers while omitting the excessive amount of drops by his receivers. Others act as if Jones being available at No. 17 was a guarantee despite having been caught off guard that he wasn't.
Many of the positive reviews are of the defiant, "numbers don't matter; watch the tape" mold, or rely on the over-amplification of positive signals such as "he played well in big games."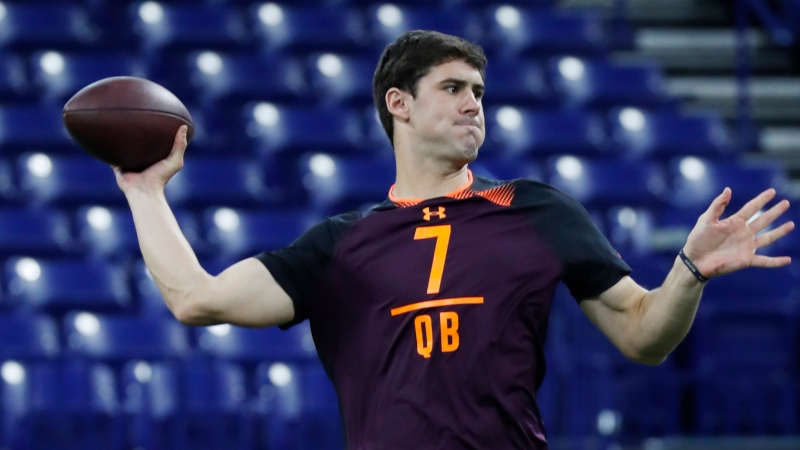 But one thing all Jones takes tend to have in common is attributing the pick solely to Gettleman despite evidence to the contrary. One report from USAToday.com's Giants Wire begins, "John Mara says the team will 'definitely' select a quarterback in the 2019 NFL Draft," before stating a few moments later that Gettleman felt the same "once upon a time," but had "changed his tune" and "channeled his inner Jerry Reese" with the mantra, "We're going to draft the best player available."
Then there is this quote from Mara in the same outlet days earlier:
I would like to come out of this draft with a quarterback. Here is the thing. Show me what the grades are and what the value is. If the top QBs are graded toward the bottom of the first round or in the second round, I am not going to insist that we take one at No. 6 or No. 17. Show me what the value is.
Mara repeating "show me" twice within moments of the same breath is hilarious; it almost makes it seem like either (a) the front office is actually withholding access to draft materials from him, or (b) he doesn't anticipate learning of any plans the front office plan has until the day of the draft.
But in all seriousness, what is most troublesome about that statement — and also what lends the most credence to criticisms of the franchise's power structure — is the implication that Mara has absolutely no issue using his power to "insist" upon personnel decisions for which he is unqualified to make.
What other personnel decisions has John Mara insisted on? After the franchise traded a receiver in Beckham, who had publicly expressed frustration with Manning's ability to throw downfield, did Mara insist on signing Golden Tate?
Tate is one of a few receivers who could reasonably be expected to catch as many balls as Beckham, but his 6.6-yard average target depth erases any likelihood about complaints regarding Manning's arm strength. To win a title you need a good receiver, not necessarily a great one, but giving Tate $22.5 million guaranteed ahead of his age-31 season doesn't seem like a Gettleman type of signing, either.
Mara goes on to explain (insist?) that the worst thing the franchise could do is "force the situation and end up with a QB that is not worth that particular spot," which most would agree is exactly what they did.
If you have any type of investment in the Giants, you just have to hope that he was being genuine, and this isn't like when he said the team needed to look at other quarterbacks and did so for one game before spending the next season and a quarter doing the exact opposite.
But let's suppose Mara were going to insist that a particular quarterback be picked. Given how vehemently he denies that the franchise has kept Manning around for sentimental purposes despite admitting that sentimentality does in fact exist, it would be highly unlikely that whichever quarterback Mara insisted upon would be one who went to passing camps under Manning.
Or one who was coached by the same coach as Manning.
Or one who who kind of looks like Manning.
Or one who kind of talks like Manning…
OH. NO.
Chris Raybon is a Senior Editor at the Action Network and a co-host of "I'll Take That Bet" on ESPN+. He has watched every snap of every NFL game since 2010 — even the kneel downs. Follow him on Twitter @ChrisRaybon and read about how he quit his accounting job and got paid to watch sports.
How would you rate this article?