Koerner: 18 NFL Games You Should Bet Now
Credit:
USA Today Sports. Pictured: Jimmy Garoppolo, Sam Darnold
Sean Koerner uses his NFL power ratings to identify betting value on Weeks 2-17 games.
Here are the 18 games he thinks bettors should lock in before the 2019 season and why.
I enjoy betting on Weeks 2-17 lines as a fun way to potentially get early value on certain matchups.
To identify the 18 games we'll highlight below, I compared posted lines to my projected lines and factored in any possible game theory angles to predict likely directions certain teams will be going at certain points in-season, which can help identify hidden value in snagging some of these lines early.
Let's get started.
WEEK 3
New York Jets +11.5 at New England Patriots
One running theme of this post: Invest in the Jets right now.
Their perception is still a bit behind at least how their team looks on paper. They have the second-easiest schedule and, interestingly enough, won't have to travel outside of the Eastern timezone all season.
Sam Darnold had his ups and downs as a rookie but really flashed his potential at the very end of the season when he began to click with Robby Anderson. Darnold will only improve in 2019 and could breakout in a big way. The Jets also brought in some additional weapons for him with Le'Veon Bell and Jamison Crowder.
The Jets even improved their defense in some big ways. Drafting Quinnen Williams with the third overall pick gives them an impact player right out of the gate. They also brought in C.J. Mosley and have one of the NFL's best young safety duos with Marcus Maye and Jamal Adams.
With their improved roster and easy schedule, I anticipate public perception catching up to the Jets in-season, which is why I want to invest in some of their Weeks 2-17 spreads now.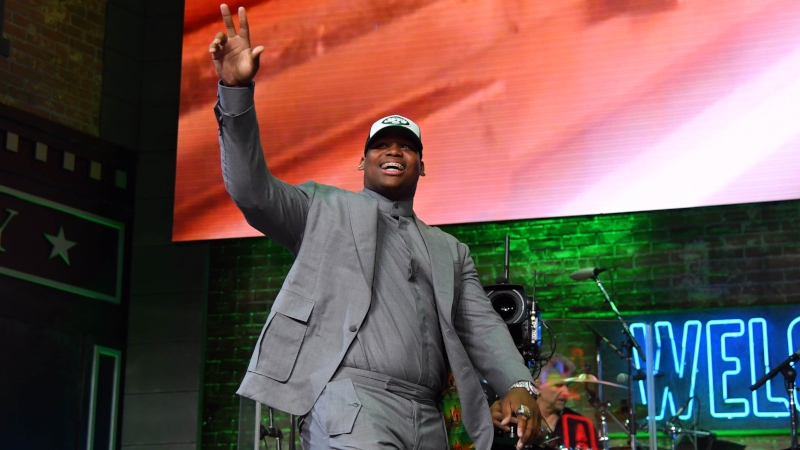 Having said that, the Jets are ready to win right now and at a time when the Patriots' Tom Brady-Bill Belichick dynasty could be nearing a close. The loss of Rob Gronkowski, Trey Flowers and Trent Brown surely hurt the Patriots on paper, but they've always been able to overcome such losses, which has everything to do with their superior coaching.
I do think, however, that the loss of Gronkowski will be the first real blow to this dynasty. I'm willing to invest against them on a few lines during the regular season, but come playoff time I think it's pretty clear that it's usually a losing proposition.
I have this line being closer to Jets +9 and believe once Week 3 rolls around, that will be the line offered. Take the couple points of value now, while you can.
San Francisco 49ers +2.5 vs. Pittsburgh Steelers
My initial spread for this matchup actually has the 49ers as a 1-point home favorite. The early season ACL tear by Jimmy Garoppolo effectively ruined the 49ers' 2018 season, but allowed them to have the second pick in the draft.
Adding Nick Bosa with the No. 2 overall pick and Dee Ford via trade improves their pass rush significantly. With Garoppolo set to be 100% for the start of the season, they will have one of the more improved teams from a year ago.
On the other side of the ball, the Steelers will be without Bell and Antonio Brown. It's the end of an era in Pittsburgh for sure. But as long as Big Ben is under center, the Steelers won't take as big of a step back as people think — young talents like JuJu Smith-Schuster and James Conner have proven more than capable filling their shoes.
I still think this line is a few points off and need to snag it now considering it won't be this high once we get to Week 3.
WEEK 4
Washington Redskins +3 at New York Giants
We really won't know who the starting quarterbacks will be for either of these teams beyond Week 1.
Eli Manning will surely be the Week 1 starter for the Giants as they groom their sixth overall pick, Daniel Jones. They make it seem as though they'll be perfectly fine having Jones backup Manning all season and aren't quite ready to force Manning to retire quite yet. But I'm a bit skeptical — we have rarely seen, as of late, first-round quarterbacks sit out their entire rookie season.
If the Giants get off to a rocky start, I bet the pressure to throw Jones into the fire will only grow. Still, Week 4 might be a bit early for that, so I'm assuming Manning will start this game.
For the record, I think once the Giants do turn to Jones, their power rating will drop 2.5 to 3.5 points. This is something I think we can take advantage of in the latter half of the season.
The Redskins are in a similar situation but it will have a different impact on their week-to-week spreads. Veteran Case Keenum is likely to be the Redskins' Week 1 starter over first-round selection Dwayne Haskins.
When the Redskins decide to make that switch, I believe it will be a based on an understanding that starting Haskins will not hurt their chances of winning, or it could slightly improve them — it won't drastically change their power rating in the same way the Giants' quarterback situation would.
This is why I'm treating this early-season matchup straight-up where I have it being much closer to a pick 'em.
The Redskins are much better equipped to win this season. For all the potential issues they might have on offense, they can lean on their defense to keep them in games. Drafting Montez Sweat in the first round makes their entire defensive line first-round picks from each of the past three drafts.
Their gamble to bring in on-the-field success, off-the-field disaster linebacker Reuben Foster has paid off so far as he's not going to be suspended for any of 2019 (at least as of writing). They also managed to bring in former Giants stud safety Landon Collins.
There's no way the Redskins are getting the key number of +3 once Week 4 rolls around.
WEEK 5
Green Bay Packers +3 at Dallas Cowboys
I have this being closer to Cowboys -1.
The Packers have a ton of upside if Aaron Rodgers can stay healthy; we have to keep in mind that he played most of 2018 with a pretty severe knee injury. And he could return to elite form under Matt LaFleur this season.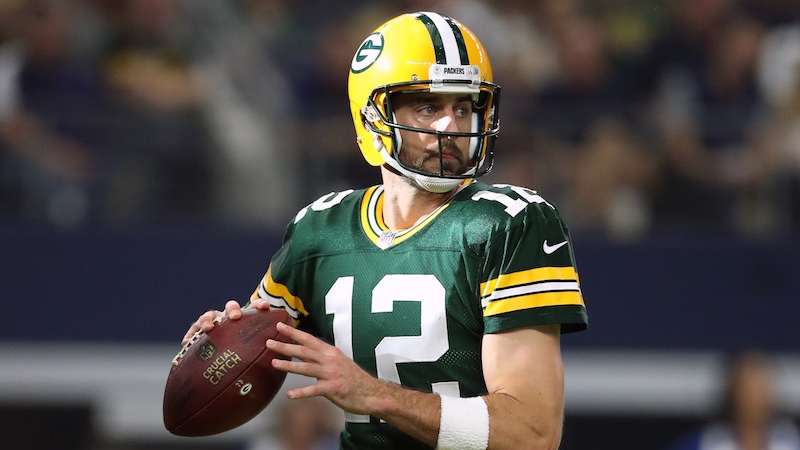 Going to nibble at this line to lock in the key number of +3 early.
Cleveland Browns +2.5 at San Francisco 49ers
I am very much in-line with nearly every spread involving the Browns, but this one sticks out because I have this particular line as a pick 'em.
While the 2.5-point difference doesn't cover a key number or offer a ton of edge, this could be the time a team like the Browns begin to really gel. It might take a few weeks for the Baker Mayfield/Odell Beckham Jr. connection to really hit their stride.
I like the idea of locking this line in for what could easily be a point in the season when we realize the Browns hype was real and they end up being slight favorites.
WEEK 7
Arizona Cardinals +5.5 vs. New York Giants
This is the first line in which I'm willing to double the size of my bet.
Not only do I have the Giants as 2-point favorites, but these are two teams I'm anticipating to trend in different directions as the season goes on. I'm a big believer in how the Cardinals are starting to build this roster with new coach Kliff Kingsbury.
No. 1 overall draft pick Kyler Murray will likely start Week 1 and begin adjusting to the NFL immediately. By Week 7, he should only be improving. As for the Giants, as I mentioned earlier, their season outlook could look bleak by Week 7 with their playoff chances getting worse, which could add some pressure to start looking to the future by switching to the rookie Jones.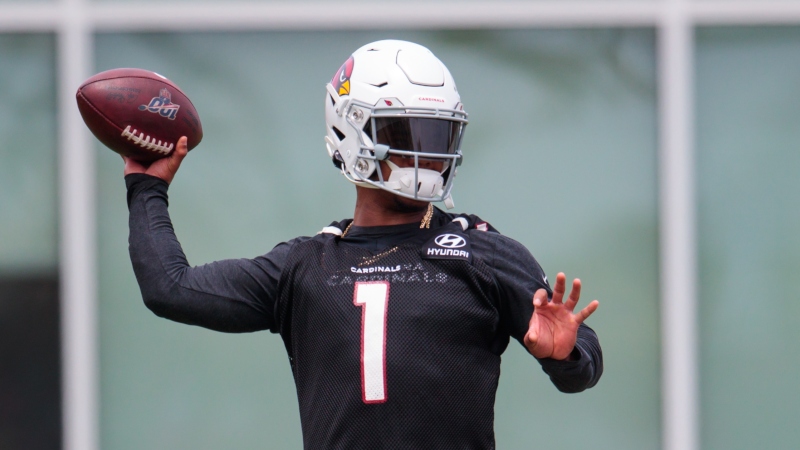 If that happens by midseason, the Cardinals could be slight favorites here. This line almost seems like worst case scenario for the Cardinals, so it's worth investing heavily now.
New York Jets +6.5 vs. New England Patriots
Already bought into this matchup in Week 2 when the Jets are on the road. And I have the Jets only being +4 here at home.
This is another bet to invest in the idea that the Jets are going to be better than public perception and the Patriots will be slightly worse than public perception (at least in the regular season).
WEEK 8
Buffalo Bills +3.5 vs. Philadelphia Eagles
The other AFC East team I'm pegging as being slightly better than people realize is the Bills.
They filled immediate needs in the draft along their offensive and defensive lines. They also brought in free agent receivers John Brown and Cole Beasley to give Josh Allen more weapons to work with.
I only have the Bills being +3 here, but want to get the half point on such a key number like 3.
The additional benefit of locking in this line could be to have the added value in the possibility of Carson Wentz missing any time. Wentz has suffered a season-ending injury two straight seasons, and the Eagles no longer have backup Nick Foles to fill-in and prevent any drop off between quarterbacks.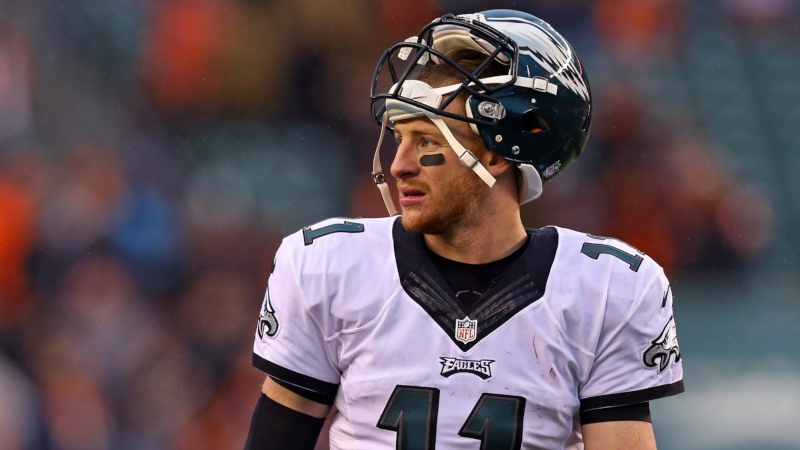 If Nate Sudfeld ends up being the backup, the Eagles' power rating would likely drop 5.5 points if Wentz to ever miss a game. This is a sneaky out to have in a bet I already like if both teams are healthy.
WEEK 9
Arizona Cardinals +3.5 vs. San Francisco 49ers
Continuing my investment of the Cardinals hitting their stride here.
Arizona's stock will only go up as the season goes on, so we want to lock these lines in now. Plus, the 49ers are much more likely to be exactly who we expect them to be with Garoppolo back: A very average team.
It's likely that the betting public will be catching up to the Cardinals being closer to "an average team" than a "bad team" by this point in the season, so I can see this being a pick 'em with the Cardinals at home.
Chicago Bears +3.5 at Philadelphia Eagles
As I discussed above, any bet against the Eagles later in the season has the "if Wentz isn't starting, the Eagles no longer have Foles" edge to it.
I have the Bears being a couple points better than the Eagles on paper. Don't be fooled by the win total markets that have the Eagles being closer to a 10-win team while the Bears are more of a nine-win team.
The reason the Eagles have a higher total is due to them having the 29th-hardest schedule, while the Bears are ninth in my strength of schedule rankings. Just to illustrate the impact, if you traded their team schedules, the Eagles win total would go from 9.6 to 8.7 and the Bears win total would go from 9.3 to 10.2.
There's no way in hell the Bears will be getting more than +3.5 in this game.
New York Jets +1 at Miami Dolphins (Best Bet)
We need to continue investing in an underrated Jets team and begin to invest in what could be a tanking Dolphins team by midseason. Miami's season could see different ups and downs but its downward trend seems likely to occur around mid-season.
The main factor I'm looking at here is Josh Rosen.
Considering the Dolphins gave up a second-round pick to get Rosen and are searching for their future quarterback, it makes a ton of sense for them to see what they have in him to start the season. I wrote a piece in which I speculated that Rosen will lower the Dolphins' power rating by a point for any game that he starts over Ryan Fitzpatrick.
Of course, there's always the possibility that Rosen breaks out in his second season. He was drafted in the first-round just a year ago, so there's clearly some upside in him still left. But the most likely outcome is that he isn't the answer and their season starts to go down the tank.
While this isn't all bad for the Dolphins — as they can simply keep losing and get a high draft pick in the 2020 draft that should be loaded with quarterbacks — there's also the possibility it gets so bad, the Dolphins put Fitzpatrick just to put up a fight.
Either of those scenarios, I'm still having Rosen as the Dolphins starter at this point in the season and the Jets as a 3-point road favorite here. Take the points now while you can.
WEEK 10
New York Jets -2.5 vs. New York Giants (Best Bet)
Another investment in the Jets and the possibility of having the Manning-to-Jones 2.5- to 3.5-point power rating drop occur by this point in the season. I see this as likely being closer to the Jets as touchdown favorites instead of field goal favorites.
WEEK 13
Atlanta Falcons +3 vs. New Orleans Saints (Best Bet)
The Falcons suffered some rough injury luck early last season, especially on the defensive side of the ball. They will be a much tougher division rival for the Saints in 2019.
This Week 13 matchup will be the second time they play that month, and the Falcons getting the Saints at home on the shortened week only helps Atlanta.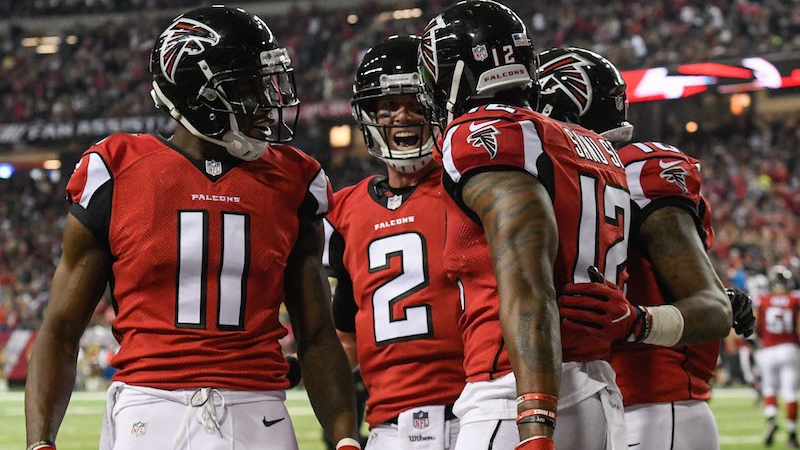 I have this being closer to a pick 'em and was quite surprised to see the Falcons getting a full field goal here.
New York Jets +2.5 at Cincinnati Bengals
Invest in the Jets, start fading the Bengals here.
Cincinnati isn't going to be a contender with Andy Dalton again. They Bengals might've begun the process of moving on by now and trying to get into position for the 2020 quarterback draft class. Maybe they even give Jeff Driskel another peak here before they move on.
There would be about a 1- to 2-point drop off from Dalton in my power ratings. I'm expecting the Jets to be slight favorites here either way.
Green Bay Packers -2.5 at New York Giants
I have this line being closer to Packers -5, and that's not even factoring the real possibility of the Packers playing for the playoffs here and the Giants moving on to Jones, which would tack on another couple points in the Packers' favor here.
Later in the season is when we are more likely to see big road favorites (7 or more points) with more regularity. These types of matchups are created from scenarios like this one in which two teams are going opposite directions at this point in the season.
WEEK 14
New York Jets -5.5 vs. Miami Dolphins
It's much more likely for the Jets to be playing for a playoff spot here while the Dolphins will be playing for their 2020 draft spot. I can see this being much closer to the Jets being around some non-key number like -8 or -8.5.
This is a way to lock in a key number like 7 in advance on a favorite.
Arizona Cardinals +6 vs. Pittsburgh Steelers
I have this only being Steelers -3.5, and that's with my current power ratings.
The Cardinals will likely only be improving throughout 2019. There are fewer scenarios in which they'll be tanking here. Both of these make me think the Cardinals could very well be 3-point dogs here — or even less.
Another hidden value in this bet are the remote chances of 38-year-old Big Ben missing any time due to injury. He's played a full 16-game season only four times in his 15-year career. Don't be fooled by Tom Brady and Drew Brees. They aren't normal. Big Ben is much more human and much more likely to wear down rapidly at his age.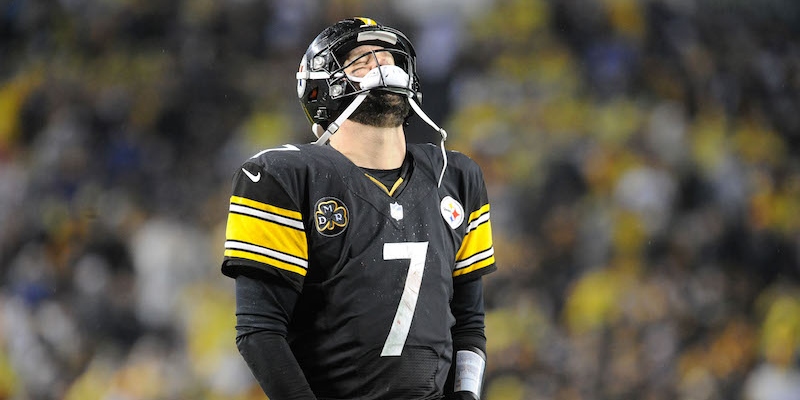 The chances Mason Rudolph is starting this game has to be around 10%, and in that scenario I have the Cardinals being 3-point favorites. There's too much hidden upside in this already good line to not take it.
WEEK 16
Washington Redskins -3 vs. New York Giants
This game is very likely to feature first-round rookies QBs Jones and Haskins facing off against each other. It's not that I consider these two teams far apart in terms of power rating. I have this matchup at Redskins -4 with their current ratings.
The hidden value of getting this line now is that I don't really see much depending on who starts for the Redskins as there isn't much drop off at all between Keenum and Haskins, but the 2.5- to 3.5 point- drop off from Manning to Jones will likely be in play here.
You could be able to lock in a 6-point favorite at a key number like 3 seven months in advance. Seems like a long time to have bankroll tied up, but I believe in taking value while you can.
How would you rate this article?