NFL Betting Odds, Picks, Preview: Who Will Lead the NFL in Passing Yards in 2021?
Credit:
Getty Images. Pictured: Jameis Winston (top left), Russell Wilson (top right), Justin Herbert (bottom left) and Tom Brady.
Who will lead the NFL in passing yards in 2021?
It's not going to be last year's leader, Deshaun Watson, and that means a new winner. It also means there's money to be made if we bet the right names.
There's only one season leader, so we're not really looking for most likely outcome or median projection. Instead, let's imagine what a player could look like at his very best and how likely he is to get there.
Season leaders are all about volume, so we'll focus on passing attempts and yards per attempt (YPA). Since 2011, every yardage king but one had at least 4,800 yards, with over half topping 5,000 — and that was in 16 games. We're gonna need a big number.
Let's consider the favorite first, then run through the other names of note. We'll rule out some names that can't win or aren't worth betting at their number, then take a look at a few intriguing longshots and playable picks before settling into best bets for 2021.
Be sure to check out the other season leader bets if you haven't already:
Note: I've included the best odds available for each player at either DraftKings, FanDuel, or BetMGM at the time of publication on August 30.
Will the Favorite Win?
Patrick Mahomes (+350 DraftKings)
The way these season leader props work, the first thing you need to make a decision on is whether or not to bet the favorite.
The favorite typically has odds at +500 or shorter, which means that if you decide to bet the favorite, you're pretty much done. You can't add much other than a longshot without hurting your position too much. And if you build a position around any other players, you're implicitly betting against the favorite.
We assume at this point that Patrick Mahomes can basically do anything — and he probably can. His career numbers are staggering. For many, an 8.1 YPA or 5.4 TD% would represent career highs. For Pat, those at the worst numbers he's produced.
Still, season leaders are always volume first. The Chiefs passed 39.4 times per game last year, third most in the league, but just 36.2 the previous two seasons, more fringe top-10.
With an improved line and a second year with Clyde Edwards-Helaire, expect more emphasis on the run game and less passing volume. Closer to 36 attempts per game make sense, and 8.3 YPA is a silly but fair expectation at this point.
That puts Mahomes around 5,080 passing yards over 17 games, though he's always a threat to miss a game or two, a death blow in a bet like this.
Mahomes has had a significant injury each of the past two seasons, plus there's always the threat of sitting out a late game if the Chiefs are resting for the playoffs. That could drop Mahomes under 4,800 yards.
On the other hand, the Chiefs defense is pretty bad so Kansas City may be forced into a lot of shootouts. If that means Mahomes gets closer to 40 attempts per game, that could push him over 5,500 yards.
The all-time record is 5,477 yards (Peyton Manning, 2013), so obviously 5,500 is a huge number, even with the extra game. If you think Mahomes gets there, you should play him and not much else. If you expect closer to the 4,800-to-5,100 range, that leaves this open. But we'll need to beat 4,800.
That's the sort of math we'll be doing for all of our options, though not as spelled out. It's a numbers game after all, and we simply need to bet the best number to put up the best numbers.
Verdict: PASS, or go all-in — nothing in between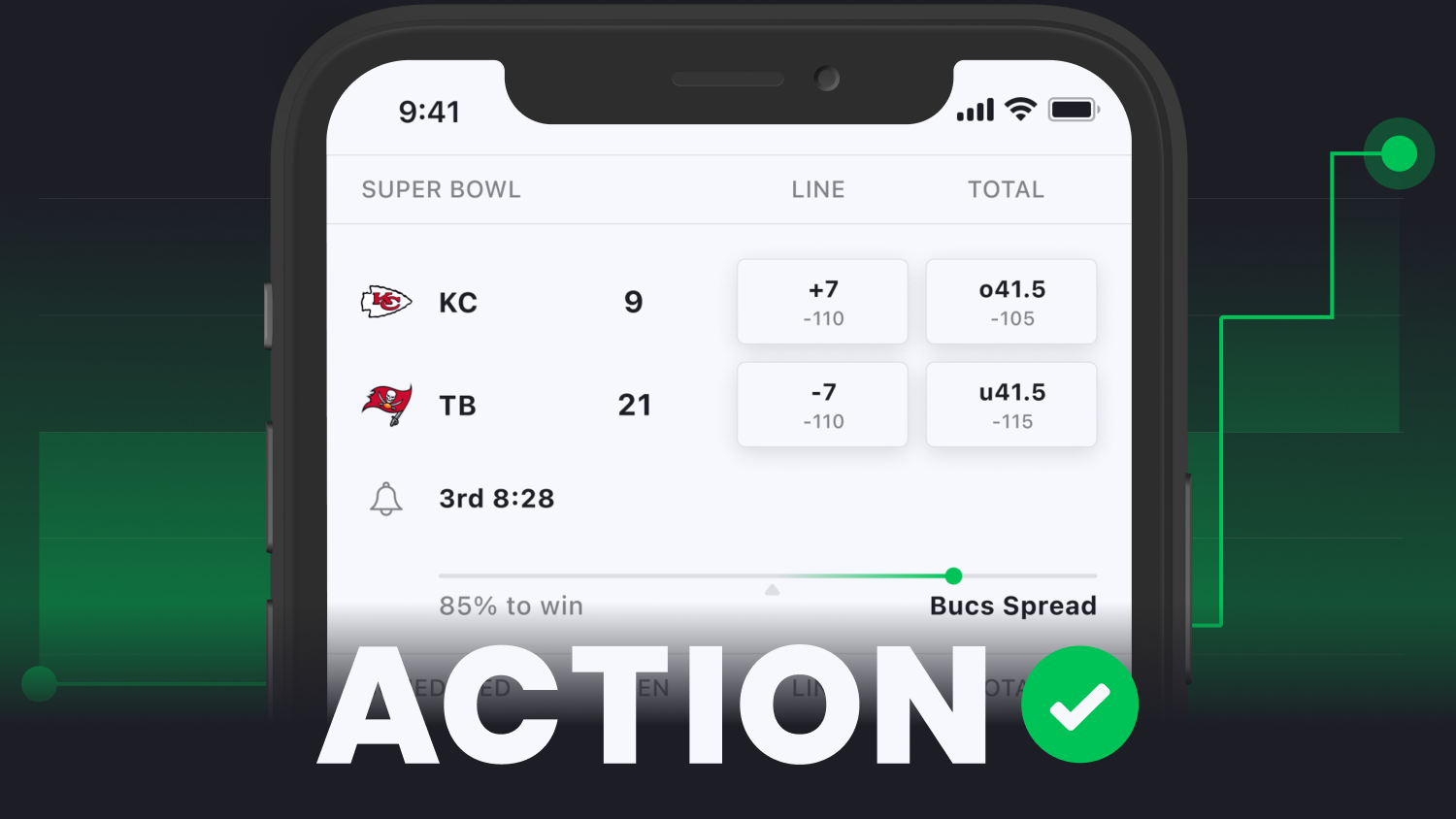 The must-have app for NFL bettors


Free picks from proven pros

Live win probabilities for your bets
Guys Who Probably Can't Win
Ryan Tannehill (+6500 FanDuel)
Some guys just don't have the volume. The Titans barely cleared 30 pass attempts per game last season, ranking third last in the NFL. They were insanely efficient per throw but may regress there with former offensive coordinator Arthur Smith gone to coach the Atlanta Falcons.
Even if the attempts go up a bit, Tannehill will likely finish a full 1,000 yards back because of the volume problem.
Kirk Cousins (+4100 FanDuel)
Second verse, same as the first. The Vikings had the sixth-fewest pass attempts last year, and that was actually up 50 attempts from the year before. Minnesota prefers to run, run, then run some more, and it should be doing even more of that with a competent defense.
Cousins is like Tannehill — efficient but too low on volume to be relevant.
Aaron Rodgers (+2000 FanDuel)
Believe it or not, the reigning MVP was more of a souped-up version of those last two guys last season. The Packers ranked 24th in the NFL in pass attempts, and they're one of the slowest teams. Rodgers was just insanely efficient, with his 8.2 YPA and absurd 9.1 TD%, both of which are highly likely to regress.
The volume was a little lower than usual but even a return to form would still leave Rodgers around 4,500, well off the pace. He's just not a yardage monster.
They Could Win, But the Odds Are Not in Our Favor
Jameis Winston (+2500 DraftKings)
The Saints were run-first last year, averaging under 33 passes per game, 25th in the NFL. But Jameis Winston is not lacking in arm strength like Drew Brees, so could Sean Payton let it fly under Jameis?
Winston actually has a career 7.7 YPA, and he's put up some big lines when he stops throwing interceptions long enough to stay on the field. The problem is staying on the field. Interceptions could doom him, and you know Payton will get Taysom Hill out there for some snaps even if Winston is playing well.
The Saints also have one of the worst receiving corps in the league until Michael Thomas is whole. It's a fun proposition, and Winston actually led the league in yards in 2019.
But at +2500, Jameis just isn't long enough to bet on.
Joe Burrow (+2500 DraftKings)
Volume shouldn't be a problem for Burrow. The rookie led the league in pass attempts before his injury, over 41 per game. That included one 61-attempt outlier, though, and he is still returning from injury.
If the 2020 No. 1 pick stays healthy all year and pushes 40 attempts per game, he could put up a big number, especially with Ja'Marr Chase, Tee Higgins headlining a talented WR corps.
But the Bengals have poor blocking, and Zac Taylor's offense isn't making things easier for Burrow or scheming guys open. Burrow is DOA if he's anywhere near the 6.7 YPA he had last year. It's not crazy to think Burrow could get into the mix.
But again, with moderate +2500 odds, the juice isn't worth the squeeze.
Matt Ryan (+1400 DraftKings)
Ryan inherits Tannehill's problem by virtue of getting his old play caller. Smith makes his quarterbacks efficient, but we're looking for yardage volume, not efficiency.
Ryan led the league in completions and attempts last season at 626, but the Titans threw only 485 times, so that shows you how far the volume could fall. Kyle Pitts is no Julio Jones.
Ryan could see a boost in efficiency at the cost of volume, and that's a losing equation for us.
Josh Allen (+900 BetMGM)
The problem with Josh Allen is that it's almost impossible to imagine him continuing to improve at this rate. Honestly, it's much more realistic to expect some regression.
Offensive coordinator Brian Daboll amplifies Allen's strengths, and he helped Allen leap to 7.9 YPA last season. If Allen keeps playing that well and takes another mini step forward as the Bills continue to throw aggressively all game, he could absolutely get to 5,000 yards.
The guess here is that a better Buffalo team runs a bit more, Allen's efficiency regresses to the mean a little and he ends up closer to the 4,500 range. There are also injury concerns with Allen's running and weather concerns with Buffalo we're better leaving alone.
Longshots Worth a Sprinkle
Ryan Fitzpatrick (+5000 DraftKings)
Washington actually ranked ninth in passing attempts last season, even with the league's worst QB situation.
Fitzpatrick has never been afraid to let it fly, and he's been over seven YPA in three straight seasons. He's a perfect fit in what should be an aggressive Scotty Turner offense, and there are real weapons here with Terry McLaurin and Curtis Samuel.
It's not totally implausible that Fitzmagic could throw 40 times per game with solid efficiency and push toward 5,000 yards over 17 games. But Fitz is also old and almost never plays a full season, and he could turn into more of a game manager if Washington's defense is as good as expected.
It's not a crazy longshot if you want to have some fun, but it's definitely a longshot.
Baker Mayfield (+8500 FanDuel)
At first glance, it feels like Mayfield belongs in the "Probably Can't Win" tier. Cleveland passed fifth fewest last season, so it's another volume problem.
But Mayfield rose from 26.5 to 36.8 attempts per game over the final six games once he got comfortable in the new offense, after some of those nasty weather games. If that volume leap is real, there could be sneaky value. Mayfield averaged 7.8 YPA over that final stretch and now gets Odell Beckham Jr. back.
But Cleveland's run game is so good and the weather is always a factor, so you probably need a top 5% outcome for Baker to get into the race. Even then, he's just on the fringe.
Playable If You Believe
Russell Wilson (+3700 FanDuel)
Will the Seahawks let Russ cook for a full season?
Wilson had a monster start last year with 2,541 yards and 28 TDs the first eight games. That's a pace of 56 TDs and over 5,000 yards, and Wilson was a midseason MVP favorite.
Over the second half, though, those numbers plummeted to 1,671 yards and 12 TDs, and the worry is that it wasn't even an injury or volume drop. Defenses adjusted and schemed away the deep balls to DK Metcalf and Tyler Lockett, forcing the Seahawks to work underneath and neutering Wilson's numbers.
A full season of Russ cooking plus an increase in volume under new offensive coordinator Shane Waldron could mean a huge season, but middling volume limits the upside unless the Seahawks unlock that deadly deep ball again.
Still, 37/1 is tasty.
Justin Herbert (+1400 DraftKings)
The Chargers threw 627 times last year, fifth most in the NFL, and now the offense gets turned over to offensive coordinator Joe Lombardi, Drew Brees's QB coach for a decade. Brees led the NFL in passing yards and completions six times each since Lombardi was hired.
Suffice to say there's massive upside here if we get Brees volume.
But Lombardi left in the middle of that stretch for two years as Detroit's offensive coordinator, and Matthew Stafford actually saw a downtick in volume under Lombardi. That makes Herbert unpredictable. Many sophomores make a leap, but that's because most rookies are bad.
If Herbert approaches Brees' volume, he could clear 5,000 yards. A moderate season would come up short, while a more balanced offense could leave him in the low 4000s.
There's clear upside but lots of unknown, as well. At +1400 in a loaded field, it's probably too risky to play.
Dak Prescott (+600 DraftKings)
If everything goes right for the Cowboys, Dak Prescott could run away with the crown. Prescott averaged 422.5 yards in four healthy games last year. Over 17 games, that's an outlandish pace of 7,183 yards. He averaged over 50 passes per game, which is obviously unsustainable.
Still, Dallas played at the league's fastest pace, and the Cowboys have the league's best receivers outside of Tampa with CeeDee Lamb, Amari Cooper and Michael Gallup. Prescott has gone over 8.2 YPA two years straight, so high efficiency on mega volume could mean a monster number.
Unfortunately, the books are making you pay for that upside, and when does everything go right for the Cowboys? Prescott is 11 months off that horrific injury and dealing with a shoulder problem, and we still don't know if this offensive line will stay healthy or what the run game will look like.
Prescott may have the biggest upside on the list, but there are just too many variables to invest much at +600.
Best Bets
Tom Brady (+950 FanDuel)
Besides, why bet on pace, elite receivers, and pedigree for a great offense with Dak when you can just bet on a better version of all those things with a better player at a better price?
It took awhile for Tom Brady and Bruce Arians to find their way last season, but boy did they explode once they figured things out. Over the final seven games of the year, Tampa Bay had the No. 1 offense and played at the league's fastest pace. During that stretch, Brady threw for 2,235 yards and 20 TDs. Over 17 games, that would be 5,428 yards and 49 TDs, an MVP-worthy season. Brady's YPA leapt to 8.5 during that home stretch too, and now he gets a full season of Antonio Brown plus a receiving back in Gio Bernard.
Even better, the one weakish spot on the Bucs might be the secondary, forcing Tampa into occasional shootouts.
You get the GOAT on the league's most talented offense with the best weapons in the league playing fast in an aggressive scheme. At +950, you don't even have to win 10% of the time to hit these odds, and he's won this three times before. What's not to like?
Matt Stafford (+1400 BetMGM)
Jared Goff's numbers fell hard last year before his exile, but he led the league in pass attempts in 2019 and was over 4,600 yards in both 2018 and '19.
Sean McVay will feature Stafford rather than hiding him, and the veteran slinger has a huge arm.
The Rams are short on runners and may pass a lot out of necessity. Goff averaged 7.5 YPA with the Rams and went over 8.0 twice. Stafford's better and has a shot at huge, efficient volume, something in the range of 40 attempts per game and 8.0 YPA. That's 5,440 yards over 17 games. Even a more moderate outcome could hit 5,000 yards, so this is definitely a playable bet.
Ben Roethlisberger (+8000 FanDuel)
Did you know Pittsburgh led the league in pass attempts last year? The Steelers averaged 41.1 passes per game, and Big Ben was even higher than that his last healthy season. Roethlisberger's efficiency has fallen off a cliff the last two years at 6.2 YPA, but he has a ton of WR talent and obviously won't get benched, even if he looks old and rickety. If new offensive coordinator Matt Canada rights the ship, there's serious volume upside.
But factor in Ben's age and durability issues with a terrible line, and it's tough to see a full 17-game year to hit the peak numbers — though Roethlisberger did lead the league in 2018 and has been the passing king the last two times he played a full 16-game season.
Jimmy Garoppolo (+15000 BetMGM)
This probably seems crazy, but what if Garoppolo ends up starting all season? He has a career 8.3 YPA in San Francisco, basically a Mahomes number, and the Niners pass more than you think and have nice weapons in George Kittle, Brandon Aiyuk, and Deebo Samuel. They also play one of the league's softest schedules.
You need Garoppolo to hold off Trey Lance all year to win this, but here's the thing — you need Jimmy G to play well anyway to win this bet, so why not take a shot? A full 17 games could put him in range of 5,000 yards, and you're getting absurd 150/1 odds so you have to sprinkle a little.
Passing Yards Verdict
Build your position around Brady +950 and Stafford +1400 as favorites.
But sprinkle a bit on Roethlisberger +8000 and Garoppolo +15000 too, just in case they stay healthy and play all 17 games.
How would you rate this article?
This site contains commercial content. We may be compensated for the links provided on this page. The content on this page is for informational purposes only. Action Network makes no representation or warranty as to the accuracy of the information given or the outcome of any game or event.