Rovell: NFL's Big-Money Deal With Caesars Full of Hypocrisy
The NFL struck its first ever deal with a casino on Thursday, partnering with Caesars Entertainment on a sponsorship.
Sources say the deal is worth $25 million per year.
A lot will be made of this being a game-changer for the famously anti-gambling league, but it's far from the landmark deals that the NBA, MLB and NHL have struck with casino operators.
On Thursday, the NFL announced that it signed a sponsorship deal with Caesars Entertainment to be the league's first ever official casino partner.
It was received by some as a sign that the NFL was finally coming around to cashing in on sports gambling.
It is and it isn't.
Caesars is doing the deal because they can use the NFL logo while promoting their brand. But they can't do much more than that.
Unlike the three other leagues, which have all done gambling deals that include attaching the league marks to sportsbooks and selling league data, the NFL isn't doing that.
This isn't a sports betting deal, it includes no rights to marks on boards at Caesars sportsbooks — physical or virtual. It's not even a gaming deal: Caesars isn't getting into daily fantasy.
It's a money deal: Sources say the deal is worth $25 million a year and that it doesn't include any provision for sports gambling, meaning Caesars wouldn't automatically get a gambling designation.
How big is that number?
At the NFL owners meeting in Dallas this December, the league quoted the following figures to owners:
NBA's MGM deal: $24 million over three years
NHL's MGM deal: $28 million over four years
MLB MGM deal: As much as $40 million over four years (sources say the MLB deal is actually double that.)
The NFL is playing a precarious game, allowing teams to do deals with casinos, and even sportsbooks, as long as they don't mention anything about betting.
Caesars, for example, has deals with seven teams that are at a smaller scale than the NFL deal, but they all exist under the same rules — don't mention gambling.
It's gotten stranger in New Jersey, the only state that has both legal sports gambling on mobile phones and an NFL team (Jets and Giants). Fans can place bets on their phones while inside the stadium or they can place a bet at the FanDuel Sportsbook within the same complex as the stadium, 1.4 miles away, but the Jets' sponsorship deal with 888.com can't mention that they have an app that allows you to bet on the team.
The decision by the NFL to go so slowly into the gambling space is a baffling one, from an outsider's perspective. With more than $1 billion bet in New Jersey in its first six months of legalization, it's clear that the league is going to eventually reverse course just like the other leagues have.
NBA commissioner Adam Silver has been at the forefront, but MLB went from opposing the repeal of PASPA to having commissioner Rob Manfred say after signing a deal with MGM that baseball and its pace of play was actually ideal for gambling.
NHL commissioner Gary Bettman, when the Vegas Golden Knights became a new team, didn't want the two closest sportsbooks to the arena — which is, by the way, owned in part by MGM — to take bets on the Knights. A little more than two years later, his league too was doing a deal with MGM.
The NFL's sports-betting shift is going to be the most embarrassing, which means Roger Goodell will end up eating more crow than any of his counterparts.
First of all, the league has been the staunch opponent of widespread legalization, even though sports gambling is worth more to the NFL than any other league.
Witness how many times Las Vegas shows up among the top 10 most-watched markets. Does the league think that's by accident?
And how about all of those random games that see a ratings spike when the spread or over/under is in play?
Remember, this is the same league that opposed players even being in a Vegas casino. Nearly 100 players were barred from participating in a football convention in Vegas back in 2015 because it took place in a casino.
In fact, players still can't promote casino properties.
And now the league is doing a deal to … promote a casino property. Talk about hypocrisy.
"NFL signing casino deal, teams signing casino deals and NFL players are still not allowed to do any endorsements with casinos," a current NFL player texted me after I tweeted about the deal Thursday morning. "So messed up."
Both the NFL and the NFL Players Association did not respond to requests for comment as to whether Thursday's league-wide deal changed anything, but players did not get an update on the policy.
Interestingly, there might be a point where the league is forced to accept sports betting.
It's two biggest owners, Jerry Jones and Robert Kraft, are current investors in DraftKings, whose value as a company has undoubtedly skyrocketed from the company's early success in the betting space.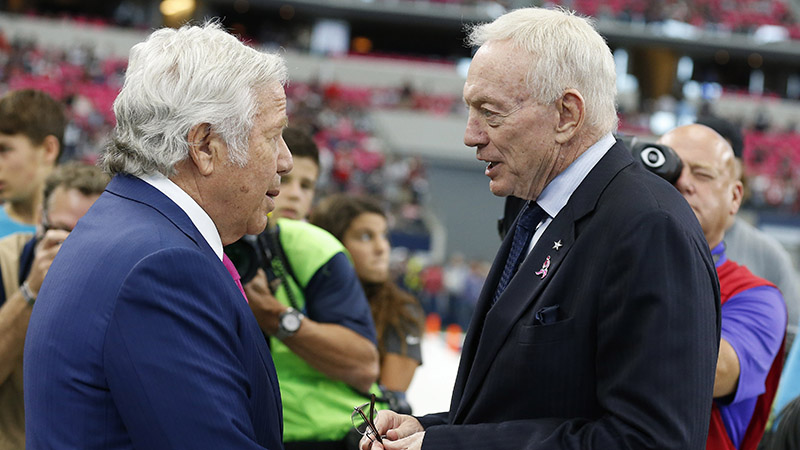 Jones, through his investment in hospitality company Legends, and Kraft own less than a five percent stake in DraftKings, but current rules state that the owners have to sell their investment if the majority of money DraftKings is making is in sports gambling, instead of daily fantasy. In just the six months of legalized gambling, roughly 25 percent of DraftKings revenue is sports betting.
The most embarrassing part of the NFL's turn into the sports gambling space is that the whole thing is premeditated.
Yes, league officials have actually talked at owners meetings about when they are going to start to accept sports gambling.
Betting was the topic du jour at the owners meeting in Dallas three weeks ago. In one slide presented to owners, the league says it will license its data this year, that it will license its video rights to sports gambling shows and that it will start doing deals with sportsbooks as soon as it's a "national market."
"National market" is a completely arbitrary term that will undoubtedly change.
If it's the majority of states legalizing sports betting, projections have that happening in 2021 or 2022. But with eight states currently allowing sports betting and another six to eight likely to be added in 2019, the NFL's value selling these deals isn't based on the present; it's based on a nearly guaranteed future.
In the meantime, all the NFL is doing is selling hot air, and while Caesars bit on it, others won't.
Correction: The original version of this story incorrectly stated that MLB commissioner Rob Manfred personally came out in opposition to sports betting before the repeal of PASPA. We regret the error.
How would you rate this article?