2019 NFL Combine Winners & Losers: Kyler Murray Up, Nick Bosa Down
Credit:
USA Today Sports. Pictured: Kyler Murray, Nick Bosa
Matthew Freedman highlights his top five winners and losers from the 2019 NFL Combine.
Kyler Murray's verified size primes him to be a top-five pick while Nick Bosa's uninspiring performance could cause him to fall.
More than 300 prospects gathered in Indianapolis for the 2019 NFL Combine this past week.
Here are my top five winners and losers, which are broadly defined, but mainly focus on players who either helped or hurt their stock.
NFL Combine Winners
Kyler Murray
Murray answered questions about his size sufficiently at 5-foot-10 and 207 pounds.
Less than a month ago, the over/under for Murray's draft position was 9.5. Now it's 2.5, and there are rumblings that the Cardinals are seriously considering taking him with the No. 1 overall pick.
With his verified size, he looks like a mortal lock to be a top-five pick.
Quinnen Williams
Williams was Pro Football Focus' top college player last season with his 96.0 overall grade, leading all linemen in defensive stops and quarterback pressures.
Then he exhibited great athleticism with his 4.83-second 40-yard dash at 6-foot-3 and 303 pounds.
He's highly unlikely to be selected No. 1 overall, but he's the top player in the class.
Ole Miss Wide Receivers
A few wide receivers solidified their status as first-round picks, most notably Mississippi teammates D.K. Metcalf and A.J. Brown.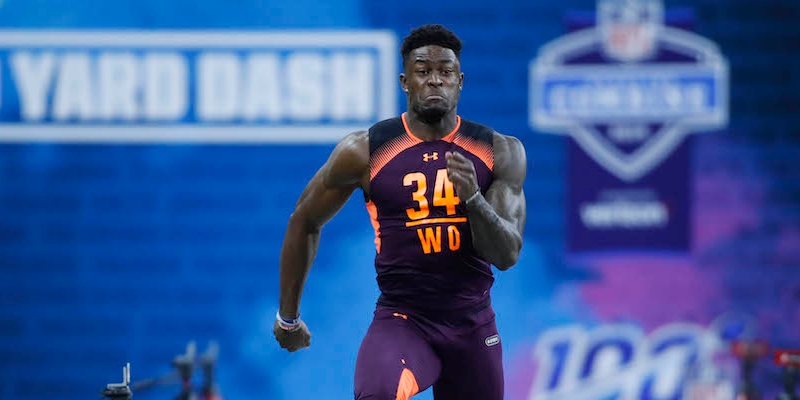 Metcalf was the talk of the combine with his blazing 4.33-second 40 at 6-foot-3 and 228 pounds. He also exhibited great explosiveness with his 40.5-inch vertical and 134.0-inch broad jumps.
But Brown more than held his own, running a 4.49-second 40 at 6-foot and 226 pounds. If not for Metcalf's outlier performance, it's likely that Brown would have emerged from the combine as the top big-bodied receiver in the draft.
I expect Metcalf and Brown to be respective top-15 and -25 picks.
Iowa Tight Ends
It's not common for tight ends to be selected in the first round. Over the past dozen years, only 10 have been selected with a top-32 pick. But this year, two tight ends from the same school are likely to be selected on Day 1.
In his Mackey Award-winning breakout last season, T.J. Hockenson displayed Rob Gronkowski-esque potential as a mismatch weapon in the blocking and receiving game for Iowa. He led the Hawkeyes with 760 yards receiving and regularly pancaked defenders.
At 6-foot-5 and 251 pounds, Hockenson exhibited enough all-around athleticism at the combine — a 4.70-second 40, 123-inch broad jump and 4.18-second 20-yard short shuttle — to lock himself in as a top-15 pick.
Teammate Noah Fant won't be selected much later.
Fant led the Hawkeyes with 18 touchdowns receiving over the past two years and more than holds his own as a blocker in the running game. He dominated the combine with elite speed (4.5-second 40), explosiveness (39.5-inch vertical) and agility (6.81-second three-cone) at 6-foot-4 and 249 pounds.
Fant shouldn't fall out of Round 1.
LSU Defenders
Louisiana State is know for its tough defense, and the leaders of the unit this season were cornerback Greedy Williams and linebacker Devin White.
Now they lead their respective position groups.
Williams held quarterbacks to a 58.1 passer rating on targets in his coverage as a typical LSU press-coverage player last season. At the combine, he backed up his swag with a 4.37-second 40 time at 6-foot-2 and 185 pounds. He almost certainly won't fall out of the top 10.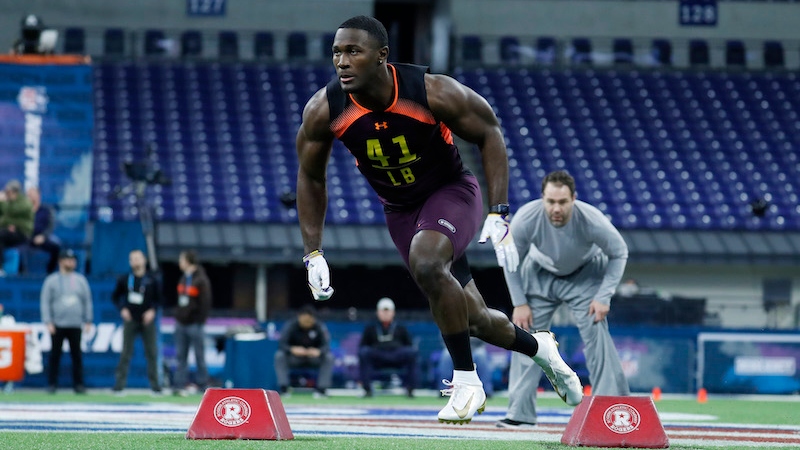 White was no less impressive.
In a year bereft of great off-ball talent, White is a highly desirable player. Winner of the 2018 Butkus Award as the nation's top linebacker, White has the athleticism to match the accolades with his 4.42-second 40 and 39.5-inch vertical at 6-foot and 237 pounds. He's easily a top-20 player with top-five upside.
NFL Combine Losers
Nick Bosa
That's right, I'm going there.
Before the combine, Bosa was the favorite (-200) to be the draft's No. 1 pick. But the edge players who have been chosen at the top of the draft in recent memory — Myles Garrett in 2017, Jadeveon Clowney in 2014 and Mario Williams in 2006 — were exceptional athletes.
Bosa is a great player and incredibly skilled, but with his 4.79-second 40 and 33.5-inch broad at 6-foot-4 and 266 pounds, he's not an elite athlete.
He's not dynamic enough to make the Cardinals have to take him over Murray. And Williams was impressive enough at the combine to make a real case for being drafted ahead of Bosa.
Although it's almost unthinkable for Bosa to fall to No. 3, the same could have been said for his brother Joey heading into the 2016 draft, but that's where he was selected.
Bosa is still in play at No. 1, but in a class with a lot of edge depth, he could easily fall out of the top two.
Byron Murphy
Many knowledgeable people have Murphy as a combine winner, but I must disagree. He entered the combine with a position-high 91.9 PFF grade, looking like the next great corner out of University of Washington.
Then he ran a 4.55-second 40 and had a 120-inch broad jump at 5-foot-11 and 190 pounds.
Scouts are raving about his technique and footwork in on-field drills, saying that he's the draft's most polished corner — but he pretty much has to be with his below-average athletic profile: If not for his skills, he'd be a late-round selection.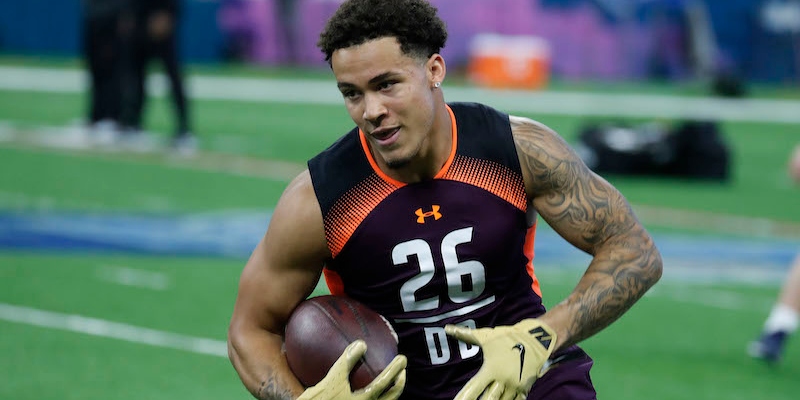 Murphy will probably still be drafted in Round 1, but he entered the combine with some top-10 hype. That now seems ridiculous. Not once since at least 2000 has a 190-pound cornerback with a 40 time slower than 4.5 been drafted in the top 10.
Kelvin Harmon
Harmon didn't have a poor combine, running a 4.60-second 40 at 6-foot-2 and 221 pounds. In an average year, that wouldn't be bad at all.
But he was expected to tear up the combine and didn't, then virtually every other big-bodied wide receiver did.
With back-to-back 1,000-yard campaigns and strong ball skills, Harmon could still be a Round 1 selection. But he had a top-five valuation in my pre-combine fantasy rookie rankings. That now seems way too rich.
Greg Little
I had Little going to the Panthers at No. 16 in my pre-combine mock draft. I'd now be surprised if he's drafted in Round 1 at all.
Little had an Orlando Brown-esque performance at the combine. (Brown entered last year's combine as a Day 1 prospect. After his nonathletic exhibition, he was drafted in Round 3.)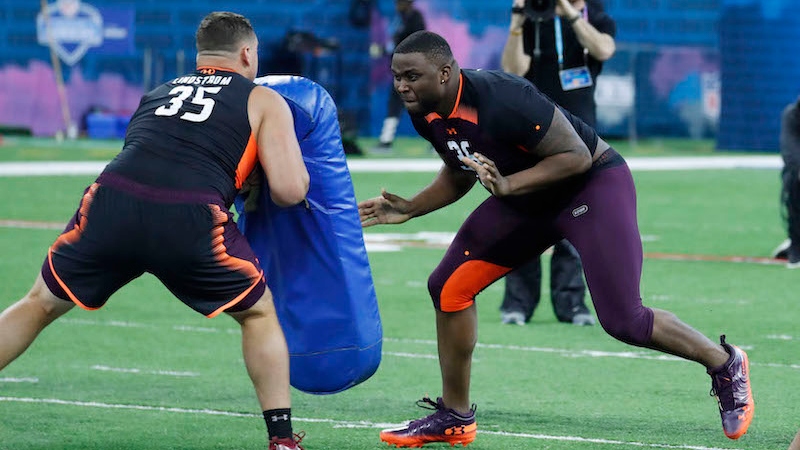 Little has sufficient size at 6-foot-5 and 310 pounds, but his 5.33-second 40 and 25-inch vertical reek of Days 2-3 athleticism. He might never be an NFL starter.
Kaden Smith
Hailing from Stanford — which over the past seven years has sent Coby Fleener, Zach Ertz and Austin Hooper to the NFL as top-100 picks — Smith had a legitimate chance to emerge as a popular Day 2 selection with a strong combine.
He was a five-star recruit and a Mackey Award finalist last year as one of the nation's top tight ends.
But he disappointed with a 4.92-second 40 and 108-inch broad jump at 6-foot-5 and 255 pounds. He'll be lucky to be selected before Round 5.
---
Matthew Freedman is the Editor-in-Chief of FantasyLabs. He has a dog and sometimes a British accent. In Cedar Rapids, Iowa, he's known only as The Labyrinthian.
How would you rate this article?