NFL Conference Championships: Scouting Every Offense, Key Matchups, More
Credit:
USA Today Sports. Pictured: Michael Thomas, Patrick Mahomes, Todd Gurley
We're only one round away from Super Bowl 53 with the Rams-Saints and Patriots-Chiefs conference championships this Sunday.
Below are brief breakdowns of all four teams' offenses as well as key matchups to know for fantasy and betting.
Only four teams are still vying for the chance to hoist the Lombardi Trophy in Atlanta.
The New Orleans Saints host the Los Angeles Rams to kick off Championship Sunday (3:05p.m. ET on FOX) followed by the New England Patriots' road trip to Arrowhead Stadium to take on the Kansas City Chiefs (6:40 p.m. ET on CBS)
While it's impossible to cover all the applicable storylines and statistics for the two conference championship matchups in one article, we can at least get an early start on what figures to be a great day of high-level football.
What follows are brief breakdowns of each team's quarterback, backfield and receivers.
Los Angeles Rams
Will the Real Jared Goff Please Stand Up?
The Rams averaged 32.9 points per game this season with the help of sustained excellence from their franchise quarterback.
Still, Goff's performance without his most-trusted receiver in the lineup has been troubling.
And while the Superdome is basically the Coors Field of fantasy football, road games haven't been kind to the Rams' passing game during the Sean McVay era.
Per our FantasyLabs NFL Trends tool, Goff has averaged 24.1 DraftKings points per game with a +6.8 Plus/Minus and a 68% Consistency Rating at home compared to 16.9 PPG with a -0.8 Plus/Minus and a 36% Consistency Rating on the road over the past two seasons.
Who Is the Starting Running Back in Los Angeles?
The answer is Todd Gurley. Still, C.J. Anderson was plenty involved during the Rams' Divisional Round win over the Cowboys.
Gurley: 45 snaps (57%) | 16 carries | two targets
Anderson: 34 snaps (43%) | 23 carries | one target
The Saints defense (No. 3 in Football Outsiders' rush DVOA) graded out slightly better than the Cowboys (No. 5) this season, but the entire league has largely been subject to the will of the Rams' league-best offensive line in adjusted line yards per rush.
Anderson has had an eerily similar start to his Rams career as Gurley and racked up at least 120 rushing yards in three consecutive games. However, the Saints' high-octane offense theoretically sets up for better game flow for Gurley, who ran 20 routes last week compared to just five for CJA.
Goff Loves to Throw in the Woods (Sorry)
The Rams have continued to funnel their passing offense through their top-three receivers during their post-Kupp life.
Robert Woods (73 targets in nine games without Kupp)
Brandin Cooks (63)
Josh Reynolds (51)
Todd Gurley (42; missed two games)
Gerald Everett (34)
Tyler Higbee (22)
The Saints didn't ask stud cornerback Marshon Lattimore to shadow during their Week 9 win over the Rams. Cooks will see the most of Lattimore if he again plays the majority of his snaps as the defense's right cornerback.
Reynolds will square off with Eli Apple on the other side. Reynolds is capable of winning this matchup with volume, but Apple deserves credit for not allowing a single touchdown reception all season.
Apple has been significantly more consistent with the Saints: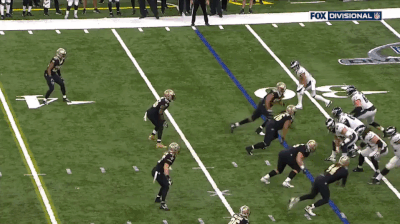 This alignment would set Woods up for the most success in the slot against liability P.J. Williams — Pro Football Focus' No. 109 cornerback out of 119 qualified players.
Additional Notes:
The Rams are arguably the healthiest team. They're virtually 100% good to go with the exceptions of Kupp, backup running back Malcolm Brown (shoulder, IR) and defensive lineman Dominique Easley (knee, IR). Monitor our Conference Championship Injury Report for daily practice participation along with estimated and official game statuses.
Only the Patriots (26) are implied to score fewer points than the Rams (26.75) per our FantasyLabs NFL Vegas Dashboard.
The Rams (No. 3 in situation neutral pace) tend to operate a faster-moving offense than the Saints (No. 31).
New Orleans Saints
Drew Brees Is Like Any 40-Year-Old Man: He Prefers to Be Indoors
Good luck slowing down the Saints passing offense without the help of Mother Nature.
The Rams already found out what it feels like to be shredded by Brees and Co. in Week 9, when the Saints quarterback completed 25-of-36 passes (69.4%) for 346 yards (9.6 yards per attempt) and four touchdowns with zero interceptions en route to a 45-35 victory.
Brees has the highest Projected Ceiling and Projected Plus/Minus in our Pro Models among all quarterbacks not named Patrick Mahomes.
'Boom and Zoom' Mostly Zooms in the Playoffs
The Saints have utilized a highly-productive two-back committee between Alvin Kamara and Mark Ingram over the past two seasons that has generally bordered on a 50/50 split during the regular season.
Still, things have shifted toward Kamara during their three playoff games:
Kamara: 67% snaps, 37 carries, 14 targets
Ingram: 42% snaps, 28 carries, 4 targets
The Rams' 28th-ranked defense in rush DVOA managed to hold Ezekiel Elliott to just 47 yards and a touchdown on 20 carries last week, but the Saints boast an offensive line better equipped to attack the Rams on the outside.
Nobody Can Guard Mike
There's an argument about whether Michael Thomas is truly the league's best wide receiver. There's no argument over whether his twitter handle @CantGuardMike is the best in the business.
The Panthers, Vikings and Eagles have all tried to slow down Drew Brees' best receiver ever in the playoffs. None of them have been even remotely successful.
The Saints passing game is less clear behind Thomas, although Ted Ginn Jr. and Keith Kirkwood are positioned as better DFS dart throws than Tre'Quan Smith at this point based on their usage in two full games with Ginn active.
Thomas: 29 targets, 90% snaps (with Ginn in Week 16 and Divisional Round )
Ginn: 15 targets, 47% snaps
Kirkwood: 6 targets, 64% snaps
Smith: 2 targets, 34% snaps
Additional Notes:
The Saints are expected to again have their entire starting offensive line, but starting left guard Andrus Peat will continue to play through a broken hand. That's not ideal against game wreckers like Aaron Donald and Ndamukong Suh.
Defensive tackle Sheldon Rankins (Achilles) will miss the remainder of the season. Rankins was PFF's No. 24 overall interior defender.
New England Patriots
Arrowhead Is the AFC's Last Chance at Stopping Tom Brady
Home-field advantage can be a noisy stat at times, but it's tough to discount just how consistently good the Chiefs have been at Arrowhead in recent history.
Brady and Bill Belichick's evil empire dynasty has won three-of-seven road playoff games since 2000. They've averaged 27.9 points per game over their past 10 playoff rematches, which is down from their average of 31.4 PPG during their first matchup in those mini-rivalries.
It would make sense if the Patriots utilized a run-first scheme against a Chiefs defense that has been significantly better against the pass (No. 12 in DVOA) than the run (No. 32), but it remains to be seen whether the Patriots will have the luxury of not playing from behind against Mahomes and Co.
The Patriots Can Enable Multiple Fantasy-Relevant Running Backs
The Patriots' backfield has finally had enough health to stabilize and establish roles for each of its committee members.
The results are two — and potentially three — running backs who are capable of racking up production any given week.
Sony Michel has at least 15 touches in 9-of-14 games (64%) this season. Michel (106 carries) has easily been the lead early-down over James White (24) and Rex Burkhead (37) since Burkhead returned in Week 13.
White's 26 targets in three games without Josh Gordon are behind only Julian Edelman (29). White's 15 receptions during the Patriots' Divisional Round win over the Chargers tied Darren Sproles for the all-time playoff record.
Burkhead has chipped in as both a rusher (6.2 carries per game) and receiver (2.5 targets per game) in his past six games. He's in play as a salary-saving punt option on DraftKings at $3,400.
They'll face off against the Chiefs' league-worst defense in rush DVOA that yielded big days to both Michel (106 rushing yards and two touchdowns) as well as White (92 total yards on 11 touches) back in Week 6.
It's Julian Edelman's World, We're Just Living In It
The Patriots have featured Edelman as their no-doubt No. 1 option in the passing game since losing Josh Gordon prior to Week 16.
Edelman has been used more as a downfield receiver during this stretch, as he's posted an average target depth of 9.04 yards without Gordon this season compared to 7.76 yards with the Patriots' ex-field-stretcher.
It remains to be seen whether the Patriots have any plans to feature Gronk as a receiver, but his outlook would certainly be improved if all-world safety Eric Berry (Achilles) is ultimately unable to suit up.
Either way, enjoy what has the potential to be the final game of the best tight end the league has ever seen. Gronk is still making a consistent impact as a blocker and decoy even if it's not as pronounced in the box score as we're used to seeing.
Additional Notes:
The Patriots' only real injury concern is defensive end Deatrich Wise Jr. (ankle). They'll probably be fine either way, although additional pass-rushing depth would certainly be appreciated against the Chiefs' fifth-ranked offensive line in adjusted sack rate.
The Patriots finished the season with the league's fastest-moving offense in situation neutral pace, while the Chiefs weren't too far behind at No. 6.
Kansas City Chiefs
Could a 23-Year-Old Who Sounds like Kermit Defeat the Patriots?
Mahomes completed 23-of-36 passes (64%) for 352 yards (9.8 Y/A) with four touchdowns and a pair of interceptions during the Chiefs' Week 6 loss to the Patriots.
It wasn't quite enough to get the victory, but the performance was one of Mahomes' many dominant performances against man-heavy defenses.
The Patriots were better against the pass (No. 14 in DVOA) than the run (No. 19) this season and employ three of PFF's top-25 cornerbacks: Stephon Gilmore (No. 1), Jason McCourty (No. 17) and J.C. Jackson (No. 21). Still, it's tough to contain an offense with as many weapons as the Chiefs, especially when their quarterback seems capable of making any throw.
Damien Williams: Future First-Round Fantasy Draft Pock?
The Chiefs have managed to compliment the league's most-dangerous aerial attack with a beastly run game since Damien Williams took over lead back duties in Week 15.
Williams was featured like never before during their Divisional Round win over the Colts. The fifth-year back posted 25-129-1 rushing and 5-25-0 receiving lines while making more than a few defenders look absolutely silly.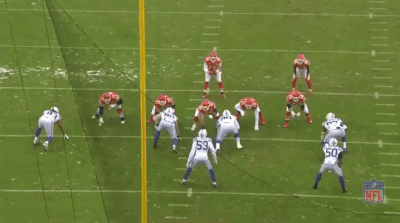 Helping matters for the Chiefs offense is their matchup against the Patriots' 22nd-ranked defense in DVOA against receiving running backs. Andy Reid and Co. have routinely roasted the Patriots' slow-moving linebackers in the passing game during their last two matchups.
TyFreak and Kelce Own the Skies
The idea that Belichick always takes away his opponent's No. 1 weapon doesn't always hold true. Still, it would appear that the Patriots have identified Travis Kelce as the Chiefs' top weapon in the pass game during their last two matchups.
Week 1, 2017:  Kelce 5 receptions-40 yards-0 TDs (7 targets); Tyreek Hill 7-133-1 (8)
Week 6, 2018: Kelce 5-61-0 (9); Hill 7-142-3 (12)
Both Kelce and Hill remain perfectly capable of winning any matchup thanks to their respective workloads and talents.
The Patriots shadowed Sammy Watkins with Gilmore during their last matchup, and Watkins caught just 2-of-4 targets for 18-scoreless yards. The good news is Watkins at least appears to be healthy. The Chiefs' overqualified field-stretcher played 81-of-87 snaps (93%) this past Saturday.
Additional Notes:
The Chiefs are dealing with injuries to Eric Berry (heel), Spencer Ware (hamstring) and linebacker Dorian O'Daniel (calf, ankle). The return of either defender would be much appreciated, but it'd be tough to see Williams losing too much playing time to Ware even if he's ultimately able to suit up.
The Chiefs boast the worst turnover and takeaway rate among the four remaining playoff teams.