NFL Defenses with New Coordinators to Exploit (Or Avoid) in Fantasy Football
Credit:
Ron Chenoy-US PRESSWIRE. Pictured: Ed Donatell
Ian Hartitz analyzes the fantasy football impact of the nine NFL teams that hired new defensive coordinators for the 2019 season.
He covers the Bears, Bengals, Broncos Browns, Buccaneers, Cardinals, Chiefs, Dolphins and Jets.
Coaching changes are common in the NFL. This is particularly true at the coordinator level, where coaches who do their job well typically get head coaching offers sooner than later.
There have been more than a few instances over the past five years of a defense-minded head coach or defensive coordinator rapidly turning around their new team's previously porous defense. Some of the top examples are Gus Bradley with the 2017 Chargers, Mike Zimmer with the 2014 Vikings and Romeo Crennel with the 2014 Texans, all of whom helped lower their new defense's average points per game allowed by more than seven points.
The 2019 offseason has continued to cycle through defensive play-callers, as nine different teams will feature a new-look defense for this upcoming season.
Let's preview the league's nine new defenses and try to get an idea of what to expect in 2019.
Be sure to also check out the rest of our three-part coaching series:
Note: Multiple defensive coordinators are listed for teams featuring a defense-first head coach.
---
Arizona Cardinals
Former defensive coordinators: Steve Wilks, Al Holcomb
New defensive coordinator: Vance Joseph
Cardinals PPG allowed in 2018: 26.6 (26th)
Yards per play allowed: 5.4 (ninth)
Overall defensive DVOA ranking (Football Outsiders): 17th
Pass DVOA ranking: Eighth
Rush DVOA ranking: 29th
The Cardinals defense wasn't quite as bad as it appeared last season, ranking among the league's top-10 units in both overall yards per play and pass DVOA. Arizona's transition to Vance Joseph's scheme won't be easy without Patrick Peterson (suspension) for the first six games, so continued dominance from pass-rushing stalwarts Chandler Jones and newly-signed Terrell Suggs will be especially important in September and October.
The key transition the defense will have to make under Joseph is in coverage. The Cardinals ran the third-most zone coverage in the league in 2018, while the Broncos ran more man coverage than every team except the Patriots.
More man coverage is great news for the defense once Peterson is ready to play, but things might be a bit rough to start the season.
Pro Football Focus' Cornerback Coverage Rankings
Robert Alford (No. 115 out of 131 qualified corners)
David Amerson (No. 96)
Tramaine Brock (No. 84)
Byron Murphy (second-round rookie)
Joseph's willingness to let Chris Harris Jr. travel around the formation in Denver las season bodes well for Peterson's chances at resuming his status as arguably the NFL's premier shadow cornerback once he returns from suspension.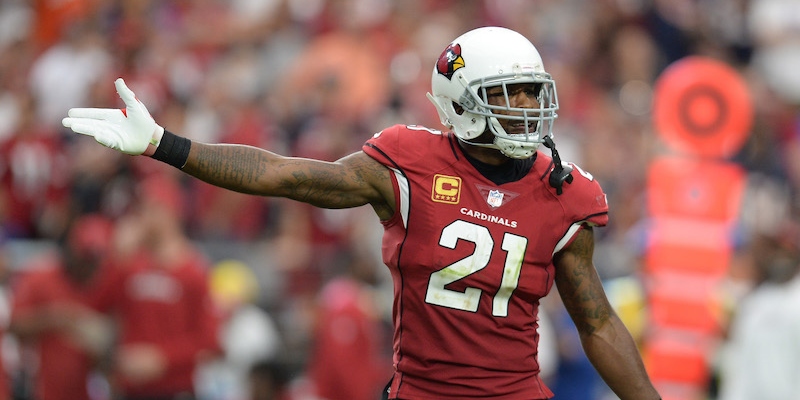 There's a scenario in which the Cardinals defense goes from bad to very good in a hurry later in the season. Adding Suggs, edge defender Brooks Reed, defensive tackle Darius Philon and three-down linebacker Jordan Hicks should boost what was a porous run defense in 2018. It's fairly rare to see a defense with multiple superstar-level talents like Jones and Peterson be bad for long.
---
Chicago Bears
Former defensive coordinator: Vic Fangio
New defensive coordinator: Chuck Pagano
Bears PPG allowed in 2018: 17.7 (first)
Yards per play allowed: 4.8 (second)
Overall defensive DVOA ranking: First
Pass DVOA ranking: First
Rush DVOA ranking: Second
Chuck Pagano has essentially been handed the keys to a Lamborghini and just needs to do his best not to crash it. Even then, this unit should be pretty hard to mess up, no matter what type of defense the Bears are ultimately deployed in.
The only starters who won't be returning from last season's top-ranked defense are slot corner Bryce Callahan and safety Adrian Amos, who are expected to be replaced by Buster Skrine and Ha Ha Clinton-Dix, respectively. Essentially the entire front-seven joins 60% of the same secondary from a defense that emerged as anybody's idea of a top-three unit last season.
The most exciting part of Pagano's arrival in Chicago is his potential to help make Khalil Mack and Leonard Floyd the NFL's best pass-rushing tandem. The Colts ranked eighth, ninth, 28th, 13th and 31st in Football Outsiders' adjusted sack rate with Pagano from 2013-2017 without any player nearly as talented as Mack.
Pagano has already stated that one of his goals is to make things as seamless as possible for the players and specifically noted "there's going to be a lot of carryover." While he ran more man coverage during in Indianapolis than the Bears (25th in zone coverage rate in 2018) did under Fangio, it would be a surprise if we see this dominant unit look too different in 2019.
---
Cincinnati Bengals
Former defensive coordinator: Marvin Lewis, Teryl Austin
New defensive coordinator: Lou Anarumo
Bengals PPG allowed in 2018: 28.4 (30th)
Yards per play allowed: 6.1 (30th)
Overall defensive DVOA ranking: 28th
Pass DVOA ranking: 25th
Rush DVOA ranking: 26th
The Bengals thankfully no longer employ Vontaze Burfict and will move forward without longtime head coach Marvin Lewis along with 2018 defensive coordinator Teryl Austin. Replacing Austin is Lou Anarumo, who spent 2012-2017 as the Giants and Dolphins defensive backs coach after serving in the same role at various colleges including Harvard, Marshall and Purdue between 1989 and 2011.
The Bengals (No. 9) and Giants (No. 7) were each among the league's top-10 defenses when it came to man coverage rate last season. The difference was that New York was willing to at least dabble with the idea of Janoris Jenkins traveling across the formation with a single receiver, while Cincinnati has traditionally had its cornerbacks stay stationary on their respective sides of the field.
This could be great news for budding star William Jackson, who ranked eighth among all cornerbacks in the smallest average separation from his assigned receiver at the time of target last season (per PlayerProfiler). Jackson's ability to emerge as a game-changer could help him and Dre Kirkpatrick form one of the league's better one-two punches at cornerback.
Of course, the defense's heart and soul will continue to be playmaking defensive tackle Geno Atkins, who deserves to be on any short list of the best interior defenders in the league.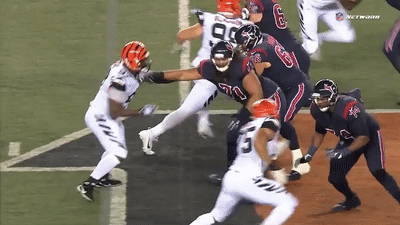 The Bengals are good enough on offense to make some noise with just an average defense if they can get some better injury luck in 2019. Anarumo's ability to better enable playmakers like Atkins and Jackson will go a long way toward the defense re-emerging as one of the league's better units sooner than later.
---
Cleveland Browns
Former defensive coordinator: Gregg Williams
New defensive coordinator: Steve Wilks
Browns PPG allowed in 2018: 24.5 (21st)
Yards per play allowed: 5.6 (15th)
Overall defensive DVOA ranking: 12th
Pass DVOA ranking: Seventh
Rush DVOA ranking: 25th
Former Browns defensive coordinator and interim head coach Gregg Williams took a lot of heat on the ole Twittersphere for consistently playing his safeties up to 30 yards off the line of scrimmage in 2017, but the unit was actually pretty solid for most of last season.
Part of the improvement was purely due to the fact that the Browns have put together a defense with fairly high-caliber talent at all three levels. This reality hasn't changed entering the 2019 season.
One key difference we should expect from Steve Wilks is less traveling from Browns cornerbacks.
Only the Patriots were tougher to figure out on a week-to-week basis than Cleveland last season when it came to projecting coverage assignments as Denzel Ward, T.J. Carrie and Damarious Randall were deployed on the opposition's No. 1 wide receiver at one point or another.
Meanwhile, Wilks barely asked all-world cornerback Patrick Peterson to shadow until the second half of last season. It still wasn't all that hard for offenses to get their top weapons free even when PP did travel with a single receiver, as the Cardinals had the third-highest zone coverage rate in the league and asked Peterson to line up in the slot on just 16 total snaps all season.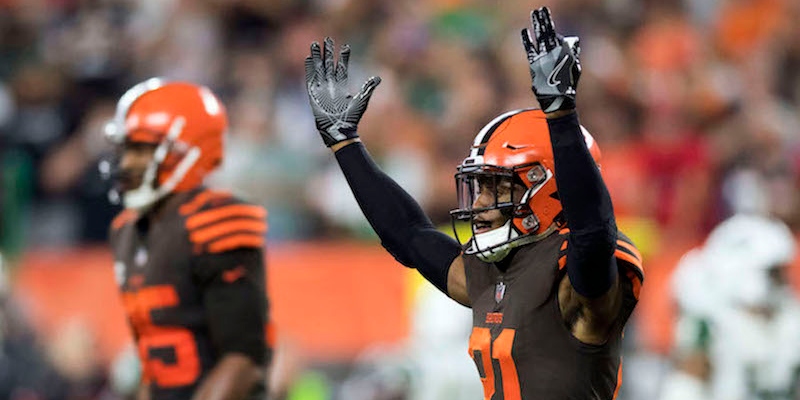 Ward emerged as a true No. 1 cornerback as a rookie, Carrie was a top-15 slot corner in terms of quarterback rating allowed in coverage and second-round pick Greedy Williams offers the ability to play from Day 1. Three cornerbacks who are, at the very least, competent means we shouldn't expect to see Ward traveling with a single receiver (or into the slot) very much in 2019.
The real question is whether quarterbacks will even have time to target their top pass-game weapons against the Browns.
Key free-agent signings Olivier Vernon and Sheldon Richardson will be doubly problematic for opposing offenses if Myles Garrett can make a leap to greatness in Year 3. Wilks' experience with great pass rushers such as Chandler Jones and Julius Peppers, among others, can only mean good things for what appears to have been a limited situation for Garrett in 2018.
The Browns were already an underrated defense entering last season and again appear to be on the cusp of taking another step forward in 2019.
---
Denver Broncos
Former defensive coordinator: Vance Joseph, Joe Woods
New defensive coordinator: Vic Fangio (HC), Ed Donatell
Broncos PPG allowed in 2018: 21.8 (13th)
Yards per play allowed: 5.7 (21st)
Overall defensive DVOA ranking: Fifth
Pass DVOA ranking: Fourth
Rush DVOA ranking: 16th
The only starters who were part of that Super Bowl 50 team are Von Miller, Derek Wolfe and Chris Harris Jr. And Harris' status doesn't seem to be set in stone, as he's reportedly requested either a new contract or a trade.
This doesn't mean the 2019 Broncos are devoid of talent on defense, particularly because of how great 2018 first-round pick Bradley Chubb played as a rookie.
The defense appears to be trending toward mediocrity in a division featuring two of the league's better offenses in the Chiefs and Chargers, but former Bears defensive coordinator Vic Fangio might just be the man to keep everything above water for a bit longer.
Fangio has spent the better part of the past decade overseeing top-10 defenses in yards allowed per play.
2011 49ers: 5.1 (ninth)
2012 49ers: 4.7 (third)
2013 49ers: 5 (eighth)
2014 49ers: 5.2 (fifth)
2015 Bears: 5.6 (21st)
2016 Bears: 5.5 (14th)
2017 Bears: 5.1 (12th)
2018 Bears: 4.8 (second)
The front office's ability to make Harris happy could give Fangio a plenty viable group of starting cornerbacks thanks to the additions of Kareem Jackson and Bryce Callahan.
Still, the Broncos join our next defense as examples of a run funnel defense that should be attacked with running backs in fantasy football.
Kansas City Chiefs
Former defensive coordinator: Bob Sutton
New defensive coordinator: Steve Spagnuolo
Chiefs PPG allowed in 2018: 26.3 (24th)
Yards per play allowed: 5.9 (24th)
Overall defensive DVOA ranking: 26th
Pass DVOA ranking: 12th
Rush DVOA ranking: 32nd
There wasn't much to like from last season's Chiefs defense other than a pass rush that racked up a league-high 52 sacks. This was thanks in large part to a third-year breakout season from Chris Jones, whose 74 pressures were only topped by Aaron Donald (106), Fletcher Cox (95), Dee Ford (77) and J.J. Watt (74).
Long-time defensive coordinator Bob Sutton has accordingly been replaced by Steve Spagnuolo, who most recently spent 2015-2017 running the Giants defense. It's unclear exactly how much things will change in the secondary after the Chiefs finished with the sixth-highest man-coverage rate last season, but the whole unit will benefit from the addition of former Seahawks defensive end Frank Clark.
There aren't many offensive linemen in the NFL capable of slowing down Clark for any prolonged stretch of time.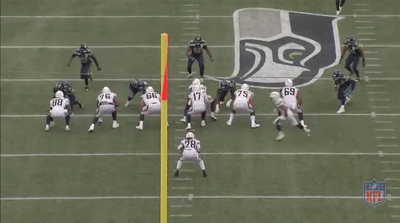 Clark and Tyrann Mathieu should help ease the transition away from long-time franchise cornerstones Justin Houston and Eric Berry.
The Chiefs remain one of the league's scarier defenses to face on the road…
…but they still don't resemble a complete unit capable of consistently stopping the run or taking away an offense's top wide receiver. It'd be a surprise if we don't see a few more shootouts featuring the Chiefs in 2019, even if Spagnuolo does a good job.
---
Miami Dolphins
Former defensive coordinator: Matt Burke
New defensive coordinator: Brian Flores (HC), Patrick Graham
Dolphins PPG allowed in 2018: 27.1 (27th)
Yards per play allowed: 6.1 (31st)
Overall defensive DVOA ranking: 25th
Pass DVOA ranking: 23rd
Rush DVOA ranking: 24th
The Dolphins quickly went from an average defense with the services of Ndamukong Suh to one of the league's worst overall units without him in 2018. Former Patriots defensive coordinator Brian Flores will team up with former Packers, Giants and Patriots linebackers and defensive line coach Patrick Graham to get the unit back to respectable form.
The big difference we should see out of the 2019 Dolphins defense is more reliance on man coverage. Overall, the Dolphins were 17th in zone coverage rate last season while the Patriots ran the most man in the league.
This could mean more shadow coverage from ball-hawking cornerback Xavien Howard, who joins Darius Slay and Kevin Byard as the only players with double-digit interceptions over the past two seasons.
It wouldn't be surprising if Howard also started to travel with opponent's No. 1 wide receiver into the slot. He spent only 16 total snaps on the inside in 2018, but Flores, along with fellow ex-Patriots defensive coordinator Matt Patricia, made a habit of utilizing their best cornerbacks inside last season.
It's tough to get excited about much else from the Dolphins defense other than stud safety Minkah Fitzpatrick and some young talent across the defensive line. Miami is more or less tanking and largely didn't address its glaring need for additional help at both cornerback and in the front-seven.
Don't be surprised if Howard makes life difficult for No. 1 wide receivers more consistently in 2019, but fantasy football investors otherwise shouldn't have much to worry about when matching up with the Dolphins.
New York Jets
Former defensive coordinator: Todd Bowles, Kacy Rodgers
New defensive coordinator: Gregg Williams
Jets PPG allowed in 2018: 27.6 (29th)
Yards per play allowed: 5.7 (16th)
Overall defensive DVOA ranking: 21st
Pass DVOA ranking: 18th
Rush DVOA ranking: 21st
Williams' tenure with the Browns featured plenty of funky coverages that sometimes worked and sometimes didn't. Regardless, his willingness to try new things could result in No. 1 cornerback Trumaine Johnson spending more time traveling with the opponent's top wide receiver.
Johnson (6-foot-2 and 204 pounds) has the size to make an impact in the right matchup, but he's still not the player in the Jets secondary that offenses will be concerned with on an every-down basis.
That honor goes to rising third-year safety Jamal Adams.
The addition of former Ravens linebacker C.J. Mosley gives the Jets two game-changers on defense.
Still, the defensive line is no longer a wrecking ball overflowing with former first-round picks, and it's unclear how well they'll fit into a 4-3 defense if Williams is dead set on installing his preferred scheme.
The most fantasy-relevant question facing this group is whether Adams' excellence can help extinguish Williams' recent inability to limit opposing tight ends. The Browns ranked 28th in DraftKings points per game allowed to the position in 2018 and 29th in 2017. This was one of the most fantasy-friendly situations to target in daily fantasy football (per our FantasyLabs NFL Trends tool).
Tampa Bay Buccaneers
Former defensive coordinator: Mark Duffner, Mike Smith
New defensive coordinator: Todd Bowles
Buccaneers PPG allowed in 2018: 29 (31st)
Yards per play allowed: 6.1 (29th)
Overall defensive DVOA ranking: 32nd
Pass DVOA ranking: 30th
Rush DVOA ranking: 31st
Bruce Arians is getting the whole gang back together in Tampa Bay. Former Cardinals defensive coordinator turned Jets head coach Todd Bowles should be free to run the Buccaneers defense as he pleases, while Arians and Byron Leftwich will handle the offensive side of the ball.
The Bucs defense doesn't really have anywhere to go but up, but their talent level in 2019 isn't guaranteed to be much better than what we saw last season.
The absence of stud linebacker Kwon Alexander could be particularly problematic for one of the league's worst run defenses.
Former Cardinals linebacker Deone Bucannon (6-foot-1 and 211 pounds) isn't a good bet to immediately take the Bucs run defense from terrible to even below average, but No. 5 overall pick Devin White might be.
White's speed is rare for the linebacker position and should go a long way toward covering Christian McCaffrey and Alvin Kamara multiple times a year.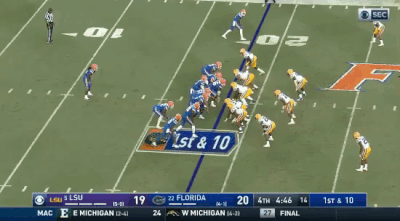 The Bucs' secondary has some potential talent in former first-round pick Vernon Hargreaves and 2018 second-round pick Carlton Davis, but there are still more questions than answers. The front office appears to be well aware of this, as it spent three of the team's first four draft picks on cornerbacks.
Fewer turnovers on offense and even an average rushing attack could help the Bucs defense go from terrible to below average, but it's tough to see a world in which they're anything for fantasy football investors to worry about in 2019.
How would you rate this article?