Wild-Card Weekend Fantasy QB Breakdown: Is Deshaun Watson a Value at His Salary?
Credit:
Credit: Trevor Ruszkowski-USA TODAY Sports. Pictured: Houston Texans quarterback Deshaun Watson (4).
Read the full version of this piece on FantasyLabs
The regular season is over, but that's no reason to stop playing daily fantasy football. Wildcard weekend brings a wonderful four-game slate that kicks off on Saturday at 4:35 p.m. ET.
In this positional breakdown, I'm looking at three quarterbacks at the top of the individual Pro Models that Jonathan Bales, Peter Jennings (CSURAM88), Adam Levitan, Sean Koerner, Chris Raybon, Kevin McClelland (SportsGeek) and I have constructed.
If you want more information on the rest of this week's quarterbacks, subscribe to FantasyLabs, where you can access the large suite of analytical DFS tools I use to research every player.
After this piece is published, FantasyLabs is likely to provide news updates on a number of players. Stay ahead of your competition with our industry-leading DFS-focused news feed.
For updates on Vegas spreads and over/unders, check out The Action Network Live Odds page.
---
>> Sign up for The Action Network's daily newsletter to get the smartest NFL conversation delivered into your inbox each morning.
---
Model Quarterbacks
Deshaun Watson is the most expensive quarterback on the slate. He stands out in some of our FantasyLabs Pro Models, but does he provide value at his salary?
Deshaun Watson: $6,700 DraftKings; $8,400 FanDuel
Deshaun Watson: Houston Texans (-1.5) vs. Indianapolis Colts, 48 Over/Under
UPDATE (1/5): Wide receiver Keke Coutee (hamstring) is officially questionable but expected to play.
The Texans opened as -2.5 favorites, but the line has moved toward the Colts. On the Wednesday edition of The Favorites podcast, bookmaker Bob Scucci noted that the public and the wise guys are both backing the Colts, which in theory doesn't bode well for Watson.
Even so, given the smaller slate, Watson has the highest median, ceiling and floor projections of all quarterbacks in our Models.
Additionally, according to The Action Network NFL Power Rankings, the public and the sharps might be wrong to back the Colts: Our numbers suggest that the Texans are the most undervalued team of wildcard weekend.
The Texans have a slate-high 25.0-point implied Vegas total, and professional bettors have targeted the over throughout the week, which makes sense: It's winter, and the Texans-Colts game will be played indoors.
Over the past 15 years, domed games have a postseason over/under record of 28-9-0, good for a magnificent 49.8% return on investment (per Bet Labs). For comparison, outdoor postseason games are 53-70-4 with a -15.5% ROI.
The game environment is definitely in Watson's favor: The Colts and Texans are both top-10 in situation-neutral pace and should combine to have the week's fastest-paced matchup.
Watson has had something of a mixed campaign. Last year, Watson had one of the greatest rookie seasons of all time, but this year he was "just" the No. 7 fantasy quarterback with 22.4 DraftKings point per start.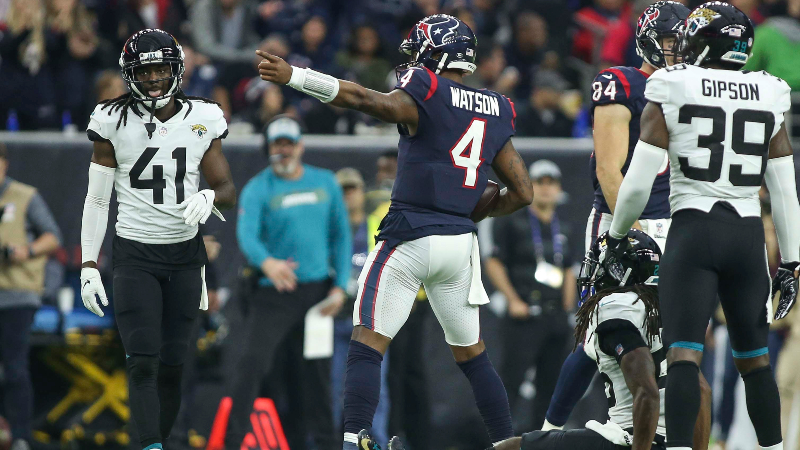 That's a respectable number, but in 2017 he had an all-time high mark of 29.4. Watson's 2017 Plus/Minus of +13.15 was patently absurd, and he hit his salary-based expectations in every start.
Watson was bound to regress in 2018, but even so, he has been marginally disappointing.
From a fantasy perspective, he has definitely taken a step back on a per-attempt basis. Consider his year-over-year efficiency as represented by paFPOEPA and ruFPOEPA (passing and rushing Fantasy Points Over Expectation per attempt), which measure how effective passers and runners are at turning opportunities into fantasy points relative to historical expectations based on the line of scrimmage (accessible within the RotoViz Screener).
2017 (seven games): 0.25 paFPOEPA, 0.49 ruFPOEPA
2018 (16 games): 0.08 paFPOEPA, 0.13 ruFPOEPA
Watson's rushing dropoff has been particularly notable.
2017 (seven games): 7.5 yards per attempt, 0.61 success rate
2018 (16 games): 5.6 yards per attempt, 0.53 success rate
But his rushing efficiency is still pretty good, especially considering that he's playing in the wake of a season-ending knee injury suffered last year.
And as a passer he's perhaps been even better this year, based on his adjusted yards per attempt (AY/A), success rate (SR) and Pro Football Focus (PFF) passing grade.
2017 (seven games): 8.4 AY/A, 0.51 SR, 64.1 PFF
2018 (14 games): 8.5 AY/A, 0.52 SR, 81.0 PFF
Watson hasn't been the fantasy producer he was last year, but he's still very much capable of having a big performance in any given week, especially since slot receiver Keke Coutee (hamstring) seems likely to play after missing the past five games. Coutee has practiced in full this week, so there's little reason to think that he'll be limited this weekend.
Watson should very much benefit from the return of Coutee.
But he of course will still miss wide receiver Will Fuller (knee, injured reserve), who suffered a season-ending injury in Week 8. In his 22 career starts, Watson has exhibited stark Fuller-based splits.
With Fuller (11 games): 27.2 DraftKings points, 31.9 pass attempts, 288.3 yards passing, 2.73 touchdowns passing
Without Fuller (11 games): 21.4 DraftKings points, 30.5 pass attempts, 235.6 yards passing, 1.27 touchdowns passing
Of any player targeted at least five times by Watson over the past two years, Fuller by far has endowed Watson with the greatest per-attempt efficiency (per the RotoViz AY/A app).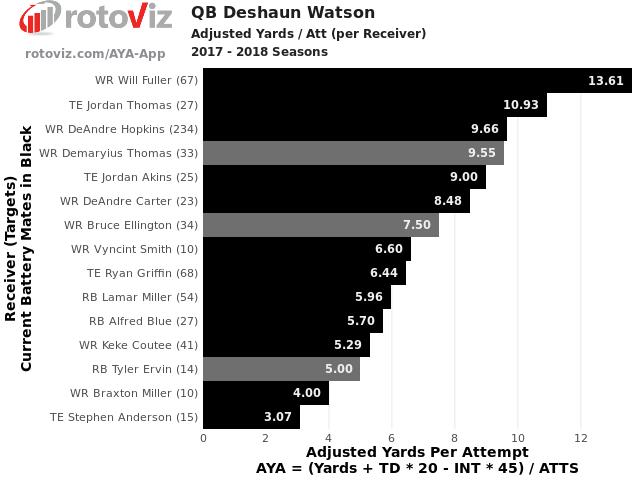 Without Fuller, Watson has diminished upside.
On top of that, the Texans have heavily leaned on the run since Watson's Week 5 chest (lung and ribs) injury, which was so severe he wasn't allowed to travel by plane for the team's Week 7 road game in Jacksonville.
Texans offense, Weeks 1-5: 23 points scored, 38.4 pass attempts, 29 rush attempts
Texans offense, Weeks 6-17: 26.1 points scored, 28.6 pass attempts, 29.7 rush attempts
Although the team has been productive with its run-heavy offense, Watson has had far fewer opportunities as an individual to put up fantasy points.
There's nothing particularly special about Watson's matchup with the Colts, but it's not imposing. The Colts have a funnel defense: They rank fourth against the run in Football Outsiders' DVOA but 20th against the pass. And Watson did well against the Colts earlier in the year.
Week 4 (at Colts): 35.1 DraftKings points, 69.1% completion rate, 375-2-1 passing, 6-41-1 rushing
Week 14 (vs. Colts): 18.2 DraftKings points, 71.1% completion rate, 267-1-0 passing, 5-35-0 rushing
The Colts have held quarterbacks to a bottom-12 mark of 17.9 DraftKings points per game, but no quarterback has done better against the Colts than Watson did in Week 4. On the Wednesday edition of The Action Network NFL Podcast, we talked about Watson as a strong play in cash games and guaranteed prize pools.
Watson is tied for the position lead with seven Pro Trends on DraftKings, where he's the No. 1 quarterback in the Bales Model.
Read the full version of this piece on FantasyLabs
Wildcard Weekend Positional Breakdowns
Be sure to read the other wildcard weekend positional breakdowns.
• Running Backs
• Wide Receivers
• Tight Ends
For more in-depth NFL analysis information, check out The Action Network.
---
---
Matthew Freedman is the Editor-in-Chief of FantasyLabs. He has a dog and sometimes a British accent. In Cedar Rapids, Iowa, he's known only as The Labyrinthian.