NFL Week 17 Fantasy TE Breakdown: Travis Kelce Will Break the Slate
Credit:
Kyle Terada-USA TODAY Sports. Pictured: Kansas City Chiefs tight end Travis Kelce (87).
Travis Kelce is on the verge of having a record-breaking season for a tight end heading into his matchup with the Raiders.
Below is a deeper dive on what you can expect from Kelce in Week 17.
Read the full version of this piece on FantasyLabs 
The final week of the season is here, and the NFL is still on pace for a record-breaking campaign with an average of 23.4 points per game per team.
But scoring has dropped precipitously as injuries have mounted, game tape has accumulated, weather conditions have worsened, pace of play has slowed and divisional opponents have rematched.
---
>> Sign up for The Action Network's daily newsletter to get the smartest conversation delivered into your inbox each morning.
---
Four of the five lowest-scoring weeks this season have been played in the month of December.
Week 13: 21.4 points
Week 14: 21.8 points
Week 15: 19.3 points
Week 16: 22.7 points
Year over year, scoring is up, but within 2018, we've seen a very notable downward trend, which could continue into this weekend, given that Week 17 tends to have a preseason-esque randomness thanks to the mixed motivations of each team.
Regardless, with no Thursday and Monday Night Football, we have the largest main slate of the regular season (15 games), and many teams are playing to win. The action kicks off on Sunday at 1 p.m. ET.
In this positional breakdown, I'm looking at two tight ends at the top of the individual Pro Models that Jonathan Bales, Peter Jennings (CSURAM88), Adam Levitan, Sean Koerner, Chris Raybon, Kevin McClelland (SportsGeek) and I have constructed.
NOTE: This week especially, the players at the top of our Models might change radically as we get more news regarding how teams with no need to use their starters plan to deploy their players. Be sure to check our Models regularly for updates.
If you want more information on the rest of this week's tight ends, subscribe to FantasyLabs, where you can access the large suite of analytical DFS tools I use to research every player.
After this piece is published, FantasyLabs is likely to provide news updates on a number of players. Stay ahead of your competition with our industry-leading DFS-focused news feed.
For updates on Vegas spreads and over/unders, check out The Action Network Live Odds page.
Model Tight Ends
One high-priced tight end stands out above the everyone else this week in the FantasyLabs Pro Models.
Travis Kelce: $7,200 DraftKings; $7,700 FanDuel
Travis Kelce: Kansas City Chiefs (-14) at Oakland Raiders, 52.5 Over/Under
On the Week 17 edition of The Action Network NFL Podcast, we talked about the Chiefs as a team to stack and Kelce in particular as a player to roster.
There are a lot of reasons to like Kelce. For one, the Chiefs-Raiders game has major playoff implications. With a win, the Chiefs will secure the No. 1 seed in the AFC, and quarterback Patrick Mahomes can lock up the MVP award with a solid performance: We should see the Chiefs at their best, and they have a slate-high implied Vegas total of 33.5 points.
Additionally, Kelce has personal motivation. With 1,274 yards, he has a real chance to break the single-season tight end receiving record that Rob Gronkowski set in 2011 with 1,327 yards.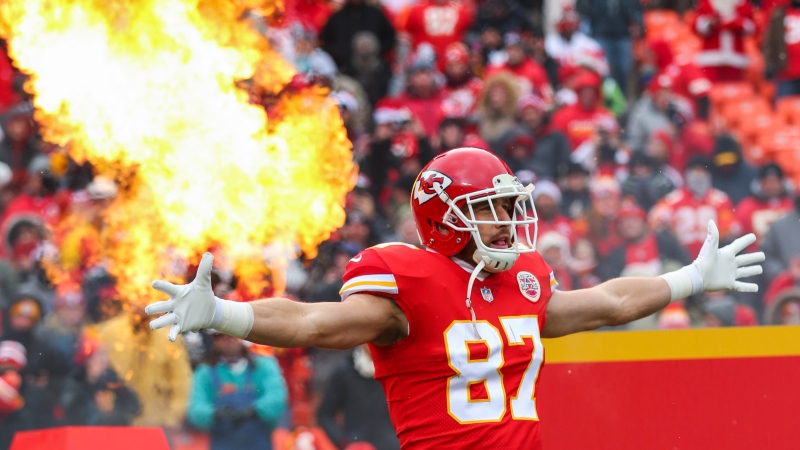 Kelce is having a historic fantasy season for a tight end, and the Chiefs will look to get him the ball early and often to ensure that he has a real shot to break the record — especially since 49ers tight end George Kittle is close behind him with 1,228 yards.
Although they have lost three of their past five games, the Chiefs still lead the AFC, and on a per-game basis they've …
Outscored their implied total by 6.5 points (No. 1 in NFL)
Exceeded their game total by 9.9 points (No. 1)
The Chiefs rank first in scoring at 35.3 points per game, and Kelce is a key contributor to their success, ranking top-two among all tight ends with his 141 targets, 98 receptions, 1,274 yards receiving, 1,330 air yards, 522 yards after the catch and 10 touchdowns.
Since his All-Pro campaign in 2016, Kelce leads all tight ends with 13.2 FanDuel points per game. He's also provided outstanding salary-adjusted value with his +3.04 Plus/Minus.
Kelce is currently in full-on #ZeusMode, and wide receiver Sammy Watkins (foot) is out, so Kelce could have yet another big performance: Kelce has been nearly unstoppable in the eight games this year in which Watkins has played less than 80% of the offensive snaps.
Week 4 (at Broncos): 17.3 FanDuel points, 7-78-1 receiving on 12 targets
Week 9 (at Browns): 25.4 FanDuel points, 7-99-2 receiving on nine targets
Week 10 (vs. Cardinals): 7.6 FanDuel points, 6-46-0 receiving on seven targets
Week 11 (at Rams): 23.7 FanDuel points, 10-127-1 receiving on 15 targets
Week 13 (at Raiders): 32.8 FanDuel points, 12-168-2 receiving on 13 targets
Week 14 (vs. Ravens): 17.2 FanDuel points, 7-77-1 receiving on nine targets
Week 15 (vs. Chargers): 9.6 FanDuel points, 7-61-0 receiving on nine targets
Week 16 (at Seahawks): 7.9 FanDuel points, 5-54-0 receiving on nine targets
If that doesn't get you excited, I don't know what will.
And Kelce has a great matchup, which isn't surprising with the 12-168-2 receiving performance he had against them in Week 13. The Chiefs have the slate's most explosive passing-game matchup.
On top of that, the Chiefs have the week's highest pass funnel rating at 88.71.
The Raiders rank 31st against the pass with a 27.8% mark in Football Outsiders' DVOA, and they are dead last against tight ends (44.4% DVOA). If you roster Kelce in guaranteed prize pools, you might want to use our Lineup Builder to stack him with Mahomes, both of whom are in one of our top stacks of the slate.
Since 2014, No. 1 tight ends have had a 0.47 correlation with their quarterbacks, but Kelce has had a 0.78 correlation with his passers. The Raiders have allowed a top-five mark of 12.5 FanDuel points per game to tight ends.
One drawback is that the game is in Kansas City. While playing at home is normally advantageous, that's not necessarily the case for the Chiefs if we're looking for lots of points. In the Andy Reid era (since 2013), no home team has made under bettors more money than the Chiefs have with their 17-29-1 over/under record, good for a 22.9% return on investment (per Bet Labs).
Read the full version of this piece on FantasyLabs 
Week 17 Positional Breakdowns
Be sure to read the other Week 17 positional breakdowns.
• Quarterbacks
• Running Backs
• Wide Receivers
For more in-depth NFL analysis information, check out The Action Network.
---
---
Matthew Freedman is the Editor-in-Chief of FantasyLabs. He has a dog and sometimes a British accent. In Cedar Rapids, Iowa, he's known only as The Labyrinthian.