Raybon's NFL Divisional Round Betting Picks for Seahawks vs. Packers
Credit:
Getty Images. Pictured: Davante Adams
The latest betting odds for Sunday's Seahawks vs. Packers matchup has settled at Green Bay -4.5 heading into kickoff.
Find how Chris Raybon is betting the spread and over/under for the NFC Divisional Round matchup below.
Chris Raybon outlines his NFL Divisional Round betting card below, featuring analysis of the following games:
Texans at Chiefs: 3:05 p.m. ET on Sunday
Seahawks at Packers: 6:40 p.m. ET on Sunday
Now let's dig into his picks.
---
Odds as of Sunday morning and via FanDuel, where Action Network users get a risk-free bet up to $500.
---
Chiefs -3 1Q
Somebody please tell Bill O'Brien and Deshaun Watson that football games do, in fact, start in the first quarter. The Texans have been held scoreless in the opening quarter in nine of Watson's 16 starts and are averaging just 2.8 points per game in the first quarter this season, 30th in the league.
On the road, that figure drops to 2.0.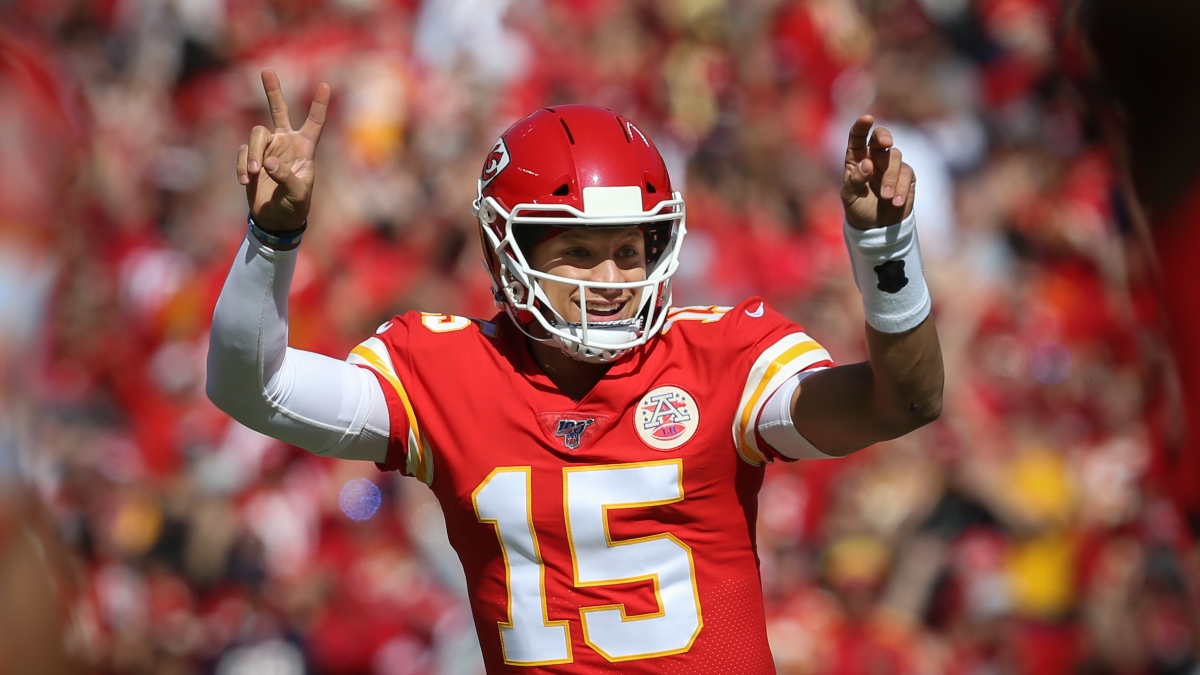 What I really care about here is the classic "Andy Reid with extra time to prepare" spot. This will be Reid's and Patrick Mahomes' fourth bye since Mahomes became the starting quarterback. In their first three, their average point differential was +10.3, and they won each by at least seven — including jumping out 14-0 on the Colts in last season's Divisional Round game.
And oh yeah: In their Week 6 matchup against Houston this season, the Chiefs won the first quarter 17-3.
[In New Jersey, Pennsylvania, Indiana or West Virginia? Bet now at FanDuel]
Packers -4.5
Over the past five games, we've seen this Seahawks team go long stretches without being competitive: First came in a listless 28-12 loss to the Rams in Week 14, followed by an alarming 27-13 loss at home to the Cardinals, then a scoreless drought for the first 39 minutes of Week 17 against San Francisco.
And last week, they failed to score for the final 23:05, letting an Eagles team quarterbacked by 40-year-old Josh McCown stick around uncomfortably long. Perhaps most alarmingly, Russell Wilson threw for 325 yards on 30 attempts, went 9-45 rushing, took only one sack, and led Seattle to 8-of-15 on third down without a turnover — and Seattle still failed to dominate.
And therein lies why I like the Packers: I don't think this game comes down to the quarterbacks. I have Wilson and Aaron Rodgers ranked 4-5 in my Divisional Round QB Confidence Rankings, but I could easily flip them, especially considering that Wilson's last three trips to Lambeau — three losses by an average score of 27.3-12.0, losing by nine or more in each — weren't very confidence-inspiring.
The Packers' one loss at home came in September in a game in which Davante Adams got hurt. They also laid two eggs on the road. But they won 13, with 11 coming by five or more points.
The Seahawks, meanwhile, have laid eggs in two full games and for large parts of two others over the past five weeks alone. Each of their five losses this season have come by five or more points.
The Seahawks are 1-3-1 against the spread over their past five. Despite last week's win, they're reeling. And it's hard to see it getting better before it gets worse in a spot in which even their one equalizer — Wilson — repeatedly struggled.
You want a team with an edge in the run game in a spot like this. But this Seahawks team has no choice but to pin its hopes on 33-year-old Marshawn Lynch, who is averaging 2.3 yards per carry since coming out of retirement, or from Travis Homer, who carried 11 times for 12 yards with a long of 12 and a fumble in the biggest game of his life.
In fact, the Packers' run defense has seen its schedule-adjusted efficiency improve from 29th in Weeks 1-9 to 18th in Weeks 10-17. The Seahawks, meanwhile, dropped from 24th to 26th, according to Football Outsiders' DVOA. And while Green Bay still has its top-five rushing offense intact and fresh, Seattle is going on the road for a second straight week with an injury-ravaged, replacement-level offensive line.
You also want an edge in the kicking game in a spot like this, and once again, that goes to Green Bay: Mason Crosby hasn't missed a kick at Lambeau since Week 3 while Jason Myers has missed a kick in each of Seattle's past three road games.
In their 12 regular and postseason wins, their average point differential is 0.9 — the mark of a .500 team. The Packers' is 3.9, the mark of a 9.5-10 win team.
The Packers have enough small edges that all add up to them covering the small spread here.
Click below to bet now.
Seahawks-Packers Under 46
Rodgers vs. Wilson will be billed as a matchup between two all-time great quarterback. But that doesn't mean we should expect a high-scoring affair.
Over the past five years, Rodgers hasn't quite been the same QB he was earlier in his career. After posting 8.2 yards per attempt over his first 10 years in the league, he has failed to crack 7.3 YPA in any of his five seasons since, including a mediocre 7.0 mark this season that places him 17th among 32 qualifiers.
Five years later, the market still hasn't quite caught on — particularly in cold-weather spots when we're not expecting a full-on shootout. In Rodgers' cold-weather starts (below 50 degrees) with a total below 51 since 2015, the under is 37-27 (58%), including 4-1 this season, according to our Bet Labs data.
Then you have Wilson, whose road starts have trended toward the under throughout his career (39-33) and this season (5-4). Amid a rise in competition level down the stretch, Wilson led his team to more than the 21 points that they're implied to score in this matchup just twice over the past seven games. And just last week, Seattle mustered only 17 points in a victory over the Eagles despite not committing a turnover and Wilson shredding Philly for 325 yards on 30 pass attempts and 45 yards on nine carries.
Much of it has to do with a deteriorating offensive line and run game that is missing left tackle Duane Brown (knee), center Justin Britt (ACL) and running backs Chris Carson (hip) and Rashaad Penny (knee), among others.
But here's where the greatness of Rodgers and Wilson, perhaps counterintuitively, really makes the under a strong bet: Both of these quarterbacks are expert game managers. Rodgers has thrown only four interceptions all year, and Wilson has been picked just five times. But of the eight remaining playoff signal-callers, guess which two have fared the worst at converting their dropbacks/carries into first downs on third/fourth down this season?
That's right, it's Wilson (37.7%) and Rodgers (36.5%).
I was able to find a slightly juiced 47 (-115), but I would bet the under down to 45 at standard juice, as my numbers are in agreement with my ever-sharp colleague Sean "The Oddsmaker" Koerner, who pegs this line at 44.5 in his power ratings.
---
Below are Raybon's picks from Saturday's games.
49ers -7 vs. Vikings
Despite the trends working against them, I like the 49ers here. Why? Two words: Kirk Cousins.
No, this isn't about Cousins' poor track record in games that start after 1 p.m. ET — though it is, in fact, mind-bogglingly poor at 11-25 straight-up and 12-24 against the spread, per Bet Labs.
It's all based on X's and O's.
The key to neutralizing the Vikings' pass game is getting pressure on Cousins without blitzing, something the 49ers excel at.
According to Pro Football Reference, defensive coordinator Robert Saleh called blitzes at the fourth-lowest rate (20.9%), yet his defense tied for second in pressure rate (28,7%). This blueprint was laid out most recently by the Packers in Week 16, when they blitzed Cousins just once on 36 dropbacks but still got pressure 47.2% of the time, resulting in a listless 16-of-31, 122-yard performance as the offense was held to 10 points.
Even with the win over the Saints, the Vikings are only 2-4 SU and ATS against teams that finished better than .500, with Cousins struggling mightily against organic pressure in each loss.
The 49ers not only boast a ferocious front four led by Joey Bosa, but also the second-best pass coverage unit in the league according to Pro Football Focus grades. Being able to hold up in coverage will afford the 49ers the luxury of honing in on Dalvin Cook on early downs, which also throws the Vikings off their playaction game, in which Cousins is most comfortable.
In addition to a defense that allowed a league-best 4.8 nets yards per dropback, the 49ers also boast the NFL's second-highest scoring offense (29.2 PPG). Mike Zimmer's defense is no slouch, either, ranking fifth in points allowed (18.9) — and I don't expect Jimmy Garoppolo to play a clean game in his first playoff start. But with ample time to prepare, Kyle Shanahan is sure to have a few creative tricks up his sleeve, namely on early downs, where the Vikings rank just 24th in passing success rate allowed (51%) and 32nd in rushing success rate allowed (55%) (per Sharp Football Stats).
The bye is generally overrated, but there are some situational factors that make me wary of the Vikings on a short week:
Cousins lost valuable practice time with both Stefon Diggs (illness) and Adam Thielen (ankle) during the week, while offensive coordinator Kevin Stefanski took time away to interview for Cleveland's head coaching gig on Thursday.
The Vikings have a tendency to struggle outdoors, failing to cover in 4-of-6 outdoor games this season and 7-of-9 dating back to last season, including their past five as an underdog.
The 49ers are 5-2 SU and ATS this season against teams that finished with a winning record, and a lot of factors point toward each of those marks improving to 6-2 by Saturday evening.
Click below to bet now.
Kirk Cousins Under 231.5 Passing Yards (-114)
Cousins has gone over 231.5 passing yards in 9-of-16 games, but three came against defenses ranked outside the top 25 in yards per attempt allowed — not at all representative of a 49ers unit that allowed an NFL-low 5.9 YPA.
Cousins lives off explosive passes, primarily off playaction, but those dry up against a defense that can get pressure at a high rate without blitzing. While Cousins posted a top-six explosive pass rate, San Francisco allowed just 34 explosive passes, tied for fewest in the NFL. The 49ers have given up more than 231.5 passing yards in only 6-of-16 games, and it took 40 or more pass attempts; Cousins' season-high is 38. At his median of 31 pass attempts, Cousins would need to average 7.48 YPA, a mark eclipsed by just 2-of-16 starting quarterbacks to face the 49ers.
Throw in the fact that the Vikings are on the road on a short week with Thielen banged up, and this screams conservative, run-heavy game plan from Zimmer.
I have this line at 225 and bet the under at 231.5 (-114), but you can find this line as high as 234.5 (-124) at SugarHouse as of Saturday morning.
[In New Jersey or Indiana? Bet now at Sugar House]
Ryan Tannehill Under 14.5 Rushing Yards (-125)
It's tough for quarterbacks to run on the Ravens because they blitz at a league-high 54.9% clip, forcing opposing passers to either get rid of the ball quickly or take a sack. Fourteen of the 16 starting quarterbacks to face Wink Martindale's unit have failed to eclipse even 12 yards on the ground, and I'm not talking about a bunch of statues: Deshaun Watson (12), Josh Allen (9), Patrick Mahomes (9), Ryan Fitzpatrick (8) and Kyler Murray (4) fell well short of their usual output against Baltimore.
Tannehill has gone under 14.5 rushing yards in 6-of-11 starts. I would bet this down to 12 (-150).
---
Raybon is 205-157-11 (56.6%) betting on the NFL overall. Follow his picks in our free app.
How would you rate this article?