Stuckey's NFL Divisional Round Betting Picks for All 4 Games
Credit:
Brett Carlsen/Getty Images. Pictured: A.J. Brown
Stuckey reveals his NFL Divisional Round betting card.
Find his picks for Saturday's Vikings-49ers and Titans-Ravens matchups.
For my money, this is the best football betting weekend of the entire year. So, I feel it deserves a stream-of-consciousness ramble on all four games that includes what I'm betting and which lines I'm targeting live (and why).
Now let's dig in.
---
Odds as of Saturday morning and via FanDuel, where Action Network users get a risk-free bet up to $500.
---
Vikings at 49ers
On paper, this is a tough situational spot for Minnesota, which will have a short week after playing last Sunday in New Orleans. However, the decision to rest starters in Week 17 will offset some of that.
In fact, there might be more concern for San Francisco considering teams coming off a bye have historically not fared well against the spread (40% ATS since 2003) — and they're even worse as a favorite of a touchdown or more.
The 49ers were 0-6 ATS as a favorite of six or more points this season; 9-0 ATS in all other games.
All this to say, I played the Vikings at +7, though the under is my favorite bet of the weekend.
The bye should do the 49ers defense wonders as the unit looked fatigue toward the end of the regular season, which is understandable given all the injuries they suffered and the fact that their bye was in Week 4.
They'll also get three defensive starters back — Jaquiski Tartt, Kwon Alexander and Dee Ford — which is massive for a defense that was putting up historic numbers when at full strength.
Having high school teammates Tartt and Jimmie Ward back at safety is important for some of the complex schemes coordinator Robert Saleh wants to run. And Ford just makes this pass rush so much scarier, as evidenced by a 10% higher pressure rate when he and Joey Bosa are both on the field. Alexander also should help contain Dalvin Cook out of the backfield.
I expect the 49ers to generate plenty of pressure on Kirk Cousins, not only off the edge, but up the middle as well. (Minnesota's Garrett Bradbury ranks dead-last in pass-blocking among 33 centers with at least 500 snaps, sporting a 38.7 Pro Football Focus grade.)
The 49ers will also play solid coverage on the back-end, where they just don't give up many explosive plays. The Vikings will also have to rely on a slow-moving ground-and-pound attack, but you should see plenty of punts as Cousins will be forced to check down and/or throw it away in plenty of passing situations.
I actually think the Vikings defense also matches up well.
They're much better defending the run and have the NFL's best group of coverage linebackers and safeties — critical against Garoppolo, who threw it deep on only 6.5% of his passes, lowest among qualified quarterbacks. The 49ers are very healthy across the board, except the interior of the offensive line.
With Linval Joseph likely back, the Vikings should be able to get pressure up the middle again vs. a quarterback who profiles very similar to Drew Brees. You might see Danielle Hunter and Everson Griffen get reps in the middle again after how well it worked against the weakness of the Saints' offense.
The Vikings also rank first in guarding tight ends, which is massive against George Kittle. Nobody can completely shut down Kittle, but the Vikings can contain him as well as any team. And Minnesota's well-coached defense has been extremely stingy in the red zone (as it seems to be every year under Mike Zimmer).
I don't expect many explosive plays, but instead a lot of running back carries from the two teams that led the NFL in that department this season. Some wind wouldn't hurt the under, either.
Both teams should have success on the ground — what Kyle Shanahan cooked up over the bye will go a long way in determining the outcome of this game — but I expect both defenses to buckle down in the red zone and get plenty of pressure from the jump.
Here are Cousins' and Garoppolo's numbers when under pressure this season:
Cousins: 7 TDs; 1 INT; 73% adjusted completion percentage (third in NFL); sack 16% of the time (tied 20th)
Garoppolo: 5 TDs; 5 INTs; 68.6% adjusted completion percentage (fourth in NFL); sacked 22.9% of the time (fifth-highest)
Cousins is very risk-averse and gets sacked at a much lower clip (and turns it over less), which could be the difference. And speaking of pressure, all of it is on Garoppolo here as Cousins comes into this game playing with house money.
I wouldn't be shocked if we saw a repeat of 1987, when quarterback Wade Wilson and the Vikings beat the Saints in the Superdome then followed that up with a road victory over the 13-win 49ers, who benched Joe Montana for Steve Young in that game.
[In New Jersey, Pennsylvania, Indiana or West Virginia? Bet now at FanDuel]
---
Titans at Ravens
For the Titans, it all starts with the NFL's rushing leader, Derrick Henry.
Yes, Ryan Tannehill has been amazing — we're talking about a guy who led the NFL in passer rating and became one of only three quarterbacks in league history with at least a 70% completion percentage to go along with nine-plus yards per attempt. But Tannehill didn't face a top-10 defense in pass efficiency during the regular season, then did nothing against the Patriots (went 8-for-15 and 72 yards).
Still, this offense is all about feeding Henry, which sets up the play-action pass. And Tannehill's numbers with play action are stupid good. His completion percentage is almost 10% higher and he averages close to six (!) more yards per attempt. He also boasts a league-best 143.3 QB Rating using play action.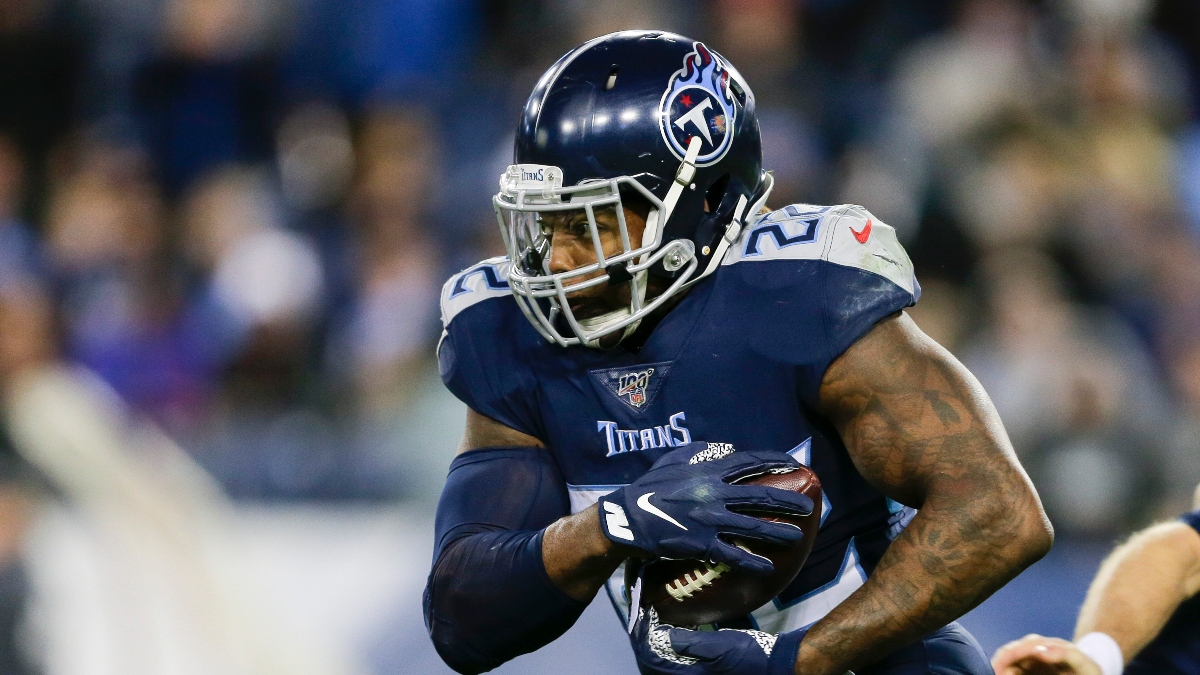 Henry has been red-hot, rushing for 393 yards over the past two games after what looks like a very strategically sound week off. And now he'll go against a Ravens rush defense that has some have said is a potential weakness based on their subpar season-long rush numbers (21st in yards per carry allowed).
However, if you dig a little deeper, you'll see how those stats are skewed.
This is a much different Ravens defense than we saw earlier in the season. The front office added some key pieces at linebacker and along the defensive line after some early-season struggles against the run. They also had to play a few games without their two top run-stuffers, Brandon Williams and Michael Pierce.
They've only allowed 4.0 yards per carry in 10 games since adding help and returning their front seven to full strength. That would rank seventh in the NFL whereas the 4.8 yards over the six games before that would rank 27th. And even without having a full deck of cards for the entire season, the Ravens defensive front still finished No. 3 in adjusted line yards and No. 2 in stuff rate.
Henry has done a lot of his damage on outside zone runs and toss plays, where he averages a whopping 6.4 yards per carry. But the Ravens' speedy, blitzing defense along the edges has allowed a stingy 3.4 yards on such plays.
I actually think the Ravens front seven can keep Henry in check while matching up on the backend. However, if Henry can break through to the second level, he could go the distance. Marcus Peters has never wanted to get in front of a tackling dummy, and Earl Thomas doesn't have the desire nor youth to corral Henry in space.
The same could be said for rookie phenom A.J. Brown, who led all NFL receivers (min. 50 targets) with 8.9 yards after catch.
Baltimore's pass defense has also done a 180 since the beginning of the season. It's been the best in the NFL since adding Peters and welcome Jimmy Smith back into the mix with Marlon Humphrey to give them arguably the best trio of corners in the league.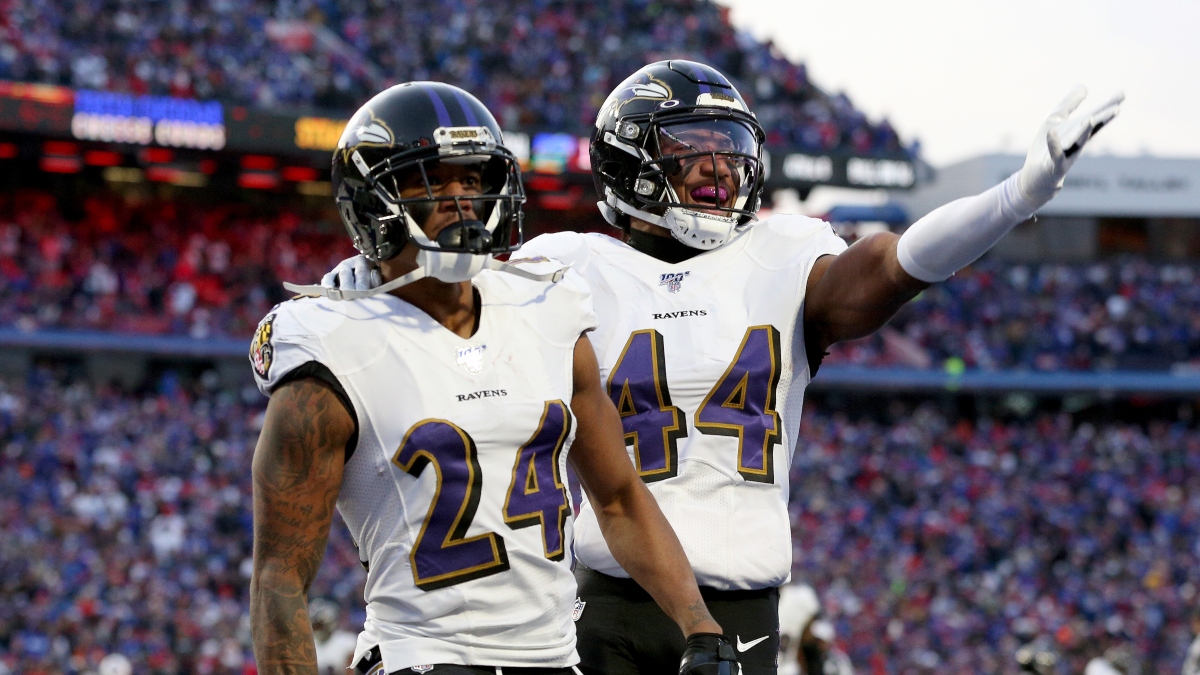 The Ravens can play aggressive man on the outside and take care of the Titans receivers on their own. It's worth noting that none of those three corners are natural slot corners, so the likely absence of Adam Humphries hurts Tennessee.
We know the Ravens are going to play a lot of man on the outside (mixing in disguised zones) while blitzing from every direction as much as any team (league-high 55% blitz rate). So how does Tannehill hold up against the blitz? Extremely well. He also tends to hold the ball a little too long as evidenced by the highest rate of drop backs holding the ball for 2.5 or more seconds at 63.3%. He did lead the league in QB Rating (125.1) in those situations with 13 touchdowns to two interceptions, but remember he didn't face any great pass defenses.
So, not surprisingly, he was sacked on a league-high 31% of dropbacks among 32 quarterback (min. 250 dropbacks) in front of a Titans' offensive line that ranks last in adjusted sack rate (per Football Outsiders).
If the Ravens' front seven can contain Henry, they should get to Tannehill with ease on clear passing situations, forcing him into a costly mistake or two.
I don't need to wax poetic about how elite Lamar Jackson has been in every phase. His speed combined with the shock factor of this unique Ravens offense has stunned defenses all season long.
And the Titans don't have the advantage of having faced the Ravens in the regular season.
The Ravens have just been dominant in first quarters, jumping out to big leads early on, which makes teams one dimensional — a scary proposition against a blitz-heavy team with an elite secondary. Then the Ravens can continue running the ball and wearing teams down.
It's a vicious cycle.
The biggest key to this game will be whether the Titans can stay in it early.
They held two other mobile quarterbacks — Josh Allen and Deshaun Watson — in check, but Jackson is in a different stratosphere. And while the Titans have been very good against the run, this is a very unique rushing attack, and Greg Roman has had two weeks to cook up even more new looks that the Titans won't have any tape on.
In their third straight road game, the Titans' biggest hope may be Ravens rust or early-game jitters from Jackson, which we saw in the last postseason. (though Jackson is obviously a much different player now).
The Titans pass coverage (21st in Football Outsiders' DVOA) has been their defensive weakness. They've suffered some injuries at cornerback, but the Ravens aren't the most explosive passing offense. They'll take their shots, but their aerial attack focuses on short passes to a plethora of tight ends and options out of the backfield.
That's not good news for a Tennessee defense that ranks 20th in defending tight ends and 22nd against short passes, per Football Outsiders.
The Ravens are going to take advantage of safety Kenny Vaccaro, who struggles in coverage, and a group of linebackers who can be exploited over the middle of the field.
And to add insult to injury, Jayon Brown won't go for Mike Vrabel's bunch — a massive blow to the Titans' defense. He's their best linebacker, especially in coverage. He ranks 13th in coverage among 63 linebackers with at least 500 snaps (per PFF).
Jackson should have plenty of success finding any one of his three tight ends, who the Ravens like to throw to in 12 and 13 personnel, making the coverage abilities of linebackers even more critical. He should also have ages to throw behind an offensive line that ranks No. 1 in pass-blocking efficiency, led by two tackles who rank in the top 10 in PFF's pass blocking grades.
Baltimore allowed only 77 pressures this season — the next-lowest was the Chiefs at 111.
Unless Henry breaks off three or four huge runs, it's hard to envision Tannehill having much success against the blitz and that secondary. Plus, the Ravens' won't let the Titans control clock and wear the defense down in the second half as they've been doing all season.
The Titans have been scoring touchdowns at an almost historic rate in the red zone under Tannehill and lead the NFL in red-zone touchdown scoring percentage for the season. The Ravens come in at No. 2 with their dominant running game. Still, Baltimore likely has the advantage here since its defense has been much better than Tennessee's inside the 20.
As for special teams, these teams have excellent punters, but the Ravens have the clear kicking edge with the NFL's most accurate kicker of all-time going up against a kicker who hasn't attempted a field goal all season.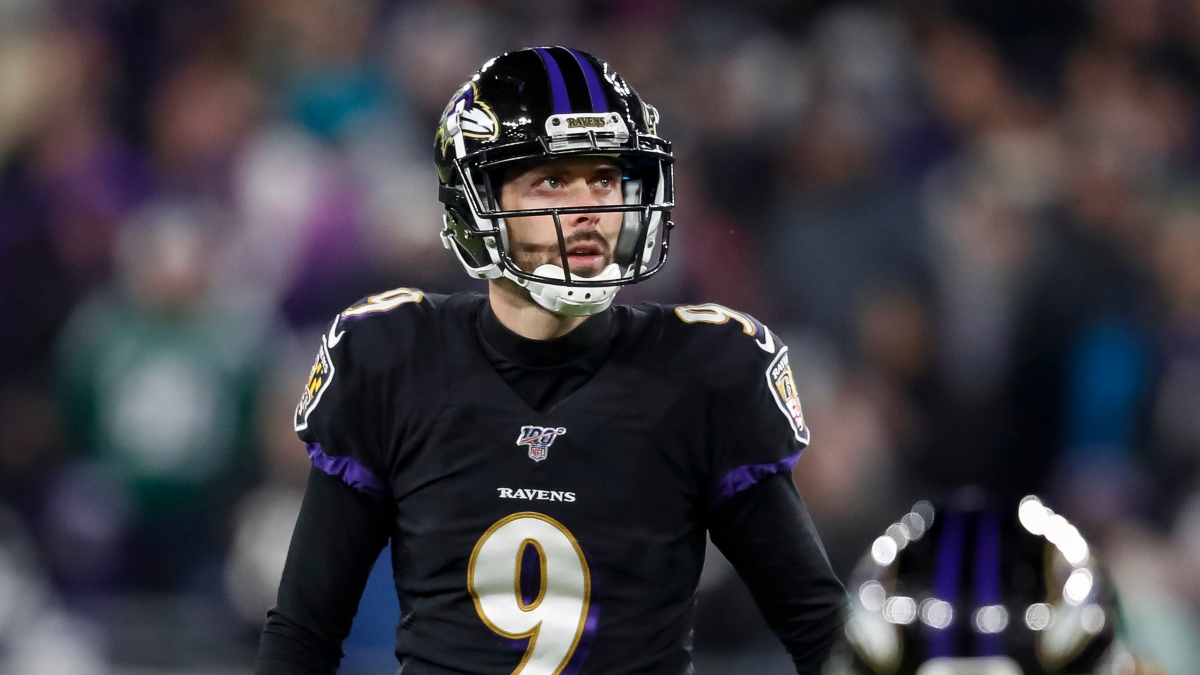 The spread is spot on at around 10, but I can't see the Ravens losing this one given some of the matchups in all three phases, especially when you add in extra time off and playing at home in front of a raucous crowd.
I'll be using the Ravens in a moneyline parlay with the Packers first-half moneyline at around even money.

[In New Jersey, Pennsylvania, Indiana or West Virginia? Bet now at FanDuel]
---
Seahawks at Packers
As I've said for most of the year, the Seahawks are smoke and mirrors.
They won only one game by more than one possession all season and came out on the right side of two overtime wins. Yes, they've been dynamite on the road with an 8-1 record, but take a closer look at those wins and you'll notice four came against backup quarterbacks (including last week's win in Philly).
Seattle has holes on both sides of the ball.
The defense can't stop the run (26th in DVOA). It doesn't get pressure (30th in adjusted sack rate). And while the mid-season addition of Quandre Diggs does improve their defense against explosive passes in their Cover 3 match scheme, this is not a great unit.
Aaron Jones should have a big day on the ground while Aaron Rodgers should have plenty of time to operate. The bye should also really help Davante Adams, who had been battling turf toe.
Meanwhile, Seattle's offensive line has been decimated by injuries. Left tackle Duane Brown and starting guard Mike Iupati are both questionable. And the Seahawks already placed starting center Justin Britt and their best interior OL backup Ethan Pocic on IR.
The Packers should be able to generate pressure on the edges with Za'Darius and Preston Smith, as well as up the middle with Kenny Clark (No. 3 interior DL pass-rusher per PFF) against third string center Joey Hunt.
Seattle also lost its top-three backs to injuries, which isn't ideal for a team that is so reliant on the run game. Pete Carroll came out and said he wants to use more of Marshawn Lynch, but I don't think that will be a very productive endeavor based on what we've seen over the past two weeks.
The way to attack this Packers defense is on the ground, and I don't think an undermanned Seahawks front and backfield can take full advantage of that.
I think the total is pretty spot on. You'll definitely see some deep shots between two quarterbacks who ranked in the top-three in deep passing rate at just over 16% of drop backs. Aaron Rodgers and Russell Wilson are leaders in that department in postseason history as well.
A live over might be worth a shot if both teams start slow.
As we've seen over and over again, the Seahawks will try to come out and establish the run in the first half and most likely get behind. They've led at the half in only five games this season.
Just look at their history in the first half of road playoff games under Carroll (prior to last week's win against a backup quarterback, during which they took a lead in the final minute of the half after a stagnant start):
2010 at Chicago: Trailed 21-0 at half (lost 35-24)
2012 at Washington: Went down 14-0 in first quarter and trailed at half (won 24-14)
2012 at Atlanta: Trailed 20-0 at half (lost 30-28)
2015 at Minnesota: Trailed 3-0 at half (won 10-9)
2015 at Carolina: Trailed 31-0 at half (lost 31-24)
2016 at Atlanta: Trailed 19-7 at half (lost 36-20)
2018 at Dallas: Trailed 10-6 at half (lost 24-22)
They never led at the half in any of those seven playoff games and were shutout over the first two quarters in four of the seven. They averaged fewer than four first-half points per game over that stretch and gave up an average of just under 17 points.
And as they've done countless times this season and in seasons past, if they start slow, they will inevitably unleash Wilson, who is more than capable of late magic against a Packers secondary that is talented but vulnerable against explosive passes.
The last time these teams played each other in the postseason (2014), the Packers led 19-7 with three minutes to go before losing 28-22 in overtime.
In contrast, the Packers offense has looked spectacular early in games, ranking third in the league with 6.8 points per first quarter. And the bye week should only help in that department.
Give me the Packers first half ML parlayed with the Ravens full-game ML.
[In New Jersey, Pennsylvania, Indiana or West Virginia? Bet now at FanDuel]
---
Texans at Chiefs
The first thing that jumps out about this matchup is the coaching mismatch. And not only do I rate the Kansas City staff significantly higher than the Houston staff, the Chiefs will benefit from a bye last week.
As some of you may know, and as Randy Moss might say, Andy Reid has been straight cash homie after a bye. In fact, we have two of the three most profitable coaches in Reid and John Harbaugh coming off bye weeks in our database dating back to 2003.
Reid should have a few new wrinkles ready and will benefit from having seen the Texans already this season. You can expect the Chiefs to be much more prepared from the opening kick in front of an electric crowd.
In the two playoff games Deshaun Watson and Bill O'Brien have played together, they've trailed by a combined score of 34-0 at the half.
I know the Texans won at Arrowhead earlier this year, but they trailed 17-3 early and benefited from a number of sloppy Chief mistakes. Plus, that was just a different KC team as a result of a plethora of injuries. Not only were the chiefs missing key pieces in the trenches on both sides of the ball, Sammy Watkins didn't play and Tyreek Hill and Patrick Mahomes were not 100% healthy.
I can't really take much from that game.
Not only are the Chiefs healthier, their defense has been trending in a positive direction. Their pass defense has been extremely impressive of late. And for the season, they rank No. 3 in the league defending deep passes.
Still, it's worth mentioning that rookie safety Juan Thornhill was recently lost for the season. With he and Tyrann Mathieu, the Chiefs had two top-20 cover safeties, per PFF — although neither was particularly strong against the run. Thornhill's absence could loom large on the backend, especially if Will Fuller can go as he makes the Houston aerial attack much more dynamic.
While the Chiefs' pass defense posted some promising splits, their run defense was still dreadful, ranking 29th DVOA compared to a pass defense DVOA rank of sixth. I already mentioned the struggles at safety defending the run without even mentioning Daniel Sorenson, who graded 93rd out of 94 safeties in run defense. He comes in for nickel, which we could see plenty of on Sunday.
And their linebackers performed even worse. There were 94 LBs with at least 250 snaps this season. Here's how Kansas City's LBs ranked against the run, per PFF:
Damien Wilson: 62nd
Ben Niemann: 83r
Anthony Hitchens: 87th
Not great, Bob.
Chris Jones could really help if he's able to go up front. And while Terrell Suggs can still battle against the run, Frank Clark isn't known for his run stuffing ability, and Tanoh Kpassagnon ranked last among 94 edge rushers against the run.
So, as you can see, Houston should be able to move the ball on the ground. In the first meeting, the Texans ran it 41 times for 192 yards (4.7 yards per attempt) and played a little keep-away from Mahomes.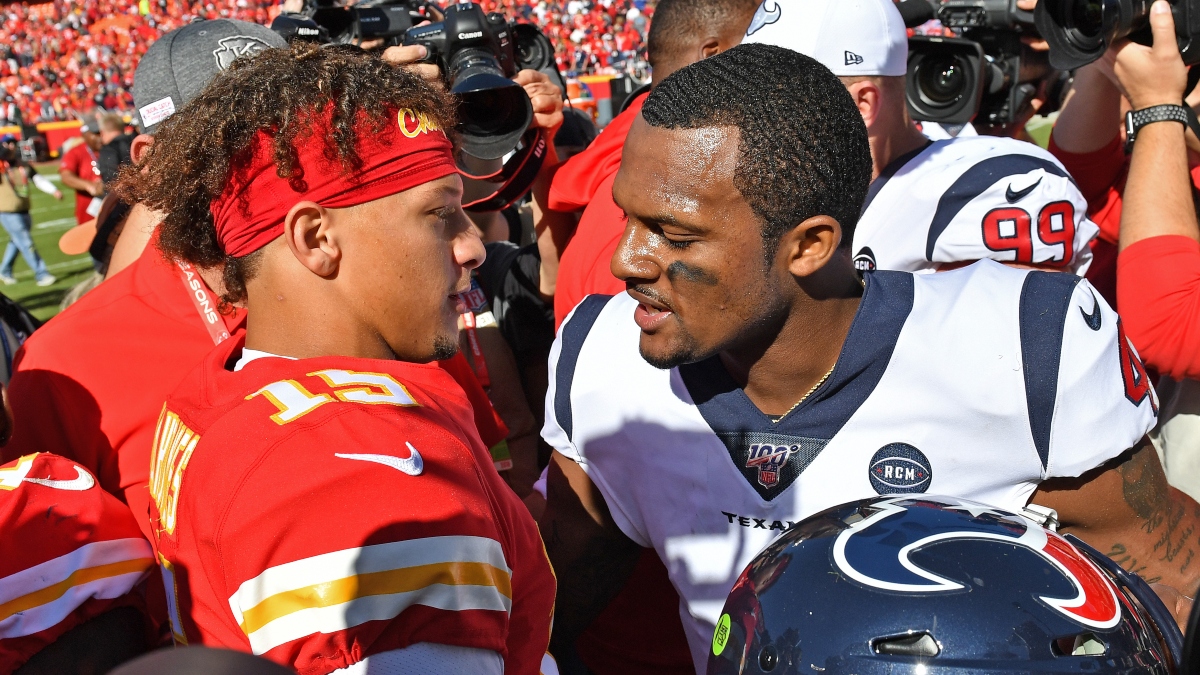 That said, I don't see this Houston defense getting many stops. It has struggled against the run, doesn't get pressure and is abysmal in coverage. That's not ideal against a now-healthy Mahomes in Arrowhead with his full arsenal of weapons.
And if this defense that ranks in the bottom-two in the league in both third down and red zone defense can't slow down the Chiefs, the Texans will eventually have to play catch up and start throwing. The status and health of Fuller could go a long way in determining how successful Houston can be in that department. But I do feel confident in the Chiefs coming out early.
Plus, Reid teams do have a tendency to get a little conservative late, so maybe Watson and Co. have another comeback in store for us. But I think the Chiefs should jump out to a healthy lead, so I'll side with Kansas City 1H at anything under -6.
---
Stuckey's Divisional Round Betting Card
Vikings +7; Vikings-49ers Under 45 (look for better on both live if we get an early SF score)
Ravens ML/Packers 1H ML parlay (look at a possible live over if this starts slow and also potentially Seattle 2H if history repeats itself)
Chiefs 1H -4.5
Stuckey is 322-272-9 (54.2%) overall betting on the NFL. Follow his picks in our free app.
How would you rate this article?