NFL Divisional Round: Scouting Every Offense, Key Matchups, More
Credit:
Kirby Lee, USA Today Sports. Pictured: Jared Goff
The Wild Card round has passed, meaning we now have just eight teams vying for the chance to hoist the Lombardi Trophy next month.
The Kansas City Chiefs host the Indianapolis Colts to kick the Divisional Round off on Saturday (4:35 p.m. ET on NBC) followed by the Dallas Cowboys-Los Angeles Rams matchup (8:15 p.m. on FOX). The action continues Sunday with the Los Angeles Chargers at New England Patriots (1:05 p.m. ET on CBS), capped by Philadelphia Eagles-New Orleans Saints (4:40 p.m. ET on Fox).
While it's impossible to cover all the applicable storylines and statistics for the four Divisional Round matchups in one article, we can at least get an early start on what figures to be great two days of high-level football.
What follows are brief breakdowns on each team's quarterback, backfield and receivers.
Indianapolis Colts
The Colts Have *Finally* Kept Andrew Luck Upright All Season
Luck's return from a torn labrum in his throwing shoulder has been nothing short of remarkable. Still, his offensive line's new-found ability to protect their franchise quarterback has been just as crucial to the team's success.
Overall, Luck has posted career-low marks in both percentage of dropbacks under pressure (29%) as well as average target depth (8.1 yards).
The Chiefs' seventh-ranked pass rush in adjusted sack rate deserves plenty of respect and shouldn't be underestimated at Arrowhead, but Luck and head coach Frank Reich's quick-hitting system has perfectly complemented one of the league's best offensive lines after 18 weeks of action.
LT Anthony Castonzo (ranked No. 17 at his position by Pro Football Focus)
LG Quenton Nelson (No. 4)
C Ryan Kelly (No. 11)
RG Mark Glowinski (No. 13)
RT Braden Smith (No. 27)
Marlon Mack is THE Running Back, Ya'll
The Colts largely utilized a three-back committee during the regular season, as Mack (38.7 snaps per game from Weeks 6-17) worked as the starter with Nyheim Hines (25.1) and Jordan Wilkins (17.4) in complementary roles.
This wasn't the case during the Colts' Wild Card victory over the Texans.
The Colts ability to coast to victory certainly didn't help the game script for Hines, but the offense is also clearly set on moving forward with Mack as their three-down back in a must-win game situation.
Up next is the backfield's best matchup of the season against the Chiefs' league-worst defense in adjusted line yards allowed per rush.
T.Y. Hilton is Like Sex: Usually Better Indoors
Hilton continues to ball out despite missing practice due to an ankle injury. Still, four of his last five matchups have come in stadiums with the roof closed, and the Colts' No. 1 receiver hasn't historically been at his best when playing outdoors.
The Chiefs weren't a very good defense for most of the season, although they've historically been much better at home. Additionally, their defense emerged as a run-funnel unit, finishing the season ranked 12th in DVOA against the pass compared to 32nd against the run.
Kansas City Chiefs
Patrick Mahomes is Having One of the Best Seasons … Ever
Mahomes finished his record-breaking regular season with 5,097 yards and 50 (!!!) touchdown passes while orchestrating the league's top-ranked scoring offense. He's about as good a quarterback as we've ever seen to this point.
Completion rate: 65.9% (6th among 355 QBs with 500+ pass attempts)
TD Rate: 8.1% (1st)
Passer rating: 111.7 (1st)
Yards per attempt: 8.75 (2nd)
Adjusted yards per pass attempt: 9.42 (1st)
Passing yards per game: 316.5 (1st)
Making all of this even more entertaining is the fact that Mahomes is dead set on proving that he's literally capable of making any throw on the field. Fantasy investors have been treated to no-look, sidearm and left-handed passes over the course of this record-breaking season.
The Colts run more zone coverage than any other defense in the league, but this hasn't exactly slowed down Mahomes to this point. Per Rotoworld's Evan Silva, Mahomes has completed 64.1% of his passes at 7.99 yards per attempt with a perfect 14-0 TD-to-INT ratio in five games against teams that run zone coverage at a top-eight rate.
Does Damien Williams Own the Chiefs Backfield?
The Chiefs haven't had a fully healthy offense since before their Week 12 bye, as both Sammy Watkins (foot) and Spencer Ware (hamstring) have been consistently banged up. Be sure to monitor our NFL Divisional Round Injury Report for their daily practice participation along with their estimated and official games statuses.
Still, there have been signs that Williams could work as the lead back even once Ware is able to return. This was at least the case in Weeks 15-17 with Ware sidelined …
… and the Chiefs apparently thought enough of Williams' performance to hand him a two-year contract extension following his performance in Week 16.
Our Pro Models are currently projecting Ware to suit up this Sunday, but Williams is projected for nearly twice as many fantasy points and is the No. 1-rated back in Adam Levitan's Model.
The Sammy Watkins Effect
The Chiefs are tentatively expected to welcome back their overqualified field-stretcher for their Divisional Round matchup against the Cotls. Watkins hasn't quite lived up to the sky-high expectations that accompany any No. 4 overall draft pick, although there's little debate that each of his quarterbacks have enjoyed having an athlete of his caliber on the field.
Watkins' 10-game pace with the Chiefs extrapolated to a 16-game season results in a somewhat modest  64-830-5 receiving line, but he's still arguably Mahomes' second-most dangerous target.
Overall, only Tyreek Hill (10.58) has average more adjusted yards per attempt on targets from Mahomes than Watkins (10.53), who ranks ahead of the likes of Travis Kelce (9.34), Demarcus Robinson (8.23) and Chris Conley (7.48).
Dallas Cowboys
Don't Underestimate Dak Prescott as a Threat on the Ground
Many have been quick to point out Prescott's inconsistencies as a passer during his short career, but maybe we haven't been quick enough to compliment his upside as a rusher.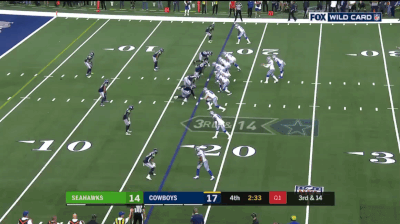 Overall, Prescott leads all quarterbacks in rushing touchdowns with 18 since he entered the league in 2016. Only Cam Newton (15) and Tyrod Taylor (11) have even reached double-digit scores on the ground.
The Rams' formidable defensive front will undoubtedly place a premium on limiting Prescott's production as a rusher, although they did yield rushing yards to the quarterback position at a top-12 rate during the regular season.
Zeke is Getting Fed
The Cowboys gave Zeke at least 15 carries in every game this season, and he hasn't finished with fewer than 20 touches in a game since Week 7. The recent results have been spectacular, as Elliott has posted nine straight games with 100-plus total yards. This is tied for the third-longest streak among all players over the past five years.
Up next for the Cowboys' power-run game is the Rams' 28th-ranked defense in rush DVOA. Aaron Donald (PFF's No. 1 overall interior defender) and Ndamukong Suh (No. 27) each boast game-wrecking potential, but the Rams don't have another front-seven defender graded among PFF's top-32 players at their position this season.
Amari Cooper vs. The World
Top-flight receivers largely balled out against the Rams on a regular basis during Aqib Talib's extended absence this season. The return of the defense's No. 1 cornerback has certainly helped  halt the production of their opponent's top wide receiver.
Week 13 Kenny Golladay: 3 receptions-50 yards-0 TD (8 targets)
Week 14 Allen Robinson: 5-42-0 (8)
Week 15 Alshon Jeffery: 8-160-0 (8)
Week 16 Larry Fitzgerald: 6-53-0 (9)
Week 17: Kendrick Bourne: 5-59-1 (6)
Cooper doesn't possess promising home/away splits for the Cowboys' upcoming trip to Los Angeles. The Cowboys' 6-foot-1 and 211-pound receiver also won't have much of a size advantage to speak of against the likes of Marcus Peters (6-foot-0 and 197-pounds) and Talib (6-foot-2 and 202-pounds).
Los Angeles Rams
Jared Goff is Truly a Cali Kid
The Rams have struggled during their stretch run, although they've been in less-than-ideal situations with three of their five games since their Week 12 bye coming on the road. Historically, Goff has easily been at his best when operating in the Los Angeles Memorial Coliseum since Sean McVay took over for Jeff Fisher in 2017.
On road (16 games): 62% cmp | 7.72 Y/A | 28 TDs, 11 INTs | four games with 300+ yards | four games with 3+ TDs
At home (16 games): 64% cmp | 8.38 Y/A | 33 TDs, 8 INTs | 9 games with 300+ yards | six games with 3+ TD passes
Still, there's also been some evidence that Goff simply struggles without his favorite check-down option, as he's averaged 9.65 yards per attempt in eight games with Cooper Kupp this season compared to just 7.32 yards per attempt in eight games without.
Todd Gurley is a Beast, but the Rams' O-Line Might be Even Better
Gurley is tentatively expected to return to the lineup this Saturday after having three weeks to rest his ailing knee. C.J. Anderson was magnificent in relief of the Rams' franchise back in Weeks 16-17, although we shouldn't forget the real driving force behind the Rams' ground-game excellence.
Of course, McVay's ability to consistently scheme the Rams into favorable formations has also been a key factor in their overwhelming success.
The Cowboys' fifth-ranked defense in rush DVOA managed to hold the Seahawks to just 73 yards on 24 attempts (3.04 YPC) last week thanks in large part to consistent sideline-to-sideline excellence from linebackers Jaylon Smith (PFF's No.  5 overall linebacker) and Leighton Vander Esch (No. 4). Gurley converted 30 touches into 215 total yards and a touchdown against the Cowboys in Week 4 of last season, but the former linebacker was a shell of his current self, while the latter was still in college.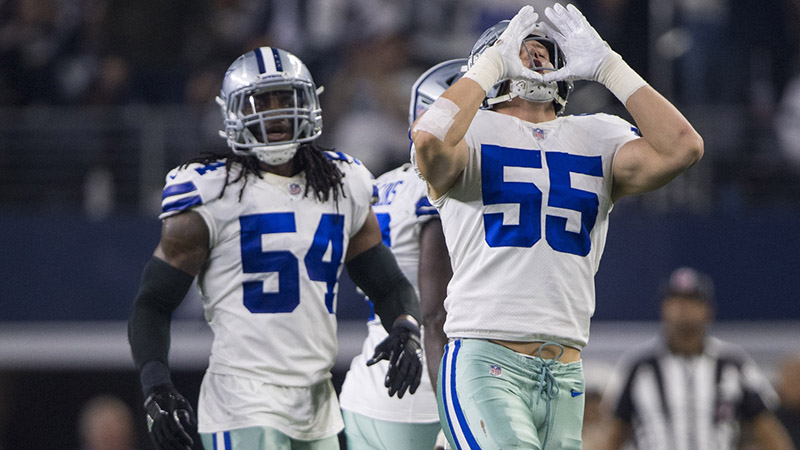 Josh Reynolds is a Pretty Solid Cooper Kupp Doppelganger
The Rams have largely continued to build their passing game around their starting three wide receivers despite the absence of Kupp.
Robert Woods (65 targets in 8 games without Kupp)
Brandin Cooks (57)
Josh Reynolds (47)
Todd Gurley (40 – missed 2 games)
Gerald Everett (32)
Tyler Higbee (18)
The Cowboys have rarely asked their cornerbacks to travel with individual receivers all season, so we can confidently expect the following matchups on Saturday night.
Cooks (63% snaps at LWR) vs. Byron Jones (89% snaps at RCB)
Woods (69% snaps in slot without Kupp) vs. Anthony Brown (74% snaps in slot)
Reynolds (48% snaps at RWR) vs. Chidobe Awuzie (85% snaps at LCB)
Los Angeles Chargers
Late-Season Philip Rivers Hasn't Exactly Been Great
The Chargers are on the cusp of their first AFC Championship appearance since 2007. Still, their quarterback's performance during the later parts of the season over the past five years doesn't inspire a ton of confidence.
This erratic play during December and January has been nearly as prevalent in Rivers' career splits by month.
Rivers has unsurprisingly also posted better efficiency numbers at home throughout his career. This week's matchup consists of a road trip to Foxborough against a Patriots defense that has been slightly better against the pass (No. 14 in DVOA) than the run (No. 19) this season.
Melvin Gordon Will Keep Playing Through the Pain
Ian Rapoport has already confirmed that Gordon is expected to suit up Sunday despite suffering another knee injury during last week's Wild Card victory over the Ravens. Still, it's hard to not be discouraged by Gordon's usage since he managed to return to the lineup.
Austin Ekeler managed to out-snap Gordon 36-to-32 last week and racked up 15 touches himself.
It's clear the Chargers don't view this version of Gordon as the same three-down workhorse everyone saw from Weeks 1-12, but that's still led to a comfortable 15.3 touches per game. He boasts the fifth-highest Projected Plus/Minus on DraftKings among all running backs in the Divisional Round.
Bill Belichick Doesn't Always Shut Down Opposing No. 1 WRs
Belichick and company managed to limit Keenan Allen to just 61-scoreless yards on five targets last season, but the Patriots aren't as great at consistently taking away the opponent's No. 1 wide receiver as you might think.
Stud outside cornerbacks Stephon Gilmore (PFF's No. 1 overall corner) and Jason McCourty (No. 5) deserve plenty of credit for limiting some exceptional wide receivers, although this hasn't always resulted in lock-down performances.
Slot corner J.C. Jackson (No. 27) could wind up seeing the most of Keenan Allen this week. Jackson was integral to limiting both Juju Smith-Schuster and Adam Thielen this season, but he's still an undrafted rookie that shouldn't be able to handle Allen for a full 60 minutes.
New England Patriots
Tom Brady and the Playoff Patriots are Scary at Home
It's been tough to slow down the Brady Bunch at home in January over the years. Overall, the Patriots have averaged 33.3 PPG during their last 10 playoff games at Gillette Stadium, while Brady and company have been held under 30 points in just three of those games.
Still, it's fair to question the overall upside of this Patriots offense at this point. Josh Gordon was emerging as Brady's most-efficient target of his career before being suspended indefinitely, and Rob Gronkowski's career-worst year certainly hasn't helped matters.
Overall, Brady set four-year lows in adjusted yards per attempt (7.8), QB rating (97.7) and touchdown rate (5.1%) this season, while the Patriots averaged their fewest points per game (27.3) since 2009.
The Patriots Have a Committee Backfield? No Way!
Surprise: It's been tough to figure out the Patriots' backfield since they reached full strength.
Michel is locked in as the early-down back, but White is essentially the offense's No. 2 receiver at this point. Burkhead remains involved to an almost annoying extent in all facets of the game as well (keep balling out on punt coverage though!).
The key question for this week's game plan revolves around whether the Patriots will attempt to feed Michel in an attempt to attack the Chargers' safety-filled linebacker core, or whether White will be unleashed against the league's No. 23-ranked defense in DVOA against receiving backs.
Julian Edelman is Brady's Spirit Animal
Brady has zeroed in on Edelman as the offense's featured target in eight quarters since Gordon was lost for the season:
Edelman (16 targets in Weeks 16-17)
Chris Hogan (11)
White (9)
Burkhead (7)
Phillip Dorsett (5)
Gronk (5)
Gronk has had an alarming lack of involvement in the offense over the past two weeks and isn't set up well this Sunday against the Chargers' league-best defense in DVOA vs. tight ends. Overall, stud rookie safety Derwin James is PFF's No. 4 overall safety this season.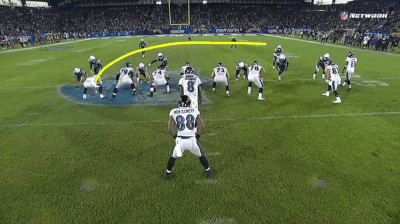 Philadelphia Eagles
Can Anybody Stop Playoff Nick?
The Nick Foles-era in Philadelphia grows more ridiculous by the week, as the Eagles' "backup" quarterback improved to a perfect 5-0 in the postseason after defeating the Bears, 16-15, at Soldier Field.
It's tough to believe that anybody ever saw this coming. Foles is slowly but surely becoming the single-greatest playoff quarterback this generation has ever seen.
The Saints managed to limit the Eagles to season-low marks in points (7) and total yards (196) during their matchup back in Week 11. And yet, the Eagles have moved from a 10-point underdog to +7.5 (per our NFL Live Odds Page).
Darren Sproles has Taken Over the Eagles Backfield
Josh Adams received double-digit touches in five of six games to end the season, but the coaching staff had different ideas as to who would lead the backfield come playoff time.
Darren Sproles: 37 snaps, 13 carries, 3 targets
Wendell Smallwood: 28 snaps, 8 carries, 3 targets
Josh Adams: 1 snap, 1 carry, 0 targets
Up next is the Saints' third-ranked defense in rush DVOA that allowed the fourth-fewest DraftKings PPG to opposing running back units this season. Sproles is the best-positioned back of the group, as New Orleans ranked 29th in DVOA vs. receiving backs.
Just keep in mind the upside is limited considering the Eagles join the Cowboys and Chargers as the only offenses implied for 21 or fewer points in the Divisional Round.
Alshon Jeffery and Zach Ertz Own the Skies
We now have a four-game sample to work with in regards to Foles and a fully-staffed group of Eagles receivers.
Zach Ertz (34 in four games with Foles since Week 15)
Alshon Jeffery (27)
Golden Tate (22)
Nelson Agholor (21)
Darren Sproles (16)
Wendell Smallwood (13)
Dallas Goedert (12)
Tate in particular seemed to take a step forward during the Wild Card round, as his eight targets trailed only Jeffery (9).
The Eagles' slot receiver easily has the best matchup of the group against Saints nickelback and constant liability P.J. Williams – PFF's No. 110-ranked cornerback out of 121 qualified players.
New Orleans Saints
Drew Brees is Aging Like Fine Wine
Brees will turn 40-years old next Tuesday, but Father Time hasn't been able to slow down the Saints' ageless quarterback to this point. Overall, he's set career-best marks in completion rate (74.4%), interception rate (1.0%), adjusted yards per attempt (9.0) and quarterback rating (115.7).
The Eagles' injury-riddled secondary has certainly boosted their performance in recent weeks, but Brees managed to complete 22-of-30 passes (73.3%) for 363 yards (12.1 Y/A) with four touchdowns and zero interceptions against them in Week 11. Brees has managed to throw for at least 300 yards or multiple touchdowns in all but two of his 13 career playoff starts, and he's set up well indoors against the league's eighth-worst defense in DraftKings PPG allowed to quarterbacks this season.
The Mark Ingram and Alvin Kamara Party
The Saints played 10 full games with all of their healthy starters following their Week 6 bye. Kamara worked as the clear lead back during this stretch, with Ingram assuming more of a true No. 2 running back role.
Kamara in Weeks 7-16: 39.7 snaps, 132 carries, 54 targets
Ingram in Weeks 7-16: 29.5 snaps, 117 carries, 22 targets
Overall, Kamara out-snapped Ingram in every since game during this stretch, while also out-touching Ingram in all but one contest. That particular game happened to be against the Eagles, but that was more due to ideal blowout-induced game-flow for Ingram than a schematic decision.
Nobody Can Guard Michael Thomas
Pretty much the only thing capable of holding the Saints' No. 1 receiver back from a big day is volume. Even that couldn't stop Thomas against the Eagles in Week 11, as he caught all four of his targets for 92 yards and a b-e-a-utiful 23-yard touchdown.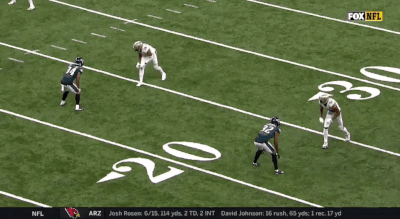 Adding to the Eagles' troubles is Thomas' dominance against zone-heavy defenses this season. Overall, he's posted an average 8-81.3-0.3 line in six games against defenses that utilized zone-coverage at a top-10 rate.
How would you rate this article?