Biggest NFL Week 2 Takeaways: The Patrick Mahomes Era Is Here
Credit:
Jason Getz-USA TODAY Sports. Pictured: Patrick Mahomes
Here are 10 of the biggest NFL takeaways from Week 2, including Patrick Mahomes' and Ryan Fitzpatrick's MVP-caliber starts.
We'll look at actionable trends, including how the Cardinals haven't maximized David Johnson's talent, Michael Thomas' connection with Drew Brees and more.
Week 2 was a nice reminder that no one knows nearly as much about the NFL as we like to think we do.
Case in point: Underdogs went 10-4 against the spread on Sunday while the Chiefs, Colts, Buccaneers, Titans, Dolphins and Jaguars all earned out-right victories.
So, what have we learned so far? Let's run through this week's biggest takeaways and identify actionable trends for Week 3.
Ryan Fitzpatrick is an early MVP candidate (seriously)
A wise man once said: Winners focus on winning; losers focus on winners.
Fitzpatrick and the Buccaneers are one of seven undefeated teams left after dispatching the Eagles, 27-21, on Sunday. The 35-year-old signal-caller has thrown for at least 400 yards and four touchdowns in each of the first two weeks while chipping in another 35 yards and a touchdown on the ground.
The Buccaneers have their most-exploitable matchup yet in Week 3 against a Steelers defense that struggled mightily against the Chiefs with No. 1 corner Joe Haden (hamstring) sidelined. It's (probably?) impossible for Fitzpatrick to be FitzMagic for an entire season, but it's been one of the league's most-exciting rides through two weeks.
Patrick "Showtime" Mahomes and the Chiefs are must-watch TV
Mahomes is the first quarterback in NFL history to throw 10 touchdowns in the first two weeks of a season. He's helped seven different Chiefs players find the end zone and offers next-level arm strength that forces defenses to cover every last square inch of the field.
Disclaimer: The following statistic is a very small-sample size. But Mahomes' career 9.6 average yards per attempt is the highest rate in NFL history (minimum 50 attempts). The services of electric playmakers Tyreek Hill, Travis Kelce, Kareem Hunt and Sammy Watkins have helped the Chiefs form the NFL's most-explosive offense.
Up next for the rookie? The 49ers' far-from-heralded defense … at Arrowhead. The return of linebacker Reuben Foster (suspension) will help, but good luck slowing down the Chiefs' fearless 23-year-old gunslinger.
The NFL's lovable losers keep losing
The Cleveland Browns …
Haven't won a game since they beat the Chargers, 20-17, on Dec. 24, 2016.
Haven't scored 30+ points in a league-high 45 consecutive games.
Are favored by three points at home against the Jets on Thursday night.
Why won't the Cardinals feature David Johnson as a receiver?
Former Cardinals head coach Bruce Arians regularly deployed Johnson as a receiver in 2016, lining the running back up in the slot or out wide on 20.4% of his snaps.
Johnson's route tree used to cover nearly the entire field…
… but he's since been delegated to work as a regular running back.
Overall, Johnson lined up in the slot or out wide on only 8.3% of snaps in Week 1, and he was targeted only twice in the Cardinals' 34-0 loss to the Rams on Sunday.
The Broncos fired Mike McCoy in November of last season after his lack of effectiveness left them with what ended up being the league's 31st-ranked offense in Football Outsiders' DVOA. McCoy's encore performance as the Cardinals offensive coordinator has produced six total points through 120 minutes on top of an unacceptable 6-33-0 receiving line for the team's franchise back.
Will Fuller loves Deshaun Watson more than you do
The Texans managed to lose to the Titans despite the latter having to play without their starting left tackle, right tackle, tight end and quarterback. The 0-2 Texans are hardly where they want to be, but the season debut of Will Fuller reinforced the idea that he's fantasy's highest-upside No. 2 wide receiver.
Fuller's per-game marks with Watson extrapolated over an entire season would produce 67 receptions, 1,254 receiving yards and 26 touchdowns. The third-year receiver's touchdown rate with Watson certainly isn't sustainable, but it's hard to say Fuller has been anything other than spectacular in five career games with Watson under center:
Week 4, 2017: 4 receptions, 35 yards, 2 touchdowns (6 targets)
Week 5, 2017: 2-57-2 (3)
Week 6, 2017: 2-62-1 (5)
Week 8, 2017: 5-125-2 (8)
Week 2, 2018: 8-113-1 (9)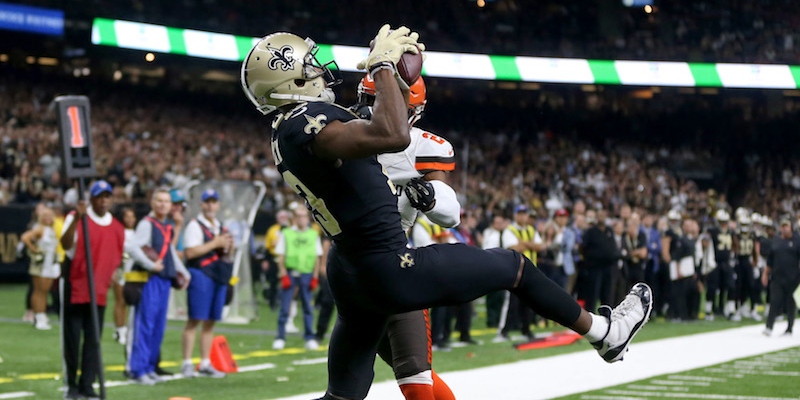 Nobody can guard Mike
Entering 2018, Michael Thomas (aka @Cantguardmike) and Drew Brees owned the highest catch rate between a quarterback and wide receiver over the past 25 years at 72.6% (minimum 150 targets).
They've somehow been even better through two weeks:
Week 1, Thomas vs. Buccaneers: 17 targets, 16 receptions, 180 yards, 1 TD
Week 2, Thomas vs. Browns: 13 targets, 12 receptions, 89 yards, 2 TDs
The Saints utilize Thomas all over the formation in an attempt to exploit various mismatches, but Brees' best-receiver ever is more than capable of winning any matchup.
Next up is a Falcons defense that Thomas has burned for 410 yards and three touchdowns in four career games against it.
Captain checkdown Alex Smith is BFF's with Chris Thompson
The Redskins' decision to let Kirk Cousins walk in favor of Smith led to plenty of uncertainty surrounding the pecking order at receiver entering the season.
Jamison Crowder was the presumed favorite heading into Week 1, but Smith's target distribution through two weeks tells a much different story:
Chris Thompson: 21 targets (29% target share)
Jordan Reed: 13 (18%)
Paul Richardson: 12 (17%)
Josh Doctson: 10 (14%)
Crowder: 8 (11%)
Adrian Peterson: 6 (8%)
Vernon Davis: 2 (3%)
It's not a good look for any receiver to find himself sandwiched between Doctson and Peterson, regardless of the statistic. Perhaps Crowder can get things going in Week 3 against a Packers defense that was flamed for 425 yards and four touchdowns by Kirk Cousins and the Vikings on Sunday.
Dalvin Cook's hamstring hurts
Cook was forced out of the Vikings' tie against the Packers with a hamstring injury that he says is "fine." Cook has worked as the offense's undisputed lead back through two weeks, posting combined 26-78-0 rushing and 9-107-0 receiving lines against the 49ers and Packers.
The status of the Vikings' No. 1 back is especially important entering a mouth-watering spot at home against the Bills' spectacularly terrible defense. Latavius Murray averaged 12.6 PPR points per game and 18.1 combined rush attempts and targets in 12 games with Cook sidelined last season.
The league's surprise teams are historically surprising
Perhaps no other three teams have provided more shocking on-field moments through two weeks than the Buccaneers, Browns and Saints. Their offensive and defensive yards-per-play rates so far seem to confirm their puzzling on-field product:
Buccaneers offense: 8.0 yards per play | Defense: 6.6
Browns offense: 4.5 yards per play | Defense: 5.3
Saints offense: 6.3 yards per play | Defense: 7.0
The Saints' offense has equaled their league-leading mark from 2017, but the defense hasn't looked anything like the unit that allowed only 5.4 yards per play last season.
Meanwhile, the Buccaneers' current offensive rate would shatter record books (in a good way), while the Browns would do so in a bad way. Neither team's defense has exactly changed from terrible (Buccaneers) or average (Browns).
---
>> Sign up for The Action Network's daily newsletter to get the smartest NFL conversation delivered into your inbox each morning.
---
Lions, Cardinals, Bills — Oh My!
There's already a clear hierarchy between the best and worst teams in the league. Seven teams are undefeated entering Week 3 (point differential in parenthesis):
Los Angeles Rams (+54)
Cincinnati Bengals (+22)
Jacksonville Jaguars (+16)
Miami Dolphins (+15)
Kansas City Chiefs (+15)
Tampa Bay Buccaneers (+14)
Denver Broncos (+4)
While six teams have failed to come out on the winning side …
Houston Texans (-10)
New York Giants (-12)
Oakland Raiders (-21)
Detroit Lions (-34)
Arizona Cardinals (-52)
Buffalo Bills (-55)
The latter three teams have truly separated themselves as worst of the worst. Up next for the Lions, Cardinals and Bills are the Patriots, Bears and Vikings — respectively — so there's a decent chance that we'll be having this same conversation this time next week.
How would you rate this article?