Freedman's 53-Man NFL Roster of Remaining Free Agents: The Green Dot City Action
Credit:
Credit: USA TODAY Sports
The NFL has just granted its 33rd franchise to Green Dot City: The team will be called "The Action."
General manager Matthew Freedman breaks down the theoretical coaching staff and 53-man roster, constructed with free agents only.
Have you heard of Green Dot City? No? As a resident of the burgeoning metropolis, I'll tell you all about it.
First of all, it's a great place. Strong school system, no taxes. It's basically a dream. If Green Bay and Narnia and Las Vegas had a ménage à trois, Green Dot City would be the love child. Scientifically speaking.
Here's the coolest fact about Green Dot City: It has just been awarded the NFL's 33rd franchise.
Team name? The Action.
Sort of like the Thunder, Heat, Magic or Jazz in the NBA or the Lightning, Avalanche or Wild in the NHL — except exponentially cooler.
It's an unconventional name, but that's fine. It's going to be an unconventional team in that it will be constructed solely with players and coaches not under contract with any NFL franchise as of April 12.
That's right: No expansion draft. Because we're the NFL's Statue of Liberty.
"We": That's right. I'm the general manager.
"NFL's Statue of Liberty": Give me your tired, your poor, your huddled masses — the wretched refuse you think are no longer fit to be on an NFL roster. Give me these players. These are my guys. They're cheap, they have chips on their shoulders and they're hungry.
If you give me 53 such players, I'll give you a championship.
I want to dig in the dirt to find my players, because according to the geology course I dropped my sophomore year of college, that's where the gold is.
Plus, whenever we win Super Bowl 54, I don't want the other teams in the league to complain about how we somehow gamed the expansion draft and had an unfair advantage.
I want them to know that we beat them with the deck stacked against us. I need them to feel the humiliation of losing to a team of rejects. I crave that kind of pain for my enemies. ("The Rains of Castamere" plays in the background.)
The 2019 NFL draft is less than two weeks away. Are we going to add any rookies to the team? Maybe. Probably.
But I'm not going to count on any first-year players. The soldiers who enlist voluntarily — those are the guys I'm going to war with. The veterans. But the recruits compulsorily conscripted — I'm sending those guys to boot camp. They need basic training. They're not yet soldiers.
They're not ready … for THE ACTION.
Without further ado, the inaugural coaching staff and roster of the future six-time Super Bowl-winning Green Dot City Action! (Age for the 2019 season in parentheses.)
Action Coaching Staff
Head Coach: Steve Spurrier (74). The Head Ball Coach has a collegiate national championship on his résumé, and his experience as the Washington Redskins head coach in 2002-03 should serve him well. He impressed in his brief tenure with the Orlando Apollos, and he's available for hire now that the Alliance of American Football is dead.
Offensive Coordinator: Tony Romo (39). I think he could be persuaded. Why wouldn't he want to live in Green Dot City? And the head coaching job would be his in a couple of years after Spurrier's retirement.
Defensive Coordinator: Mike Singletary (61). The Hall-of-Fame linebacker disappointed in his 2008-10 stint as the San Francisco head coach, but he has decades of NFL experience. I'm not thrilled with Singletary, but what am I to do: Hire Greg Schiano?
Special Teams Coordinator: Alan Lowry (69). That the architect of the Music City Miracle isn't on an NFL coaching staff is a travesty. Lowry won a national championship in college as a defensive back with the 1969 Texas Longhorns, and he was a special teams coordinator for Tom Landry's Cowboys in the 1980s and the Super Bowl-winning 49ers in the 1990s. He's a great addition.
Assistant Head Coach: Marvin Lewis (61). Say what you want about the guy: Lewis knows how to deal with institutional turmoil and instability in a long-term fashion. He's a survivor. He'll be a competent Hand of the King, taking care of all the day-to-day coaching matters that Spurrier doesn't want to deal with.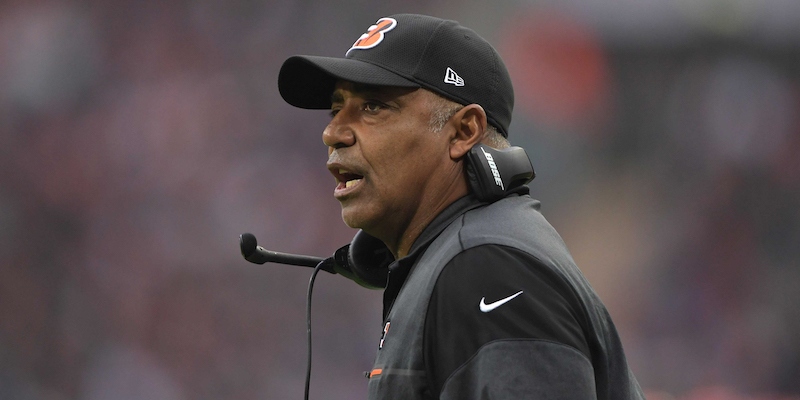 Athletic Trainer: Rob Gronkowski (30). You can never have too many all-time greats working for a franchise.
---
Quarterbacks
Starter/Backup: Sam Bradford (32). The former No. 1 overall pick completed 71.8% of his passes in 2016-17 with the Minnesota Vikings. He gets a mulligan for his disappointing 2018 with the leaderless Arizona Cardinals, and I trust that Spurrier and Romo can create a system that suits Bradford's strengths.
But Bradford does come with significant injury concerns, and I don't think of him as an upside player. He won't be given the starting job. He's going to have to win it, and his competition isn't a pushover.
Starter/Backup: Colin Kaepernick (32). It's been two years since Kaepernick has played, and he brings controversy with him. But as polarizing as he is off the field, on the field he is intriguing.
In his 2.5 seasons as a starter under Jim Harbaugh with the 2012-14 San Francisco 49ers, Kaepernick had 7.6 adjusted yards per pass attempt, rushed for 36.7 yards per game and led the team to Super Bowl 47. He was one of the most dynamic quarterbacks in the league.
Kaepernick hasn't been the same since Harbaugh returned to the college ranks, but with Spurrier and Romo building an offense around him, Kaepernick could once again become a force.
Third String: Josh McCown (40). The 16-year veteran has been with eight different NFL franchises (not counting the Action): He's a total professional. He will help the starter prepare for games and is capable of playing competently in spot starts if needed.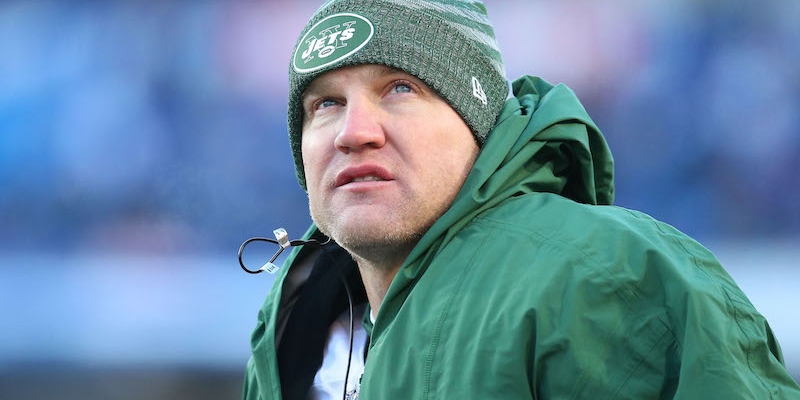 And there's a chance he could be elevated to the backup role if I decide to cut the loser of the starting quarterback battle: I might need the extra roster spot for the defensive side of the ball.
Developmental Prospect: Johnny Manziel (27). What do we have to lose? He could learn a lot from Spurrier and Romo, and with his dual-threat ability, Manziel could eventually develop into a starter.
---
Running Backs
Starter: Jay Ajayi (26). He's recovering from an ACL tear, but Ajayi should be ready to go by the start of the 2019 regular season. It's not every day you can add a back in his prime with two 1,000-yard campaigns. And if Ajayi's knee issues hinder his performance, we can always put him on injured reserve and add another cheap back to the roster. The position has no shortage of available talent.
Backup: Spencer Ware (28). Ware is a big-bodied back with a three-down skill set and a 1,350-yard campaign to his name. He's an excellent No. 2 option behind Ajayi and more than capable of playing as the starter if needed.
Receiving Back & Returner: Darren Sproles (36). The Mighty Mouse impersonator has been one of the NFL's best pass-catching backs and return men for the past decade. Even with fewer than 10 touches per game, Sproles could be a key contributor for Romo on offense and Lowry on special teams.
Fullback: Mike Burton (27) – The Action offense probably won't see lots of sets with a fullback, but Burton still deserves a spot on the team. He's had a Pro Football Focus (PFF) run-blocking grade of at least 74.0 and pass-blocking grade of at least 82.0 in three of four years.
---
Wide Receivers
Starting Split End: Terrell Owens (46). I'm not even joking. T.O. has been open about his desire to play in the NFL again, and he's still in great shape. Just a couple of years ago, he ran a 40-yard dash in fewer than 4.50 seconds.
This experiment could end in disaster, but Romo should be able to manage his former No. 1 receiver and scheme him the ball. The risk is worth it: Almost no wide receiver available in the market has Owens' upside, even at his age.
At a minimum, he'll create interest in the team and generate ticket sales. If it doesn't work out with T.O., we'll be quick to cut him.
Starting Flanker: Michael Crabtree (32). Just a possession receiver at this point in his career, Crabby isn't an exciting addition, but he's a solid professional who should play his best as the No. 2 option. Across from T.O., Crabtree should see relatively soft coverage.
Potential Slot Receiver, Offensive Weapon & Returner: Carlos Henderson (25). A dynamic receiver, rusher and returner in college, the former third-rounder is yet to play an NFL down because of a thumb injury that wiped out his rookie year and personal issues that caused the Broncos to cut him. But he's apparently looking to return to football.
Henderson was one of the most intriguing receivers of the 2017 draft class. He has undoubted potential. The only question with him is whether he'll put in the work to develop. But I think he could do well in the slot.
Potential Slot Receiver, Offensive Weapon & Returner: Brandon Banks (32). Measuring in at just 5-foot-7 and 150 pounds at the 2010 combine, Banks was never likely to be more than a return man in the NFL. But in college he was an explosive receiver and runner in addition to returner, so after three seasons with the Washington Redskins, Banks went to the Canadian Football League, where he has demonstrated his worth.
Last year he was second in the league with 94 receptions and 1,423 yards and tied for first with 11 touchdowns receiving in 14 games. Over the past five years, Banks has also contributed as a runner and scored seven touchdowns as a returner.
He really might be able to find an NFL role for himself in the slot.
Veteran Speedster: Aldrick Robinson (31). A situational deep threat, Lord Aldrick scored five touchdowns last year on just 35 targets. His 16.8-yard average depth of target was the fifth-highest mark in the league for anyone with more than 25 targets. He's a nice supplementary piece.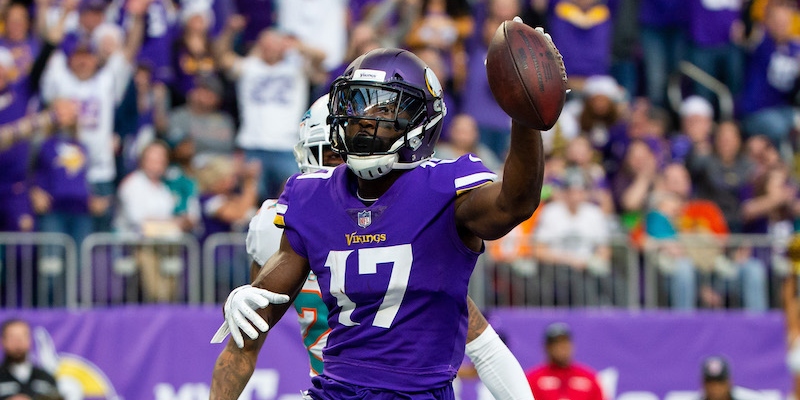 Developmental Receiver & Special Teamer: Leonte Carroo (25). A young receiver drafted with a third-round pick in 2016, the Rutgers product has a good physical profile (6-foot, 211 pounds, 4.50-second 40 time) and a history of receiving dominance in college (senior-year 99th-percentile market share). I'm more than willing to give Carroo a second shot.
Developmental Receiver & Special Teamer: Jeff Janis (28). You had to know this was coming. It might seem excessive to roster seven wide receivers, but I doubt that all of the guys ahead of him on the depth chart will last the entire season.
Janis is big (6-foot-3, 219 pounds) and fast (4.42-second 40), and in college he had back-to-back seasons of 1,500 yards receiving. In a 2015-16 playoff game with the Green Bay Packers, he famously had 101 yards receiving and a touchdown on a last-minute drive, twice bailing out quarterback Aaron Rodgers with athletic game-saving receptions.
Janis could still turn into a star. At worst, he's a top-tier special-teams gunner.
Tight Ends
Starter: Maxx Williams (25). We were hoping to reach a deal with Austin Seferian-Jenkins, but the New England Patriots signed him to a one-year contract.
Still, we're satisfied with Williams.
His career has been derailed by knee injuries, but he's presumably healthy now, and he's still incredibly young. You know who the last tight end was to play as a 21-year-old rookie, have four straight disappointing seasons then hit free agency? Eric Ebron.
Backup: Levine Toilolo (28). The tight end pool gets really shallow after Williams, so much so that I even considered signing an Alliance tight end — but then I came to my senses. Toilolo is a perfectly acceptable, professional No. 2 option. He's adequate as a receiver and blocker. My hope is that Romo's system won't call for lots of sets with two tight ends.
H-Back: Ryan Hewitt (28). Toilolo and Hewitt played together behind Coby Fleener at Stanford, combining for 59 receptions, 625 yards and 11 touchdowns in quarterback Andrew Luck's final college season in 2011. I like the idea of rostering intelligent backups who have worked together before.
And Hewitt provides valuable versatility. He can play in the backfield, in line and in the slot. Last year with the Indianapolis Colts he had a 79.8 Pro Football Focus pass-blocking grade as a tight end. When he played primarily as a fullback with the Cincinnati Bengals in 2014 and 2016, he had PFF run-blocking grades of 80.0 and 75.5.
---
Offensive Tackles
Starting Left Tackle: Donald Penn (36). He is old and coming off an injury-shortened campaign that was probably the worst of his career, but the Oakland Raiders stupidly had him playing at right tackle after he spent his entire career on the blind side.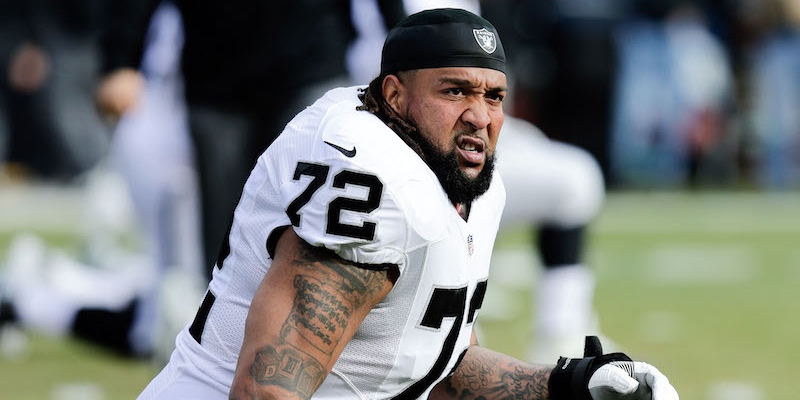 He had two Pro Bowl campaigns as recently as 2016-17 and has been an above-average pass and run blocker throughout his career. This is a fantastic signing.
Starting Right Tackle: Jermey Parnell (33). There's nothing special about Parnell's game, but he's been a competent starter at right tackle for the Jacksonville Jaguars over the past four years. His pass- and run-blocking PFF grades have been no worse than average over that time.
Swing Tackle: Jared Veldheer (32). A nine-year starter with experience at both left and right tackle, Veldheer is the perfect veteran to back up Penn and Parnell. Honestly, Veldheer might even challenge for a starting spot. And I love that he played for the 2014-17 Arizona Cardinals under Bruce Arians.
Backup Tackle: Joe Barksdale (31). A five-year starter at right tackle with a little experience on the blind side, Barksdale provides depth and could perhaps challenge Parnell for a starting job.
Interior Offensive Linemen
Starting Left Guard: Andy Levitre (33). Like Penn, Levitre is coming off an injury-shortened season in which he didn't look great, but he's a long-time starting left guard with above-average career-long PFF pass- and run-blocking grades. He has valuable postseason experience with the 2016-17 Atlanta Falcons.
Starting Center: John Sullivan (34). Like Penn and Levitre, Sullivan is an aging veteran coming off a down season, but before last year, Sullivan had a string of strong campaigns as a pass and run blocker.
I like the experience he brings from working with Los Angeles Rams head coach Sean McVay in 2017-18 and opening up holes for running back Adrian Peterson with the Minnesota Vikings in 2008-14.
Starting Right Guard: Mike Remmers (30). I'm not thrilled about having Remmers at right guard, but I think he's the best option we have. Last year was his first in the interior — he started at right tackle in 2014-15 and 2017 and left tackle in 2016 — and he predictably had the worst season of his career, probably because of the position change.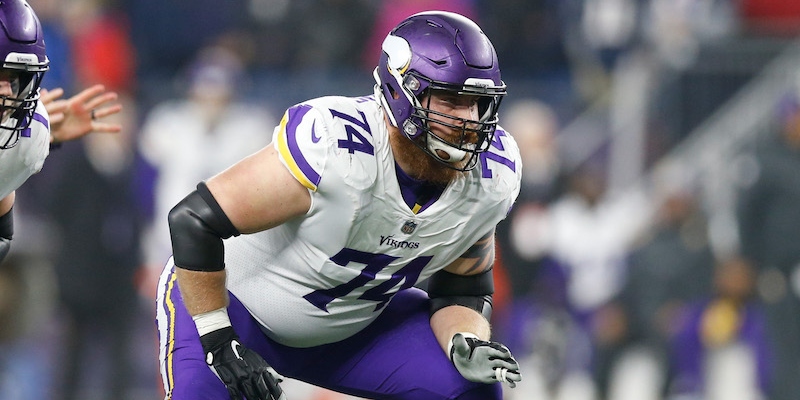 Even so, he wasn't horrible in 2018, and my hope is that he can build upon what he learned last year and improve in 2019.
Backup Guard: Jeff Allen (29). Like Barksdale, Allen is a five-year starter who provides depth. I like that he has experience with HCs Andy Reid (2013-15, 2018 Kansas City Chiefs) and Bill O'Brien (2016-17 Houston Texans) as well as quarterbacks Patrick Mahomes and Deshaun Watson.
He has multiple years of experience at left and right guard and has made spot starts at both left and right tackle.
Backup Center: Stefen Wisniewski (30). A starter for the Super Bowl-winning 2017 Philadelphia Eagles, the former second-rounder has played primarily at left guard for the past three seasons. But before that, Wisniewski was an above-average starting center for the 2011-14 Oakland Raiders and 2015 Jacksonville Jaguars.
He provides excellent depth, versatility and championship experience.
---
>> Sign up for The Action Network's daily newsletter to get the smartest conversation delivered into your inbox each morning.
---
Interior Defensive Linemen
3-4/4-3 Defensive Tackle & Situational Nose Tackle: Ndamukong Suh (32). Singletary played in a 4-3 but coached a 3-4 with the 49ers. With the Action, I want him to use a hybrid scheme that employs multiple fronts. Suh is perfect for that. He's a versatile, system-independent interior disruptor with a borderline Hall-of-Fame career to this point.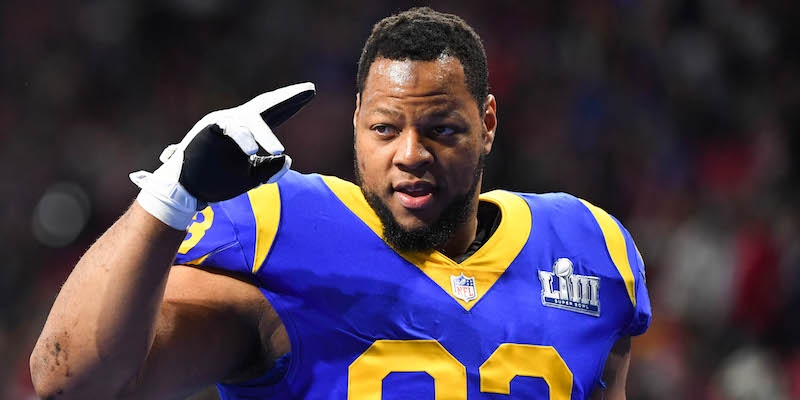 After five years with the Action, Suh will be a HOF shoo-in.
3-4/4-3 Defensive Tackle: Timmy Jernigan (27). The former second-rounder is still young, and he has experience in both a 3-4 (2014-16 Baltimore Ravens) and 4-3 (2017-18 Philadelphia Eagles). It also doesn't hurt that he won a national championship with the 2013 Florida State Seminoles and a Super Bowl with the 2017 Eagles.
3-4 Defensive Tackle/End & 4-3 Defensive Tackle: Muhammad Wilkerson (30). The former first-rounder played all over the New York Jets 3-4 defensive line for Rex Ryan and Todd Bowles. Wilkerson could do the same for the Action, and I think he'd also fit just fine on the interior of a 4-3.
Run-Stopping Nose Tackle: Danny Shelton (26). I don't expect the former No. 12 overall pick to see lots of playing time, but it never hurts to have a high-end run-stuffing interior presence in key short-yardage situations. Fresh off a Super Bowl 53 win with the New England Patriots, Shelton should bring some swagger to the startup franchise.
Edge Defenders
4-3 End: Ezekiel Ansah (30). I'm listing Ziggy as a defensive end, but I'm not going to worry too much about whether a guy is more of a 4-3 end or a 3-4 outside linebacker, because our defense will be hybrid and rely on a steady rotation of guys at the position so that everyone can stay fresh.
Ziggy is the best edge defender in the market and just one season removed from a 12-sack campaign. He's a great addition to the team.
4-3 End: Adrian Clayborn (31). Like Shelton, Clayborn joins the Action just off a Super Bowl-winning season with the New England Patriots. He's unlikely ever to be a Pro Bowler, but Clayborn is a steady player who can be a good contributor in a pass-rushing committee.
4-3 End & 3-4 Outside Linebacker: Derrick Morgan (30). The long-time Tennessee Titan has experience in both the 4-3 and 3-4 and is a solid eight-year starter. He managed just 0.5 sacks in 2018, but in the two years prior he had 16.5.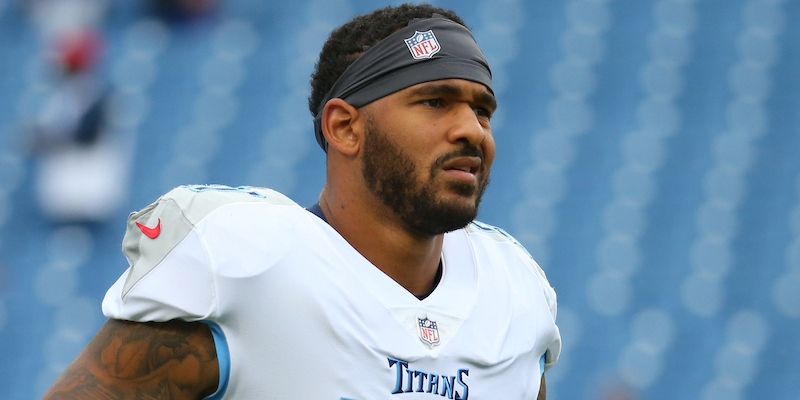 3-4 Outside Linebacker & 4-3 End: Connor Barwin (33). Gone are the 14.5-sack glory days of 2014, but Barwin is a seven-year starter with valuable experience under defensive coordinators Wade Phillips (2011-12 Houston Texans, 2017 Los Angeles Rams) and Jim Schwartz (2016 Philadelphia Eagles).
Barwin had just one sack in 2018, but in his five previous campaigns he averaged 7.3 sacks per season.
3-4 Outside Linebacker: Pernell McPhee (31). Despite having eight years in the league, McPhee has just one season under his belt as a regular starter, and he had no sacks last year. But in 2018 he still had a 73.5 PFF pass-rushing grade, and in 2014-17 he averaged 5.4 sacks per year.
He has beneficial experience with defensive coordinators Dean Pees (2012-14 Baltimore Ravens) and Vic Fangio (2015-17 Chicago Bears).
3-4 Outside Linebacker: Shane Ray (26). The former No. 23 overall pick is yet to realize his potential, accumulating just two sacks over the past two seasons. But both campaigns were impacted by seemingly random wrist injuries, and in 2016 he managed 8.0 sacks in 16 games. Ray could still turn into a serviceable NFL player.
Off-Ball Linebackers
Inside Linebacker: Zach Brown (30). A Pro Bowler with the 2016 Buffalo Bills, the seven-year veteran is coming off one of the best seasons of his career, finishing with an 89.2 PFF grade thanks to his strong run defense, tackling and coverage for the Washington Redskins.
Brown has experience with playing a number of roles in different schemes. In 2018 he was a classic middle linebacker in a 4-3, but in 2014-17 he played in a 3-4, and he opened his career as a weak-side 4-3 linebacker in 2012-13.
4-3 Outside Linebacker, 3-4 Inside Linebacker & Situational Edge: Jamie Collins (30). A do-it-all player with five seasons as a full-time starter, Collins will be an important playmaker in the Action defense.
With the 2013-16 New England Patriots, he played on the inside in the 3-4 and on the strong and weak sides in the 4-3. After his midseason trade to the Cleveland Browns, he played as a 3-4 edge defender in 2016 before moving back to a 4-3 outside role in 2017-18.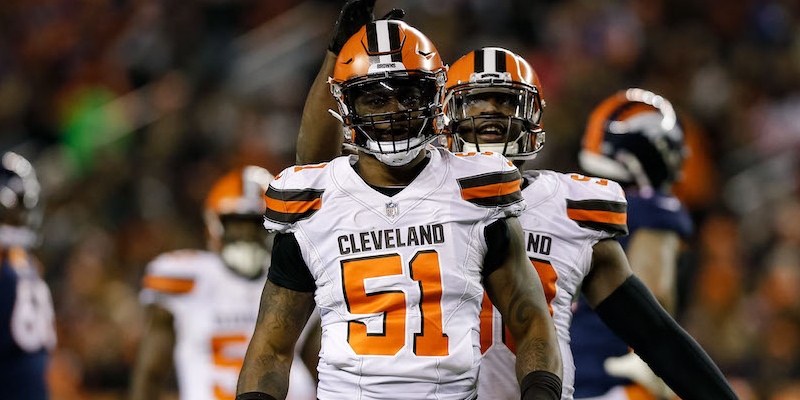 Regardless of whatever defense we're in, Collins will have a role.
4-3 Outside Linebacker & 3-4 Inside Linebacker: Josh Bynes (30). A starter for three of the past four years, Bynes is a solid run defender with versatility. Last year, he was a 4-3 middle linebacker. The year before that, a 3-4 inside linebacker. The two seasons before that, he played on the weak side in a 4-3. The year before that, the strong side.
Inside Linebacker: Manti Te'o (28). He doesn't have great athleticism, but Te'o has been an above-average coverage linebacker for most of his career, and last year he had an 80.4 PFF grade thanks to his improved run defense. He's pretty much a middle-of-the-field player regardless of scheme, but he has experience in the 3-4 and 4-3.
Backup Linebacker & Special Teamer: Zach Vigil (28). He has just eight NFL starts across his four-year career, but Vigil has been an above-average pass defender over the past two seasons in limited action with the Washington Redskins, and he's a sure defender with PFF tackling grades of 83.8 and 78.3 since 2017. Someone has to play on special teams.
---
Cornerbacks
Starting Right Corner: Morris Claiborne (29). The former No. 6 overall pick struggled early in his career with the Dallas Cowboys, but he was serviceable over the past two years with the New York Jets. He has experience in shadow coverage and playing on either side of the field.
It's not easy to find competent corners in free agency, so we're lucky to get Claiborne — even if he's never going to be an elite player.
Starting Left Corner: Brent Grimes (36). The 11-year starter has played almost exclusively on the left side throughout his career, so that's where we'll put him. He brings plenty of baggage with him to Green Dot City: Last year with the Tampa Bay Buccaneers he reportedly refused to shadow opposing No. 1 receivers because he felt he wasn't being paid as if he were a shutdown corner.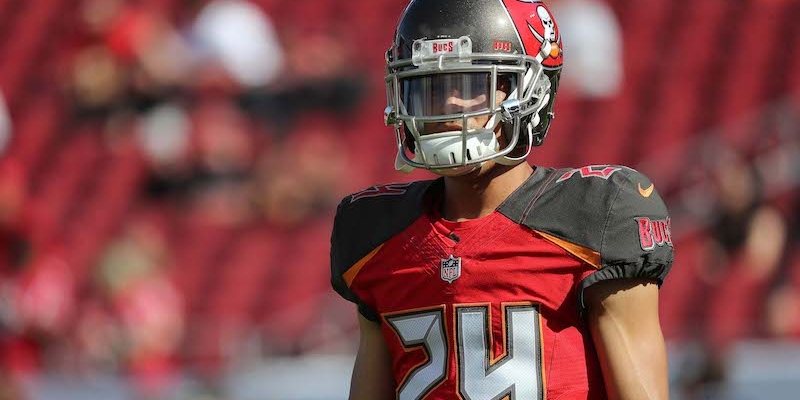 But if used intelligently, Grimes should be able to provide league-average play.
Starting Slot Corner: Orlando Scandrick (32). The long-time Dallas Cowboys slot corner had something of a bounceback last year with the Kansas City Chiefs after moving to the outside, earning a 70.2 PFF coverage grade. But Scandrick has always seemed most comfortable in the slot.
At a minimum, Scandrick provides nice versatility as someone who can line up across the formation.
Backup Outside Corner: Sam Shields (32). Despite entering the league as an undrafted free agent in 2010, Shields was a dependably above-average outside corner for the first six years of his career with the Green Bay Packers.
But he played just one game in 2016-17 due to a concussion. And when he returned to the field in 2018 for the Los Angeles Rams, he was just a part-time player with below-average cover skills.
Still, Shields has plenty of experience on the outside and should be a capable spot starter.
Backup Slot Corner: Captain Munnerlyn (31). The 10-year veteran can play on the outside if needed, but he's settled into the slot over the past few seasons and been a solid cover man for most of his career: Not since 2012 has Munnerlyn had a PFF coverage grade lower than 60.0.
Safeties
Strong Safety & Slot Corner: Eric Berry (31). Selected No. 5 overall in the 2010 draft, Berry was a locked-in All-Pro for the Kansas City Chiefs before he missed most of the 2017-18 campaigns with an Achilles injury. In 2016, Berry had an elite 90.5 PFF coverage grade, and he might return to form in 2019 thanks to the additional time that has passed since his injury.
And if he flashes in coverage, we might choose to give him regular snaps at slot corner, because I think safety is more of a strength for the Action defense than cornerback is.
Free Safety: Tre Boston (27). Although he did relatively little his first two years in the league, the former fourth-rounder has been a starter for three different teams over the past three seasons, allowing a completion rate of just 47.8% in that time. He's still young, and he's an above-average player at the position.
Safety & Slot Corner: Glover Quin (33). Like Berry, Quin could see some action in the slot because of his versatility. Quin opened his career with the Houston Texans by rotating through the three cornerback spots as a starter, then in his third year he moved to safety, where he's seen plenty of action at both spots.
Over the past six years with the Lions, Quin has primarily been a free safety, but he can still play wherever needed. He had a mediocre 2018 in his first season in Matt Patricia's scheme, but in 2017 Quin had an elite 91.3 PFF coverage grade.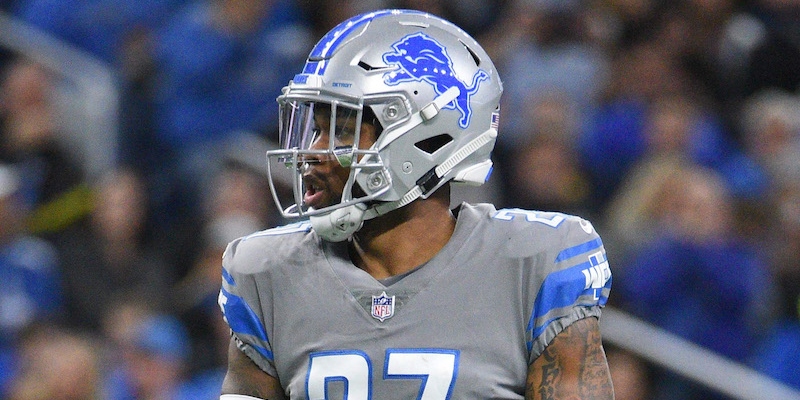 I feel very comfortable with Berry, Boston and Quin all on the field together in nickel and dime packages.
Backup Safety: Corey Graham (34). Since 2011, Graham has been an above-average cover man for four different teams, most recently the Philadelphia Eagles, with whom he won a Super Bowl.
A 2007 fifth-rounder, Graham has been a corner for most of his career, so he has ample experience on the outside and in the slot, and since moving to safety in 2015, he's played both in the box and deep down the field. He offers great versatility to the secondary.
---
Specialists
Long Snapper: Jon Condo (38). Honestly, we're lucky that Condo is available. Of all the active long snappers to play in a Pro Bowl — and Condo has been selected for the event twice (2009, 2011) — he's the only one still on the market. He's old, but so is almost every other long snapper who matters.
Punter: None. I could go with Bryan Anger (31), who has an above-average career mark of 46.2 yards per punt. But here's the thing: Why would we roster a player we're not going to use?
We're not going to punt the ball. We're going for it on fourth down 95% of the time. The remaining 5%? Our kicker can punt it. He better start practicing now.
Kicker: Matt Bryant (43). Sure, I'll take the guy who has connected on 88.7% of his field-goal attempts and 99.2% of his extra-point attempts over the past decade. Seems like a decent idea.
For context: Recently re-signed New England Patriots kicker Stephen Gostkowski has conversion rates of 88.1% and 98.9% on field goals and extra points in that same time frame.
Few kickers in the league are better than Bryant.
---
Matthew Freedman is the Editor-in-Chief of FantasyLabs. He has a dog and sometimes a British accent. In Cedar Rapids, Iowa, he's known only as The Labyrinthian.
How would you rate this article?