2021 NFL Free Agency Winners & Losers: Team Edition
Credit:
Jim McIsaac/Getty Images. Pictured: Buccaneers
The 2021 edition of NFL free agency wasn't the splashiest, but plenty of the movement should impact teams — for better or for worse. With that in mind, a quartet of our NFL analysts break down which teams had the best and worst free agency periods below.
---
NFL Free Agency Winners
Team
Washington Football Team
Cleveland Browns
Tampa Bay Buccaneers
Washington Football Team
Matthew Freedman: The Patriots added a lot of talent, but they also overpaid for some players. When taking everything into account, I like what the Football Team did better.
Entering the offseason, Washington already had a team poised to compete in the NFC East. In head coach Ron Rivera's first year with the franchise, the team won the division while surviving a plethora of organizational scandal and a starting quarterback rotation of Alex Smith, Dwayne Haskins, Kyle Allen and Taylor Heinicke.
What Washington accomplished last year was remarkable.
And the team should be better this year. To a defense that ranked No. 4 in 2020 with just 20.6 points allowed per game, the Football Team has added No. 1 cornerback William Jackson III, who last year flashed some shadow coverage ability and for his career has yielded a completion rate of just 52.2%.
Alongside incumbent cornerback Kendall Fuller, Jackson should be a significant source of strength for the Washington secondary.
And on the offensive side of the ball, the Football Team has been fortunate enough to add veteran quarterback Ryan Fitzpatrick and versatile wide receiver Curtis Samuel.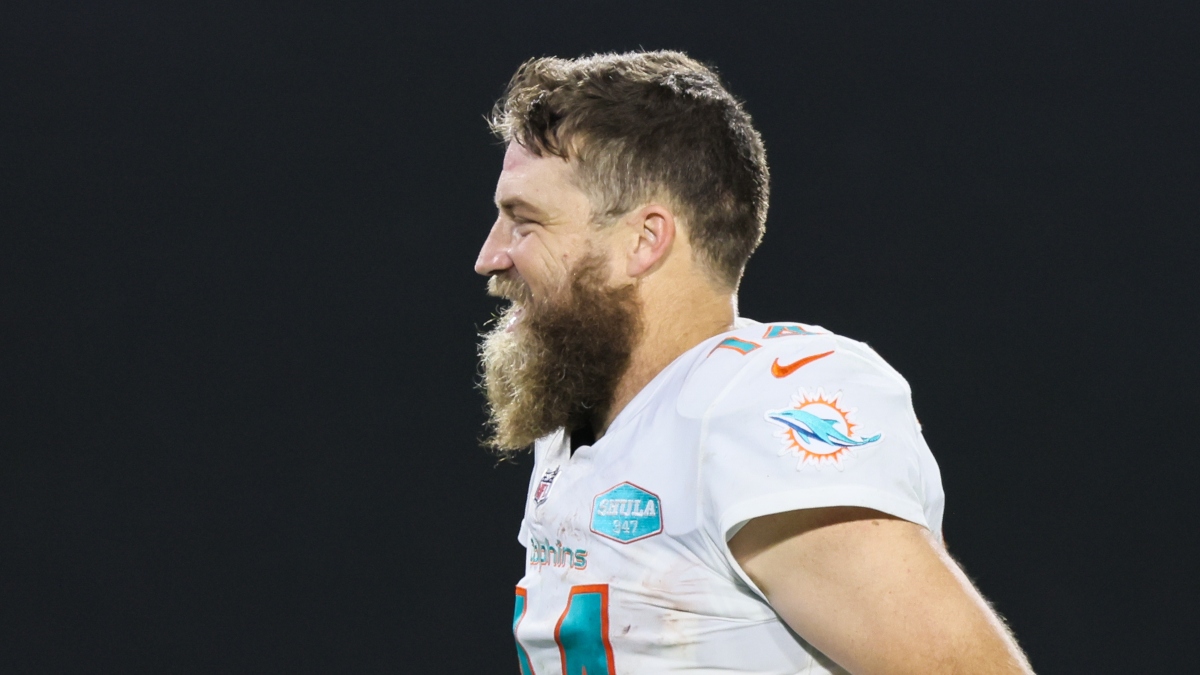 Fitzpatrick isn't a splashy addition, but he is a marked improvement on what Washington had last year, and he has the right combination of YOLO willingness and veteran intelligence to give the Football Team much more of an aggressive edge on offense. I am actually excited — for real life and also fantasy — to see what Fitzpatrick can do in Washington with the receivers he has around him.
As for Samuel, he knows the system thanks to his years with offensive coordinator Scott Turner in Carolina, and he plays a variety of roles: He can line up out wide or in the slot. He can stretch the field or run short-to-intermediate routes. He can also take handoffs on end-arounds or out of the backfield. He's an offensive mismatch chess piece, but that's not to say he's just a gadget player. Rather, he's a well-rounded receiver who had 1,000 scrimmage yards last year and is finally in position to reach his full potential.
And perhaps most importantly: Washington didn't do anything egregiously stupid in free agency in terms of the players signed and allowed to walk. It was a great free agency period for the Football Team.
Samantha Previte: The Washington Football Team feels like the rather obvious choice, but it's also important to give credit where credit is due.
Washington surprised many last season with major improvements to its defense, which allowed the second-fewest offensive yards per game in the regular season behind the Rams. The Football Team finished atop the NFC East at 7-9 and were stymied in the wild-card round by the Buccaneers, who eventually went on to win the Super Bowl.
The team managed to accomplish this with the rotating cast at quarterback of Smith, Haskins, Allen and Heinicke and limited receiving talent outside of Terry McLaurin.
They addressed their defense last year, headlined by the addition of NFL Defensive Rookie of the Year Chase Young. This year, they've clearly turned their attention to their offense.
Say what you want about Fitzpatrick's career, he is an upgrade from their QB clown car last year and brings a veteran presence to the team. The Football Team also added one of the top receivers on the market, Samuel, on a three-year deal for $34.5 million. The speedy wideout should pair well with McLaurin, a former Ohio State teammate, and comes in with knowledge of Rivera's system having played for the Panthers.
In addition to its higher profile signings, Washington re-signed important veterans and made a few minimal risk moves which includes adding former Giants linebacker David Mayo, former Bears running back Lamar Miller and former Lions cornerback Darryl Roberts.
Even after all this, Washington ranks 10th in projected cap space with just over $19 million according to Spotrac. The culmination of the Football Team's free agency activities thus far has vastly improved the team and still leaves them well-positioned for future moves.
Cleveland Browns
Sean Koerner: The Browns' top priority this offseason will be to improve their 25th-ranked defense in Football Outsiders' DVOA, and they've done a great job (so far).
They signed safety John Johnson (3 years, $33.8 million), who should provide a significant upgrade to their secondary. Troy Hill (4 years, $24 million) will provide them with an upgrade at slot corner. And Takk McKinley (1 year, $4 million) was worth a flier at that price — the former first-round pick hasn't lived up to expectations, but there's a chance he could break out in his fifth season.
It's worth noting that they still have the cap space to add either Jadeveon Clowney or Melvin Ingram. I also expect them to address defensive end or linebacker with their first-round pick in April's draft.
The Browns were able to keep the entire offense intact by re-signing Rashard Higgins (1 year, $2.4 million). He's a quality No. 3 wide receiver and was able to step up when Odell Beckham Jr. went down last year.
Overall, the Browns have done a fantastic job in free agency (so far). They will continue to have the best offensive line and running back duo in the league, which makes them a dangerous team whenever they play with a lead. If their defense can improve to a top 10-15 unit, they will be Super Bowl contenders.
Tampa Bay Buccaneers
Chris Raybon: What's more difficult than assembling a squad that finishes third in offensive DVOA and fifth in defensive DVOA and beats Aaron Rodgers and Patrick Mahomes a combined three times en route to a Super Bowl Championship?
Keeping the band together to run it back.
This offseason, the Bucs did just that.
Re-signed DE Shaq Barrett (4 years, $72 million)
Franchise-tagged WR Chris Godwin (1 year, $16 million)
Re-signed LB Lavonte David (2 years, $25 million)
Re-signed TE Rob Gronkowski (1 year, $10 million)
Re-signed DT Ndamukong Suh (1 year, $10 million)
Re-signed RB Leonard Fournette (1 year, $4 million)
Re-signed K Ryan Succop (3 years, $12 million)
Re-signed DT Rakeem Nunez-Roches (2 years, $5 million)
Re-signed OG Aaron Stinnie (1 year, $1.25 million)
Extended QB Tom Brady, LT Donovan Smith, DE Jason Pierre-Paul
The only player of consequence who remains unsigned is wide receiver Antonio Brown, and while he would be nice to have back, he would more of a luxury entering his age-33 season. Not to mention that the Bucs have two promising young wide receivers waiting in the wings in third-year man Scotty Miller and second-year man Tyler Johnson.
When free agency started, the Bucs were the NFL's best team. Now that the dust has settled, nothing has changed.
---
NFL Free Agency Losers
Team
Las Vegas Raiders
Pittsburgh Steelers
Chicago Bears
Las Vegas Raiders
Previte: In a surprising departure from my normal Patriots and Texans slander, I'm going with the Raiders.
The acquisition of former Cardinals running back Kenyan Drake was the Raiders' headlining move of free agency. Drake, 27, signed a two-year deal with $11 million fully guaranteed and joins 2019 first-round pick Josh Jacobs in the Las Vegas backfield.
The Raiders also lost receivers Nelson Agholor and Tyrell Williams by way of free agency, whom they replaced with tepid talent. Former Ravens receiver Willie Snead, 28, joins fellow slot receiver Hunter Renfrow while former Bills receiver John Brown, 30, will play outside with 2020 first-rounder Henry Ruggs.
Adding a high-end running back in a vacuum isn't necessarily bad — I'm not part of the "running backs don't matter" sect — but doing so in the midst of a full teardown of your offensive line feels like a premature luxury. The Raiders traded offensive tackle Trent Brown to the Patriots, center Rodney Hudson to the Cardinals and offensive lineman Gabe Jackson to the Seahawks while only adding lineman Richie Incognito. General manager Mike Mayock will have to make a number of moves before the start of the season to ensure his quarterback and new investments — which will limit the Raiders' spending power later on — are adequately protected.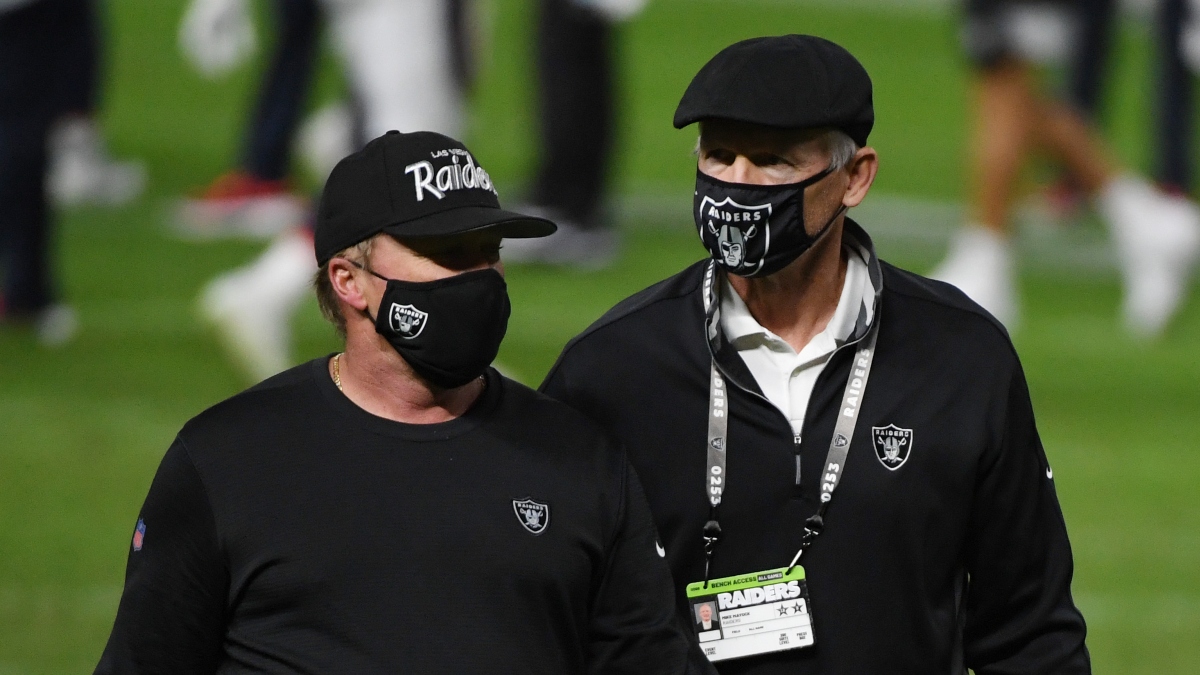 On net, I think the Raiders are coming out of the first wave of free agency both weaker as a team and worse positioned moving forward.
Raybon: If the aim of free agency is go to on a signing spree of players in decline, the Raiders won:
DE Yannick Ngakoue (2 years, $26 million) has seen his Pro Football Focus grade drop from 87.0 in 2017 to 72.7 in 2018, 72.0 in 2019, and 70.0 last season while notching a career-low 2.8 pressures per game.
RB Kenyan Drake (2 years, $11 million) has seen his yards per touch drop from 5.8 in 2018 to 5.3 in 2019 to 4.1 last season.
DL Solomon Thomas (1 year, $5 million) is rehabbing a torn ACL and has seen his PFF grade decline from 62.5 in 2018 (644 snaps) to 56.7 in 2019 (425 snaps) to 49.5 in 2020 (49 snaps).
WR John Brown (1 year, $4 million) went from averaging 4.8/70.7/0.40 in 2019 to 3.7/50.9/0.33 last season and is now entering his age-31 campaign.
WR Willie Snead (1 year, TBA) has failed to top 33 receptions or 432 yards the last two seasons after topping 60 catches and 650 yards in three of four seasons from 2015-18.
C Nick Martin (TBA) posted a career-low 56.1 PFF grade on 980 snaps last season.
The team also gutted its offensive line, dealing center Rodney Hudson, who PFF graded ninth of 38 qualifiers, as well as tackle Trent Brown and guard Gabe Jackson. Combined, those three played more than 2,400 snaps, so continuity could be an issue for the line in 2021.
Losing Nelson Agholor to the Patriots doesn't seem like a big deal considering the acquisitions of Brown and Snead, but Agholor finished sixth in the NFL with 10.9 yards per target, so there's likely to be an efficiency drop-off in replacing him with some combination of Snead (9.0) and Brown (8.8).
Perhaps Jon Gruden and Co. will extract a career year out of Brown or Snead like they did Agholor, or Ngakoue will return to form now that he is reunited with defensive coordinator Gus Bradley, but the odds of enough of these moves paying off to lift the team above its mediocre standing and truly challenge the Chiefs atop the AFC are slim.
In all likelihood, the Raiders made a whole lot of moves just to get worse.
Pittsburgh Steelers
Freedman: This offseason, the Steelers lost center Maurkice Pouncey (retirement), edge rusher Bud Dupree (free agency) and wide receivers Mike Hilton (free agency) and Steven Nelson (release), as well as other key contributors — and none of them has been replaced.
On top of that, the Steelers resigned wide receiver JuJu Smith-Schuster, whom they arguably don't even need thanks to the 2020 emergence of receivers Diontae Johnson and Chase Claypool.
And the team of course still has the albatross of declining quarterback Ben Roethlisberger still hanging around its neck for another year, thanks to a restructuring of his contract.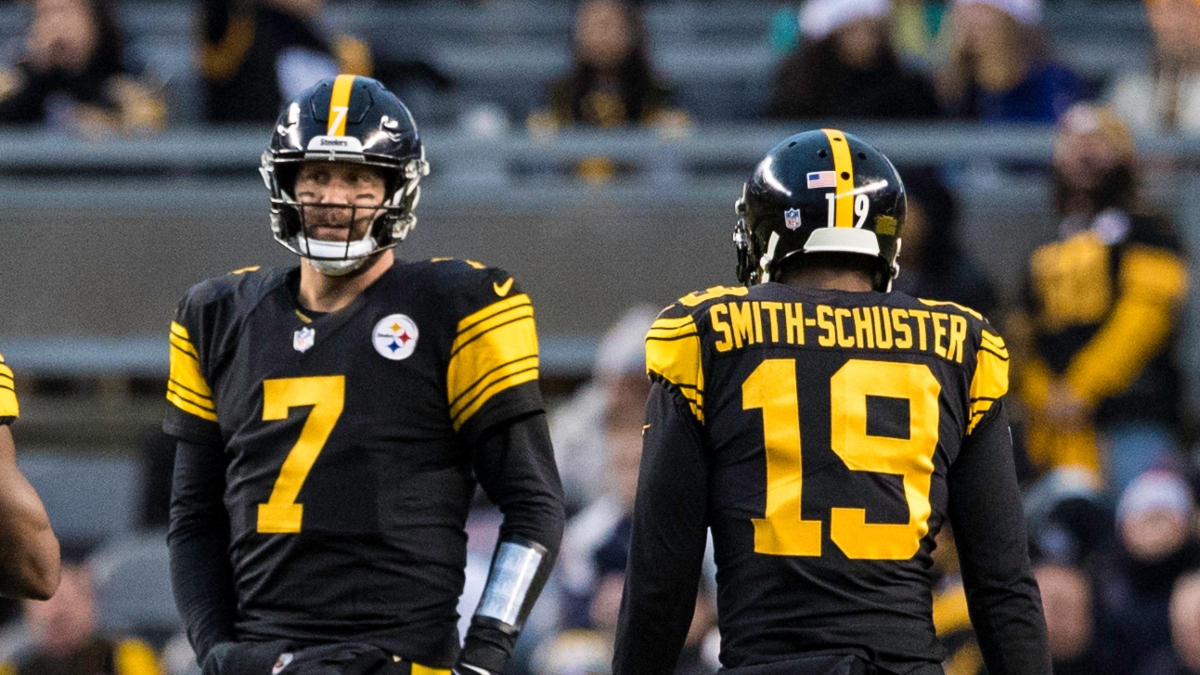 Maybe everything will work out and the Steelers will squeeze one more championship run out of Roethlisberger before he retires (hopefully) after the 2021 season, but this team has the look of a purgatorial franchise stuck between competing and rebuilding.
Chicago Bears
Koerner: At one point this offseason, the Bears were considered the favorites to pry Russell Wilson away from the Seahawks. It would have cost them a handful of draft picks but would have put them into a position to win now.
Instead, they chose to sign Andy Dalton to a one-year, $10.5 million contract in a move that will keep the Bears in a state of NFL limbo for the next couple years.
The Bears made another head-scratching move when they released one of their best defensive players in cornerback Kyle Fuller. It was the type of decision that would make sense if they went all-in on a rebuild. However, it appears general manager Ryan Pace is positioning the Bears to be a 7-10 caliber team this season in an attempt to save his job.
Pro Bowl safety Eddie Jackson summed up their offseason perfectly in his (since deleted) tweet.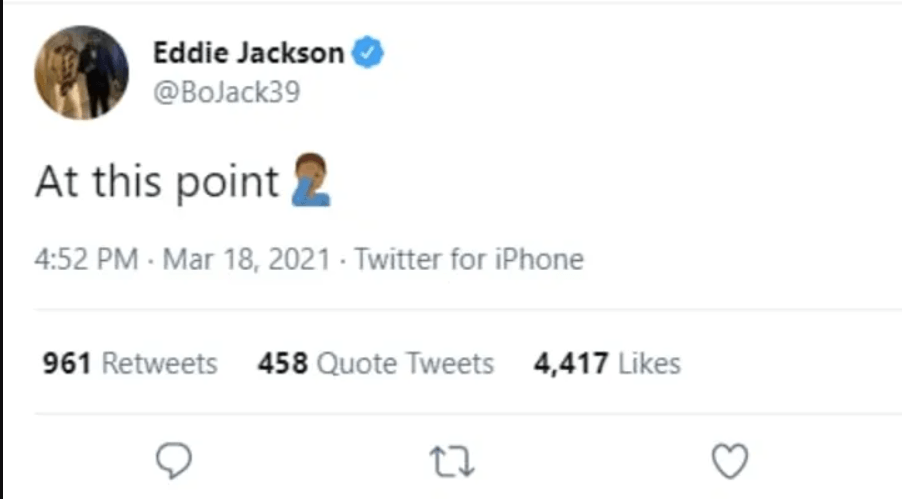 How would you rate this article?
This site contains commercial content. We may be compensated for the links provided on this page. The content on this page is for informational purposes only. Action Network makes no representation or warranty as to the accuracy of the information given or the outcome of any game or event.