Our Favorite 2019 NFL Futures: Win Totals, Super Bowl Picks, Props, More
Credit:
USA Today Sports. Pictured: Saquon Barkley, Patrick Mahomes, Antonio Brown
Win totals. Super Bowl picks. Playoff bets. Player props. MVP predictions.
Our analysts break down their 19 favorite NFL futures ahead of the 2019 season.
The 2019 NFL season is (almost) here.
Our staff reveals their 19 favorite futures, from the over on one of the highest win totals to a Super Bowl longshot to a surprise team missing the playoffs and more.
Note that all odds are as of Aug. 28, so as always, be sure to shop around for the best lines as odds can vary from book-to-book.
---
Go To: Win Totals | Super Bowl | Playoffs | Props | More
---
NFL WIN TOTALS
Chris Raybon: Chiefs Over 10.5 Wins (-125)
The Chiefs went 12-4 last season and should be better on defense with coordinator Steve Spagnuolo replacing Bob Sutton — aka Mr. Don't Protect The Middle Against Julian Edelman in Overtime of the AFC Championship Game — plus the arrival of difference-makers Frank Clark and Tyrann Mathieu.
The offense should be better, too, with the addition of rookie weapons Mecole Hardman and Darwin Thompson.
It's tough to find more than three to four losses on the Chiefs' schedule. Their three toughest games are on the road at the Chargers, Patriots and Bears, all of which the Chiefs are capable of winning. And the rest of their matchups against formidable opponents — Colts, Texans, Packers and Vikings — come at Arrowhead, where the Chiefs have gone 36-12 (.750) while allowing 17.1 points per game under Andy Reid.
The over is 6-0 under Reid in KC. The over also went 9-4-1 during Reid's time in Philly. And his starting quarterback, Patrick Mahomes, threw 50 touchdowns and posted the third-best yards per attempt (8.79) of any quarterback to make 15-plus starts since 2005 — and he did this all in career starts Nos. 2-17. Passing efficiently is strongly correlated with winning, so we should expect this year's version of the Chiefs to keep his perfect over record with the club intact.
Sure, history has taught us to expect regression from outlying performances. But the mistake most people make is treating Reid and Mahomes' performances as outliers. Reid has consistently proven to beat expectations over the span of more than two decades. And it's silly to expect a QB who reached elite status in his first season as a starter and has the NFL's best supporting cast to get worse instead of better.
Bet against Reid and Mahomes and the only thing likely to regress will be your bankroll.
I'd bet this at any juice, but wouldn't take the over if the line moves to 11.
Mike Randle: Chargers Over 9.5 Wins (+100)
In 2018, the Chargers overcame a plethora of injuries to finish 12-4 in the AFC West. They lost tight end Hunter Henry (ACL), defensive end Joey Bosa (foot), linebacker Denzel Perryman (LCL) and cornerback Jason Verrett (Achilles) all for a substantial period of time.
This season, they've already lost All-Pro safety Derwin James for three to four months with a broken foot, and Melvin Gordon's holdout continues with minimal hope for a quick resolution. However, there is still a lot to like about a Chargers team that can regress two full games and still cover their over/under win total.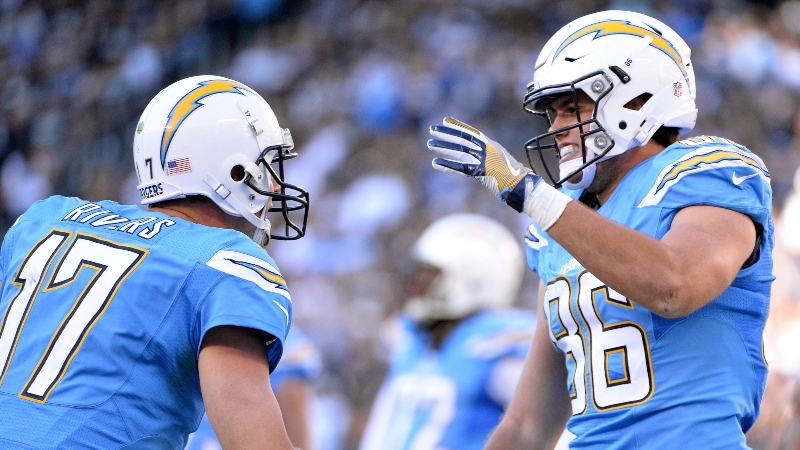 Their schedule, while ranking middle of the league in difficulty, includes the Denver road game off a bye week and a trip to Kansas City in Week 17. The Chargers also get a three-day rest advantage over the Chiefs at Mexico City in Week 11.
With the return of Henry to an already potent offense, our simulations project the Chargers to make the playoffs 57.0% of the time. If they just receive league-average health, if would be a vast improvement over the past two years.
An 11-plus win season is well within their range of outcomes, and I feel comfortable betting this line up to 10.5.
John Ewing: Giants Over 6 Wins (+115) 
It's hard to like the Giants after trading Odell Beckham Jr. and keeping Eli Manning at quarterback. However, there are a few reasons to believe the G-Men will be better this fall.
New York had a point differential of a seven-win team last season, but managed only five wins. Part of the difference is explained by a 4-8 record in one-score games. Teams that underperform their point differential and have poor a record in games decided by seven or fewer points tend to experience positive regression the next season.
Perhaps the greatest reason to be optimistic about Manning and Co. is they have the sixth-easiest schedule in football. New York faces only three playoff teams from last season. With an easy schedule, we project the team to win 7.6 games on average and to go over its posted win total of six games 78.8% of the time.
You could bet this up to -250, but the juice would never get that high — books would adjust the total with that much action.
I've also seen this win total at 6.5 (-195), but that's a little too much juice for me.
The Raiders went 4-12 last season, and although they've revamped their offense with the additions of wide receivers Antonio Brown and Tyrell Williams and running back Josh Jacobs, there's no guarantee that the offense will be significantly better.
And I don't see why we'd expect the defense to be any better than it was last season, when the Raiders were dead last in the league with 29.2 points allowed per game.
The Raiders have a brutal stretch of games to open the season. They might get a home win against Denver in Week 1, but after that, they host the Chiefs and then have three straight away games against the Vikings, Colts and Bears (London). After a bye in Week 6, the Raiders have two more road games against the Packers and Texans.
There's a real chance the Raiders could head into their Week 9 home game against the Lions with a 1-6 or 0-7 record … in their last season in Oakland.
If that happens, it's easy to see how they could finish with five or fewer wins. They might go into full-on tank mode. They might suffer from locker-room rancor. The local fan base might abandon them. And in their final nine games, they'll have to face the Chiefs on the road, the Chargers twice and the tough-nosed defenses of the Jaguars, Titans and Jets.
If the offensive additions result in significantly more points for the Raiders, they could win seven or eight games — but they also have a one- or two-win season within their range of outcomes.
Six wins just feels way too high.
Danny Donahue: Bengals Over 5.5 Wins (-130)
On the surface, this bet makes me feel all kinds of gross inside, which is probably a good thing. Digging into the Bengals schedule, in fact, there are at least a couple things to like, I think.
Cincy gets the AFC East and NFC West as inter-divisional opponents this season, which … could definitely be worse. As a last-place finisher from 2018, the Bengals also get to see the Raiders, Jaguars and Dolphins (whom they'd meet anyway, damnit). And not that I expect the Bengals to have much of a chance against the Rams in London, but that does count as a road game even though it's on a neutral site.
Am I grasping for straws yet?

At least I have the TAN simulations to somewhat comfort me, as we project 6.98 wins for the Bengals, and have them getting six or more wins 77.23% of the time — plenty more than the 56.52% needed to cover the -130 price. We've also got Cincy winning more than six games 59.3% of the time, so I'd feel comfortable betting this to 6 at any plus-money price.
---
SUPER BOWL 54 FUTURES
Randle: Dallas Cowboys (20-1)
The Cowboys have never been closer to winning a Super Bowl since the Dez Bryant "catch."
Dallas has its most talented overall roster in the Jason Garrett era. But can the Cowboys finally put it all together?
While Ezekiel Elliott is still holding out as of writing, all signs indicate a deal is imminent. Assuming he returns, the Cowboys feature an offense that produced five games of 27 or more points after the mid-season acquisition of wide receiver Amari Cooper. With Cooper, quarterback Dak Prescott averaged 72 more passing yards and five more fantasy points per game.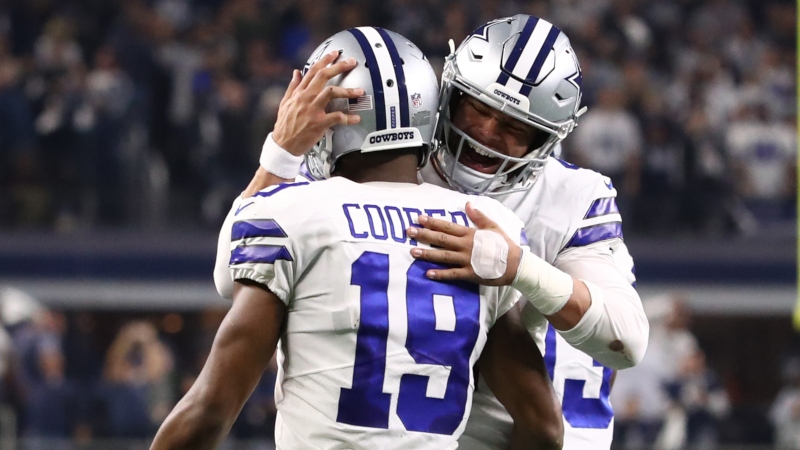 The return of center Travis Frederick earns Dallas the second-best offensive line, per Pro Football Focus. The Cowboys defense finished ninth-best in Football Outsiders' overall defensive DVOA, including fifth-best in run defense DVOA.
There are few teams as balanced as Dallas, which makes its 20-1 odds to win the Super Bowl very attractive. Grab the Cowboys anywhere from 18-1 and up.
Freedman: Houston Texans (33-1)
The Texans have a tough path ahead of them with a non-divisional schedule that includes games against the Saints, Chargers, Panthers, Falcons, Chiefs, Ravens and Patriots. But the Texans could theoretically lose all seven of those games and still make the playoffs with a 9-7 record thanks to how much easier their division now is with Andrew Luck retired.
And I don't expect them to lose all of those games.
Deshaun Watson is another year removed from the season-ending knee injury he suffered in 2017, and in his 23 games played, the Texans have averaged a robust 26.8 points per game. On top of that, the Texans were fourth in the league with just 19.8 points allowed per game last season: With a healthy trio of defensive end J.J. Watt and outside linebackers Jadeveon Clowney (assuming he isn't traded) and Whitney Mercilus, the Texans could be just as stout on defense this year.
I can't deny that their offensive line is bad: Last year, they were dead last in the league with an 11.6% adjusted sack rate (per Football Outsiders). But they drafted two offensive tackles who might contribute at some point (first-rounder Tytus Howard and second-rounder Max Scharping), and if the line improves even just a little bit, that could make a big difference for the offense.
The Texans are now favored to win the AFC South, and if they make the playoffs, their explosive offense and dynamic defense could carry them to a championship.
I'd bet this down to 26-1.
Betting a season-long future means you're locking up money for an entire NFL season. Might as well have some fun, right?
I've been told by much brighter NFL minds that the Buffalo Bills suck, but that's kind of the point when betting a team at 100-1. If the Bills were any good, they'd be listed at shorter odds and thus, I'd be spending my money elsewhere.
Even if the Bills are terrible, they have some things going for them. They finished No. 2 in defensive DVOA in 2018, they have a good coach, their schedule is easy AND I believe Josh Allen is actually a decent quarterback.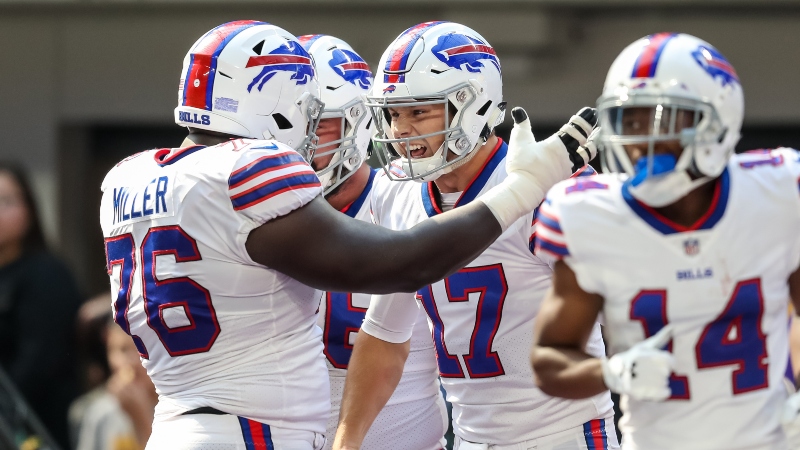 Losing a few bucks on Buffalo at 100-1 comes with the added bonus of rooting for a backfield that employs Frank Gore and T.J. Yeldon. That, along with getting to be in the good graces of The Bills Mafia for an entire season, is worth the price of admission. I'd bet this down to 80-1.
---
NFL PLAYOFF BETS
Collin Wilson: Jaguars to Make Playoffs (+160)
Anyone who reads our college football content understands second-order win total. The stat is designed to look at a true win-loss record for a team, to help identify regression the next season. Jacksonville went 0-4 in games decided by three or fewer points and 2-6 in games decided by eight or fewer points.
While the retirement of Andrew Luck has thrust the Jags into discussion to win the South, there's no reason to think this roster can't challenge for the AFC title.
Jacksonville has parted ways with Blake Bortles, who was impugned by the defense in 2018. Most will talk about the replacement of Nick Foles as the reason the Jags are sneaky, but a change in coordinators is the real story: John DeFilippo comes in as the offensive coordinator after serving in the same role with the Vikings last season, but he might be more famous for being Foles' OC for the Eagles when they won Super Bowl LII.
While I don't have any love for the Jags to rush more than anyone on standard and passing downs, DeFilippo consistently ranks top three in standard downs pass rate. This has been successful for Foles and will keep Leonard Fournette fresh.
A return to 2017 form could give the Jags the best defense in the league, while a new scheme change from a player-coach combo is a boost to the offense. If Foles and DeFilippo along with the defense can replicate anything from 2017, this team will be heading to Miami on Feb. 2.
Donahue: Saints to Miss Playoffs (+257)
This type of bet gets a laugh prior to the season, which is understandable.
The Saints finished tied for the league-high with 13 wins and essentially earned a Super Bowl berth last season. They should be Super Bowl contenders again, so making the playoffs feels like a given this year.
The problem with the NFL, though, is that the season sample size is just too small to be as predictive as we think it should be year-over-year. How quickly did we forget that the Steelers were -400 to make the playoffs last season? Or that the Vikings were -340 — the highest mark in the NFC — one year after being a game shy of the Super Bowl? (Sound familiar?)
The year before that, it was the Seahawks who were leading the NFC at -450, followed by the Packers -340. Neither made it.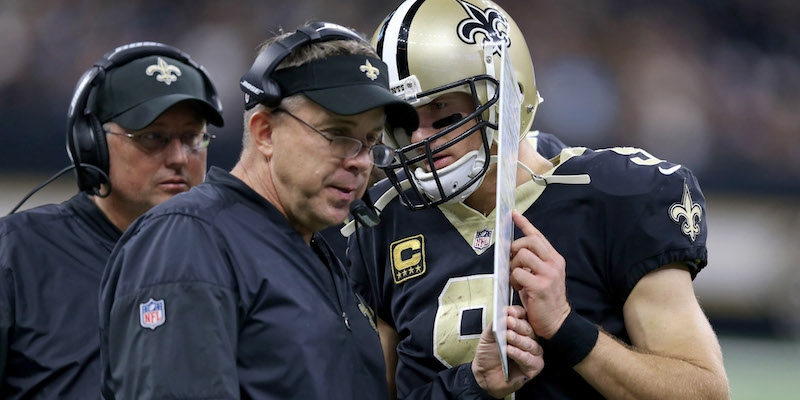 The point is, we don't know as much as we think we know about this league. Our simulations give this bet value down to +221, so I'll happily take it down to that number.
Freedman: Chiefs to Make Playoffs (-286)
This line is all over the place depending on the sportsbook, and there's actually an arbitrage opportunity available in the market if you want to bet +300 that the Chiefs won't make the playoffs — but I'm fine with forgoing that two-sided play.
I typically don't like laying a lot of juice, but this bet basically comes down to the health of Mahomes. If he plays more than eight games this season, I expect the Chiefs to make the playoffs.
They have a harder schedule than they did last year, but they were prolific on offense in 2018 with 35.3 points per game, their defense should be better this season with the addition of Spagnuolo at coordinator, and the AFC West is a weak division.
Randle: Bills to Make Playoffs (+425)
I believe in Sean McDermott.
The Bills have improved from 27th to second in Football Outsiders' defensive DVOA over his two-year tenure. They earned a playoff appearance after finishing 9-7 in McDermott's first season, and ended 2018 with a 4-3 record over their last seven games.
The Bills are one of the NFL's most consistent teams, having failed to win at least six games only twice in the past 17 seasons.
On offense, the Bills have added complementary pieces to support the strength of sophomore quarterback Allen. Veteran wide receiver John Brown has quickly ascended the depth chart while slot receiver Cole Beasley provides a reliable short to intermediate route option. Second-round pick Cody Ford could solidify a top-10 offensive line.
According to Sharp Football, the Bills face the sixth-softest schedule of opposing offenses. A strong defense with upgraded offensive weapons should always contend for a playoff spot.
Provided the line stays north of +400, it is the perfect value to bet on another magical Bills playoff run.
---
NFL PLAYER PROPS
Raybon: Jared Goff for MVP (33-1)
The surest path to MVP is being a quarterback who puts up great numbers on a team with one of the top win-loss records in the league.
Well, the Rams are favored in 13 of their first 15 games, and Goff has averaged 8.6 yards per attempt with Cooper Kupp in the lineup (7.3 without). In Kupp, Brandon Cooks, Robert Woods, Todd Gurley, Darrell Henderson and Gerald Everett, Goff has six pass catchers that rate as a plus at their respective positions. And with Gurley projecting for a scaled back workload, Goff's contributions will only be amplified.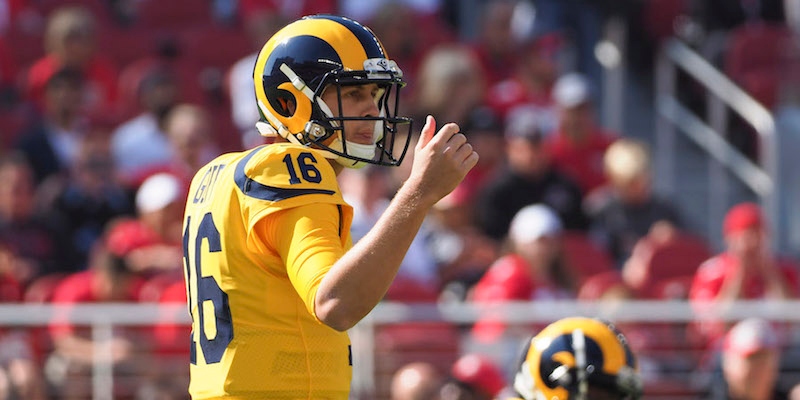 Is Goff truly the most valuable player in the league? Of course not.
Are his odds of being voted as such better than 33-1? Absolutely.
I got this at 50-1 but think it's a solid value at anything longer than 16-1.
Sean Koerner: Nick Chubb Most Rushing Yards (18-1)
I typically bet unders on specific total props as there are more "outs" that can cause a player to go under their total than there are to hit the over. Having said that, this is one creative way to bet on a player's over since we need to focus only on a player's ceiling and not worry as much about downside.
Chubb's price here is a perfect example of that.
Chubb is set up for a big year as the lead back for the Browns, who could very well end up being a 10-plus win team, which would allow for more positive game scripts that will involve running at a higher rate in the second half of games to preserve the lead.
Chubb is not only a really good running back, but defenses will have their hands full trying to stop the passing game between Baker Mayfield, Odell Beckham and Co. Yes, Kareem Hunt should return from his eight-game suspension to a role that could cut into Chubb's workload a bit, but I'm guessing that comes more on passing downs and Hunt will be more of a change-of-pace back to give Chubb some breathers.
I currently have Chubb as having my third-highest rushing yard projection, behind only Saquon Barkley and Ezekiel Elliott. There's some added upside in this bet in the event Zeke's holdout lasts into the season. We also have to realize that Todd Gurley and Melvin Gordon aren't as much of a threat to this market this season. There are even more question marks for a lot of the backs with 30-1 odds or better.
Chubb is well worth the price tag — I see more of the volatility of the season going in his favor rather than against it.
Mark Gallant: Julio Jones Under 1,500.5 Receiving Yards (-110)
ICYMI, unders are the way to go when it comes to betting on season-long player props. Betting on big-name unders is one of my favorite pastimes, which is why this Jones yardage over/under caught my attention.
The 30-year-old wideout is certainly among the league's best, but setting the bar at 1,500 yards is a little high in my opinion. Though he's eclipsed that mark in three of the past five seasons, there's only been eight instances in NFL history in which a 30-year-old has gone over 1,500 receiving yards.
Could he join the list? Absolutely. But it's not something I would consider a 50/50 proposition like the folks at FanDuel have.
Freedman: Josh Jacobs Over 900.5 Rushing Yards (-110)
It's normally sharp to bet the under on season-long props, but this line for Jacobs is too low. The No. 1 player in my dynasty rookie rankings, Jacobs has an ideal combination of youth (21), size (220 pounds) and draft position (Round 1). He could be a superstar as early as this season.
Given his attributes and the investment the Raiders made in him, I expect Jacobs to be used regularly, and the historical numbers back up my position.
Since 1978, when the NFL went to a 16-game regular season, there have been 15 first-round backs to play as 21-year-old rookies at 215-plus pounds. Collectively, these precocious and big-bodied high-capital runners have had a mean of 1,035 and median of 1,074 yards rushing per player.
On top of that, every back in the cohort who had at least 200 carries had more than 900 yards rushing — and every back who started more than three games had at least 200 carries.
Do you think that Jacobs is going to start more than three games this year? I do, too.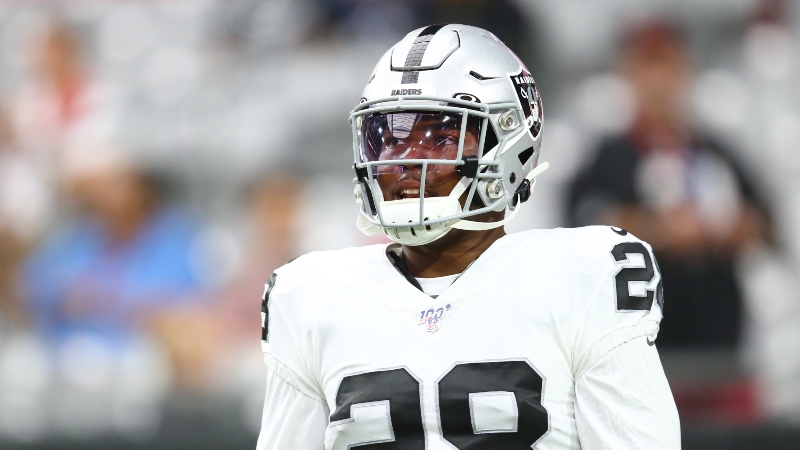 As of writing, Chris Raybon and Sean Koerner have Jacobs respectively projected for 225 and 228 carries. I'm slightly more bullish but in the same neighborhood at 235. We all have him projected for more than 900.5 yards rushing. (You can see all our latest projections in our Fantasy Draft Kit.)
Unless he misses a couple of games, Jacobs has a good chance to hit the over.
Randle: Drew Brees Total Passing Yards Under 4250.5 (-110)
One of the most underreported NFL storylines is the decline in the arm strength of Brees. The All-Pro quarterback has seen a 27.3% decline in pass attempts and an 18.2% drop in passing yards per game since 2016. The Saints have tailored their offense to accentuate Brees' pinpoint accuracy, as illustrated by his 15.5% decline in deep ball attempts per game (per PlayerProfiler).
Our simulations project the Saints to have the fourth-most wins (9.8) of any NFL team, indicating a wealth of positive game scripts. The retirement of long-time center Max Unger also brings uncertainty to the superb protection Brees has enjoyed for most of his career.
Betting against a substantial increase over last season's 3,992 passing yard total is a great season-long player prop, even with future a Hall of Famer.
Grab this line down to 4150.5 yards.

MORE
Randle: Ravens Win the AFC Championship (20-1)
We are only one-and-a-half years removed from watching a Jacksonville Jaguars team play in the AFC Championship Game. In fact, the Jaguars led that game 17-10 at the end of the third quarter on the road in New England. Their schematic of balancing a conservative offense with superior defensive talent proved to be a viable path to an AFC title game, even in this new pass-heavy era.
The Ravens can follow that same path this season.
Led by dual-threat quarterback Lamar Jackson and a strong offensive line, Baltimore projects to be one of the run heaviest teams. New offensive coordinator Greg Roman brings a track record of success with mobile quarterbacks such as Colin Kaepernick and Tyrod Taylor.
The Ravens also ranked third in Football Outsiders' defensive DVOA last season then added All-Pro safety Earl Thomas as well as linebackers Shane Ray and Pernell McPhee.
As per Sharp Football, the Ravens face the NFL's second-softest slate of run defenses in 2019. Baltimore also gets an extra week to prepare for a home game against New England in Week 9.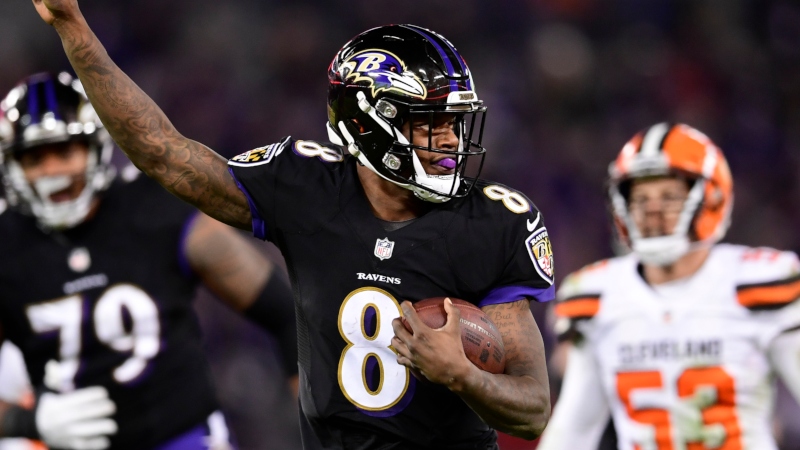 Grab the Ravens and their odds (18-1 and above) before the public understands the potential of the dynamic Jackson and an elite defense.
Donahue: Ravens to win AFC North (+375)
Like Mike, I too am high on the Ravens' chances this year — or at least higher than the market.
The reason I'm choosing to focus on the division is because it allows me to more directly fade the publicly adored Browns, who make up a quarter of the field in this bet and are probably a big part of the reason that Baltimore is so cheap.
The Ravens finished 10-6 but were still among the unluckiest teams in the NFL last season. Their point differential gave them a Pythagorean win percentage of 71%, a figure that would have them averaging 11.34 wins. Only the Chiefs had a higher mark in the AFC (the Patriots were the same).
Our simulations give Baltimore a 29.99% chance to take the division crown in 2019, a probability that converts to +233 odds. Anything higher than that mark should have value, and there are numbers available well beyond it.
How would you rate this article?