Divisional Round Matchup Manifesto: Aaron Donald & Patrick Mahomes Primed for Big Games, More
Credit:
USA Today Sports. Pictured: Aaron Donald, Patrick Mahomes
Patrick Mahomes is set up for success in the Colts-Chiefs matchup while Rams star defensive tackle Aaron Donald will wreak havoc on the Cowboys.
Below are various matchup-based advantages and disadvantages to leverage in the four Divisional Round games.
The NFL is a matchup-driven league. Offensive coordinators are always looking to scheme their playmakers into one-on-one situations against a defender, while defensive coordinators will attempt to do anything in their power to upset the timing and rhythm of the opposing quarterback.
Despite the obvious impact that defenses have on opposing offenses, fantasy players are often left with one-way metrics to describe offenses and defenses that they are then forced to compare against each other in an attempt to identify mismatches.
The goal here is to provide easy-to-decipher charts and notes to identify key matchups on both sides of the ball in:
Explosive Plays
Pace
Pressure
Trench Battles
Turnover Margin
Passing Game
Our Wild Card Round manifesto accurately forecasted an underwhelming performance for Lamar Jackson, a solid rushing day for Ezekiel Elliott as well as an uber-efficient passing performance from Andrew Luck.
The following charts have matchup-specific information meant to highlight the largest mismatches in these ever-important facets of football to ultimately gain actionable betting and fantasy takeaways for the four Divisional Round matchups.
Note: This data is based on games from Weeks 1-17.
Explosive Plays
Big plays make the football world go round. Matchups between explosive offenses and leaky defenses are exactly what we're looking for when compiling game stacks in DFS, or when betting an over. We can calculate this with help from NFL.com's team-based statistics.
Explosive Pass Rate: The sum of an offense's rate of 20-plus yard completions per pass attempt and the opposing defense's rate of 20-plus yard completions allowed per pass attempt. A higher percentage is better for offenses (green is good, red is bad).
Explosive Run Rate: The sum of an offense's rate of 20-plus yard gains per rush attempt and the opposing defense's rate of 20-plus yard runs allowed per rush attempt. A higher percentage is better for offenses (green is good, red is bad).
There are fairly distinct tiers in terms of how explosive each team's pass offense has been this season.
Surprisingly, Dak Prescott's deep-ball ability hasn't taken a massive leap forward since the addition of Amari Cooper. Prescott posted a 36% completion rate while averaging 14 yards per attempt with a 114.8 quarterback rating on deep passes (20-plus yards downfield) between Weeks 1 and 7 compared to 35% with 13.7 yards per attempt and a 111.8 rating since.
The high-powered offenses of the Chiefs, Rams, Chargers and Saints are all set up well, although it's hard to not be especially infatuated with Patrick Mahomes and a Kansas City offense implied to score a slate-high 31 points.
The Colts utilized zone coverage at a league-high rate during the regular season. Tyreek Hill and Travis Kelce averaged respective 4.8-91.4-0.8 and 5.4-56.2-0 lines in five matchups against defenses that ran zone at a top-eight rate this season.
The Colts are certainly on a roll, but Andrew Luck and T.Y. Hilton have negative outdoor splits and face a Chiefs defense that has allowed 6.3 fewer points per game at Arrowhead Stadium in the Andy Reid era.
Jared Goff and the Rams might be better off attacking the Cowboys' secondary than running the ball with a banged-up Todd Gurley. Overall, the Cowboys' pass-funnel defense ranks fifth in Football Outsiders' DVOA against the run compared to 16th against the pass.
The Chargers don't have the easiest matchups on the outside against a Patriots defense that boasts three of Pro Football Focus' top-30 cornerbacks in Stephon Gilmore (No. 1), Jason McCourty (5) and J.C. Jackson (27).
Nick Foles and the Eagles could find the most success by feeding Golden Tate, who is set up brilliantly in the slot against consistent liability, P.J. Williams — PFF's No. 110 cornerback out of 121 qualified corners.
Allen Robinson eviscerated Eagles cornerback Avonte Maddox for a 10-143-1 line in the wild-card round with a ton of help from double-moves. This is a skill Michael Thomas has quite literally been burning corners with for the past half decade.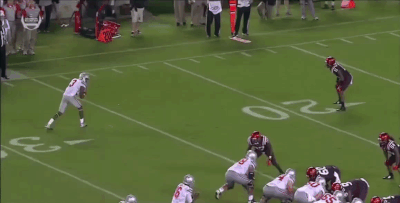 Damien Williams and Ezekiel Elliott are best positioned to create big plays on the ground as the No. 2 and No. 4 respective rated running backs in Adam Levitan's Pro Model.
Melvin Gordon (knee) and Austin Ekeler are also set up well against the Patriots' slow-moving group of linebackers. Be sure to monitor our Divisional Round Injury Report for Gordon's daily practice participation along with his estimated and official game status. He's presently expected to suit up.
The Colts, Cowboys, Patriots and Eagles aren't expected to find many holes on the ground, although their respective rates wouldn't be considered that terrible in an average week featuring more than four games.
Pace
Fast-paced games lead to more plays, which lead to more points. There are several games that could resemble a track meet based on their combined situation-neutral pace ranking (Football Outsiders).
Combined Situation-Neutral Pace: Represents the combined situation-neutral pace between each matchup's two offenses. A lower number indicates fewer average seconds per play (green = fast-paced game), while a higher number indicates more average seconds per play (red = slow-paced game).
The Colts (No. 2 in situation neutral pace) and Chiefs (No. 6) are easily the fastest-paced matchup. It's not surprising that the 57-point over/under is the highest of the weekend as of writing (see live odds here).
The Eagles (No. 30) and Saints (13) form the round's slowest-paced matchup, although it remains to be seen how slow Philadelphia will truly move if New Orleans' third-ranked defense in rush DVOA is able to limit Darren Sproles and Co.
The last two matchups boast a starker contrast in styles, as the Cowboys (No. 21) and Chargers (No. 17) offer below-average paced offenses in their respective matchups against the fast-moving Rams (No. 3) and Patriots (No. 1).
Pressure
An overmatched offensive line can result in poor fantasy days for all skill-position players involved. Meanwhile, quarterbacks with all day to throw can help generate points in bunches. We can determine which offensive lines might be especially better (or worse) this week with help from Pro Football Focus' offensive and defensive pressure statistics.
Combined Pressure Rate: The sum of the offensive line's rate of pressures allowed per dropback and the opposing defense's total pressures generated per dropback. A higher percentage (red) is better for defenses, while a lower percentage (green) indicates that matchup's quarterback could face reduced pressure.
We can shift our focus to the glaring holes on the Cowboys' offensive line now that the Texans' porous unit has mercifully been eliminated. Overall, Prescott's 37% pressure rate per dropback is the highest mark of any quarterback still in the playoffs.
The Eagles (55%), Rams (53%) and Patriots (50%) are the only remaining defenses that were able to pressure the opposing quarterback on more than 50% of their dropbacks this season.
Drew Brees (26% pressure rate) and Tom Brady (25%) rank among the league's three-least pressured quarterbacks. This is in large part due to their respective quick releases, as both quarterbacks boast top-10 marks in fastest time to attempt.
Still, neither quarterback has anyone's idea of an easy matchup. Brees will have to take on an Eagles defensive line overflowing with talent …
… while Brady and the Patriots will have to deal with the league's premier defensive end duo of Joey Bosa and Melvin Ingram.
Bosa (0.81) joins Chandler Jones (0.85) and Aaron Donald (0.86) as the only defensive ends averaging at least 0.8 sacks per game since 2016. Pressuring Brady is key to the Chargers covering the spread.
The Eagles have managed to keep Nick Foles upright against the Bears (one sack), Texans (one) and Rams (none). Next up is the Saints' fourth-ranked defense in Football Outsiders' adjusted sack rate that's led by defensive end Cameron Jordan — PFF's No. 6 overall edge defender this season.
The Cowboys boast plenty of talent in their front-seven, but rank just 27th in adjusted sack rate this season. They improve to 17th in pressure rate, although that's still not great against home-field Jared Goff (7.7 yards per attempt on the road vs. 8.4 at home since 2017).
The Colts' best chance at slowing down Mahomes and Co. is to take advantage of a Chiefs offensive line that allowed the league's 13th-highest pressure rate. Still, the Colts have the league's eighth-worst defense in pressure rate.
The Chiefs might not have Eric Berry (calf) on Saturday. This is especially problematic against a fully-staffed Colts' offensive line that has dominated for most of the season.
Trench Battles
Running backs receive most of the praise for an offense's rushing output, but an overmatched offensive line can thwart a team's run game before it even has a chance to get started. We can determine the offensive lines that might be especially better (or worse) off this week with help from Football Outsiders' offensive and defensive adjusted line yards per rush statistics.
Combined Adjusted Line Yards Per Rush: The sum of an offensive line's adjusted line yards per rush and the opposing defense's adjusted line yards allowed per rush. A higher number (green) is good for running backs, while a lower number (red) indicates that matchup's offense could have some trouble running the ball.
The week's best matchup in the run game belongs to the Colts, who have the league's fourth-ranked offensive line in adjusted line yards per rush and will face the Chiefs' league-worst front seven.
Marlon Mack racked up 24 carries last Saturday and commanded all three of Andrew Luck's targets to running backs. Overall, Mack (56 snaps) easily played ahead of both pass-down back Nyheim Hines (9) and Jordan Wilkins, although this week's projected game flow bodes much better for Hines.
Damien Williams doesn't have the greatest matchup against he Colts' fourth-ranked defense in rush DVOA. Still, he's caught 23-of-24 targets for 160 yards and two scores through the air this season and played well enough in Weeks 15-16 without Spencer Ware (hamstring) to earn a contract extension.
My bold call of the week on The Action Network NFL Podcast is a top-three fantasy finish from Williams. Even if Ware is ultimately able to suit up, how can the Chiefs keep this guy off the field?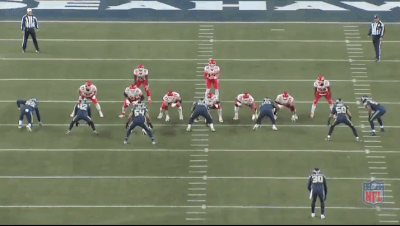 Zeke has at least 15 carries in every game this season and has racked up at least 100 total yards in nine consecutive games. The Cowboys might be better off testing the edges of the Rams defense, where stud defensive tackles Aaron Donald (PFF's No. 1 interior defender) and Ndamukong Suh (No. 27) don't roam.
Gurley is tentatively expected to suit up after having three weeks to rest. He's as good as any running back in the league, and his offensive line might be even better.
With that said, the Cowboys boast an absurd amount of talent and athleticism in their front seven. Jaylon Smith (PFF's No. 5 linebacker) and Leighton Vander Esch (No. 4) complement stud defensive end Demarcus Lawrence (No. 7) to form the league's fifth-ranked defense in rush DVOA.
Ekeler out-snapped Gordon 36 to 32 last week, although Gordon (18 touches) was more actively involved than Ekeler (15). Be sure to monitor our industry-leading NFL News Feed  to see whether there are any changes to the currently clear forecast ahead of Sunday afternoon.
Adam Schefter and Next Gen Stats pointed out that the Chargers utilized seven defensive backs on 58-of-59 snaps last Sunday, and no other team had used that many defensive backs on more than 18 snaps in a game this season.
The Chargers can always change their personnel for this Sunday's matchup, but it'd make sense if Bill Belichick and the Patriots counter these softer looks with plenty of power-run packages. This would mean Sony Michel szn based on the Patriots' latest committee backfield.
Sproles (37 snaps, 16 combined carries and targets) worked well ahead of both Wendell Smallwood (28, 11) and Josh Adams (1, 1) last week. It would make the most sense for the Eagles to again focus on their pass-down back against the Saints' sturdy run defense. Philadelphia gained just 58 rushing yards during their last trip to New Orleans back in Week 11.
The Saints' sturdy offensive line won't be so strong if left tackle Terron Armstead (shoulder), backup left tackle Jermon Bushrod (hamstring), left guard Andrus Peat (hand), right guard Larry Warford (knee) and right tackle Ryan Ramczyk (shoulder) are at less than 100%. Either way, don't expect the playoffs to change the Saints' pecking order in the backfield.
Turnovers
Matchups between two careless teams are obviously of interest when it comes to targeting fantasy defenses. Crafting a turnover differential for each individual matchup between an offense and defense can help identify when turnover-prone offenses are taking on ball-hawking defenses.
Combined Turnover Rate: The sum of the offense's turnover rate and the opposing defense's takeaway rate. A higher percentage (red) is better for defenses, while a lower percentage (green) is better for offenses and indicates the absence of a turnover-prone offense or takeaway-happy defense.
None of the remaining playoff teams have been too egregious about turning the ball over this season.
All of the home teams are set up better than their road counterparts when it comes to combined turnover rate.
The Rams (3.1%) and Patriots (2.8%) are the only remaining defenses with a top-five takeaway rate.
The Saints (1.6%), Cowboys (1.7%) and Patriots (1.7%) have done the best job at consistently taking care of the ball this season.
The Chiefs and Rams are the week's top two home defenses that have shown both a knack for creating turnovers and displaying competent pass defense for most of the season.
Passing Game
Some pass offenses are obviously more efficient than others, while certain secondaries are seemingly capable of shutting down any aerial attack. We can determine the week's largest mismatches in the passing game using each offense's and defense's net yards per pass attempt (via Pro Football Reference).
Combined Net Yards Per Pass Attempt: Net yards gained per pass attempt differs from yards per attempt by accounting for sacks. The rate is calculated by subtracting a quarterback's sack yards from his passing yards, then dividing that number by the sum of the quarterback's pass attempts and sacks taken. A higher number (green) is good for quarterbacks and receivers, while a lower number (red) indicates that matchup's pass offense could be in trouble.
Mahomes easily has the best matchup in combined net yards per attempt. Fantasy football's MVP seems to take pleasure in quite literally forcing defenses to account for every last square inch of a football field.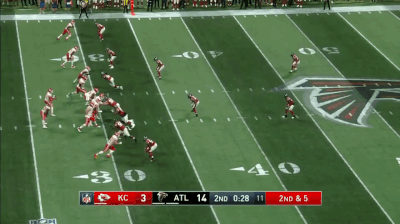 The expected return of Sammy Watkins (foot) would also help considering the Chiefs' overqualified field-stretcher has increased each of his quarterback's respective overall yards per attempt rate during his career.
Neither Luck nor Prescott are set up particularly well in their respective road matchups, but Goff is seemingly poised to cash in on his pro-home splits.
Still, the other problem for Goff has been the absence of his trusted slot receiver. Overall, he's averaged 9.65 yards per attempt in eight games with Cooper Kupp (knee, IR) compared to just 7.32 yards per attempt in eight games without.
Per our FantasyLabs NFL Trends Tool, Philip Rivers has been at his worst in production, value and consistency during the months of December and January over the past five seasons.
Meanwhile, Brady will have to continue to try to make do without Flash Gordon, also known as Brady's most-efficient target ever.
Both Foles and Brees are set up for success at the Coors Field of Fantasy Football against each other's respective underwhelming secondaries.
How would you rate this article?